Who Is the Rams' Most Valuable Fantasy Football Wide Receiver?
Credit:
Photo credit: Matthew Emmons-USA TODAY Sports. Pictured: Brandin Cooks
The Rams have enabled multiple fantasy-relevant receivers during the Sean McVay era. What should we expect from Brandin Cooks, Robert Woods and Cooper Kupp in 2019?
It's officially time to start fantasy football prep. I'll be answering the biggest questions heading into the 2019 season; this is part of that series.
---
Rams head coach Sean McVay's ability to reinvigorate Jared Goff and Co. stands out as the best one-year turnaround in recent history when it comes to scoring. Overall, the Rams offense averaged an additional 15.9 points per game during their first season with McVay running the show – the highest increase among 59 play-caller changes over the past five seasons.
Part of the reason for the offense's quick success has been the presence of multiple talented receivers: Goff has had the pleasure of throwing to Brandin Cooks, Robert Woods, Cooper Kupp and Sammy Watkins (among others) during the past two seasons.
Everyone involved has benefited from McVay's play-calling wizardry, along with arguably the league's best offensive line.
Todd Gurley = amazing
CJ Anderson = apparently still good
…
Rams offensive line = historically great

Most adjusted line yards per rush since 1996 (when Football Outsiders began tracking):

1. 2018 Rams (5.49) 👀
2. 2018 Saints (5.19)
3. 2002 Broncos (5.13)
4. 2000 Rams (5.09)

— Ian Hartitz (@Ihartitz) January 2, 2019
The following breakdown will focus on the Rams' passing game in an effort to establish who to target in 2019 fantasy football drafts.
The Rams utilize three wide receivers more than anyone
Per Sharp Football Stats, the Rams (87%) easily led the league in plays run from 1-1 personnel sets last season. Only the Packers (78%) were within even 10% of this league-high mark.
McVay might not switch up his personnel grouping all that frequently, but he utilizes an abundance of play-action passes at a high pace to consistently find success.
There are usually multiple times in any game against the Rams where a defense is turned completely inside-out thanks to McVay's ability to manipulate defenders' coverage responsibilities in order to create mismatches.
The Patriots managed to shut down Goff and the offense when it mattered most, but the rest of the season was largely one example after another of McVay scheming his playmakers into plus matchups.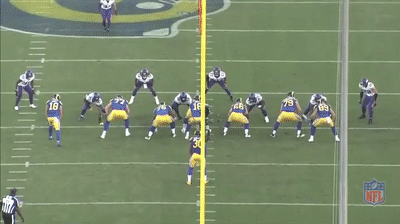 The Rams' offensive personnel seems to indicate that this dominance could continue into 2019.
The Rams have plenty of talent to surround Goff
The elephant looming in the Rams offense is the status of Todd Gurley's knee. He almost certainly won't be the same every-down back in 2019 we've seen for the last two seasons, and it's fair to wonder if his overall effectiveness could also suffer.
The good news is the Rams selected potential stud running back Darrell Henderson in the third round of the 2019 draft. Henderson averaged an FBS-record 8.2 yards per carry during his three-year career at Memphis while also tallying a solid 63-758-8 receiving line. He'll compete with incumbent backup/part-time ninja Malcolm Brown for what figures to be a decent-sized role behind Gurley.
Goff will at the very least benefit from steady continuation from his top-four receivers and top-two tight ends…
Brandin Cooks has gained at least 1,000 yards in each of the last four seasons despite spending time with each of the Saints, Patriots and Rams. He averaged a career-high 10.3 yards per target during his first season in Los Angeles, consistently taking the top off of pretty much any defense. Cooks deserves to have the group's highest average draft position as the PPR WR17.
Robert Woods is about as steady as any player in recent memory. He led the Rams with a 24% target share in eight games with Kupp playing last season, followed by Cooks (22%), Kupp (21%), Gurley (15%), Gerald Everett (7%), Tyler Higbee (6%), Josh Reynolds (2%) and Brown (2%).
Overall, Woods has caught at least five passes in 23 of 32 (72%) games with the Rams. His PPR WR19 ADP makes sense considering he finished as the WR18 and WR16 in PPR points per game in 2017 and 2018, respectively.
Cooper Kupp is the biggest wildcard of the group.
Kupp (WR14) was superior to both Woods (WR16) and Cooks (WR20) in PPR points per game last season, but he's recuperating from a torn ACL that he suffered last November.
His floor is high (if healthy), as Goff fed Kupp (seven targets inside the 10-yard line) nearly as many balls near the end zone as Cooks (eight) and Woods (eight) despite the missed time. Kupp's current status as the PPR WR22 in ADP is a bit too high for my taste with his health questions, but there's little doubt that he's as shifty from the slot as any receiver in the league when healthy.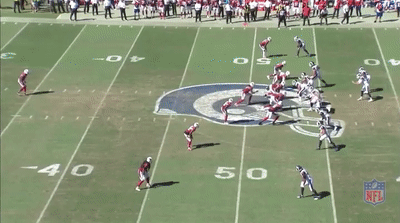 Josh Reynolds has consistently produced solid fantasy football value whenever one of Kupp or Woods has missed time over the last two seasons. He's a solid late-round Best Ball target and immediate waiver wire add in the event that any of the Rams' top-three receivers miss time.
Overall, only Woods (25% target share) and Cooks (22%) were more involved than Reynolds (17%) during Kupp's 11-game absence in 2018. Reynolds doesn't boast the highest ceiling as a best-case No. 3 receiver, but his average 3.1-44.2-0.45 line with Kupp sidelined last season is tough to ignore.
Gerald Everett or Tyler Higbee would hold some slight fantasy value if they could command all of their position's targets, but even then they'd likely be featured as the No. 5 weapon in this offense. Everett (85th-percentile SPARQ-x athlete) is the better receiver of the pair, but Higbee (72% snap rate in 2018) is the better blocker and is on the field more often.
The biggest non-Gurley problem facing the offense is that the Rams' dominant offensive line will have to move on from left guard Rodger Saffold and center John Sullivan. They're expected to be replaced by incumbent backups Joseph Noteboom and Brian Allen, respectively.
Both Noteboom (2018 third-round pick) and Allen (2018 fourth-round pick) will benefit from having a full professional offseason to further engulf themselves into the offense, but there's certainly a chance for the offensive line to regress as a whole.
Of course, the ship will likely sink or sail based on the performance of their signal-caller.
Goff will set the offense's ceiling
Jared Goff's underwhelming performance during the 2018 playoffs may have left a sour taste in the mouths of most NFL viewers, but Goff's body of work over the past two regular seasons deserves some credit.
Passing yards: 8,492 (No. 5 among 39 QBs with 10-plus starts since 2017)
Yards per attempt: 8.2 (No. 4)
Adjusted yards per attempt: 8.5 (No. 3)
Touchdowns: 60 (tied for No. 4)
Touchdown rate: 5.8% (No. 8)
Interception rate: 1.8% (No. 9)
Quarterback rating: 100.8 (No. 6)
Fantasy points: QB7
Fantasy points per game: QB10
Future fantasy football investors should heighten their exposure to Goff when he's at home. Per the FantasyLabs NFL Trends tool, Goff has averaged 24.1 DraftKings points per game with a +6.8 Plus/Minus and 68% Consistency Rating at home compared to 16.8 PPG with a -0.8 Plus/Minus and 40% Consistency Rating on the road over the past two seasons.
Of course, Goff's lack of rushing ability is far from ideal. He seems to be priced properly at his current QB11 average draft position after working as fantasy football's QB12 and QB7 in 2017 and 2018, respectively.
Unless you're Bill Belichick, betting against McVay just isn't a great idea. Don't be afraid to target most of the Rams' fantasy-relevant players, with the obvious exception being Gurley.
How would you rate this article?