Man Who Cleaned Justin Herbert's $1 Million Card: Procedure Is Non-Controversial
Credit:
Kevork Djansezian/Getty Images. Pictured: Justin Herbert.
The latest darling of the trading card market is Justin Herbert, who had two cards this month sell for more than $1 million.
His one-of-one National Treasures NFL Shield card sold for $1.8 million on Saturday. But it's one that sold privately for $1.1 million that's getting all the attention.
The reason?
After the card was sold, the card community found a post by Kurt Colone, who sells equipment that cleans trading cards. The Instagram pictures showed a before of the card — with a huge fingerprint — and an after with the print gone.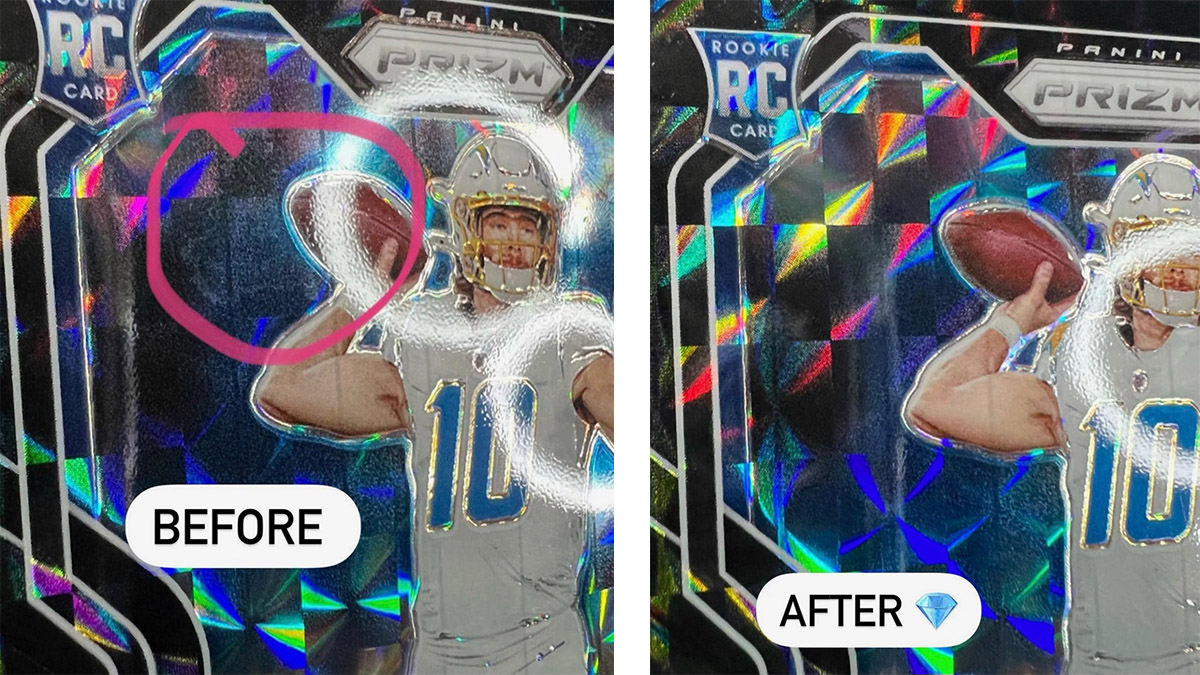 The word "cleaning" isn't as dirty as trimming, but there's certainly limits to how much should be "cleaned."
Cleaning can also mean a lot of different things. A card that is cleaned too much is frowned upon and might even be caught by graders and failed. But there's ambiguity about what a card's natural state is and how imperfections that came about can be ethically fixed.
So what does Kurt do and how does he do it?
Colone, 40, used to run a company that farmed out DJs and emcees for events in the Detroit area. But the pandemic got him back into cards and one of his loves — fixing them up.
Colone is the perfect product of his parents, the son of an artist and a car dealer. He has an eye for imperfection and he knows how to make raw cleaning solutions from his time at the car dealership, which produced its own soaps, waxes and sprays.
As a side hustle, he made his own kit, but when people started following him and seeing what he could do with cards, the business grew to a point where he had more than 10,000 customers. Colone had to leave his other job and do his cleaning work full-time.
The kit costs $48.99 for a spray, polish, corner/edge tool, mat and cloth. He doesn't typically do the work for other people — he normally sells the kit and lets customers do their own cleaning.
Is Colone's fixing kit controversial?
"I think it's OK to give a little wipe down," said a well-known card collector who wished to stay anonymous. "But if you start putting chemicals and treatments on the card, then it's no different than altering the card."
Colone won't say exactly what is in his sprays and polish, but he said it's not at all damaging to the card.
"I've seen guys put on additives and abrasive and car wax just to try to get a better grade, and it's not good for the card in the long run," Colone said. "I'm a transparent guy. I don't go that route. Everything I have is natural and not harmful to the card."
Colone's spray, which he calls a simple lubricant, is used to take care of simple stains. The instructions say to spray the card, let it sit for five seconds and then wipe off the stain with the cloth.
Colone said he has tried to contact card graders so he can know what they are looking for and if what he sells is kosher. But his attempts haven't been successful.
For now, he continues to show the card community how his product works through uncut videos and lives.
"I film doing what I say you can do with my kit, because people think I'm some wizard," Colone said. "Anyone can do it."
So how did the $1.1 million Herbert card get on Colone's Instagram feed?
Colone said the seller came to him in Michigan and asked if he could get rid of the fingerprint. Colone, for what he said was no fee, obliged.
"Full disclosure," Colone said. "I didn't really use much. Just my hot breath and a microcloth."
How would you rate this article?
This site contains commercial content. We may be compensated for the links provided on this page. The content on this page is for informational purposes only. Action Network makes no representation or warranty as to the accuracy of the information given or the outcome of any game or event.