Will Mark Ingram Be a Top Tier Fantasy RB in Baltimore?
Credit:
Jun 13, 2019; Baltimore, MD, USA; Baltimore Ravens running back Mark Ingram II (21) talks to teammates during minicamp at Under Armour Performance Center. Mandatory Credit: Evan Habeeb-USA TODAY Sports
Mark Ingram worked as one of the NFL's most efficient running backs during his time with the Saints.
Ian Hartitz analyzes what to expect from Ingram's fantasy football production in Baltimore.
We're in the thick of the NFL offseason and it's officially time to start fantasy football prep. I'll be answering the biggest questions heading into the 2019 season; this is part of that series.
---
The Joe Flacco era is finally over in Baltimore. Shout out to Mr. Elite for playing the best football of his career during the Ravens' 2012 Super Bowl run, but the offense has demonstrated a general inability to consistently move the ball over the past six seasons.
Enter: Lamar Jackson.
The 32nd overall pick of the 2018 draft burst onto the scene halfway through his rookie season, utilizing elite rushing ability to help lead Baltimore to six wins in his seven regular-season starts before ultimately falling to the Chargers during the wild-card round.
Of course, switching from an immobile pocket quarterback like Flacco to a dual-threat talent like Jackson resulted in a drastic schematic change.
What follows is a breakdown of Baltimore's run-first offense and an analysis of whether Mark Ingram is the Ravens running back to target in fantasy football.
---
Mark Ingram Is One of the NFL's Most Efficient Backs
The Ravens made a fairly drastic offseason change in their backfield, signing Ingram to a three-year deal worth $15 million.
There haven't been many running backs who have done a better job at running the football than Ingram has over the past half decade. His average of 4.85 yards per rush trails only former teammate Alvin Kamara (5.13) among 47 backs with at least 300 rush attempts between 2015 and 2018.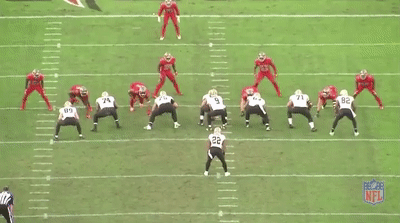 Yes, Ingram is 29 years old, but he's never had more than 230 carries in a season. This makes him somewhat young in running back years. For example, Ingram has roughly only one season's worth of carries (279) more than Todd Gurley despite Ingram entering entering the league in 2011 — four seasons before Gurley (2015).
Ingram's downhill style fits the Ravens' run-first offense perfectly. He's consistently ranked near the top of the NFL in success rate, which represents a player's consistency and is measured by successful running plays divided by total running plays (via Football Outsiders).
Ingram achieved his success last season despite being one of just nine running backs to face eight-plus defenders in the box on at least 30% of their snaps in 2018 (per Next Gen Stats).
Jackson will also benefit from having the most capable receiving back of his career. Ingram has caught 50 passes twice since 2015 and is plenty capable of turning check downs or screens into big plays.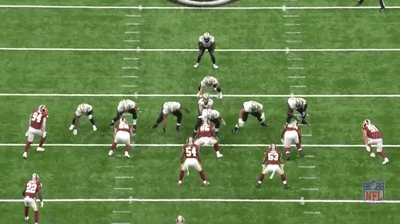 If the Ravens' stretch run with Jackson under center was any indication of their future plans, this could potentially be the biggest workload of Ingram's career.
The Ravens (316 rush attempts) joined the Seahawks (246), Bears (215), Jaguars (203) and Patriots (201) as the only offenses with 200-plus rush attempts between Weeks 11 and 17 last season. Jackson finished with the sixth-most rush attempts among all players over that stretch while then-starting running back Gus Edwards ranked fourth.
The Saints have consistently offered one of the more fantasy-friendly environments in the NFL, but Ingram's ability to rack up fantasy points at a high level over the past two seasons bodes well for his chances to continue to ball out in Baltimore.
Also helping matters for Ingram is the fact that the Ravens don't exactly boast the league's deepest backfield.
Ingram Is the Clear-Cut RB1 in Baltimore
It'd be shocking if Ingram doesn't open the season as Baltimore's starting running back considering their level of investment in the rest of their backfield.
Kenneth Dixon: The Ravens drafted Dixon in the fourth round of the 2016 draft. He's averaged a strong 4.8 yards per carry and flashed some receiving ability during his 18 career games. Still, Dixon has played in just 18-of-48 games since entering the league in 2016 due to various injury and off-the-field issues. He's an unrestricted free agent in 2020.
Gus Edwards: The Ravens tendered Edwards as a second-round restricted free agent in 2019. Still, his mediocre receiving skill (two targets in all of 2018) makes him the offense's most predictable back, something that's already enough of an issue with Jackson under center. Edwards is a solid backup for Ingram, but don't expect him to have much of a weekly role.
Justice Hill: The Ravens selected Hill in the fourth round of the 2019 draft. Hill doesn't have the size (5-foot-10 and 198 pounds) of a three-down back, but does possess some proven receiving ability considering he caught 49 passes for 304 yards and a score in 36 career games at Oklahoma State. The most exciting part about Hill's game is his ability to create big plays thanks to his wiggle and pure speed (4.4-second 40-yard dash).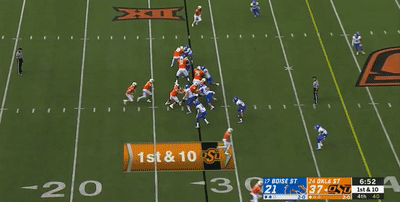 Of course, potentially the most featured rusher on the Ravens doesn't even play running back. Electric dual-threat quarterback Lamar Jackson finished among the league's top-three signal caller in rush attempts (147), rushing yards (695) and touchdowns on the ground (five) as a rookie in 2018.
Jackson's 43.4 rush yards per game trailed only Josh Allen (52.6) for the highest mark in the league, but that figure is misleading. The Ravens utilized Jackson in sub-packages for a few snaps every week while Flacco was starting, so Jackson's real average rushing yards per game as a starter actually placed him along elite company at the running back position in 2018.
Add it all together and…
---
Ingram Is Slightly Undervalued at His Current ADP
Ingram is currently the PPR RB23 in average draft position. The presence of Jackson complicates the offense's overall and red-zone rushing share, but Ingram is still more ingrained as his team's lead back than the likes of Phillip Lindsay (RB22) or David Montgomery (RB21).
We simply don't have a ton of evidence of Ingram working as anything other than a top-tier fantasy running back over the past five years.
Ingram's Rank in PPR Points per Game Among Running Backs with 100+ Carries
2018: RB25
2017: RB8
2016: RB9
2015: RB3
2014: RB10
Edwards worked as the league's PPR RB18 in Weeks 11-17 with Jackson under center despite offering absolutely nothing as a receiver and splitting some work with Kenneth Dixon.
It's going to be tougher to keep a running back as complete as Ingram off the field for very long.
Ingram likely won't play 80% of the offense's snaps per game; hardly any running backs do so these days. Still, he's the clear-cut starting running back in the league's most run-heavy offense with a demonstrated history of solid fantasy football production. Zero RB drafters could certainly do worse.
How would you rate this article?