Raybon: How to Execute Zero RB Strategy, Who to Target in 2019
Credit:
Mark J. Rebilas-USA TODAY Sports. Pictured: Chase Edmonds
Chris Raybon explains what the Zero RB fantasy football strategy is (and isn't) and how to use it to get an edge.
He also highlights his favorite Zero RB targets for 2019.
I have a love-hate relationship with Zero RB.
If you're not familiar, Zero RB is a strategy that Sean Siegele first brilliantly laid out in 2013. It essentially calls for bypassing RBs though the first few rounds in order to get studs in all of your other starting slots, particularly at the pass-catching positions of WR and TE.
I love it because it's both contrarian and anti-fragile, which I believe is necessary in a game like fantasy football, where your chances of winning are usually somewhere in the range of 1-in-8 to 1-in-12, anyway.
At the same time, I hate that it has become so trendy — the whole reason it worked for Siegele and others was because it was contrarian. If your entire league attempts to go Zero RB all at once, then the correct move would be to hammer RB early and often, because that's where the value would be.
With that said, let's look at what has made the strategy work and how to do it right in 2019.
---
More Strategy Pieces: Late-Round QB | Auction | Best Ball
---
What Makes Zero RB Work?
Running backs get hurt more than other positions. According to a study by ProFootballLogic.com, the average RB misses 2.7 games out of 16 on average while WRs miss 2.0, TEs miss 1.8 and and QBs miss 1.1.
While the most robust response to the heightened attrition rate at RB  is to prioritize addressing the position early and often in fantasy drafts, that approach also has its drawbacks.
For one, even though RBs tend to be the most valuable position in most fantasy formats due precisely to the positional scarcity that results from their increased rate of injury, high-end production at the position is also not as exclusive to a select group at the position over the course of the season as it is at the pass-catching positions.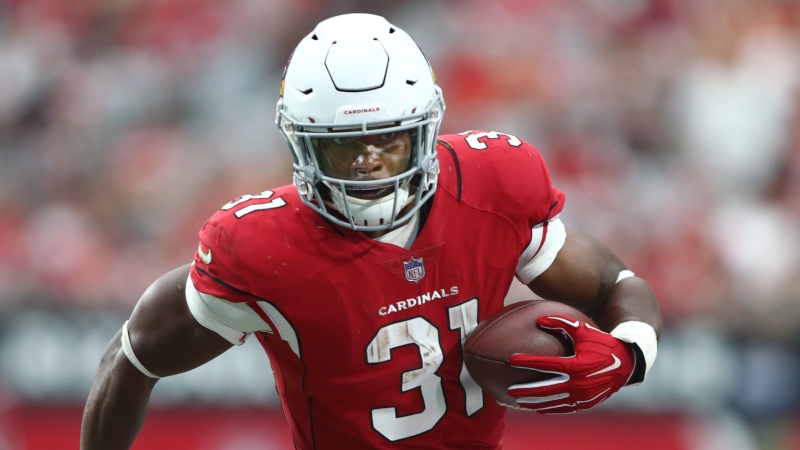 For example, it is far more common for a running back who might have been a healthy scratch early in the season to end up being thrust into  a role that sees them handle 20 touches a game, but rarely does a team's fourth or fifth pass-catching option end up becoming a target monster and fantasy league-winner even when injuries to players ahead of them on the depth chart do occur.
So instead of trying to make up the RB position's inevitable elevated rate of missed games by using a large amount of prime draft capital at the position, what the Zero RB strategy attempts to do is give you an edge at the pass-catching positions that will be difficult for opponents to make up.
If you're able to execute this approach effectively and couple it with a little positive luck and variance at RB, you can often create a gap gap between yourself and your opponents that's more sizable than what would otherwise be possible when employing a more traditional approach.
How to Execute Zero RB
Zero RB works best in PPR leagues — particularly full PPR — as this maximizes the importance of pass catchers relative to RBs.
The Ideal Zero RB Candidate
The ideal candidate is a back capable of outperforming his average draft position (ADP) who is still available after you have addressed at the very least all of your starting pass-catcher slots, as well as secured a pass catcher for your FLEX.
Just as the best late-round QB candidates tend to have rushing upside, the best Zero RB candidates tend to have receiving upside.
Every top-12 RB last season averaged at least 15.0 PPR points. Over the past three seasons, the average 15-plus-point RB PPR game required 20-plus touches 76.6% of the time and 15-plus touches 51.4% of the time. It required at least three receptions 67.6% of the time and at least four receptions 50.7% of the time.
The implication here is that there's more of an ideal Zero RB mix of players who make up a Zero RB roster, or portfolio of rosters, than a specific type of ideal Zero RB candidate.
You want to draft some backs with feature-back upside (think Royce Freeman), but also supplement them with cheap receiving production that can often be had essentially for free (think Theo Riddick, Giovani Bernard, Jalen Richard, etc.).
What I generally try to avoid are backs in three-man committees with minimal receiving upside.
For example, Adrian Peterson averaged 12.1 PPR points per game to Chris Thompson's 9.0 last season. But Washington's coaching staff has indicated that it would like to employ a near-even split with Peterson and Derrius Guice this season with Thompson remaining in his third-down role. Thus, Thompson is arguably a good bet to outscore each of them on a per-game basis despite the fact that he can be had for free in most fantasy leagues, while Guice often comes off the board 100 picks earlier.
---
Don't Fall into the Trap of Thinking You Have to Take a QB Early
There's a reason I call Late Round QB the predominant fantasy football strategy. It's because as long as we're talking about leagues that require one starting QB, there will always be more supply than demand at the position.
The biggest mistake I tend to see Zero RB drafters make is ruining a good start to their draft by taking a (supposed) stud QB in the middle rounds instead of switching gears to RB. This often occurs precisely at a point that their repeated early-round hammering of pass catchers was about to pay off in the form of forcing opposing drafters to bypass RB value in order to address WR and TE.
Remember, the goal of Zero RB is not merely to platoon a bunch of late-round RBs and blow all of your free-agent acquisition budget (FAAB) at the first instance of a lead back suffering an ACL injury. You're still trying to nail middle-round backs capable of outperforming their ADP and being every-week starters. So even if you execute the strategy effectively early on by loading up on pass catchers, if you then turn around and bypass one more round of RB value than you needed to, you could end up eating into your edge.
---
Pivoting to a Modified Zero RB Approach — Aka One RB — Is Perfectly Viable If There's Value on the Board
That is, if you're not the only one that has been aggressively targeting pass catchers, don't feel like you have to "see the strategy through" and bypass obvious RB value in the name of Zero RB.
For example, if half of the league decides to go Zero RB, then inefficiencies will present themselves and you would be silly not to react. If your fellow league mates think it clever, for example, to let Alvin Kamara fall outside the top 10, you'd better take him.
Zero RB — or any other fantasy strategy — is no substitute for reacting to the unique opportunities that present themselves in a given draft.
How often and at what point you deviate from Zero RB should generally depend on how the ranked tiers at each position shake out in a given year.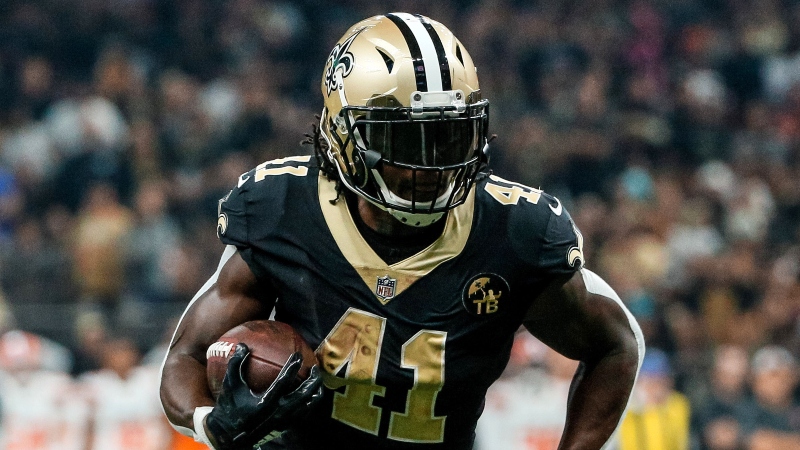 For example, a couple of Siegele's best Zero RB had one RB through seven rounds, and that back (Le'Veon Bell each time) was selected in Round 5 or 6. But this season, most would agree there's a drop-off at WR around WR15 and at RB around RB20. Thus, drafters following some form of a Zero RB approach might still often end up with one RB through seven rounds, but could tend to find it more advantageous to draft that RB in Round 4 rather than Round 5 or 6.
---
Don't Overdo It with Handcuffs
Yes, volume is the surest path to upside. And yes, one of the major points of Zero RB is to benefit from injuries. But that's not the same as relying on injuries, or fooling yourself into thinking you can predict them.
At the end of the day, remember that the average RB misses 2.7 games out of 16.
That works in your favor if the majority of your league is spending premium draft capital on RBs while you're loading at at WR and TE, but if you then go out and invest primarily in RBs whose only path to playing time is the starter getting hurt, you're only hurting yourself.
Handcuffs can certainly be part of the equation, but again, you want to mix it up by also rostering a fair share of high-upside committee backs (preferably with receiving upside) as well as cheap passing-down specialists.
Tailor Your Zero RB Approach to Your League Settings and Format
Re-draft and best ball leagues can lend themselves to slightly different types of Zero RB candidates.
In re-draft, predictability and early-season performance is more important because you have the ability to continuously shape and mold your roster, but you still have to be able to stay afloat at the position in the meantime, so you might have to take more of the unsexy but reliable types.
Best ball, meanwhile, is a prime opportunity to target rookies, as well as general situations in which you think a player's longer-term upside over the course of the season outweigh's what could be an muddy path to playing time in the short term.
---
How to Do Zero RB Right in 2019
To fully benefit from bypassing RBs early in 2019 fantasy drafts, you're going to want to focus on two priorities.
1. Draft a Stud Tight End
Travis Kelce, George Kittle and Zach Ertz are in a tier of their own, and barring injury, owning them will probably go down as the biggest edge of 2019.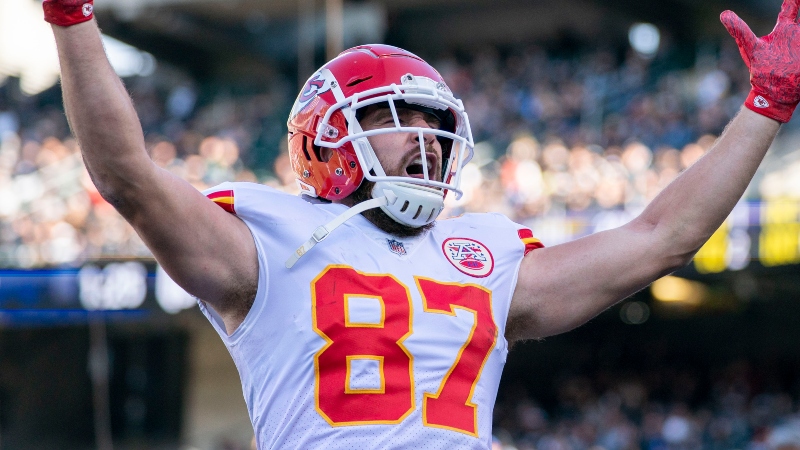 No Zero RB team should be without a stud TE. You're usually going to need to spend a top-20 pick to get one, so if you're picking close to the turn, it's OK to reach a little.
You will probably need to do this if you're picking close to the end of Round 1 in traditional 10- or 12-team snake drafts, but this will usually be offset because picking near the turn gives you the best opportunity to secure a stud TE and three top-15 WRs rather than two. Speaking of…
2. Attempt to Draft Three Top-15 WRs
Julian Edelman is the WR15 by most ADPs, and though some would include additional players at the end of the tier such as Brandin Cooks, I think the return of Cooper Kupp from injury and arrival of Darrell Henderson via the draft creates a significant enough gap between the target upside of Edelman and Cooks to knock Cooks down to the next tier. (If Tyreek Hill ends up being suspended for the whole year, I would make the case for Sammy Watkins in that tier, though.)
If you don't get to draft a third WR before the top-15 are off the board — a distinct possibility in 12-team leagues — then as I mentioned earlier, if a top-20 RB such as Kerryon Johnson, Devonta Freeman or Josh Jacobs is on the board, this would be a good time to draft your first RB before pivoting back to pass catchers.
3. Wait on QB
Zero RB allows for a more aggressive approach at QB, and I'm fine with selecting a QB like Baker Mayfield — who I think has legitimate Patrick Mahomes-ian upside if Odell Beckham Jr. and Co. can stay healthy — over an RB like Jordan Howard.
But there's still so much value at QB later on (Kyler Murray!) that making the unsexy RB pick here is going to almost always be the better bet.
---
2019 ZERO RB TARGETS
RBs with Volume Upside
Chris Carson, Seattle Seahawks
If you had asked me not too long ago who would be the preferred Zero RB target in the Seahawks backfield, I would have for sure said Rashaad Penny. But offseason knee surgery for Carson coupled with rave reviews for Eddie Lacy, I mean, Penny have lowered Carson's stock just enough to make him the ideal Zero RB target.
Carson has the 20-touch upside. And with a defense that's becoming increasingly hide-worthy and a bunch of no-name receivers, offensive coordinator Brian Schottenheimer has no choice but to dial up a game plan that seemingly predates the forward pass. Carson handled 20-plus touches in seven of Seattle's final 12 regular-season games.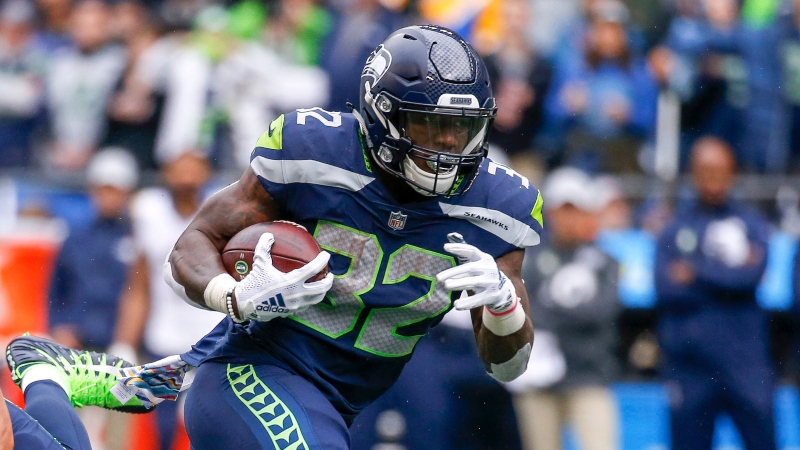 Carson also showed well as a pass catcher, hauling in 20-of-24 passes for 163 yards and showcasing some unexpected volume upside with a six-catch game and two other games with three catches apiece en route to a 25th-place finish among 88 qualified RBs in Pro Football Focus' receiving grades.
With Seattle's leading pass-catching back, Mike Davis, now with the Bears, Carson sneakily has upside for more in the pass game. It's admittedly an odd situation: Penny profiles as a stronger receiver than Carson, but neither is apparently being viewed as part of the third-down mix. But whereas Carson saw spiked receiving volume a few times late last season, Penny wasn't targeted even once after Week 9.
Darrell Henderson, Los Angeles Rams
Henderson's ADP is fast becoming too rich, but despite a crowded Rams' pass catcher corps, his upside is still worth the cost when employing a Zero RB approach.
Given Henderson's explosiveness combined with that of the Rams offense, it's hard to argue his ceiling is much different from that of Kenyan Drake, James White and Tarik Cohen, all of whom tend to cost an ever earlier pick.
Henderson also has quite a few data points workin in his favor. For one, backs drafted in Round 3 over the past five seasons have averaged 137.0 touches per season as rookies. On top of that, 4for4's John Paulsen found that over the past 10 years Round 3 backs who were traded up for (such as Henderson) produced 10.9 PPR points per game in Year 1 — 54% more than backs who were not traded up for.
And though we've probably already reached the point where the market is overstating the likelihood of Todd Gurley missing extended time due to his arthritic knee condition, it doesn't hurt that Henderson has proved capable of carrying a heavy load, logging 20.7 touches per game over his final seven contests in his last year of college at Memphis.
Duke Johnson, Houston Texans
Editor's note: Johnson has been subbed in for Lamar Miller, who is out for the season with a torn ACL.
Heading into Miller's first season with the Texans in 2016, there were questions about whether he was a true feature back. Miller's previous career-high in touches per game was 15.9, but Bill O'Brien fed Miller 21.4 touches per contest in the back's first season in Houston — a 34% increase.
Johnson's career-high in touches per game currently stands at 10.3, and I'm projecting a similar 34% increase in Houston, which puts him at 14 touches per game. At this projection, he's a fringe top-20 RB in PPR and just outside the top 25 in standard.
However, I believe this projection might be fairly conservative.
Johnson is a stocky 5-foot-9, 210-pounder who has never missed a game in four NFL seasons and handled 20.4 touches per game over his final two seasons in college at The U. The fewest touches an O'Brien lead back has averaged in Houston is Alfred Blue's 13.2 in 2015, and Blue is nowhere near the pass-catcher Johnson is, so 14 touches per game could be a lot closer to Johnson's floor than ceiling.
And I know many are worried about the offensive line, but Johnson's pass-catching ability makes it less of a concern for him than it would have been for Miller. This is because the more Houston struggles on the ground, the more it will need to pass, increasing Johnson's receiving upside.
O'Brien has admitted to a pass-catching back being a missing element in his attack, so whereas Miller spent a good chunk of his pass snaps blocking, this responsibility would shift more to the tight end group, particularly since Houston's top pass-catching tight end from last season, Ryan Griffin, was let go.
Latavius Murray, New Orleans Saints
Murray will trade in what was the NFL's 10th-worst run-blocking O-line (4.23 adjusted line yards) for what was its second-best (5.19), inheriting a role that saw Mark Ingram post 12.0/55.0/0.55 rushing and 1.7/14.1/0.09 receiving in 11 regular-season games with Alvin Kamara active in 2018.
If Ingram's last two seasons are any indication, the key in re-draft will be to lock in Murray at home. Over the last two seasons with Kamara active, Ingram posted 92.8 total yards, 1.0 touchdowns and 18.3 PPR points in 13 games in the Superdome compared to 75.7 total yards, 0.4 touchdowns and 12.6 PPR points in 15 games on the road.
Royce Freeman, Denver Broncos
This is one where you might have to squint a little more.
By making Joe Flacco their prized offensive addition and trading out of the 10th overall pick with Dwayne Haskins still on the board, it has become apparent that John Elway has finally given up on passing.
I kid, but if Elway would actually give up on unremarkable 2016 fourth-rounder Devontae Booker and redistribute Booker's 4.5 touches per game to Freeman instead, his Year 1 average of 9.2 touches per game with Phillip Lindsay active would rise to 13.7.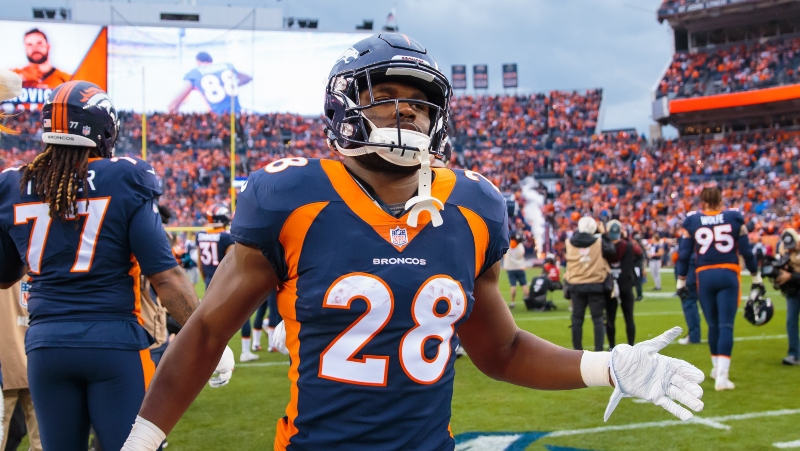 Booker's presence prevented him from showing it much in Year 1, but Freeman also has untapped receiving upside. He caught eight balls in the one game he played without Lindsay last season, and he caught 79 passes for 814 yards (10.3) and four touchdowns over his four-year college career at Oregon.
Damien Harris, New England Patriots
The Patriots had three RBs finish inside the top 40 in 2017 and three finish inside the top 45 in 2015, and in 2016 and 2018 their No. 3 back — Rex Burkhead — was right around 10 combined carries and targets per game.
James White has been known to see a spike in receiving usage with Rob Gronkowski out, so if rookie wide receiver N'Keal Harry continues to struggle with separation, coach Belichick might go back to using White predominantly as a receiver — he averaged 2.5 carries per game in 2015-17 before spiking to 5.9 last season.
Patriots backs have averaged 25.1 carries per game over the past three seasons, and with White a solid bet to return to more of a bit role as a runner, Harris could see a significant workload even with Sony Michel reprising his 16.1 carry-per-game role from last season. Harris excelled as a runner and pass catcher at Alabama and might very well be the most well-rounded back on the roster.
Even in Year 1, I wouldn't rule our Harris earning a role similar to Dion Lewis in 2017 (11.3 carries and 2.2 targets per game).
Kalen Ballage, Miami Dolphins
Kenyan Drake is a solid Zero RB candidate in his own right — and his nine touchdowns and criminal underuse did nothing stop reminding me of Jamaal Charles — but Ballage better captures the true spirit of Zero RB.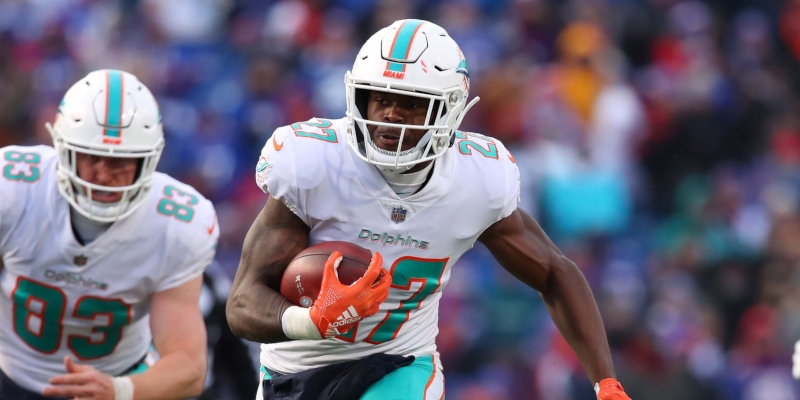 Here's what I had to say about Ballage in my best ball targets piece (and be sure to check that piece out for a few other potential Zero RB deep sleepers not mentioned here):
I tend to be skeptical of unestablished players vying for work amid a regime change, but first-year head coach Brian Flores has repeatedly declared Ballage in the running for the starting job.

It would be silly for the Dolphins not to feature Kenyan Drake, but Flores spent his last 15 years with the Patriots and new offensive coordinator Chad O'Shea also spent the last decade with New England, so regardless of how the depth chart shakes out, Ballage could be in line to play a role akin to Sony Michel with Drake as James White.

Though Miami is the consensus favorite to be the league's worst team, Ballage is not without reason for optimism.

The Dolphins' offensive line ranked 14th in Football Outsiders' adjusted line yards(4.47) and helped its backs to the fifth-best yards per carry mark in the league (4.79), while Ballage is a 97th-percentile Speed Score athlete who is also capable of creating for himself. He showed his juice last season with a 75-yard touchdown run in his first start, and though his other 35 carries went for only 116 yards (3.3 YPC), that is exactly the type of volatility you're looking for at this point in the draft.
Chase Edmonds, Arizona Cardinals
David Johnson is being drafted as the RB5. Edmonds is being drafted as the RB70. If you're going to stash one handcuff this season, make Edmonds it.
---
Cheap Passing-Down Specialists
Chris Thompson, Washington Redskins
Over the past three seasons, Thompson has averaged 10.8 PPR points, posting 15-plus 27.8% of the time and 10-plus 41.7% of the time. Draft him now and spare yourself the frustration of picking him up the week he gets hurt.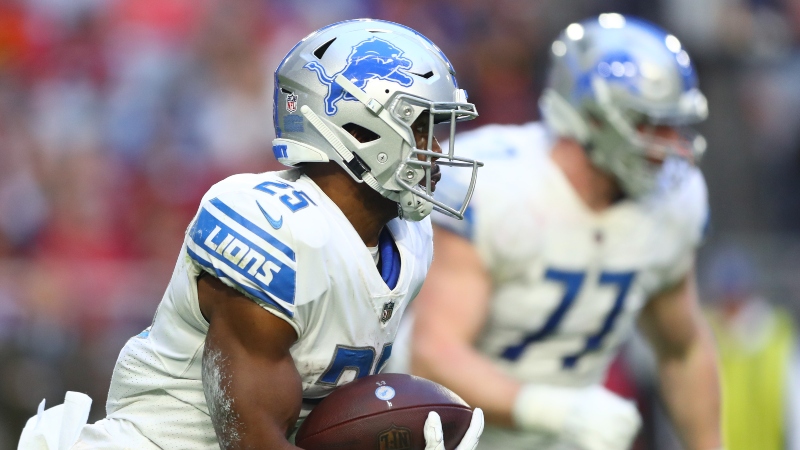 Theo Riddick, Detroit Lions
He's been talked about as a potential surprise cut candidate, but if he does make the roster, he could legitimately finish 40-50 spots higher than his current ADP of RB77. Because no matter how many Kenny Golladays and Kerryon Johnsons and T.J. Hockensons you surround Matthew Stafford with, you will not deter him from checking down to Riddick seven times a game for 30 yards.
(But seriously, monitor his status during roster cuts.)
Jalen Richard, Oakland Raiders
Because no matter how many Antonio Browns and Josh Jacobs and Tyrell Williams you surround Derek Carr with, you will not deter him from checking down to Richard seven times a game for 30 yards.
---
Chris Raybon is a Senior Editor at the Action Network and a co-host of Sirius XM Fantasy Radio at 9-11 a.m. ET on Wednesday-Friday. He has watched every snap of every NFL game since 2010 — even the kneel downs. Follow him on Twitter @ChrisRaybon and read about how he quit his accounting job and got paid to watch sports.
How would you rate this article?