The NFL Bets Our Experts Made Early for Week 10
Credit:
Steven Bisig-USA TODAY Sports. Pictured: Russell Wilson.
Betting early in the week is often the best way to beat closing lines, and get the most value out of your picks.
Our experts reveal the early NFL bets they made for Week 10 below.
NFL spreads usually open up on Sunday evenings for the following week — and after they do, they're almost immediately on the move. The early bets serve as a signal to bookmakers for what the "true" odds should be, and sportsbooks aren't shy about adjusting on the fly if the market is telling them they missed the mark.
Betting earlier in the week is a key way you can beat the closing line, which should be your goal as a bettor.
Our NFL experts hopped on four games early in an attempt to beat the market:
Chargers-Raiders (Odds: Chargers -1)
Ravens at Bengals (Odds: Ravens -10)
Bills at Browns (Odds: Browns -3)
Seahawks at 49ers (Odds: 49ers -6)
---
Odds as of Tuesday evening and via PointsBet, where Action Network users can access an exclusive promotion to get a 200% deposit match (deposit $50, bet with $150).
---
Below, they'll detail what led them to make their wagers — and the thresholds at which they still have value.
Let's dive in.
---
John Ewing: Raiders-Chargers Under 48.5
8:20 p.m. ET, Thursday
The Raiders-Chargers total on Thursday Night Football has increased from 47.5 to 48.5. This line movement is a little surprising considering each team is below average in points scored per game this season and the Chargers rank eighth overall in points allowed (18.7) in 2019.
Divisional games tends to create a low-scoring environment with players and coaches having a good understanding of their opponent's tendencies.
In fact, in divisional games that take place in the second half of the season, it's been profitable to wager on the under in high-total games when we've seen the over/under increase, like in Thursday's matchup
History isn't the only reason the Raiders-Chargers under has value. According to our simulations, we project these teams to combine for 44.4 points on average. With the total increasing, bettors should wait to place a wager until closer to kickoff in hopes of grabbing a higher line.
[In New Jersey? Bet now at PointsBet]
Stuckey: Bengals +10 vs. Ravens
1 p.m. ET, Sunday
Last week was fun when my team (the Ravens) won and covered for us against New England on Sunday night. But it's money first and we are going against Baltimore after that emotional win.
Yes, it's a great situational spot for the Bengals, who are coming off a bye seeking their first win of the season against a division rival. And with a new QB under center, I expect a spirited effort from Cincy, which is now the only winless team in the NFL.
The Bengals aren't good, but they are better than what the market has been implying this season. Just take a look at some of their competitive losses (and covers) this season against winning teams:
Lost by 1 at Seattle
Lost by 2 at Buffalo
Lost by 6 at Baltimore
Bottom line: This line simply came out too high this week, which is why I bet it at +10.5 and still like it at +10.
It's a high-risk flat spot for the Ravens after such an emotional win that Cincy can take advantage of early. The Bengals' horrid linebackers do scare me against Baltimore's top rushing attack, but anything 10 or above is good in my book. Remember: Cincy was +11 at Baltimore just a few weeks ago and covered in Charm City.
Plus, the bye should've really helped a Cincy team decimated by injuries get healthier on both sides of the ball. Notorious Raven killer A.J. Green should make his season debut on Sunday.
For you trend players: This isn't a huge sample size, but it's interesting to note that teams that beat the Patriots and then open as a 7+ point favorite their next game are 0-8 ATS since 2003.
[In New Jersey? Bet now at PointsBet]
Sonny Banks: Cincinnati +10 vs. Ravens
1 p.m. ET, Sunday
Like Stuckey, I hopped on this early at +10.5 and still like it at +10, as my number here is 8.5.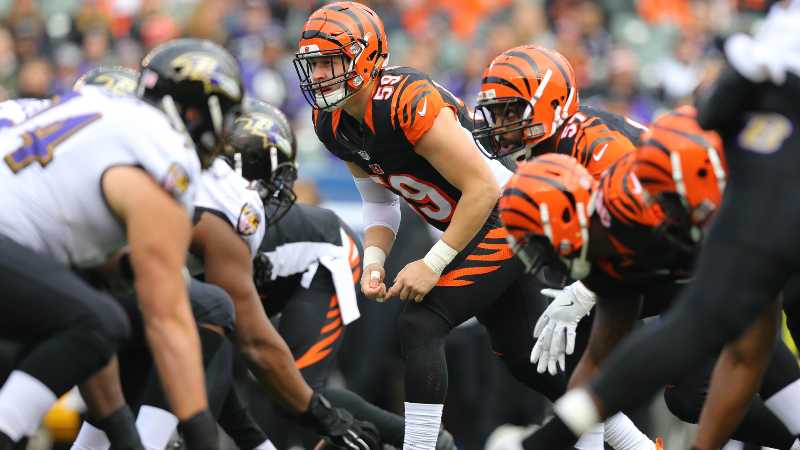 This line overvalues the Ravens coming off a big primetime win. I'm expecting it to go down to set up options for me later in the week. The Bengals are coming off a bye, and while the market may not know how to value new Cincy QB Ryan Finley, he's replacing Andy Dalton, who ranked in the bottom-third for starters this season.
Similar to betting on Carolina's Kyle Allen and Denver's Brandon Allen when their starters went down, I'm banking that Finley can't be that much worse than Dalton.
[In New Jersey? Bet now at PointsBet]
Mike Randle: Cleveland -2.5 vs. Buffalo
1 p.m. ET, Sunday
This is an ideal fade-the-public spot. Early returns per the Action Network app have 80% of the bets coming in on the 6-2 Bills. Despite this early action, the line has increased in some spots to Cleveland -3.
Buffalo has enjoyed a very easy strength of schedule, with their opponents only having a 31.9% (22-47) winning percentage. The Bills have faced the Jets (1-7), Giants (2-7), Bengals (0-8), Dolphins (1-7), and Redskins (1-8). No NFL team has faced all five of those teams at this point in the season.
Offensively, the teams are mirror images of each other, with both boasting strong running games but weak passing efficiency. Both Buffalo and Cleveland rank in the upper quartile in running efficiency and bottom quartile in passing efficiency.
Buffalo's poor run defense will be a concern against Browns running back Nick Chubb, who has averaged 97.7 rushing yards per game at 4.83 yards per carry in home games.
The game is similar to Cleveland's Week 6 matchup against Seattle which the Browns lost 32-28 as a result of four turnovers.
Buffalo has struggled against the spread, going 1-2 in their last three games. Last week's fourth quarter cover at home against Washington also failed to inspire confidence.
With the majority of the public supporting the Bills on the road, I'll side with Vegas against a Buffalo team that has enjoyed an easy slate of opponents up to this point.
[In New Jersey? Bet now at PointsBet]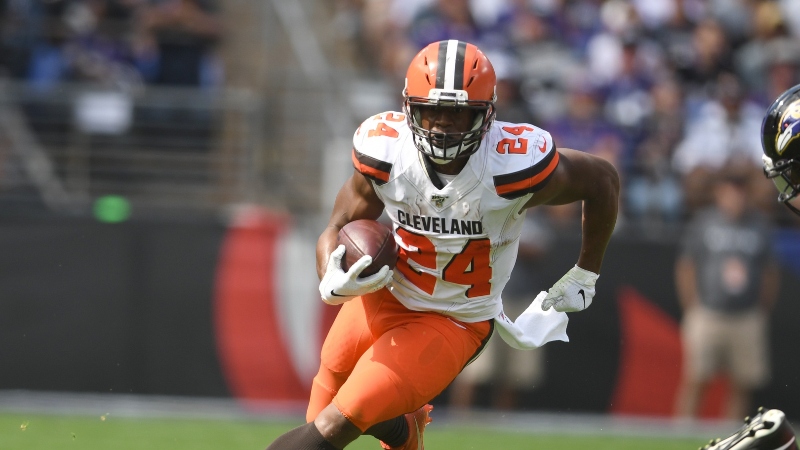 Travis Reed: Seahawks-49ers Over 46.5
8:15 p.m. ET, Monday
In what figures to be a very entertaining matchup on Monday Night Football, this over/under instantly caught my eye. The consensus line opened at 44 and we have already seen the market move it up to 46.5.
The Bet Labs model that I use to simulate the season projects this total at 51, making this the largest edge on the board for Week 10. In what the public may see as a matchup between two defensive powerhouses just a few years ago now features two prolific offenses, including an MVP candidate in Russell Wilson.
I took the over at open but would still recommend a bet on the over up to 47.5.
How would you rate this article?