Stuckey: Why I'm Backing the Ravens on Sunday Night Football
Credit:
USA Today Sports. Pictured: Lamar Jackson
Patriots at Ravens Betting Odds
Odds: Patriots -3
Over/Under: 44.5
Kickoff: 8:20 p.m. ET
TV Channel: NBC
What an AFC treat this will be in Charm City — a battle of first-place teams, between the class of the conference and one of the few real Super Bowl contenders.
This should be one of the better regular-season games of the season, so to fully prepare, I've broken down every phase of the matchup as well as how I'm betting it.
Let's begin.
---
Odds as of Saturday evening and via PointsBet, where Action Network users can access an exclusive promotion to get a 200% deposit match (deposit $50, bet with $150).
---
When the Patriots Have the Ball
Let me start off by saying that I have the Patriots rated as the best team in the NFL. That should be no surprise to anyone. However, despite the flawless start, this Patriots team is not without its flaws — particularly on offense.
This is not the same unit we're used to seeing for a variety of reasons:
Reason 1: The offensive line has had a number of injuries and has struggled as a result. Per Football Outsiders, the Patriots OL ranks 18th in adjusted line yards (a measure of run blocking), which explains some of their issues with running the ball.
Even more concerning is that they rank 31st in stuff rate, which means defensive lines are getting in the backfield and causing negative plays at a worrying frequency when the Pats try to run the ball.
The Ravens defense ranks in the top 10 in both.
Reason 2: The Patriots lost their starting fullback James Develin, who was so critical to their rushing game.
Reason 3: There has been a never-ending carousel of receivers and tight ends on the outside, which has thrown off the timing of the passing offense.
They lost first-round draft pick wide receiver N'Keal Harry to injury at the start of the season. They no longer have Josh Gordon and Antonio Brown, who are now in Seattle and at home tweeting, respectively. They've added Mohamed Sanu, who will eventually help, but it may take time. And the rest of their receivers have been banged up.
The offensive issues have been masked by turnover luck and the easiest schedule in the NFL. The Patriots sit at 8-0 on the season. Of the seven teams they beat (Jets twice), only one has a winning record: The Bills, who out-gained the Patriots 375 to 224 yards and 5.3 to 3.6 in yards per play (New England benefited from a blocked punt for a TD).
The formula to slow down Tom Brady and the Patriots offense has never changed: You have to pressure (and hit) Brady, and you need to play press coverage on the outside to take away the quick throws that Brady excels at and can counteract any pressure that comes.
Playing soft man or zone will get you burned over and over again by Tom Terrific.
Well, the Ravens blitz more than any NFL team and now have three elite press man cover corners with the return of Jimmy Smith and the recent acquisition of Marcus Peters, who is now healthy and ranks eighth in Pro Football Focus' coverage grades among 130 corners with at least 100 snaps. Add in Marlon Humphrey, one of the league's best corners, with Earl Thomas over top and you have one of the NFL's best secondaries — right behind the Patriots.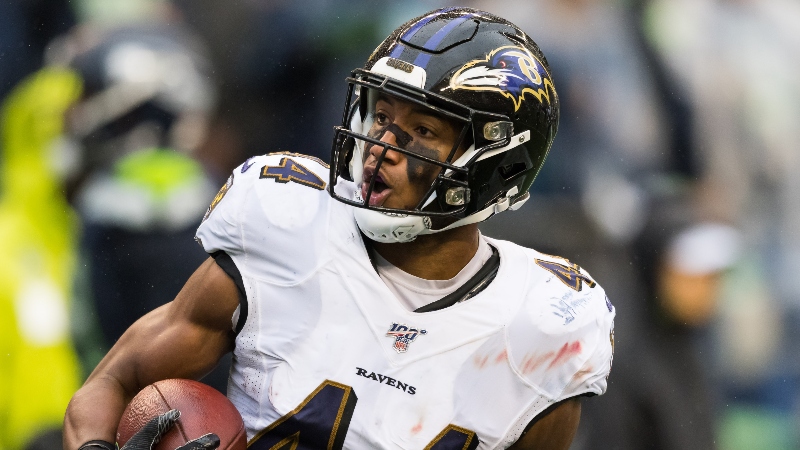 Just like the Ravens teams of old that gave the Patriots fits in a number of classic postseason matchups in Foxborough, with solid corners and Ed Reed over top, this unit now has the same makeup and scheme.
Baltimore is still semi-vulnerable against the run, but that's a weakness of the Patriots offense right now.
The Patriots offense will probably be humming come January as Brady and his weapons get their timing down and, more importantly, the offensive line improves — which is a safe assumption with one of the best offensive line coaches, Dante Scarnecchia, who doesn't get enough credit for his contribution to the Patriots dynasty. But this is a good matchup for the Ravens defense, which has addressed its biggest weakness: Corner play (outside of Humphrey) and secondary communication.
When the Ravens Have the Ball
Now, while there is a great deal of luck in the stats, the Patriots are almost always going to have a positive turnover margin since Brady (the GOAT) doesn't turn the ball over.
However, a large portion of their insane turnover margin this season has been very flukey. From blocked punts to lucky fumble recoveries, it's provided them with big early leads against bad quarterbacks, which has enabled them to suffocate subpar receivers with elite corners while bringing relentless pressure in Cover 0 (no safety over the top).
Here are the quarterbacks the Patriots have faced this season:
Week 1: Ben Roethlisberger
Week 2: Josh Rosen/Ryan Fitzpatrick
Week 3: Luke Falk
Week 4: Josh Allen/Matt Barkley
Week 5: Colt McCoy
Week 6: Daniel Jones (with all of his weapons out on a short week)
Week 7: Sam Darnold
Week 8: Baker Mayfield
That's not exactly a murderer's row.
If you take a microscope and look under the hood, this is a defense that's still very vulnerable against the run. It was an area of weakness last season, and the Browns showed you can still gash the Pats on the ground. In a game where the Browns actually had a higher yards per play than New England (5.3 to 4.8), they ran for 159 yards on 22 carries for a gaudy average of more than 7 yards per carry.
Now the Patriots have to play the best rushing offense in the NFL with a dominant offensive line that ranks in the top 10 in most advanced metrics. And when Jackson has to drop back to pass, he'll do so in front of an OL that leads the NFL with an 89.9 pass-blocking efficiency (per PFF).
Look, Belichick's record against first- and second-year quarterbacks is nearly perfect. He can confuse them with brilliant schemes as well as any coach in the history of football. But one of the losses he did suffer was in the 2009 playoffs to Joe Flacco, who finished 4-for-10 for 34 yards — the Ravens didn't need Flacco thanks to their defense and with Ray Rice running wild.
Well, they might not need Jackson here as I fully expect the Ravens to line up in heavy formations and run it right down New England's throat while taking occasional shots downfield. Having Marquise Brown (questionable) will help in that department.
It'll also be interesting to see how the Patriots play on defense as they prefer to run man and blitz, which could spell doom against Jackson if he gets outside the pocket and/or past the first line of defense with the corners trailing the receivers. It's one reason Belichick has struggled against mobile quarterbacks. I'm sure he'll have a unique scheme cooked up with potential spies and a different type of contain-focused pass rush, but I'm not sure anybody in the league is capable of spying Jackson.
This is a great matchup for the run-heavy Ravens offense — they just have to make sure they don't turn it over early and dig themselves into a hole like every team has seemingly done against the Patriots this season. That can't last forever.
I've said from the beginning of the season that the Patriots have the best overall defense in the NFL. But this is still close to the same unit they had in 2018, which is great, but it's not suddenly historically great. The numbers are, but they're also inflated by extremely poor competition and insane turnover luck. There are still holes up front.
They'll still put up elite numbers, but they won't maintain their current pace as the schedule starts to get a whole lot tougher, starting this week.
Situational Spot
This is also a great spot for the Ravens coming off a bye, which served them well health wise. Plus, John Harbaugh has been one of the most profitable NFL coaches after a bye over the past 15 years. In fact, if the Ravens win this game, Harbaugh will pass Belichick as the most profitable coach ATS after a bye over that span.
Most Profitable Active Coaches Off a Bye Since 2005
Bill Belichick: 11-6-1 ATS (64.7%); 26.4% ROI +$476 (62.1% normally)
John Harbaugh: 8-3 ATS (72.8%); 40.8% ROI +$448 (49.7% normally)
Andy Reid: 11-7 ATS; 19.2% ROI; +$346
Harbaugh is also 6-1 straight-up at home off a bye, but that one loss should've been a win that the NFL had to apologize for.
Mismatch to Watch: Special Teams
One factor that's made the Patriots so great (other than great defense, coaching and QB play) is they do all of the little things well.
Their main focus is execution and excellence on every play. As a result, they've always valued the importance of special teams and excelled in the third phase of the game that often gets so overlooked.
That said, it's been a struggle for them this season. The Pats are now onto their third kicker as they brought in Nick Folk to take over kicking duties.
Meanwhile, the Ravens have the best kicker in NFL history in Justin Tucker, who's the only kicker to not miss a field goal or extra point this season.
Don't believe me that Tucker is the greatest ever? Just ask Belichick.
Belichick on Ravens kicker Justin Tucker: "Best kicker in the history of the league."

— Mark Daniels (@MarkDanielsPJ) November 1, 2019
Like the Patriots, the Ravens have always valued special teams, especially under Harbaugh, who used to coach special teams in Philadelphia.
The Ravens do everything well on special teams. Per Football Outsiders, they have the best unit in DVOA while the Patriots come in at an uncharacteristic 26th. The Patriots usually have the edge in special teams, but not this week.
The Ravens should win the field position battle and will have the more reliable kicker.
My Pick
Ravens +3 or Better [In New Jersey? Bet now at PointsBet]
I make this game a pick'em and love the matchup on both sides of the ball with the Ravens defensive scheme and elite rushing attack. As a result, I played Baltimore +4 earlier in the week and would happily take anything at +3 or better.
The Patriots could certainly win and cover again as I'm sure Belichick will have something special in store for Jackson and Co. There's a reason the Patriots continually exceed market expectations and cover more than 62% of the time under Belichick, even with everyone wanting to bet them each week. But I trust the Ravens here and can't pass up the line value.
These teams have played plenty of big games against each other in the past, and they've been close battles more often than not. Expect another intriguing chess match and don't sleep on the special teams advantage the Ravens should hold, especially at kicker.
How would you rate this article?