Early AFC & NFC Championship Betting Picks & Predictions for Titans vs. Chiefs & Packers vs. 49ers
Credit:
Brett Carlsen/Getty Images. Pictured: Derrick Henry
Looking for some early picks and predictions for Sunday's AFC and NFC Championship Games? Below, our experts detail the bets they locked in right away for Titans at Chiefs and Packers at 49ers.
The picks include a spread bet on the NFC Championship Game, along with over/under and spread picks for the AFC Championship Game.
Sportsbooks released spreads and over/unders for the two NFL Conference Championships before Divisional Round matchups were even finalized, and almost immediately, odds were on the move.
Given the importance of beating the closing line in sports betting, it's vital to get a jump on the market — that often means locking in a few bets earlier in the week.
Our experts have done just that, placing various bets on Sunday's matchups:
Titans at Chiefs: KC -7.5 | 51.5 Over/Under | 3:05 p.m. ET Kickoff
Packers at 49ers: SF -7 | 45 Over/Under | 6:40 p.m. ET Kickoff
Now let's dive into their picks.
NFL Conference Championship Betting Picks: Titans vs. Chiefs & Packers vs. 49ers
---
Odds as of noon ET on Monday and via FanDuel, where Action Network users get a risk-free bet up to $500.
---
Outdoor postseason games have trended to the under with a record of 77-58-4, good for a 10.5% return on investment.
And whenever the Chiefs are home, I almost always bet the under anyway. That didn't work out well for me in the Divisional Round, but I expect the market will be too bullish on the over because of the 82 points scored in Kansas City.
Arrowhead Stadium is a tough place to play, and I expect the Titans to lean on the ground game, given that running back Derrick Henry is currently in god mode and the Chiefs are No. 29 in run defense DVOA (per Football Outsiders).
With a run-heavy attack, the Titans are likely to slow the game down, which could drive the total to the under. They've leaned on the run in both of their playoff games, and the under is 2-0.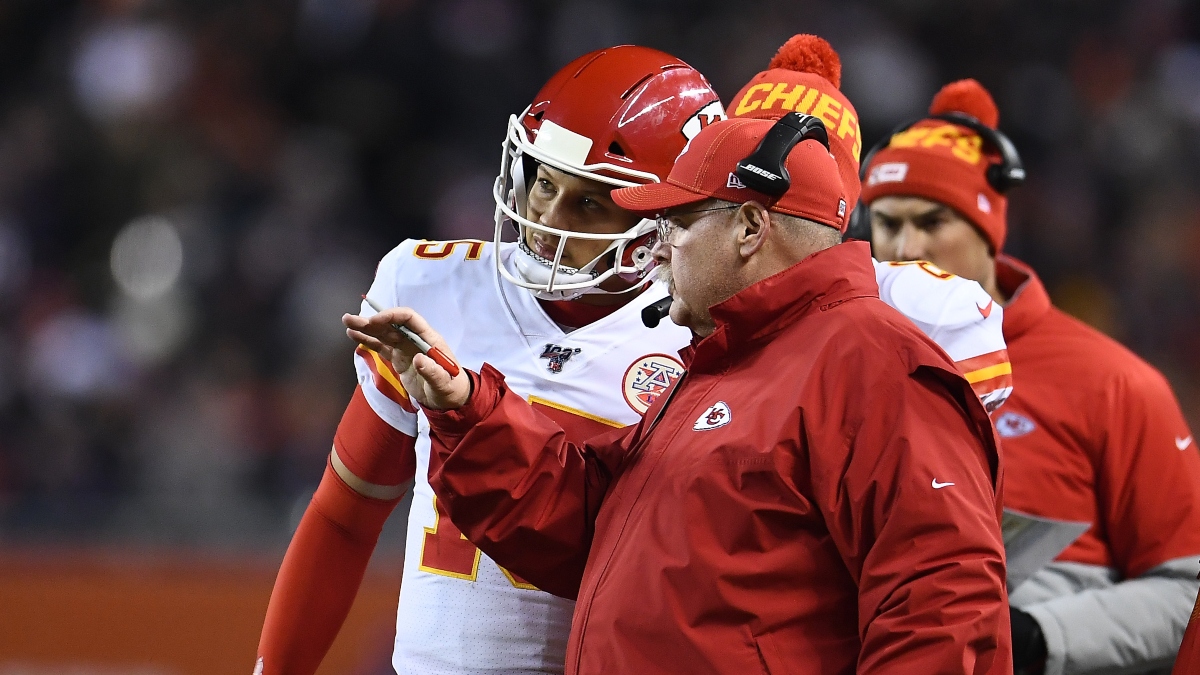 It might seem counterintuitive to bet the under when one of the league's best offenses is at home, but under head coach Andy Reid, the Chiefs actually have an under record of 36-23-1 at home (including playoffs, 18.9% ROI).
Since 2013, no home coach has been more profitable for under bettors than Reid.
[In New Jersey, Pennsylvania, Indiana or West Virginia? Bet now at FanDuel]
A majority of bets are already on Kansas City to cover this 7.5-point spread. And after watching Patrick Mahomes lead a 24-point comeback against the Texans, I don't blame bettors for backing Reid's team.
Tennessee will struggle to slow down the Kansas City offense, but the Chiefs don't have an answer for Henry. They allowed 4.9 yards per carry and were 29th in defensive rushing DVOA. Henry is averaging 5.9 yards per attempt and 188.5 rushing yards per game in the playoffs this season.
With his ability to pick up yards on the ground in bunches, the Titans should be able to extend drives and keep the ball away from Mahomes & Co.
Not only does Tennessee's matchup advantage in the ground game point to value taking the points, but history is against the Chiefs in this spot. Since 2003, underdogs of a touchdown or more have gone 37-26-1 (59%) against the spread in the playoffs, including 9-2 ATS in conference championships or later.
Big spreads are hard to cover, especially in the postseason when there's less of a difference between teams.
I'm taking Titans +7.5 and would bet them down to +7.
Click below to bet now.
Sean Zerillo: 49ers/Chiefs Six-Point Teaser
My initial thought when I saw both conference championship spreads open around 7 for next week? Tease the favorites.
If you're going to tease games in the NFL, teasing through both 3 and 7 is ideal as roughly 24% of games land on one of those two numbers, and an additional 11% of games land on either 4 or 6.
The break-even point for two team teasers at -110 juice is 72.4%.
Since the 2003-04 season, when the spread is between -7 and -8.5, regular-season favorites are 416-124-1 (77%) straight up, while playoff favorites are 24-10 (70%) straight up.
If you lower the threshold to -6, regular-season favorites fall to 73.1% straight up, but playoff favorites improve to the same rate, at 38-14 (73.1%).
Not all of those straight-up wins would have also won as teasers — there are instances, for example, in which 8.5- or 8-point favorites teased down to -2.5 or -2 won by only one or two points, leading to losses and pushes.
But at this stage of the NFL playoffs, when the most efficient betting market in the world is focused on just two games, finding a break-even proposition might be the safest bet on the board.
[In New Jersey, Pennsylvania, Indiana or West Virginia? Bet now at FanDuel]
The 49ers closed as 7-point favorites over the Vikings — and the Vikings were a better team than the Packers.
Simple Rating System (schedule-adjusted margin of victory) pegs the Vikings at +5.4 and the Packers at +3.2. Or take DVOA, a schedule-adjusted team efficiency metric by Football Outsiders that ranks the Vikings seventh at +15.4%, twice as efficient as the 10th-ranked Packers (+7.7%). The 49ers, meanwhile, clock in with +11.0 SRS (second in the NFL) and a +27.5% DVOA (fifth).
Despite home-field advantage and extra rest, the Packers barely held on against an injury-ravaged Seahawks team in the Divisional Round, getting out-gained 375-344 in total yardage and 6.3-5.8 in yards per play. And all of the advantages Green Bay enjoyed against Seattle are no longer present.
Wide receiver Davante Adams went 8-160-2, accounting for a ludicrous 66% of Green Bay's passing yardage. But this is a San Francisco defense that allowed a league-low 4.8 net yards per pass attempt. It's also the defense that held Adams to 43 yards on 12 targets in Week 12.
That leaves running back Aaron Jones, Green Bay's only other means of offense against Seattle (66 yards, two touchdowns). But San Francisco held Jones to 38 yards on 13 touches in the teams' first matchup, and he's at risk of suffering a similar fate as Dalvin Cook, who gained only 26 yards on 15 touches in Minnesota's 27-10 Divisional Round loss to San Francisco.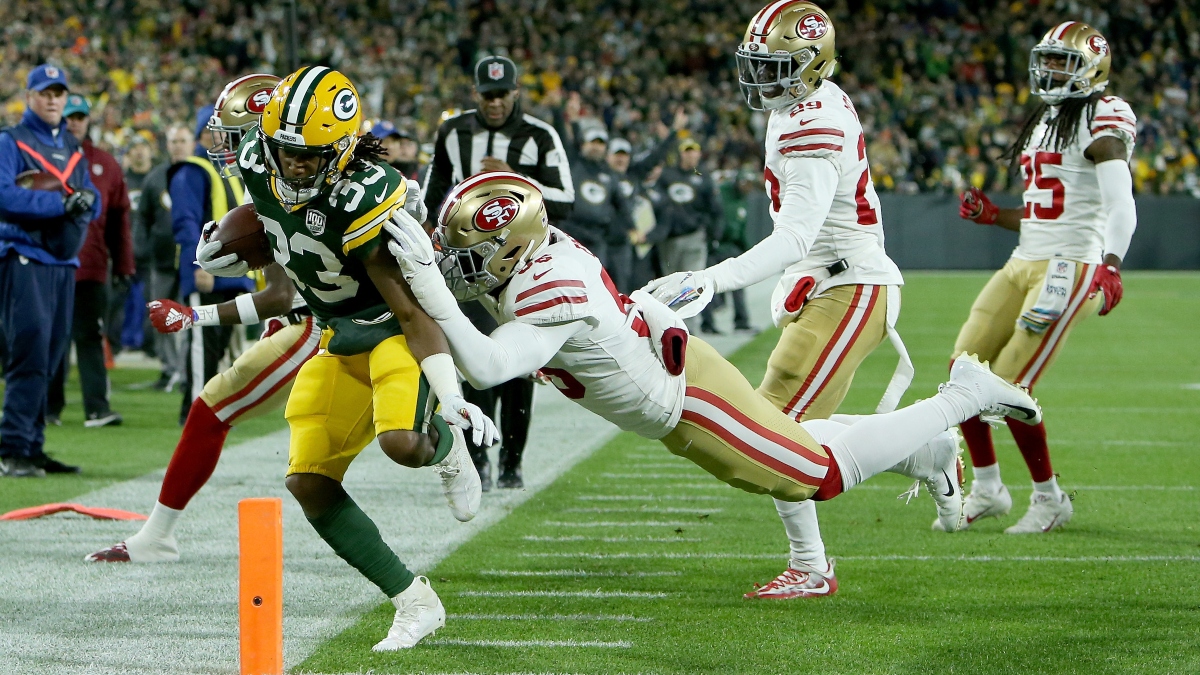 This 49ers squad is well battle tested: All six playoff teams they've faced have come in Week 10 on, and they're 5-1 ATS, covering by an average of 5.6 points per game.
The Packers are 4-2 ATS against playoff teams, but look closer and their resume is far less impressive: Two of their wins came against a Minnesota team they match up well with, a third came against a Kansas City team with Matt Moore at quarterback, and the fourth was their half-point cover against Seattle last week.
Despite the winning ATS record, the Packers' cover margin is in the red, at -2.5.
The market has been underrating the 49ers' dominance all season. That was the case in Week 12, when they were favored by three against these Packers and won by 29 in a 37-8 rout. And it's been even more true in the postseason, when they got back a stud at every level of their defense in safety Jaquiski Tartt, linebacker Kwon Alexander and pass-rusher Dee Ford. In eight games with all three in the lineup together, the 49ers allowed 11.9 points per game. They went 8-0 straight up and 6-2 ATS in those games, with a staggering +14.9 ATS margin.
When teams are relatively evenly-matched, the added familiarity in rematches can benefit the team that lost the first time, but this isn't one of those cases: The Packers offense relies too heavily on Adams and Jones to contend with a dominant defense that can take those two away. The blowout in the first matchup was not something a few coaching adjustments can fix.
I make this line nearly a field goal higher.
Click below to bet now.
How would you rate this article?