NFL Week 13 Fantasy QB Breakdown: Cam Newton Tops Our Models
Credit:
Credit: Tim Fuller-USA TODAY Sports. Pictured: Carolina Panthers quarterback Cam Newton (1).
Two of the top QBs in the FantasyLabs NFL DFS Models will face each other in Week 13.
In this piece, I'll highlight a few key situations to target this week, but check out the full piece on FantasyLabs for more.
Read the full version of this piece on FantasyLabs
The bye weeks are over, and the 2018 NFL season is still on pace for a record-breaking campaign with an average of 24.2 points per game per team. The action continues with a 13-game main slate that kicks off on Sunday at 1 p.m. ET.
In this positional breakdown, I'm looking at four quarterbacks at the top of the individual Pro Models that Jonathan Bales, Peter Jennings (CSURAM88), Adam Levitan, Sean Koerner, Chris Raybon, Kevin McClelland (SportsGeek) and I have constructed.
If you want more information on the rest of this week's quarterbacks, subscribe to FantasyLabs, where you can access the large suite of analytical DFS tools I use to research every player.
After this piece is published, FantasyLabs is likely to provide news updates on a number of players. Stay ahead of your competition with our industry-leading DFS-focused news feed.
For updates on Vegas spreads and over/unders, check out The Action Network Live Odds page.
---
>> Sign up for The Action Network's daily newsletter to get the smartest NFL conversation delivered into your inbox each morning.
---
Model Quarterbacks
Two quarterbacks in particular catch my eye this week. Naturally enough, they're playing in the same game.
Cam Newton: $6,600 DraftKings; $8,700 FanDuel
Jameis Winston: $6,000 DraftKings; $7,500 FanDuel
Cam Newton: Carolina Panthers (-3) at Tampa Bay Buccaneers, 53.5 Over/Under
UPDATE (12/1): Wide receivers Devin Funchess (back) and Curtis Samuel (hamstring) are fully expected to play after practicing this week.
Bucs linebacker Lavonte David (knee) is questionable but expected to play after practicing in full on Friday. Defensive end Jason Pierre-Paul (knee) will play after a full practice on Friday. Cornerback Brent Grimes (knee) is questionable but seems unlikely to play after a midweek downgrade. Cornerbacks M.J. Stewart (foot) and Carlton Davis (knee) are out.
On the Wednesday edition of The Action Network NFL Podcast, there was a lot of enthusiasm for Newton, and it's easy to see why.
While there were worries at the start of the season about how well offensive coordinator Norv Turner would be able to adapt his Air Coryell system to Newton, the 2015 MVP has career-best numbers with his 69.6% completion rate, 1.9% interception rate and 5.3% sack rate.
Even though he doesn't have a true No. 1 alpha receiver, Newton does have:
An elite pass-catching running back in Christian McCaffrey
A reliable and longtime middle-of-the-field option in tight end Greg Olsen
An emerging first-round rookie in wide receiver D.J. Moore
A contested-catch playmaker in wide receiver Devin Funchess
A veteran field-stretcher in wide receiver Torrey Smith
A versatile Percy Harvin clone in wide receiver Curtis Samuel
Newton has the players around him to succeed. In his five healthy seasons, he's been a top-four fantasy quarterback, and he's looking to accomplish that feat again with his average of 24.1 DraftKings points per game. Newton has had fewer than 18 DraftKings points in a game this season only once.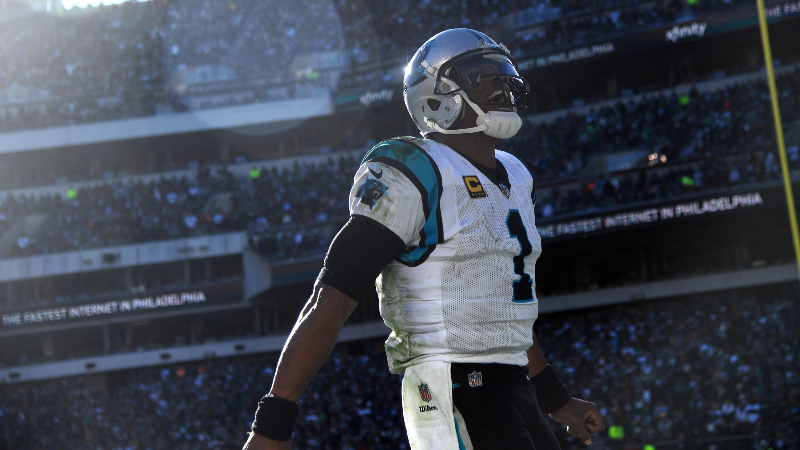 What's perhaps most amazing about Newton's performance is how he's been able to overcome the roster issues around him.
Continuity is crucial along the offensive line, and three of last season's starters are not on the field: Left tackle Matt Kalil (knee, injured reserve) was sidelined before the regular season, right tackle Daryl Williams (knee, IR) has missed every game but one and 2017 All-Pro left guard Andrew Norwell is on the Jaguars.
Even so, Newton is having one of the best campaigns of his career. Unsurprisingly, a large portion of Newton's value comes from his rushing production.
On a per-game basis, he's top-three at the position with 4.7 expected fantasy points as a runner (per the RotoViz Screener). Second on the team with 85 carries, 417 yards on the ground and four rushing touchdowns, Newton is basically his own short-yardage back.
He's first among all quarterbacks in league history with 58 rushing touchdowns and second to only Michael Vick with 39.5 yards rushing per game. Newton is viable in almost any game environment because of his running ability.
And he's more than viable this week: He's outright desirable.
Jameis Winston: Tampa Bay Buccaneers (+3) vs. Carolina Panthers, 53.5 O/U
UPDATE (12/1): Wide receiver DeSean Jackson (thumb) is out. Running back Peyton Barber (ankle, shoulder) will play after a full practice on Friday.
Last week, Winston managed to get through a game without throwing an interception for the first time this season, which is actually quite a feat for a guy who trails only Blake Bortles with his 55 interceptions since entering the league in 2015. Thanks to his newfound ball security, Winston will get another start this week.
He has probably the league's best collection of pass-catching talent in wide receivers Mike Evans, DeSean Jackson, Chris Godwin and Adam Humphries and tight end Cameron Brate.
As a team, the Bucs are first with 4,997 scrimmage yards, 3,914 net passing yards and 289 first downs, second with 449 pass attempts and fourth with 27 passing touchdowns and 6.6 yards per play.
Of course, they're also dead last in the league with 23 interceptions, 29 turnovers and a 22.3% turnover rate on a per-drive basis. A large part of that is because of Winston, who has 11 interceptions and five fumbles in just six games, only four of which have been starts.
Read the full version of this piece on FantasyLabs
Positional Breakdowns & News
Be sure to read the other Week 13 positional breakdowns.
• Running Backs
• Wide Receivers
• Tight Ends
For more in-depth NFL analysis information, check out The Action Network.
---
---
Matthew Freedman is the Editor-in-Chief of FantasyLabs. He has a dog and sometimes a British accent. In Cedar Rapids, Iowa, he's known only as The Labyrinthian.