Koerner: Why Texans-Chiefs Over/Under Is My Favorite Betting Pick of the Divisional Round
Credit:
Getty Images. Pictured: J.J. Watt
Sean Koerner uses his NFL Power Ratings to find the best bets for the Divisional Round of the NFL Playoffs.
Find his projected spreads and over/unders for Sunday's Texans-Chiefs and Seahawks-Packers matchups.
Also find out why the Texans-Chiefs over/under is his favorite play of the week.
Like every week, I've used my power ratings to project spreads and over/unders for each games, identifying the best bets for the Divisional Round as a result.
Now let's get to my picks.
---
Odds via FanDuel, where Action Network users get a risk-free bet up to $500.
---
Texans at Chiefs
Current odds: Chiefs -9.5; 51.5
My Projections: Chiefs -8; 48
The 1.5-point difference between my projection and the posted spread doesn't provide any significant edge in the 8-10 range. In all honesty, I would want to take the Chiefs in this spot, but Deshawn Watson's ability to put up points when playing from behind would make a back-door cover very possible.
I'll be attacking the total instead.
In fact, I like this under as my play of the week.
The total opened at 48.5, which was right in line with my projection for this game. It's crept up to 51.5 after significant action has come in on the over. Considering that 50 and 51 are key numbers, and that we won't see the next key number until 54, we should lock in the under at 51.5.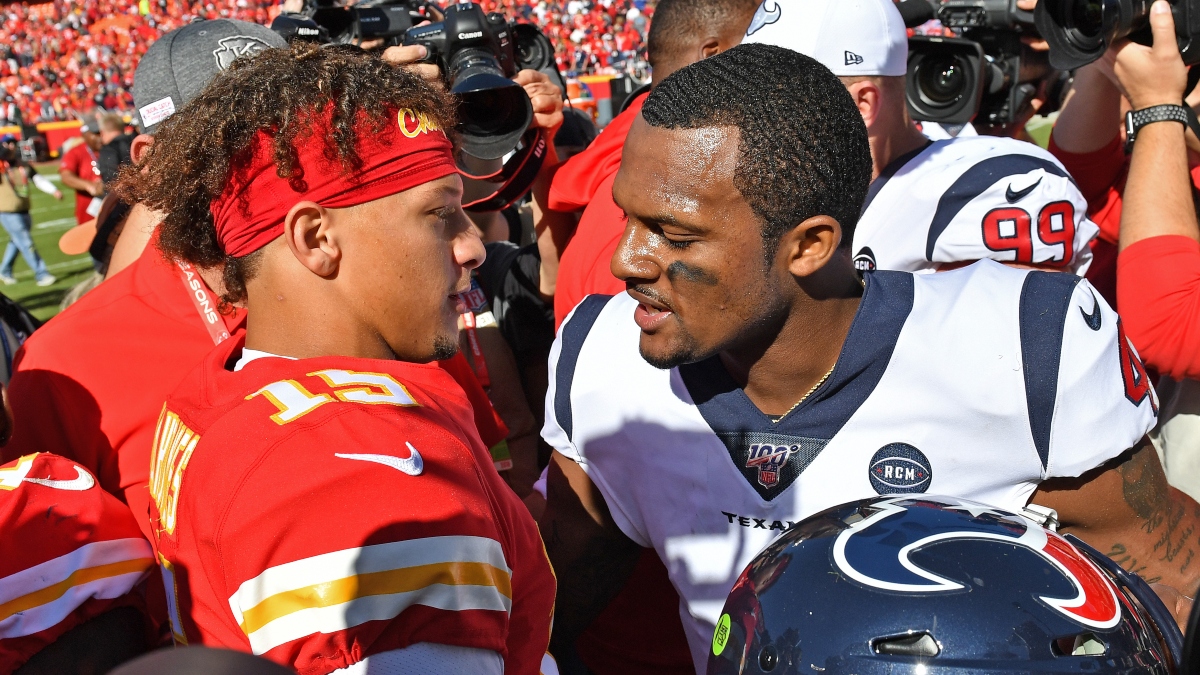 Yes, this should be the fastest-paced game of the weekend. And yes, both offenses have explosive play potential. But the real difference-maker is just how stout the Chiefs passing defense has been under defensive coordinator Steve Spagnuolo. Their play has made it so Patrick Mahomes doesn't have to sling the ball around as much as he did in 2019 considering they don't have to put up 30-plus points in order to win.
It's also prevented opponents from putting up easy points once they're forced into a pass-heavy game plan as they attempt a comeback. It's a big reason the under has gone 5-1 over their past six games. It seems as if the market is overlooking this and giving us a bit of value on the under.
Pick: Under 51.5 
Seahawks at Packers
Current odds: Packers -4.5; 47
My Projections: Packers -3.5; 44.5
Editor's note: This total has since moved from 47 to 45.5.
I'm also passing on this spread considering the market is in-line with my projection, however, this is yet another total that's currently offering value.
Despite Russell Wilson and Aaron Rodgers being two of the top quarterbacks in the league, I expect both teams to open with a conservative run-heavy game plan. It would require a two-score lead for the trailing team to be more aggressive.
This should be a close battle all the way through, which will help maintain the expected under environment.
We also need to consider that this is a January playoff game at Lambeau Field. The temperature is expected to be in the low 20s, which will likely contribute to both coaches calling a conservative game plan. According to our Bet Labs database, the under is 75-56 (57.3%) in outdoor playoff games.
Pick: Under 47
Below are Koerner's projections and picks from Saturday's games.
Vikings at 49ers
Current odds: 49ers -7; 44.5
My Projections: 49ers -7.5; 45.5
Despite having two Super Bowl rings, this will be Jimmy Garoppolo's first career playoff start.
We've seen quarterbacks fare poorly in their first playoff start, including the trio of first-time starters who went 1-2 last week. I'm sure that, along with other factors, may have come into play when books opened the 49ers as 6.5-point favorites.
My initial spread for this matchup was -7.5, and sure enough, it looks like the market is in line with my projection. I'll be passing on the spread since I'm not seeing much of an edge. However, the over/under could create some value.
The total opened at 45.5, which was right in line with my projection. There has been lopsided action on the under with 71% of the money wagered as of writing (see live public betting data here), sending the total down to 44 by mid-week. Forty-three is the No. 1 key number for NFL totals, so if this falls another point, I'll make over 43 a play.
The 49ers have been involved in some shootouts of late — their past four games have averaged 64.3 points with the over going 3-0-1.
One angle that could favor the over is the expected pace. The Vikings rank 13th in pace, but speed up to sixth when trailing. Considering the 49ers are touchdown favorites, we should see the Vikings lean on a faster-paced, pass-heavy game plan than they prefer when leading. That will open up the scoring environment, especially considering Dalvin Cook appeared to be 100% healthy last week.
While both teams have playmakers on offense and defense, the underlying pace and explosive play potential favors the over at the current number.
Lean: Over 43 When Available
Click below to bet now.
Titans at Ravens
Current odds: Ravens -9.5; 46.5
My Projections: Ravens -8.5; 46.5
This is the most difficult matchup to handicap for the Divisional Round.
The Ravens reached -10 earlier this week, but even at -9.5, the one-point difference in this range is not significant enough for me to make a bet based on it.
Derrick Henry steamrolled the Patriots defense, and somehow the Titans offense still managed only 14 points. In order to beat the Ravens, it will require Ryan Tannehill to step up. It's going to be an extremely difficult task as the Ravens pass defense has been stellar since acquiring Marcus Peters in Week 7 — six of the past eight quarterbacks they've faced have been held to fewer than 200 passing yards.
I'm likely going to bet the total in-game.
Ideally it'll be when the Ravens have a big enough lead that it could start to force the Titans to abandon feeding Henry and start going pass heavy. That will likely shift the game environment to be higher-scoring, especially since the Ravens would be expected to go to a run-heavy offense — something they already excel at. That's also usually when Lamar Jackson can catch his opponent off guard by taking a shot downfield when the defense sells out to stop the run.
There are always factors that can pop up in-game that would throw a wrench into this plan, but this is how I'll likely approach this game.
Lean: Live Over (once the Titans transition to a pass-heavy attack)
How would you rate this article?