NFL Futures Picks: 4 Bets to Lock In Now for Tom Brady, Joe Mixon & 2 Teams
Credit:
Cliff Welch/Icon Sportswire via Getty Images. Pictured: Tom Brady.
We're back for another edition of Futures Friday!
We ran through a full 32-team Power Rankings with bets by tiers last Friday, sprinkled some longshots the week before, and played some Buy or Sell after Week 2. And we already covered all the awards, season leaders, and win totals before the season.
Today, nothing fancy, just four straight bets: two season leader updates and two win total over/unders. Let's get right to the picks.
Passing Yards Leader: Tom Brady +1000 (Caesars)
Brady led the league in completions, attempts, yards, and touchdowns last year, but it was a rocky start to the new season. He barely hit 200 yards in the opener, fell short in Week 2, and has only one TD in four of the five games. The Bucs are winning despite the offense, with a decimated offensive line and an ever-changing wide receiver corps.
But Brady has started to look more like himself in recent weeks.
After completing just 18 passes each of the first two weeks, Brady has 31, 39, and 35 the last three games. He actually leads the league in completions, even after that slow start. His yards per attempt (YPA) is down at 6.8, his third lowest ever, but his passing volume has exploded as the Bucs abandon a lifeless run game and ask Brady to throw all game.
Brady's cleared 350 yards two weeks in a row with an offense that's suddenly by far the league's pass-heaviest. Just look at these last three weeks: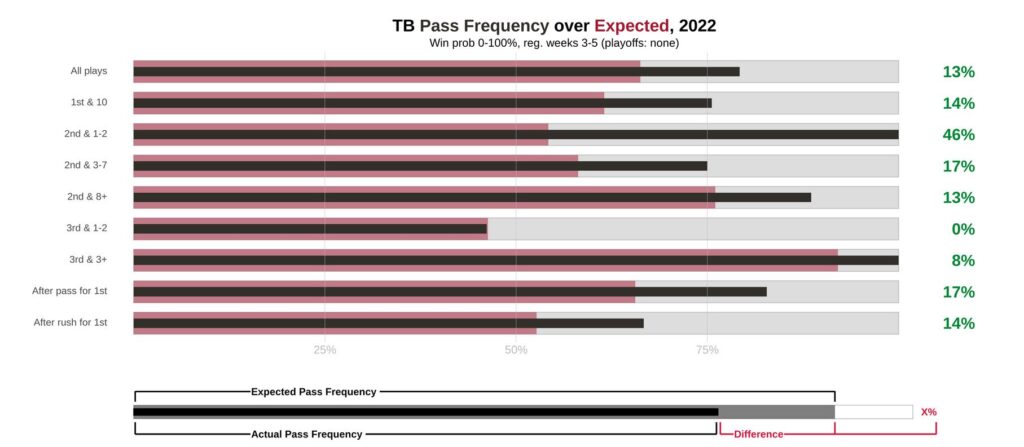 The Bucs are passing three of every four plays, mostly running only when they have to on third and short. Look how Brady's numbers have exploded:
First two games: 18-for-31 for 201 yards per game
Last three games: 35-for-49 for 336 yards per game
Even after that poor start, Brady's last-three-game pace the rest of this season would put him at 5,436 yards, ahead of last year's league-leading total. The Bucs can't run to save their lives, and the porous O-line hasn't been a problem for the passing game since Brady gets the ball out so quickly. Even better, Tampa's talented receivers are starting to get healthy. Brady's numbers should shine, and his YPA should tick up with better receivers.
The current passing yards leader is Josh Allen at 1,651. That's 330 yards per game, almost 50 YPG ahead of the field. But Allen has faced a super soft passing schedule, and don't forget that 98 of those yards came on one outlier play. That pace will come down, and Allen's always a threat to miss time with his physical style of play or just resting in fourth quarters or Week 18.
After Allen, this race is wide open. Justin Herbert is second but isn't healthy and is being held back by OC Joe Lombardi, limiting Herbert to just 7.0 ADOT. Even after the slow start, Brady ranks third.
There's a lot of season left, and with Tampa Bay's massive passing volume, Brady should be in this race. If there was a bet available for season passing yards from today forward, Brady would be priced as the favorite.
We nailed Brady on this bet last year at +950, so let's go for the double. Brady for passing yards leader is a must-play at +1000. I'd price it +500 at most.

---
» Return to the table of contents «
---
Rushing Touchdowns Leader: Joe Mixon +10000 (FanDuel)
Yes, you're seeing the right number of zeroes. Joe Mixon is 100-1, so this is a long shot — and should be, because Mixon has only one rushing touchdown. Nick Chubb leads the league with seven, so that's a serious hole.
Chubb leads the league in yards too, so maybe he'll run away with the rushing crowns, but it's still early and RBs are volatile. Chubb missed seven games the last two years and will always have Kareem Hunt breathing down his neck. Hunt has already vultured two TDs and had 11 the last two years, and Chubb has only ever gone over eight TDs once. A couple of those scores this year came on long, breakaway runs. That pace will come down.
After Chubb is Jamaal Williams (six), who'll lose touches to D'Andre Swift soon. Jalen Hurts has six too, but those goal line sneaks won't be there every game. Derrick Henry is always a threat at five TDs, if he stays healthy. Taysom Hill's five probably aren't a threat, and everyone else is at three or below.
I still like Josh Jacobs and his three TDs at +6000 too. He was my preseason pick and is already third in the league in red zone carries.
But do you know who's one ahead? Joe Mixon.
Mixon ranks second in red zone carries with 17 through five weeks. He leads the league with 10 carries inside the five, a robust two per game. You don't need to be a rocket scientist to know that carries in these zones are a great way to rack up TDs.
Despite all those opportunities, Mixon has just one rushing TD. The good news is that those chances should keep on coming. Mixon ran for 13 scores last year, including a six-game stretch with nine TDs and at least one every game.
The Bengals offense hasn't been good, so as Cincinnati figures things out, that'll only lead to more scoring opportunities. We know Cincinnati is painfully committed to the run game, for better and for worse. Mixon's already fourth in the league in carries, and he's been pretty durable.
The Bengals are averaging just two TDs per game, down from over three last season, and only 22% of their TDs have come on the ground, way down from 31%. Cincinnati should score more going forward, and more of the TDs should come on the ground.
Mixon was the fourth favorite in this category at +1200 entering the season, and I projected him at 12 TDs, three off the lead. If this were a fresh race, he'd be as good a bet as any to lead the league from Week 6 forward.
Chubb's seven and Henry's five have them well out ahead. But that's why we are getting this long number at FanDuel. Mixon is as low as +3500 on a few books. I'd like the long shot nibble even there, so we have to take a shot on Mixon to lead the league in rushing TDs at 100-1.

---
» Return to the table of contents «
---
Seahawks over 5.5 wins | Panthers under 5.5 wins
Books continue to price Seattle and Carolina about the same, and I think they've totally misjudged these teams.
I've written twice about Seattle's great offense this week, so I'll let you read more there. Seattle leads the league in Offensive DVOA, and Geno Smith's metrics place him among the league's elite QBs. Offensive numbers are more sticky and predictive than defense.
Seattle's defense isn't good, but it's a soft, winnable schedule going forward, especially if the offense stays anywhere near this good. I'd put Seattle at over/under 5.5 wins from Week 6 forward, but the Seahawks already have two wins. That means this line should be around 7.5, yet Seattle is still being priced as one of the league's worst teams.
I took Seattle under 5.5 before the season. I'm buying out here and buying in on the other side, especially at +100 at DraftKings. Offenses this good don't win only five games all year. I still like Seattle's playoffs and division odds too, especially since the 49ers are beat up and the Rams look so beatable. Football Outsiders puts the Seahawks at 13.9% to win the division. That would imply +619, and we can bet them at +3500 at Caesars.
And then there's the Panthers, bafflingly treated as Seattle's peer.
The Panthers cleaned house this week, firing Matt Rhule and exiling Baker Mayfield. I recommended fading Carolina last week by betting them for fewest wins at +900. Then they got boat-raced by the 49ers, fired their coach, and benched their starting QB — and on top of it, the winless Texans got their first win, moving Carolina into a tie for worst record in the league.
Despite all of that, Carolina's over/under hasn't budged, and its No. 1 pick odds have somehow barely moved. That's still a great ticket at +750 at DraftKings.
I'll play the under too. Look at the upcoming schedule: Rams, Bucs, Falcons, Bengals, Falcons, Ravens, Broncos into the bye. Carolina is 1–4. Why should we believe Steve Wilks and P.J. Walker will have this team anything better than 2–10 after that stretch? At that point, Carolina will have every reason to tank and start over, hoping to secure a top pick and a chance at C.J. Stroud or Bryce Young. Where are the other five wins coming from?
I'm putting a few units on each of these — Seattle over 5.5 and Carolina under 5.5. These teams are not the same.
---
» Return to the table of contents «
---
How would you rate this article?