NFL Odds & Picks For Cowboys vs. Eagles: How To Bet Sunday Night Football
Credit:
Getty Images. Pictured: Carson Wentz, Ezekiel Elliott
NFL Odds: Cowboys vs. Eagles
Cowboys Odds

+10.5 [BET NOW]

Eagles Odds

-10.5 [BET NOW]

Over/Under

42.5 [BET NOW]

Kickoff

8:20 p.m. ET

TV

NBC

Odds via PointsBet, where you can bet $1 on the Cowboys or Eagles and win $100 if they gain one yard on Sunday night.
Somehow, this Week 8 matchup between a pair of two-win teams will decide which takes over first place in the NFC East.
This is one of the worst divisions I can remember. A true dumpster fire. But hey, that's why we love betting. Plus, this is still a primetime NFL game between two hated rivals with first place on the line.
Let's see where I think the betting value may lie.
Dallas Cowboys
The Cowboys have won two games this season — both of which could have easily been losses.
Nothing has gone right in Big D.
Not only did the Cowboys lose star quarterback Dak Prescott for the season, but the injuries to their offensive line have been crippling. Ezekiel Elliott has looked disinterested at times. And, finally, the defense has been nothing short of a disaster under new coordinator Mike Nolan: They're allowing a league-worst 34.7 points per game — if the season ended today, that would be the highest single-season mark over the past two decades. The defense also ranks 30th in Football Outsiders' DVOA.
But even if the defense didn't work out, the offense was supposed to pick up the slack with its abundance of weapons on the outside. Well, that hasn't happened, especially since Prescott went out: The Boys have scored one touchdown over the past two games without their No. 1 QB.
Things may have hit rock bottom last week when Dallas was demolished, 25-3, on the road against Washington. And now, a team that was supposed to have one of the best backup QBs in the NFL with Andy Dalton will have to turn to seventh-round draft pick Ben DiNucci on Sunday night.
The rookie out of James Madison went 2-for-3 passing after taking over for Dalton last week, but was also sacked three times, which led to two fumbles. The offensive line didn't do him any favors against Washington's elite pass rush.
Things won't get any easier for the Cowboys' offensive front against another elite defensive line in Philly, but at least DiNucci got his feet wet in live NFL action.
Plus, the Cowboys will get guard Zack Martin back from injury, and they could sure use him. There's word that Martin could end up playing right tackle, which he did in college. That might be the optimal spot for him against a very strong Philadelphia rush that ranks third in the NFL in sacks. Regardless, it's a Dallas offensive line in flux.
I can't really say many positive things about the defense, but the likely return of Chidobe Awuzie can only help in the secondary.
Philadelphia Eagles
The Eagles sit atop the NFC East with a 2-4-1 record. You almost can't make that up.
Yes, their offense has been decimated by injuries, but quarterback Carson Wentz hasn't been good by any metric. He's just trying to do it all with little help, so maybe everyone has been too hard on him — but he still has made way too many questionable throws.
Good news for the Eagles: They're starting to get healthier.
Wide receiver Jalen Reagor and tight end Dallas Goedert are set to come back, which is very positive news for Wentz. Plus, Malik Jackson's return will provide a nice boost to an already top-line defensive front. I'm sure defensive coordinator Jim Schwartz will move Fletcher Cox and Brandon Graham all around to get the best matchups against a depleted Dallas offensive line with a rookie quarterback under center.
Cowboys-Eagles Pick
I can't remember many times when you get to buy low on America's team, but this could be that time after everyone has apparently jumped ship given how the Cowboys have burned everyone's money over their first seven games.
Dallas has actually been historically bad through its first seven games: Last week, the Cowboys became the first team since the 2005 Dolphins to not cover in any of their first seven games.
I do actually like what Jerry Jones and Co. did this week with trading and threatening to release underperforming players. If anything was going to light a fire under this corpse of a team, it would be something like that.
Obviously, a major part of this handicap comes down to how much you downgrade the Cowboys for having a third-string quarterback. No matter what you think of DiNucci or Andy Dalton, you have to downgrade Dallas for the simple fact that it's a rookie quarterback making his first start. But while I know some respectable bettors who consider it a four-point drop, I actually disagree — I accounted for a 1.5-point drop to DiNucci.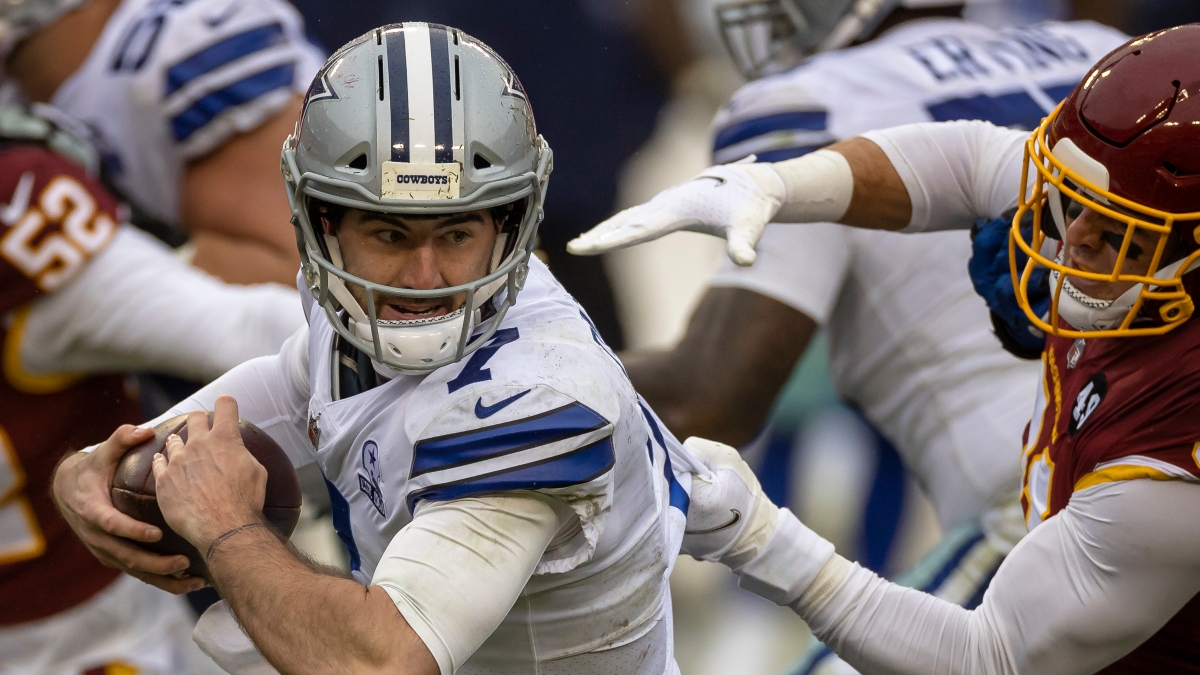 As I mentioned before, at least DiNucci got some live snaps against a ferocious defensive line last week. He also has some mobility, which Dalton does not have at this point in his career. And it's not like Dalton has been any good in recent years. I'm not sure the quarterback play with him under center could get any worse than what we've seen. Plus, I'm actually like DiNucci. He can make all of the throws and projects as a very good backup.
As for Elliott, he's averaging more than 100 rushing yards per game in six outings against the Eagles. The Cowboys are 5-1 in those games.
Both of these teams have had very similar seasons with two wins and bad injury luck. They've also committed way too many turnovers, although the Eagles did force six turnovers in their two wins. For reference, the Cowboys have forced three all season. It's been a problem for a few seasons in Dallas, but maybe it's due for a few bounces.
The Eagles do also have their starting quarterback, while Dallas has lost their top two. But this line is still too high. Before some of the positive injury news, I liked Dallas at anything better than a touchdown. That's a little dicier, but the line has since risen to +10.5, and I like the Cowboys at anything 10 or better.
I know experts who have dropped the Cowboys down in their power ratings to the second-worst team in the league — only above the Jets. And while I've dropped the Cowboys significantly, I don't think they're as bad as the market assumes here. I'm also lower than the market on the Eagles, which definitely is influencing my bet here.
Maybe I'm wrong — and it certainly wouldn't shock me if it ended in disaster for DiNucci — but I'll pay to find out on Sunday night. It's a "hold your nose" special. My favorite.
PICK: Cowboys +10.5
[Bet now at PointsBet and get $125 if the Cowboys gain a yard]
How would you rate this article?