Chargers vs. Patriots Odds & Picks: Why Bill Belichick Will Be the Difference
Credit:
Jim Davis/The Boston Globe via Getty Images. Pictured: Bill Belichick (left) and Cam Newton.
Chargers vs. Patriots
Patriots Odds

+1.5 [BET NOW]

Chargers Odds

-1.5 [BET NOW]

Over/Under

46.5 [BET NOW]

Kickoff

4:25 p.m. ET

TV

CBS

Odds as of late Saturday and via BetMGM, where you can bet $1 on the Patriots or Chargers to win $100 if a touchdown is scored.
The Patriots have been anything but fortunate this season.
With major losses in free agency, a league-high eight opt-outs due to COVID-19, and an outbreak that caused Cam Newton to miss a game, the Patriots sit at 5-6 on the season. Still, they've won three out of their last four games and find themselves just a game below .500 — and two games out of the seventh and final playoff spot in the AFC.
After a 20-17 upset victory over the Cardinals in Week 12, Bill Belichick and the Patriots travel to take on the Anthony Lynn and the Chargers, who are coming off a 27-17 loss to the Bills.
How much does coaching impact matter? Is there any betting value? Let's find out!
New England Patriots
With COVID-19 opt-outs and key free agent losses, the Patriots defense has had its ups and downs this season.
Although they're 12th in points allowed (23.2 per game), they rank second-to-last in defensive efficiency — 30th against the pass and 28th against the run (per Sharp Football Stats). Their pass defense has has been particularly problematic, giving up a 69% completion percentage (28th) and 7.6 yards per attempt (31st).
Justin Herbert, Keenan Allen and Mike Williams present a challenge, however the Patriots did just hold Kyler Murray to 23-of-34 completions for 170 yards passing with one interception and zero touchdowns while limiting DeAndre Hopkins to five catches for 55 yards.
Of course, Murray's shoulder injury could be an excuse for his performance, but the Patriots defense deserves some credit after Kliff Kingsbury and Murray stated that the injury wasn't a factor.
Herbert is tied with Cam Newton and Andrew Luck for most 300-yard passing games as a rookie with six, but the Patriots have given up just one 300-yard passing game this season.
If you could have any coach in the league coming into a matchup with Herbert, Belichick is at the top of the list: He's gone an impressive 19-5 against rookie quarterbacks and hasn't lost to a rookie quarterback in seven seasons. And only two of those teams quarterbacked by rookies didn't make the playoffs the seasons they played Belichick.
Although it's tough to quantify the exact impact of Belichick on the Patriots, their coaching advantage can't be understated in this matchup.
It's especially noteworthy after they were out-gained by the Cardinals in yardage (298-179), first downs (23-19), yards per play (4.3-3.5) and lost the time of possession (34:08-25:52) and turnover battle (2-1). Belichick's ability to make adjustments is actually shown in the Patriots offensive success rate, as we see them go from 28th in the first half of games to second in offensive success rate in the second half.
When looking at the Patriots offense, they rank just 21st in overall efficiency but fourth in rushing efficiency. They have the third-highest run vs. pass frequency (51% vs. 49%), which has worked to their benefit considering their 54% success rate and 4.6 yards per carry, which ranks eighth in the NFL.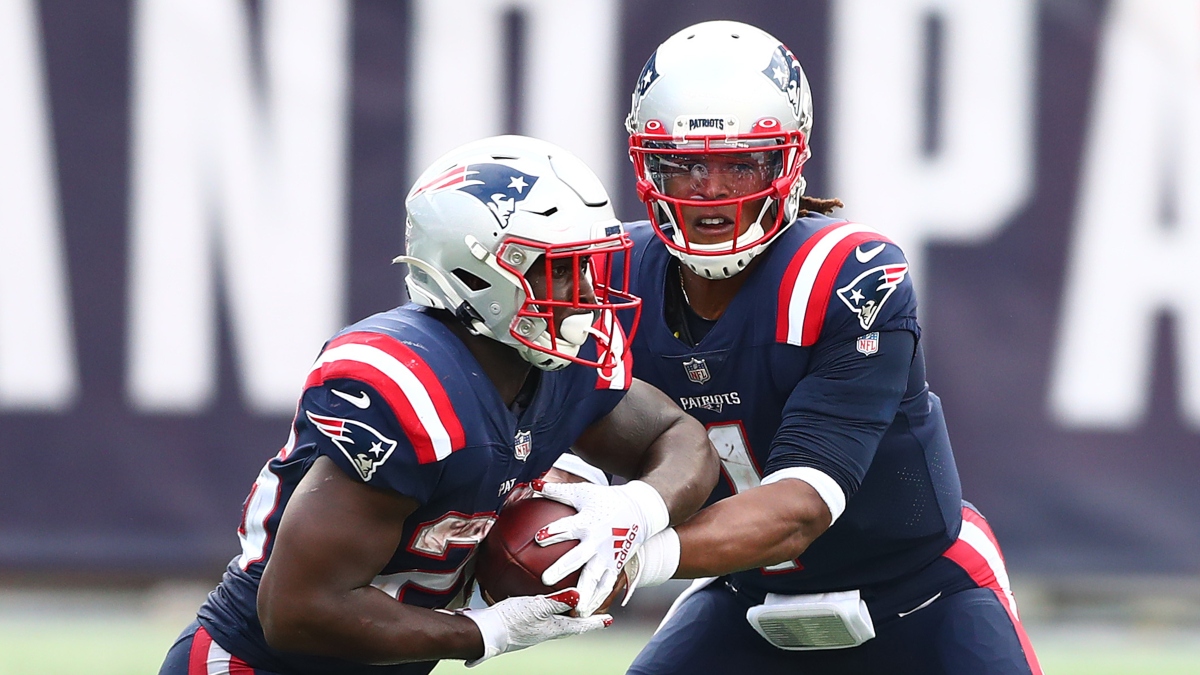 Against a Chargers defense that struggles to stop the run, Newton, Damien Harris and Sony Michel are in for a big day on the ground, and we should look to for the Patriots to meet or exceed their season average of 149.6 rushing yards per game (fifth in the NFL).
New England's passing attack does leave a lot to be desired. The Patriots are just 27th in passing efficiency and 20th in passing success rate (47%). Newton has regressed, and comes off a game in which he completed just 9-of-18 passes for 84 yards and two interceptions with a 23.6 quarterback rating.
Although he rushed nine times for 46 yards in Week 12, the Patriots will need more from him to win this week. Newton has just four passing touchdowns to nine interceptions this season, however last week was his worst performance since New England's loss to San Francisco in Week 7, in which he completed just 9-of-15 passes for 98 yards and three interceptions.
For as much as Newton has struggled, the Chargers have given up 29 points to the Jaguars and 28 points to the Jets, who are 23rd and 31st in offensive efficiency, respectively. This could be a bounce-back spot for the Patriots passing offense.
Los Angeles Chargers
Thanks to the emergence of Herbert, the Chargers have a promising future.
He's in the midst of a 3,015-yard, 23-touchdown season and ranks ninth in Football Outsiders' DVOA. As I mentioned previously, Herbert is now tied with Newton and Luck for the most 300-yard passing games as a rookie, and this favorable matchup could help Herbert break the record.
Still, it's worth nothing that Herbert wasn't particularly efficient last week. The Bills might arguably be one of the most disappointing defensive units of the season, ranking just 16th in defensive efficiency and 22nd against the pass. And yet Herbert was just 31-of-52 for 316 yards with one touchdown and one interception, while Allen was held to just four receptions for 40 yards on 10 targets.
The Chargers are scoring 25.2 points per game and are 12th in offensive efficiency, seventh in passing and 28th in rushing efficiency. Their rushing offense should improve after the return of running back Austin Ekeler, who had 14 carries for 44 yards as well as 11 receptions for 85 yards last week.
The Chargers will need to get more than 17 points from their offense based on how their defense has performed: They're 23rd in defensive efficiency, 17th in defensive pass efficiency and 31st against the run.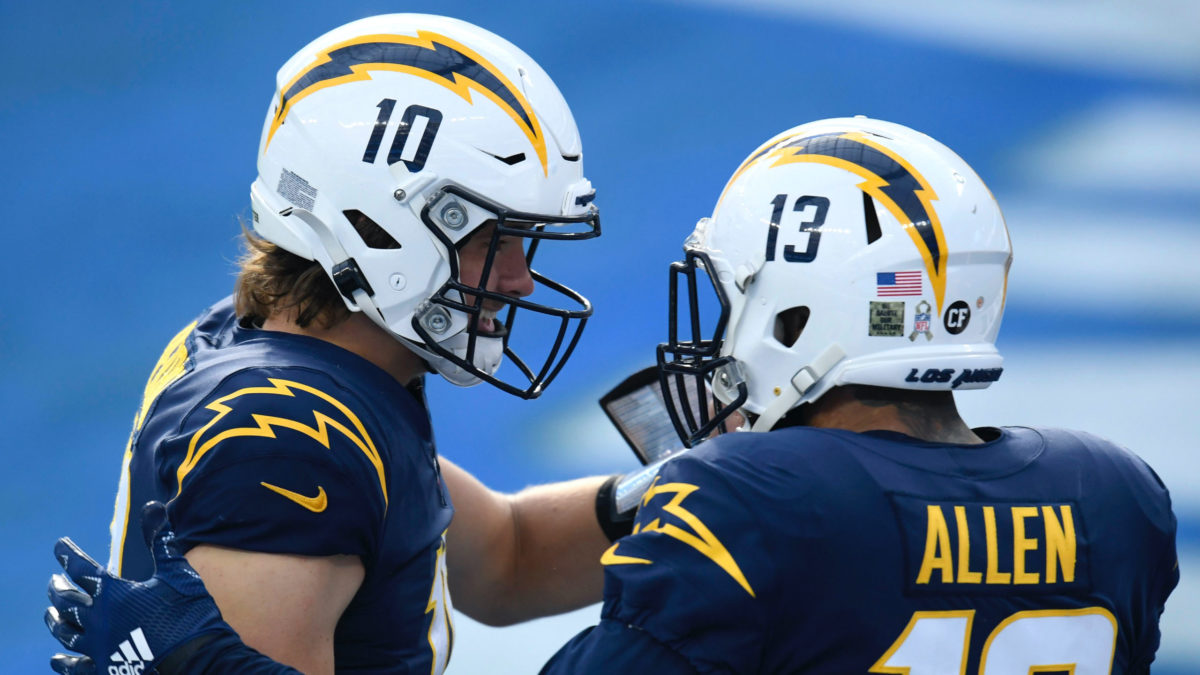 With the Chargers defense struggling against the run, giving up the fifth-worst yards per carry (4.8) with a 54% success rate, the Patriots' run-heavy offense led by Newton should be able to have their way in this matchup.
Based on some of their previous games, it's clear that the Chargers can't stop opposing rushing attacks as all but three of their opponents have rushed for more than 100 yards:
Bills: 172 rushing yards (23rd rushing efficiency)
Raiders: 160 rushing yards (14th rushing efficiency)
Jaguars: 140 rushing yards (18th rushing efficiency)
Chiefs: 125 rushing yards (19th rushing efficiency)
Bengals: 122 rushing yards (25th rushing efficiency)
Patriots: ??? (third rushing efficiency)
Of course, I would be remiss to not mention the elephant in the room: head coach Anthony Lynn.
In last week's game against the Bills we saw the types of errors that have plagued this team throughout his entire tenure.
Down 11 points before the half, Lynn called a timeout with 21 seconds left with the Chargers facing fourth-and-2 at Buffalo's 48-yard line. Instead of running the clock down for just one play and throwing a Hail Mary, Lynn opted to call a timeout and punt.
Later, down two scores with 45 seconds left in the game after completing a Hail Mary, Lynn called a run play instead of a spike to stop the clock.
Patriots-Chargers Pick
With oddsmakers installing the Chargers as 1.5-point favorites, you can assume that this will also be a close game. With just a -23 point differential and coming close to winning games against Super Bowl contenders in the Chiefs, Buccaneers and Saints, the Chargers may be better than their 3-8 record indicates.
Still, how can you trust this coaching staff against arguably the greatest coach in NFL history?
Coaching is the one place in professional sports that allows a team to buy an edge without impacting the salary cap, and these teams are the polar opposite in this regard.
With the emergence of Herbert, Lynn appears to be a lame duck coach — he's just 29-30 during his tenure and an abysmal 8-19 since the start of the 2019 season.
Even more troubling, the Chargers are 4-16 in one-score games since the beginning of 2019, by far the worst in the NFL.
Lynn and his coaching staff are essentially the Murphy's Law of NFL coaching, anything that can go wrong, will go wrong: Poor clock management, calling a run and not a spike to stop the clock, calling a quarterback sneak with the offensive line in pass protection … you name it.
All things considered, these two teams are pretty evenly matched.
The Chargers are 24th in DVOA while the Patriots are 26th. The Chargers are 18th in offensive expected points added per play while the Patriots are 19th. But the Patriots have a pretty substantial advantage in total success rate, ranking seventh compared to 25th for the Chargers.
With the Patriots' run-heavy attack and substantial coaching advantage, I like them to win this game and move to .500 for the first time since Week 4. My projections make the them -2.40 in this matchup, so at +1 (down to a pick'em), this is a +EV proposition.
At +1, I recommend adding them in 6-point teasers to cross out key numbers of 3, 6 and 7. And at a PK, I recommend adding them in 7-point teasers. You can tease them with Titans (-6 to PK) or the Lions (+3 to +9).
PICK: Patriots +1.5
How would you rate this article?