NFL Spreads, Totals & Teasers: 4 Ways To Bet Week 13
Credit:
Don Juan Moore/Getty Images. Pictured: Baker Mayfield
Our NFL betting analyst Raheem Palmer breaks down his four favorite picks for Week 13. Click on a pick below to skip ahead to that analysis.
NFL Spreads, Totals & Teasers
Browns +6.5 at Titans
Kickoff: 1 p.m. ET | More Odds
I initially thought the opening line for this game was short. Cleveland has yet to beat a good team all season outside of Indianapolis. Nonetheless, this line was immediately bet up to -6 after opening at -4.
Simply put, the Browns' 8-3 record is a product of them beating up on inferior competition and they have a point differential of just -21 after winning games against the Bengals (twice), Washington, Cowboys, Colts, Texans, Eagles and Jaguars. These teams have a combined point differential of -247 with only the Colts holding both a winning record and positive point differential (+49).
This comes out to fewer than three points per victory, and they've over-performed their pythagorean expectation by three games. Still, the Browns deserve some credit for taking advantage of a favorable schedule.
The Titans are coming off two straight road games, a 45-26 clobbering of the Colts and 30-26 come-from-behind overtime victory over the Ravens. This feels like the classic letdown spot for a team returning home after two games against grueling competition.
Their injury report is particularly troubling for this matchup. The Titans lost Pro Bowl left tackle Taylor Lewan with a torn ACL back in October and will be missing rookie right tackle Isaiah Wilson (illness). Left guard Rodger Saffold is questionable with an ankle injury, and if he can't go, the Titans will be without three starters on the offensive line against the Browns' stout defensive line that features Olivier Vernon and Adrian Clayborn and the returning Myles Garrett.
Tight end Jonnu Smith was ruled out with a knee injury. His absence should certainly impact Tennessee's fourth-ranked red zone offense, which has converted 72% of their trips inside of the opponent's 20-yard line this season.
The Titans are also banged up on the defensive side of the ball and will again be without cornerback Adoree' Jackson. Even more troubling is the possible absence of defensive lineman Jeffery Simmons (knee), who has missed or been limited in practice all week.
Simmons is second in sacks (3) for a Titans team that has struggled to generate a pass rush this season — ranking 31st in pressure rate (17.9%) and 29th in sacks (14). Simmons is also their best run defender and is the seventh-ranked defensive lineman, according to Pro Football Focus.
Without Simmons, a Cleveland offensive line headed by Wyatt Teller has the chance to dominate this game in both runs and pass protection.
Baker Mayfield has just a 33 passer rating under pressure with just one touchdown pass and four interceptions. Against a Titans defense that can't generate pressure, we can expect him to put up one of his best performances of the season.
When Baker is passing from a clean pocket, he has a 110 passer rating with 16 touchdowns to just three interceptions. The Titans' defense ranks 23rd and passing success rate and 29th in rushing success rate. The Browns offense is predicated on running the ball and getting their passing game going through play action.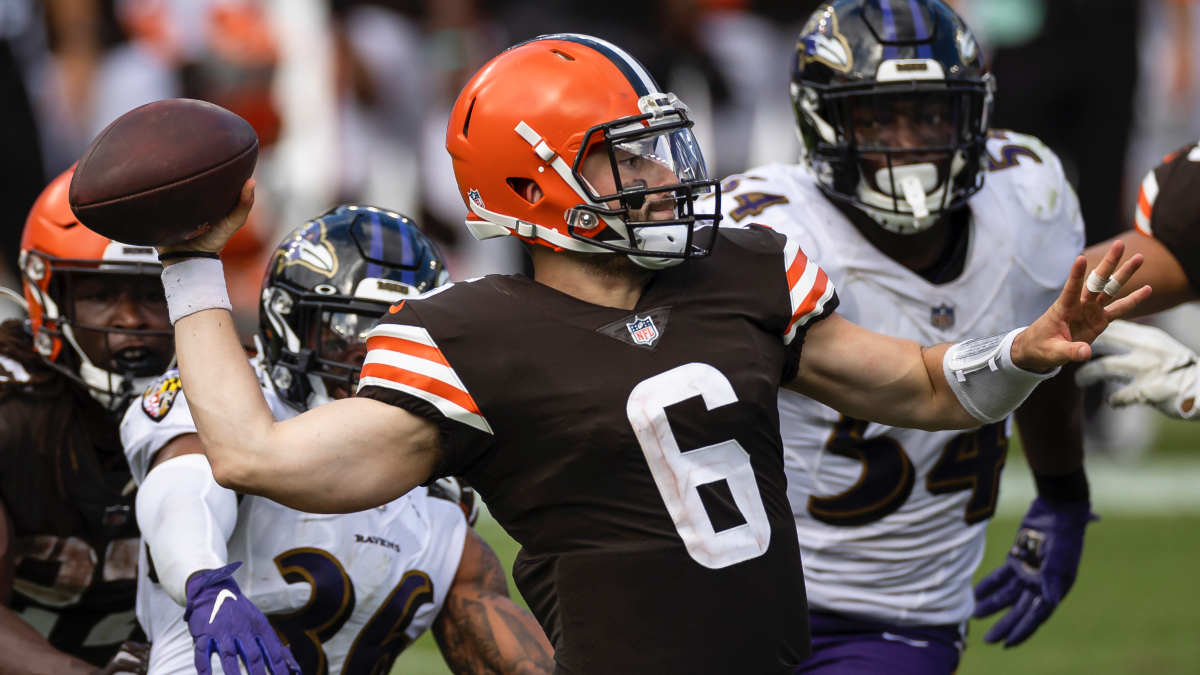 Head coach Kevin Stefanski was the offensive coordinator of the Minnesota Vikings last season, and they still run a similar offense this season in his absence. In the Week 3 matchup against the Vikings, the Titans gave up 30 points and Kirk Cousins threw for 251 yards and three touchdowns with a 96.4 passer rating.
Unlike the Vikings, the Browns won't run play action just 27% of the time, as this is what their offense is based on. Overall, the Browns offense should be able to run the ball with Nick Chubb and Kareem Hunt and Baker should be able to capitalize on a defense that can't generate a pass rush.
Despite weather-suppressed performances that made them look good recently, the Browns' secondary is an issue and they'll be missing their best cover corner in Denzel Ward on Sunday.
This is a matchup in which the Titans should be able to score, and while I would be inclined to bet the over given the defensive deficiencies of both units, with both teams ranking in the top five in run/pass frequency, a running clock makes this less than ideal. With the Titans' injuries on the offensive line, the Browns defensive line can cause some issues for this offense.
Overall, this is a good spot for Cleveland to cover and possibly pick up a win against another team with a winning record. I'll take the Browns at +6 and sprinkle a small percentage of my wager on the moneyline.
Colts-Texans Under 50.5
Kickoff: 1 p.m. ET | More Game Info
I make this total 50.5 points, and while there's not a substantial edge from a numbers perspective, the matchup tells a different story.
Deshaun Watson has been playing lights out and leads a Texans offense that is fourth in expected points added (EPA) per play and sixth in explosive play rate with 11% of offensive plays going for 20 or more yards (per Sharp Football Stats). Excluding their weather-suppressed offensive performance against the Browns in Week 10, the Texans are averaging 30.16 points per game since firing Bill O'Brien in Week 5. And it's Watson who has completely carried an offense that's dead-last in rushing efficiency and averages just 3.8 yards per carry (29th in the NFL).
Unfortunately for the Texans, they lost wide receiver Randall Cobb to a toe injury and Will Fuller was suspended for six games after violating the NFL's policy on performance-enhancing substances. The Texans also parted ways with Kenny Stills last week. Those three combine 142 targets, 102 catches, 1,464 yards and 12 touchdowns, which is 45.7% of the team's total passing yards and half of their receiving touchdowns. The Texans will attempt to replace this production with Brandin Cooks, Keke Coutee, rookie Isaiah Colter and practice squad receiver Steven Mitchell.
The loss of Fuller is particularly problematic — he was their big play receiver who could stretch the field. Watson's EPA splits with Fuller vs. without Fuller paint a grim picture (including postseason):
| Season | With Fuller | Without Fuller |
| --- | --- | --- |
| 2017 | 38.0 EPA | 11.2 EPA |
| 2018 | 48.5 EPA | 27.8 EPA |
| 2019 | 76.0 EPA | -0.5 EPA |
It's likely that we'll see the Texans use more 12 or 13 personnel. so Darren Fells, Jordan Akins or Pharaoh Browns could see more snaps and targets. This isn't particularly encouraging for this offense in terms of explosion, and given their lack of run game, we should see this unit take a step back.
With the Colts putting up their worst defensive performance in last week's 45-26 loss to the Titans, we should see a bounce back performance with the return of defensive tackle DeForest Buckner and defensive end Denico Autry. While you could argue their eighth-ranked defense has been overrated, last week's performance was an anomaly based on the absences of Buckner and Autry — we should expect a return to form this week.
Philip Rivers is perhaps the NFL's toughest quarterback and once played in the 2008 AFC Championship Game just six days after suffering a torn ACL and meniscus in his right knee. He'll have to live up to that reputation as he's playing with a serious toe injury he suffered after attempting to block Packers outside linebacker Za'Darius Smith.
The Colts will also be missing left tackle Anthony Castonzo (MCL), which is huge when considering Rivers struggles since suffering his toe injury. Backup Le'Raven Clark struggled after Castonzo left last week's game and Rivers completed 7-of-9 passes on the first two series and finished the rest of the game 17-of-33. With the Texans' defense ranking 27th in defensive rushing efficiency and giving up a league-high 4.9 yards per carry and 154.7 yards per game, we should see a run-heavy attack from the Colts.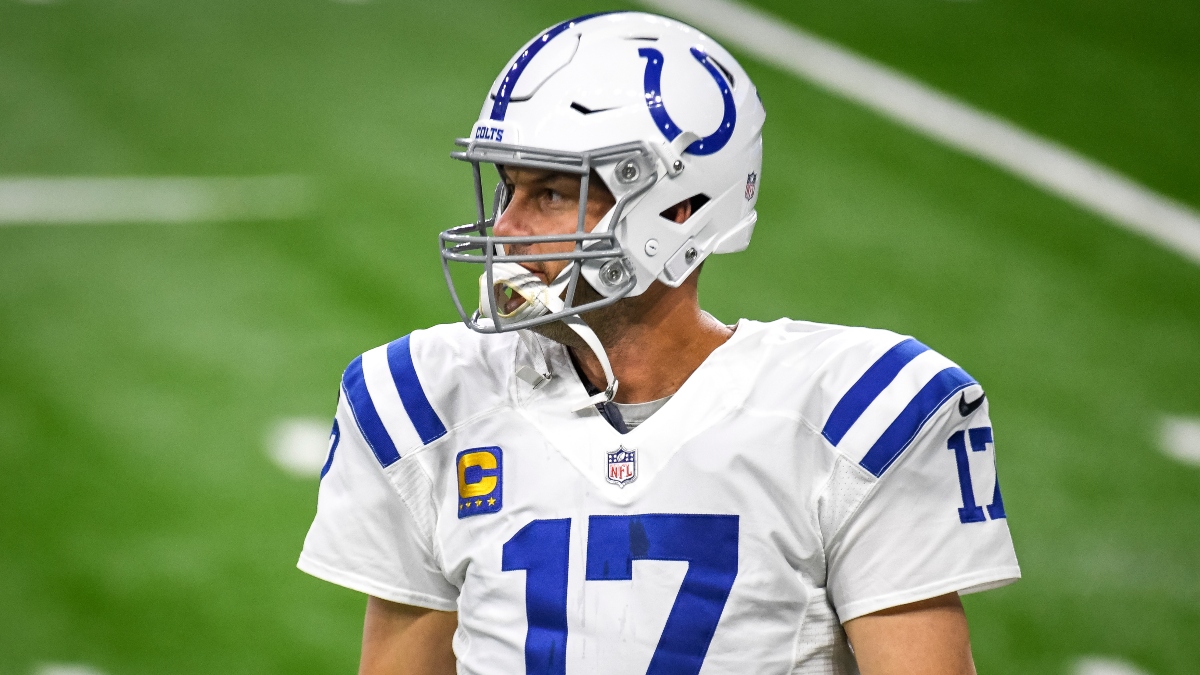 I like this under better at 51, but would take it at 50.5 and will be splitting half my wager between the full-game line and the first-half line at 26.

Patriots +1.5 at Chargers
Kickoff: 4:25 p.m. ET | More Odds
When I pulled up the odds on Monday morning, this game immediately jumped out to me: Is there a bigger coaching mismatch this season than Bill Belichick vs. Anthony Lynn?
Coaching is the one place in professional sports that allows a team to buy an edge without impacting the salary cap, and these teams are the polar opposite in this regard. With the emergence of rookie quarterback Justin Herbert, Lynn appears to be a lame duck coach — he's just 29-30 during his tenure and an abysmal 8-19 since the start of the 2019 season.
Even more troubling, the Chargers are 4-16 in one score games since the beginning of 2019, by far the worst in the NFL. Lynn and his coaching staff are essentially the Murphy's Law of NFL coaching, anything that can go wrong, will go wrong: Poor clock management, calling a run and not a spike to stop the clock, down two scores after completing a Hail Mary, calling a quarterback sneak with the offensive line in pass protection … you name it.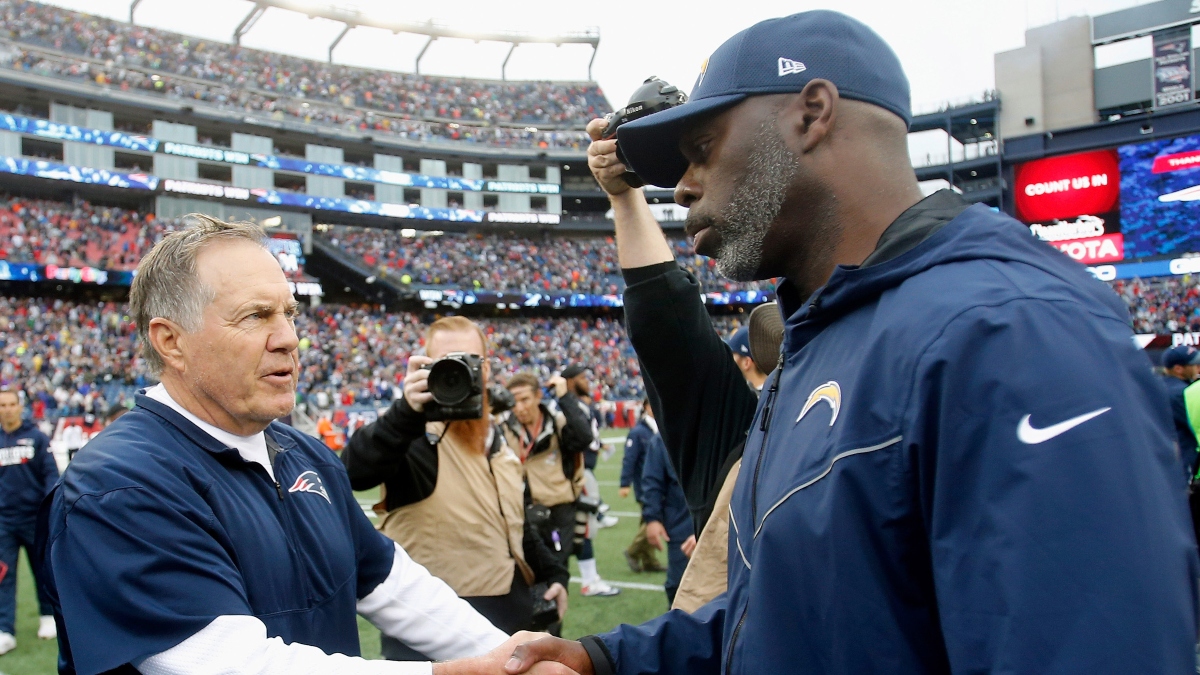 Not even Herbert and his 3,015-yard, 23-touchdown season can overcome it.
With oddsmakers installing the Chargers as 1-point favorites, you can assume that this will also be a close game. With just a -23 point differential and coming close to winning games against Super Bowl contenders in the Chiefs, Buccaneers and Saints, the Chargers may be better than their 3-8 record indicates.
Still, how can you trust this coaching staff against arguably the greatest coach in NFL history?
With Lynn at the helm, the Chargers will essentially be bringing a knife to a gun fight against Belichick, who has gone an impressive 19-5 against rookie quarterbacks and hasn't lost to a rookie quarterback in seven seasons. Only two of these teams didn't make the playoffs the seasons they played Belichick, with Colt McCoy's Browns finishing 5-11 and Geno Smith's Jets finishing 8-8.
All things considered, these two teams are pretty evenly matched.
The Chargers are 24th in Football Outsiders' DVOA while the Patriots are 26th. The Chargers are 18th in offensive expected points added per play while the Patriots are 19th. But the Patriots have a pretty substantial advantage in total success rate, ranking seventh compared to 25th for the Chargers (per Sharp Football Stats).
With the Chargers defense struggling against the run, giving up the fifth-worst yards per carry (4.8) with a 54% success rate, the Patriots' run-heavy offense led by Cam Newton should be able to have their way in this matchup.
Based on some of their previous games, it's clear that the Chargers can't stop opposing rushing attacks as all but three of their opponents have rushed for more than 100 yards:
Bills: 172 rushing yards (23rd rushing efficiency)
Raiders: 160 rushing yards (14th rushing efficiency)
Jaguars: 140 rushing yards (18th rushing efficiency)
Chiefs: 125 rushing yards (19th rushing efficiency)
Bengals: 122 rushing yards (25th rushing efficiency)
Patriots: ??? (third rushing efficiency)
With the Patriots' run-heavy attack and substantial coaching advantage, I like them to win this game and move to .500 for the first time since Week 4. My projections make the them -2.40 in this matchup, so at +1 (down to a pick'em), this is a +EV proposition.
At +1, I recommend adding them in 6-point teasers to cross out key numbers of 3, 6 and 7. And at a PK, I recommend adding them in 7-point teasers. You can tease them with Titans (-6 to PK) or the Lions (+3 to +9).
6-Point Teaser: Packers -1.5/Cardinals +9
Packers -7.5 to -1.5 vs. Eagles
Kickoff: 4:25 p.m. ET | More Odds
At this point, how can you back the Eagles?
Carson Wentz is in a complete free fall. He leads the NFL in interceptions (15), sacks (46) and has 95 off-target incompletions, most in the league. He's 27th in ESPN's Total QBR (49.6) and hasn't completed more than 60% of his passes in seven games. Still, it's worth noting that he is playing behind a struggling offensive line and for a coach who insists on passing more than running despite their struggles.
The Eagles have the fifth-highest pass vs. run ratio, at 63% pass vs. 37% run. They have just a 42% success rate on passes and a 53% success rate on runs and come off a game in which Miles Sanders had just six rushing attempts for 15 yards.
The Eagles should be able to run the ball against this Packers defense, but they'll need to keep up offensively with an Aaron Rodgers-led offense that is second in offensive efficiency, third in total success rate and expected points added per play while averaging a league high 31.7 points per game.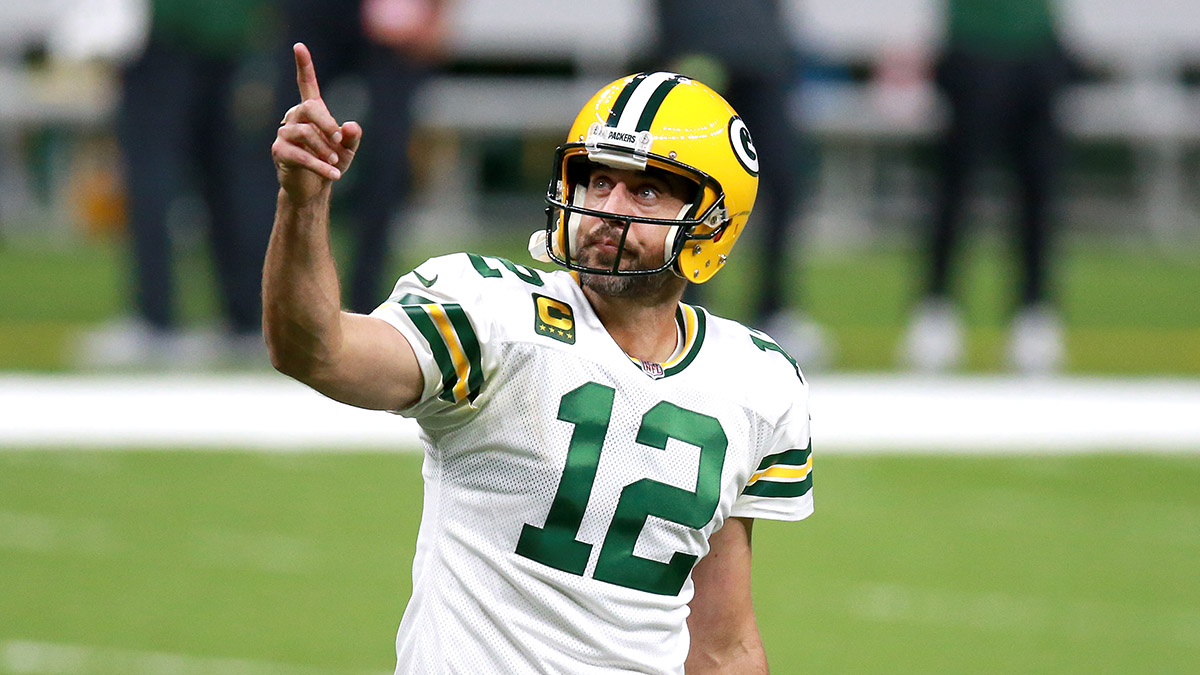 If it weren't for Patrick Mahomes, Rodgers would likely be the 2020 MVP — he's first in quarterback rating (117.6) and touchdown passes (33), sixth in passing yards (3100) as well as second in DVOA and QBR (85.1).
The Packers are legit Super Bowl contenders and should keep the momentum going.
Cardinals +3 to +9 vs. Rams
Kickoff: 4:05 p.m. ET | More Odds
I'm sure you've read all week about how Sean McVay is 6-0 against the Cardinals.
Well, just two of those games came against Kliff Kingsbury and Kyler Murray, and I can't say enough about what happens when you jump on a trend too late. Jared Goff's home vs. road splits have been well documented but even more noteworthy is his inability to perform under pressure, and he'll still be without All-Pro left tackle Andrew Whitworth (MCL).
It feels like the value is on Arizona as a home underdog after losing a game to the Patriots in which the Cardinals out-gained the Patriots in yardage (298-179), first downs (23-19), yards per play (4.3-3.5), and won both the time of possession (34:08-25:52) and the turnover battle (2-1).
If Arizona converts the fourth-and-inches at the goal line at the end of the first half to go up 17-7, the Cardinals likely win last week's game and aren't 3-point home underdogs.
With Jalen Ramsey struggling with a hip injury after playing just 65% of snaps last week against the 49ers and faced with the prospect of defending DeAndre Hopkins, I like Arizona's offense to get rolling.
I'll take the Cardinals on a teaser, crossing out the key numbers of 6, 7 and 9. In a home divisional matchup and must-win game, they should have a good opportunity to win this game outright.
How would you rate this article?