Eagles vs. Saints Odds & Picks: The New Orleans Defense Should Deliver Sunday
Credit:
Mike Ehrmann/Getty Images. Pictured: Malcolm Jenkins
Eagles vs. Saints Odds
Eagles Odds

+7.5 [BET NOW]

Saints Odds

-7.5 [BET NOW]

Over/Under

42.5 [BET NOW]

Kickoff

4:25 p.m. ET

TV

FOX

Odds as of Friday night and via BetMGM, where you can bet $1 on Saints-Eagles to win $100 if there's a touchdown.
Before the season, this game looked like a huge late-season battle between Drew Brees, Carson Wentz and two potential Super Bowl contenders.

Instead, we're getting only a quarter of that equation.
Brees is still out and Wentz has officially been benched for the struggling 3-8-1 Eagles. The Saints still look like Super Bowl contenders, but not the ones we expected — they're winning with great defense and just enough offense. And the Eagles really aren't winning at all — that's why they're turning the offense over to second-round rookie Jalen Hurts.
This is a heck of a time for Hurts to make his first NFL start, and the outlook is not good.
New Orleans Saints
For the second season in a row, the Saints have not skipped a beat without Brees in the lineup. New Orleans went 5-0 when Brees missed the middle stretch of the 2019 season, and they're now 3-0 without him in 2020.
Last year it was Teddy Bridgewater manning the helm. This season, it's been Taysom Hill.
Hill has been… fine? He's run 34 times in three starts, tallying 166 yards and four scores on the ground. His passing numbers have not added up to much, though they haven't needed to. He threw his first two touchdowns as a starter last week, but wasn't asked to do much in his first two starts against Atlanta and Denver.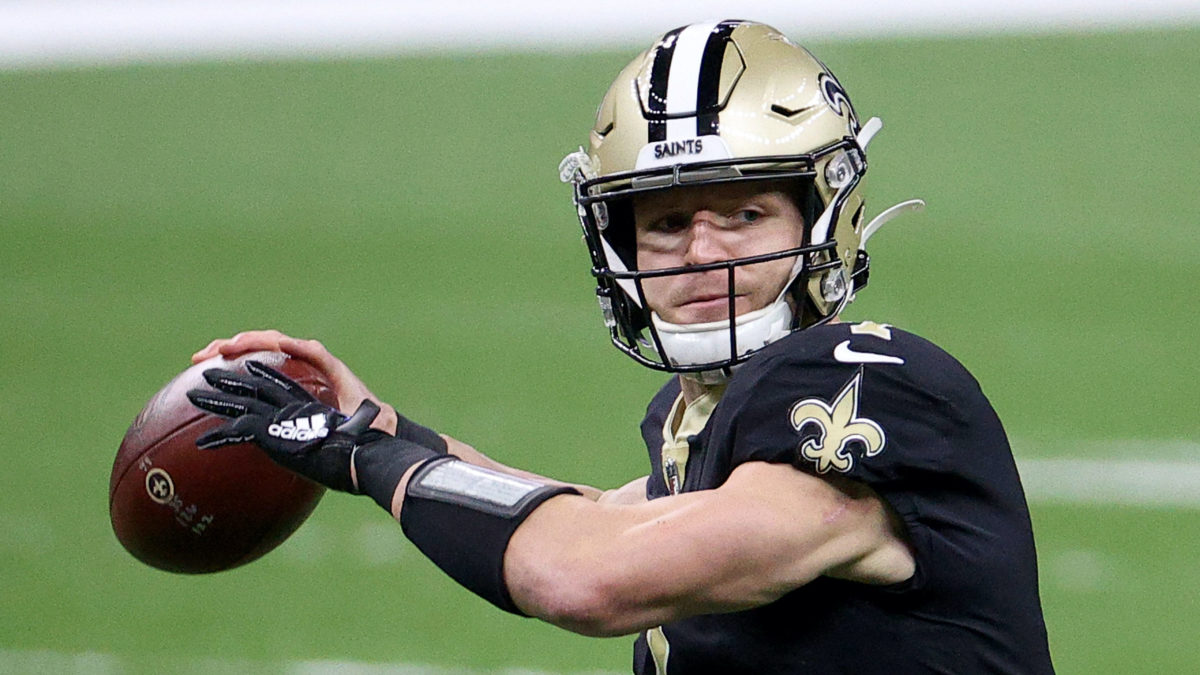 It's hard to draw much of a verdict on Hill yet, but he certainly hasn't lost New Orleans any games. That's because the Saints defense is absolutely throttling teams right now: They're No. 2 in Football Outsiders' defensive DVOA, and rank second in both passing and rushing defensive DVOA, too.
They trail only the Steelers in overall DVOA and are miles ahead of any other contender.
New Orleans hasn't allowed more than 16 points since the first day of November. They've allowed 44 points in five games since, a measly 8.8 points per game allowed. And sure, that includes a game against a team without a quarterback, but they also housed the Falcons twice and crushed the Bucs.
Yeah, remember that swarming defense? That's the defense Hurts gets to face in his first professional start.
Philadelphia Eagles
It's really hard to know what Doug Pederson is thinking, throwing Hurts to the wolves here for his first start. And sure, Wentz has not been good. That much, everyone agrees upon. But is a rookie going to be any better?
Hurts made a couple nice plays coming in for Wentz in the second half against Green Bay, but that's after the Eagles were already buried, and against a defense that is average at best.
The Saints are a different animal altogether. Hurts has struggled with NFL-level accuracy, and it will be hard to expect him to make professional decisions against a fast, mean defense in his first start. He's not going to get much help, either.
While Wentz has certainly struggled for Philadelphia, he was not the only one at fault. The Eagles' offensive line has been terrible — and injury-plagued — all season and will be missing all but one planned starter again this week, leaving Hurts precious little time.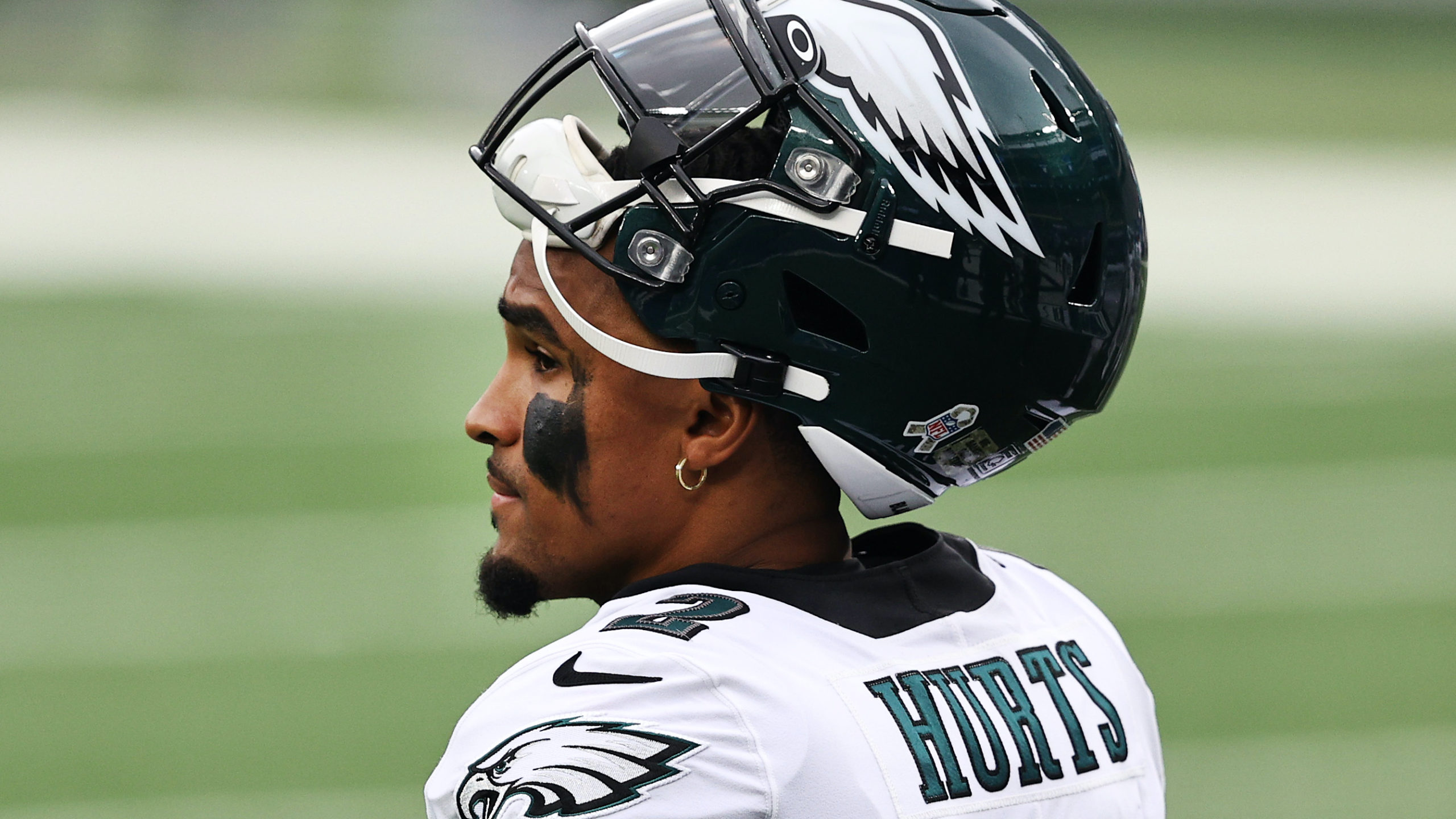 Philly's receivers haven't been getting open, and the Eagles' play-calling has been very questionable too. And that's with an experienced QB under center.
So what will that offense look like with a makeshift line, very little time to adjust to a different style of quarterback, and an inexperienced guy making his first start? We're about to find out.
Philadelphia's defense has been the team's much better unit, and it may be up to the task. The Eagles are vulnerable against the pass but may get a reprieve against Hill. Their run defense is stronger, and the defense can keep them in this game. But does the offense have any chance?
Saints-Eagles Pick
This 42.5-point total means that books expect a low-scoring, defensive game, and that makes a lot of sense.
The Saints probably aren't a threat to put up a huge number here, since they haven't exactly been lighting the world on fire with Hill. And it's really hard to see Philly's offense breaking out in this tough spot with a rookie quarterback debuting against what is ostensibly the hottest defense in the league.
Even at 43, the under is tempting.
You figure that the Saints are almost certain to score at least in the 20s. Their 21 points last week were their fewest of the season. And if you figure they at least get to that 21-24 range, this game is going under unless the Eagles get the win — and if you think Philly has a shot at winning outright, you should obviously play the long odds moneyline instead.
But I'm keeping things simple here and just grabbing the better team, especially if I can find this line at -7 (shop real-time odds). There's a good chance it jumps that key number by kickoff, but I'd feel pretty comfortable playing the Saints up to double digits here. They've won by double-digits in four of their last five games, and the Eagles have lost four straight, twice by double digits.
Philadelphia's offense has been one of the worst in the league, and it's really hard to see that improving overnight. If you can't get -7 and you get nervous, you may want to tease the Saints down. You could tease them with the under here, too, if you like — if the Saints do lose, it's not going to be in a high-scoring game.
Pick: Saints -7.5
How would you rate this article?