Washington vs. Seahawks Odds & Picks: The Betting Value Is On Sunday's Home Dog
Credit:
Christian Petersen/Getty Images. Pictured: Chase Young, Ryan Kerrigan.
Washington vs. Seahawks Odds
Washington Odds

+6 [BET NOW]

Seahawks Odds

-6 [BET NOW]

Over/Under

43.5 [BET NOW]

Kickoff

1 p.m. ET

TV

FOX

Odds as of Sunday afternoon and via BetMGM, where you can bet $1 on Seahawks-Washington to win $100 if there's a touchdown. 
Two division leaders meet Sunday in what could very easily turn into a playoff preview, depending on how things go.
Everyone left the NFC East for dead a month ago, but then both New York and Washington reeled off four-game winning streaks. Washington's streak is still ongoing, and the Football Team are one game away from .500 and sitting alone atop the division.
Seattle's big win streak came at the start of the season. The Seahawks started 5-0 but are just 4-4 since, and Russell Wilson's MVP candidacy has fallen by the wayside. They demolished the Jets a week ago but have mostly been heading in the wrong direction as the season has gone along.
So if Seattle is trending in the wrong direction and Washington has won four in a row, how is the Football Team nearly a touchdown underdog at home? Hint: They shouldn't be.
Seattle Seahawks
The Seahawks are 9-4, though they've done most of their damage against average and bad teams.
Seattle has zero wins this season against teams that would be in the playoffs if they started today. The Seahawks have played only two teams that would currently be in the playoffs, and they lost both games relatively convincingly.
Of course, Washington would be the worst team in the playoffs, and Seattle has beaten the Dolphins, Cardinals and Vikings, all with equal or better records.
Most of the good Seattle has done this season has come at the hands of Wilson. Wilson may no longer be an MVP contender, but he's still piling up huge numbers. He's thrown 36 touchdowns this season, nearly three per game, and he will cross 4,000 yards in this game or the next one.
Wilson has been dealing all season to D.K. Metcalf and Tyler Lockett, and Seattle is especially devastating on deep passes with Wilson moon balls taking the top off of the defense.
The rest of the Seahawks have been mostly average.
Seattle's run game has not been particularly dangerous, and its defense has been troublesome at best, particularly in pass defense.
Seattle is also battling injuries and depth issues on the offensive line and in the secondary. The Seahawks' corners are especially thin, and the offensive line is perilously thin — it looks like they'll be without right tackle Brandon Shell now, too.
Yet again, Wilson may have to do this one on his own.
Washington Football Team
Washington is the hot team right now, with a four-win streak against the Bengals, Cowboys, Steelers and 49ers. The Football Team has allowed only 57 points over those four wins, an average of barely more than 14 points per game. Of course, none of those offenses have been anywhere near as good as Seattle's this season.
Washington is winning games with a suffocating pass defense, and it's winning the battle up front with the core of the team: The pass rush. Montez Sweat and Chase Young have given opponents fits all season, living in the opposing backfield, and they are the key to this game yet again.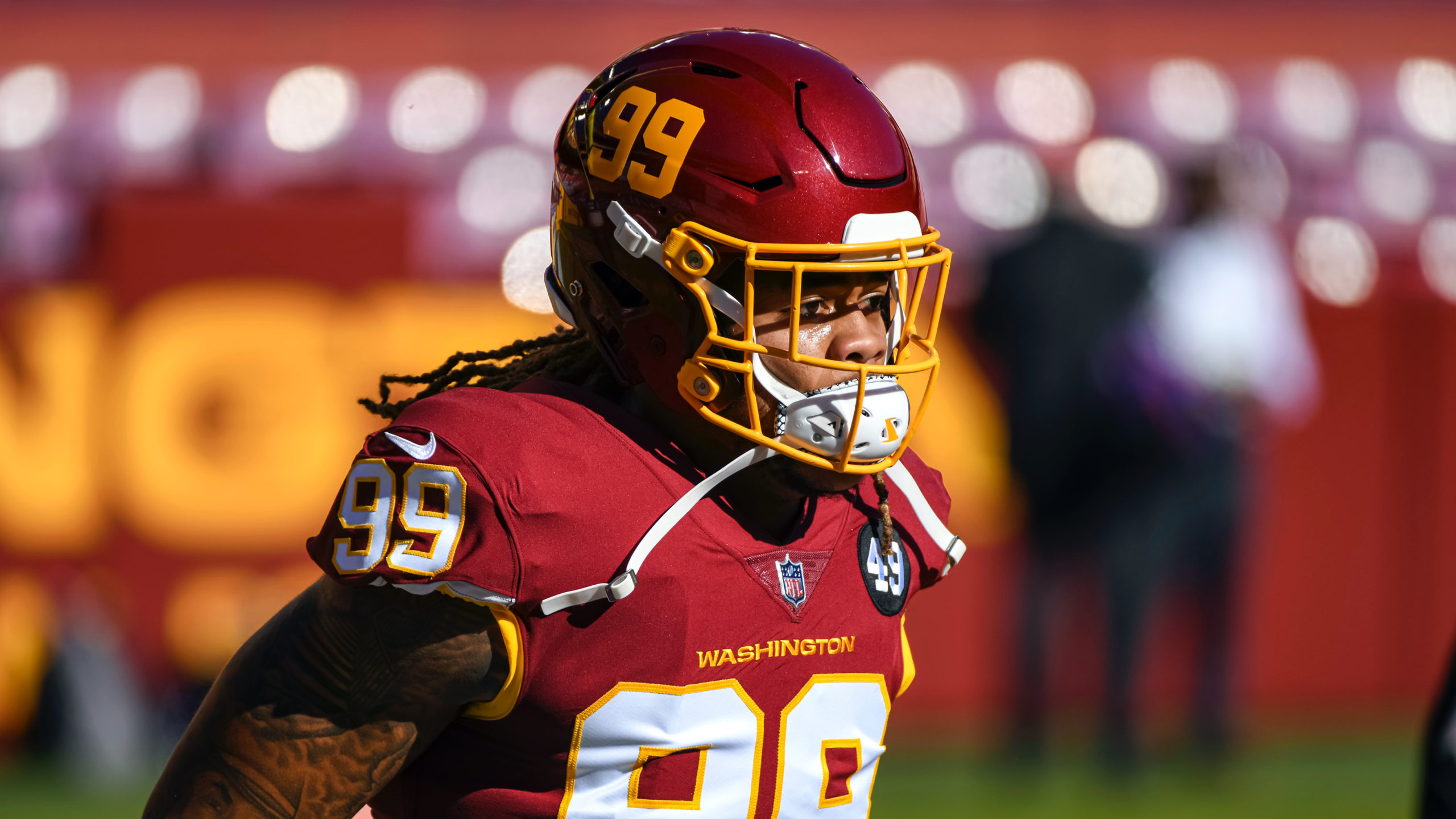 Seattle's offensive line struggles continue, and with Shell potentially out and Duane Brown ailing all season, it will be up to Sweat and Young to get after Wilson and prevent Washington from defending Metcalf and Lockett in space for too long.
Washington's offense has barely kept up. Even with this late-season surge, the Football Team's passing attack is the worst in the NFL, and a solid run game will be hurt by the absence of Antonio Gibson, who is doubtful with a toe injury.
Washington is also on their third-choice quarterback with Alex Smith out this week, as the team will turn back to Dwayne Haskins. But are we sure Haskins is the third-worst QB on this team?
Kyle Allen stunk, and do you really think Smith is the reason for this recent Washington surge? Smith has a great story, but he's been a statue in the pocket and has more than half of the team's interceptions.
Haskins is still tied for the team lead in touchdowns, and he also had terrific rapport early with Terry McLaurin, the only good part of Washington's offense. In the first four games of the season with Haskins under center, McLaurin was targeted 39 times and had 26 catches for 387 yards, averaging almost 10 yards per target and nearly 15 yards per catch.
Look for McLaurin to have a huge game against a vulnerable Seahawks secondary. Haskins tends to lock onto McLaurin, but if he's open most of the game, that's not as much of a problem.
Seahawks-Washington Pick
Washington is nearly a touchdown underdog, but the Football Team hasn't lost by this margin since the first month of games. Of course, that was the last time Haskins started for the team, too, so that news might have you doubting Washington here, but it shouldn't.
Haskins may be the team's best option, and he certainly seems to give McLaurin the best chance of a huge game against a secondary that's been ripe for the picking all season.
This is not a great matchup for Seattle.
Washington ranks second in Football Outsiders' pass defense DVOA, the perfect antidote to Seattle's strengths, and the Haskins-to-McLaurin connection is a great weapon against the biggest Seahawks vulnerability.
Beware the temptation to tease this one down, because Washington could very well win outright. The line moved in Seattle's favor when the Smith news broke, but don't be surprised if Haskins gives Washington more versatility and upside on offense.
Take the over on McLaurin props and grab Washington at nearly a touchdown underdog. Sprinkle a bit of your wager on the moneyline, too.
This is the sort of game Seattle tends to screw around in and play it close late, relying on Wilson to get the job done. He'll be the best player on the field, but with Sweat and Young chasing him around all game, Wilson will have his work cut out for him.
Pick: Washington +6.5
How would you rate this article?