NFL Picks and Odds: Bet Eagles, Chargers, Steelers To Cover, Plus More Spread Predictions For Week 12
Credit:
Mitchell Leff/Getty Images. Pictured: Eagles QB Jalen Hurts
Our analyst makes predictions for every Week 12 game with picks on each spread -- but not every one is worth actually betting.
Find out why he likes the Eagles, Chargers and Steelers to cover this Sunday.
Did you have a good Thanksgiving?
I certainly enjoyed a good platter of turkey, stuffing, mashed potatoes and gravy, but I also enjoyed getting on the board early with our first "bet" win of Week 12 — an easy Bills victory on Thursday evening. Already on Thanksgiving, two games came down to the final play, and the rest of this week looks tricky. There are 12 games left, and all but one of them have a line at four or fewer point.
It looks like a very fun, very dangerous slate of Sunday action.
We ran through all the games to make our early-week picks below, but let's circle back with a few late-week updates to our positions now that we have some post-Turkey Day news and line movements.
The Eagles and Steelers were "bets" earlier this week and remain so. Pittsburgh will be without Joe Haden but looks like it should get both T.J. Watt and Minkah Fitzpatrick back. That's a huge boost and reinforces our position. It also means I'm grabbing some Steelers +165 moneyline, too.
Let's go, Pennsylvania.
The Vikings were our other "bet," but I'm dropping that pick to a "lean." Minnesota will be without all four starting defensive linemen, after having a tumultuous week with Everson Griffen's off-field issue. I still like the Vikings' ability to pass on the 49ers and still lean Minnesota's way at +3.5, but there's a chance San Francisco could just dominate this game on the ground with Trent Williams and George Kittle leading the way in the trenches.
NFL Picks For Week 12
Here are all the early-week picks that remain unchanged:
Bet Eagles -3.5 at Giants
Lean Panthers -1.5 at Dolphins
Bet Steelers +3.5 at Bengals
Lean Texans -2.5 vs Jets
Lean Vikings +3.5 at 49ers
Bet Chargers -2.5 at Broncos
As always, we're making picks for every game, but that doesn't mean we have to bet them all.
Two key matchups lost line value as the week matured, while two others pit teams that aren't reliable enough to bet on. These four matchups all feel close to toss-ups, so we'll pass and see how they play out.
We'll also pass on the one game with a high line this week — maybe a little too high:
Pass Bucs -3 at Colts
Pass Rams -1.5 at Packers
Pass Falcons -2 at Jaguars
Pass Washington +0.5 vs Seahawks
Pass Patriots -7 vs Titans
Alright, let's take a longer look at the one game we "waited" on this week: A huge AFC North rivalry matchup on Sunday Night Football.
Browns at Ravens (-3.5)

The Ravens are 7-3 but haven't looked good for longer than a month. Remember that dominant 34-6 win over the Chargers at home? It's been ugly since.
Baltimore got routed by Cincinnati the following week into its bye. In three games since, the Ravens lost to the Dolphins and pulled off late comeback wins over the Vikings and Bears. Four of Baltimore's seven wins have come by three or fewer points. A fifth came in overtime. And the Ravens trailed in the final five minutes of all five matchups.
Then again, Cleveland's season hasn't exactly been peachy.
The Browns had that big 41-16 road win over the Bengals a few weeks ago, but have otherwise been mostly rudderless since September. Seven of their 10 games have come down to the final minutes. And that win in Cincinnati is their only one over a team with a winning record.
And yet somehow, despite all of that, the winner of this big Sunday night showdown probably emerges as AFC North favorites.
This is one of the biggest rivalries in football — at least in how the teams feel about each other. That sort of thing happens when a city steals your team, you know? But the rivalry has been awfully one-sided on the field.
The Ravens have won 22 of the last 26 meetings, covering this line in 20 of them. This is a really weird setup for the Browns, too. They're literally playing Baltimore twice in a row, with a bye week in between. That means nothing but Ravens on Cleveland's mind from Nov. 21 through Dec. 19 — one full entire month of rivalry hatred.
It looks like both Lamar Jackson and Baker Mayfield will play, though neither of them has looked healthy or good. Mayfield has struggled all season, and Jackson has ranked bottom-five among all qualifying quarterbacks in Expected Points Added (EPA), success rate, and completion percentage over expectation (CPOE) over the past five weeks, per RBSDM.
Both teams have been besieged by injuries, though Cleveland is finally starting to get healthy. Getting RT Jack Conklin and RB Kareem Hunt back this week could be big.
There are a few key ways these teams mirror each other, but also a few mismatches that all appear to lean in the same direction. Both teams have been excellent offensively on early downs — the Browns are No. 1 in EPA per play, the Ravens No. 3, per RBSDM — but poor on late downs. Both are built around tough run games and run-centric attacks.
The differences come on defense.
Baltimore's run defense has been pretty strong, while Cleveland's has been middle of the pack at best. The Ravens defense also ranks near the top of the league on late downs while the Browns are near the bottom, and the same is true in the red zone. When the chips are down and the game is on the line in those important spots, Baltimore appears to have the key advantages.
The weak spot for Baltimore, especially lately, has been its pass defense. The Ravens rank No. 2 in Success Rate over the last five weeks but are fifth-worst on passing EPA defense, which means the defense is holding up series by series but getting gashed by big passing plays.
Cleveland's leading pass catcher has only 372 yards on the season. This is not a team that has been winning in the passing game.
I like the matchups for Baltimore, and I don't trust Mayfield to go out and win this game in the air. Kevin Stefanski is 1-7 agains the spread (ATS) in division games, and the Browns have decades of losing against these Ravens to overcome, especially on the road.
I'm going to have to see the Browns do it before I back them with my cash.
THE PICK: Lean Ravens -3.5 | Previously "Wait"
---

Editor's Note: The content below was published on Wednesday. Please check out the information above to see how Brandon Anderson's picks have changed — and why — since then.
---
It's Thanksgiving week, which can only mean a great slate of football. And wow, do we have a great slate of games ahead of us.
We've got a whopping nine (!) games between teams at .500 or better, and that's with the Cardinals and Chiefs enjoying the holiday week from their couches at home.
All those good games leave for some very close lines, though — only two of our 15 games have spreads of five or more points. Everything else is basically a field goal or closer, so e could get a whole lot of tight finishes on Sunday.
Better get that Thanksgiving nap and Black Friday shopping out of the way and keep the remote handy.
Like usual, we'll make early picks on every Week 12 game below, but be sure to check back Saturday for final decisions once we have more information on these games. For now, every pick is a "bet," "lean" or "wait."
Note: Odds highlighted below are the best available for each pick as of writing. Shop for the best real-time lines with our NFL odds page.
---
Thanksgiving NFL Predictions
We already covered the Thanksgiving trends you need to know and made picks on all three games. You can read about all of that here, but here's a quick update with the shifting lines.
The Bears line dropped as expected, but with Jared Goff a possibility to start and the swirling Matt Nagy rumors, we're dropping that one from a "bet" to a "lean" to be safe:
Lean Bears -3.5 at Lions
Lean Cowboys -7 at Raiders
Bet Bills -5.5 (to -6) at Saints
---
NFL Predictions For Rest of Week 12
Bucs -2.5 at Colts

This was one of my favorite early reads.
I've been all over the Colts for a few weeks, and last week's win over the Bills was my biggest play of the season. This team is rolling now that its offensive line is healthy and Jonathan Taylor is suddenly a trendy MVP pick while the Bucs have struggled on the road all season and don't look healthy.
Of course, we have to like the Colts at home, right?
But like last week, I'm flipping to the other side after digging into this game.
There are two key matchups, and they both go against Indy. These teams are great against the run, each of them top five of Football Outsiders' rush defense DVOA. The Bucs have been historically great against the run over the past few years, and while they certainly aren't as tough without Vita Vea, their linebackers are great at eliminating holes, which could neutralize Taylor some.
The second key matchup is on the other side of the ball.
The Colts have been stout against the run but very leaky against the pass, and the Bucs rank first in pass offense DVOA offense for the season. Tom Brady is the MVP favorite and his weapons are starting to get healthy. If the Bucs can slow down the Colts' run game as well as get Brady and his weapons going, it could be a long day for our favorite Hard Knocks team.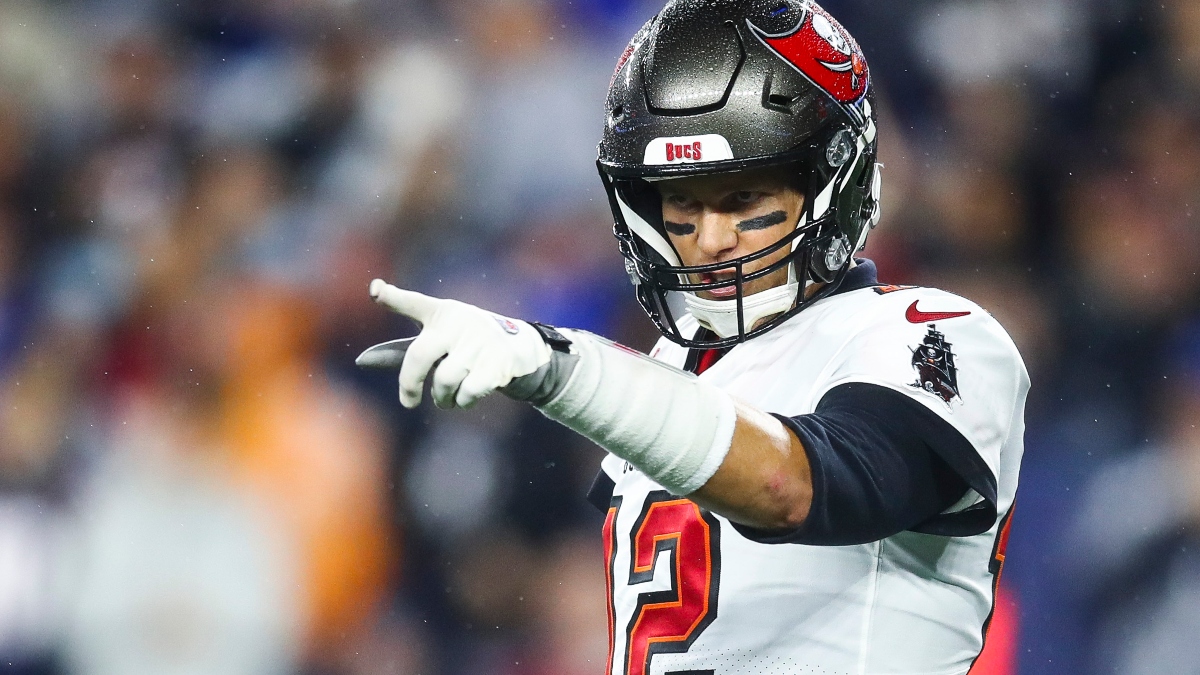 The Bucs have definitely been poor on the road — they're 2-3 SU with losses at the Rams, Saints and WFT and 0-5 against the spread (ATS) away from home.  Brady is also 0-4 ATS as a one-score favorite this season, but he entered the year 76-44-7 ATS (63%) in that spot, and the rest of the NFL is smashing on the road this season at 96-61-1 ATS (61%).
Tampa's road struggles and Indy's huge win in Buffalo have actually bought us a little value on the Bucs. If they are really Super Bowl favorites, they have to win games like this one.
THE PICK: Lean Bucs -2.5
Titans at Patriots (-5.5)
On Sunday morning, this line was Pats -3 … then the Titans laid an absolute egg in a loss to the Texans with a stinkbomb from Ryan Tannehill, and suddenly the line had doubled by Sunday night.
Instinctively, I loved this spot for the Titans when the line re-opened. But as I consider what these teams have done over the past month, it's hard to imagine them going any farther in opposite directions.
The Patriots are absolutely rolling — they've covered five straight and their defense is annihilating opponents. By Expected Points Added (EPA), they're double the next-best team per play defensively over the last five weeks, per RBSDM — and they're even better against the pass.
The offense has also cracked the top-five in EPA per play during this stretch. Mac Jones is playing well while the run game is rolling with the offensive line healthy.
The Titans, on the other hand, look like a team without an identity after the loss of Derrick Henry. They're still as run-heavy as any team in the NFL on early downs, but the run game isn't producing anymore — they're second-worst on early-down rushing EPA over the last five weeks. They're not getting any explosive plays while the play-action numbers have shriveled up with opponents no longer respecting the threat of King Henry.
This offense has no shot right now against the Patriots, not the way either side is playing. Tennessee's defense has been great, but a bet on the Titans means hoping their D can win the game or just keep it low scoring enough to cover a high line.
This number feels like it has value, but it felt like it had value last Thursday night in Atlanta, too. I liked the Falcons early in that one but shifted late to the Pats as a result of the matchups, and boy did that work out. That's where I'm at here. Mike Vrabel is 2-0 against his mentor Bill Belichick, but these teams are headed in opposite directions and I can't bet against the red-hot Pats.
THE PICK: Lean Patriots -5.5
Eagles -3.5 at Giants

Love, love, love the Eagles here.
While the rest of the NFL is zigging, Philadelphia is finding success by zagging. Virtually every other team in the league has gone pass-happy, but the Eagles have gone old school and are dominating in the run game. They faced one of the best run defenses in the league on Sunday in New Orleans and rushed 50 times anyway, racking up 242 yards and three scores to establish a 33-7 lead heading to the fourth quarter of a tough road playoff-atmosphere type game.
In the first seven Eagles games, they barely ran with 165 rushes for 547 yards and five touchdowns. In the four games since, they've run 175 times for 868 yards and nine scores. That's 43.8 rushes for 217 yards a game, with Jalen Hurts leading the way and looking a lot like Lamar Jackson as a dual threat.
And if the Eagles can do that to a great Saints run defense, what will they do to the Giants, who rank 30th in rush defense DVOA? Even as the pass D has improved of late, their run D remains terrible.
This is the wrong matchup at the wrong time for New York. Philly is winning in the trenches and should dominate both sides there.
The Eagles are legitimately good, and they could be a nightmare matchup for the wrong team if they get into the playoffs. They've won 12 of 14 against the Giants, who just fired their offensive coordinator and are coming off a short week. I loved the Eagles as my early Week 12 bet at -2.5, and though we lost the key number, we're getting a few points of value here.
THE PICK: Bet Eagles -3.5
Panthers -1.5 at Dolphins

Both of these teams have losing records and sit on the fringe of the playoff race, so this is probably a Loser Goes Home type of matchup.
And honestly, I'm pretty intrigued.
The Dolphins have won two in a row and are getting the defense humming under Brian Flores while Tua Tagovailoa is playing better. And the Panthers are finally healthy with Christian McCaffrey back to his usual shenanigans and the defense whole again, and it's clear that Cam Newton is healthy and giving this offense a real spark.
I'm not ruling either of these teams out of the playoff picture just yet.
I'm not entirely sure what to make of the Panthers' attack or Dolphins defense. The metrics underrate both units as they improve lately with health, but it's the other side of the ball that determines my read here. The Panthers have been terrific on pass D, and that's about the only way the Dolphins move the ball.
Though both teams are improving late in the season, I'll bank on the one unit that's been good all year: Carolina's defense.
THE PICK: Lean Panthers -1.5
Steelers at Bengals -4.5

I don't understand this line at all.
What have we seen from the Bengals that makes them a solid favorite against these Steelers? Are we really that excited about a big win over the Raiders, a one-score game that got ugly in the last five minutes?
Cincinnati has been mostly fine this season. Nine of the Bengals' 10 games have been within one score in the final five minutes. The only one that wasn't? Week 3 in Pittsburgh against the Steelers, an easy 24-10 win for the Bengals. Ah, there it is.
This is not the same Pittsburgh team we saw in September. It never is by the time we reach this point in the season. Mike Tomlin, like Belichick, uses that first month as an extension of the preseason, working the kinks out and helping his team peak late. Well, it's late now, and we saw how good the Steelers could be in flashes of a late comeback attempt against the Chargers.
Ben Roethlisberger is 24-9 against the Bengals over this career, and he's 12-4 ATS in Cincinnati. Plus he and Tomlin have also been terrific as underdogs — Tomlin is 42-20-2 (68%) ATS as a dog, including 4-1 ATS this season. The Steelers won three of those games outright and almost added a fourth this past Sunday night, and Tomlin underdog moneylines have a 34% ROI.
We've said it all season: Tomlin's teams play down to bad competition but thrive as underdogs.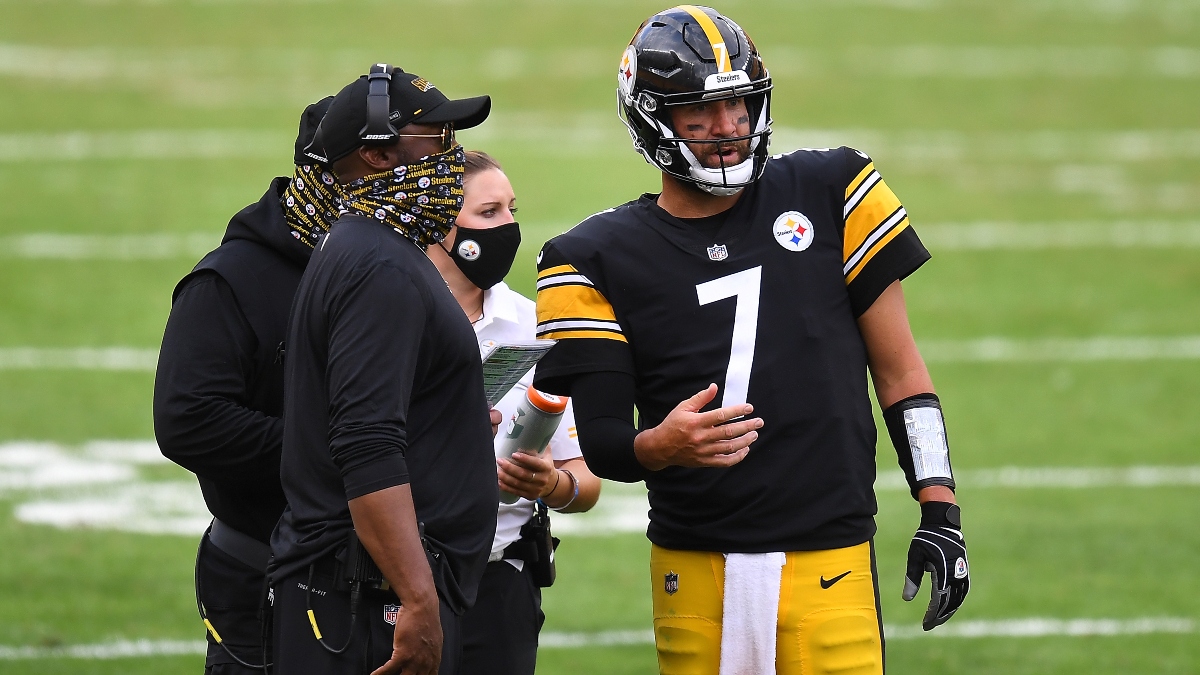 Big Ben played his best game of the season last week. He looks healthy and rejuvenated after a week off. They also expect to get Minkah Fitzpatrick, T.J. Watt and Joe Haden back, per the NFL Network's Aditi Kinkhabwala, all of which would obviously be huge for this defense.
If those three are back, this is at best a coin flip for Cincinnati, and I'd probably favor Pittsburgh.
I'm not waiting around for the injury news, because that will only cost me points on this line. Maybe this is a trap, but I'm stepping right into it. I love the Steelers in yet another underdog spot, and I'll probably play the moneyline again at +170, too.
THE PICK: Bet Steelers +4.5
Jets at Texans -2.5

Woof. It turns out all those games between good teams leaves some real doozies on the schedule.
Don't look now, but the will-they-go-0-and-17 Texans are home favorites in 2021 with a chance to go on a winning streak — and I think they'll do it. The Texans are just better than the Jets right now. Would you believe Houston has a top-10 defense by DVOA right now? Its pass defense has been good all season and it ranks No. 1 in run defense EPA per play over the last five weeks.
Hey, you know who's not good at defense? The New York Football Jets.
The Jets rank dead last in both pass and run EPA per play on defense over the last five weeks out of the bye. New York is so bad at defense that it dot barely even squeaks onto this defensive graph at RBSDM: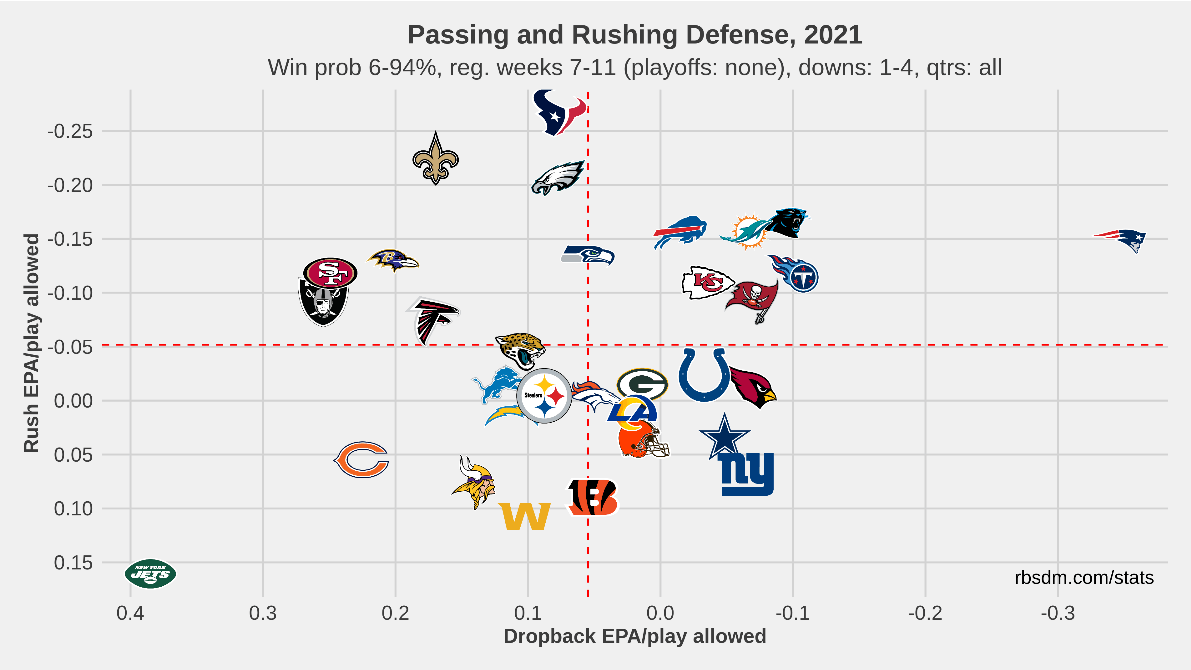 The Texans have actually been a passable professional team with Tyrod Taylor — they're 2-1 in full Taylor games. Meanwhile, the Jets turn back to rookie Zach Wilson, who has been downright abysmal and might be forced back too quickly into the lineup with Joe Flacco and Mike White in COVID protocol.
The Texans are 3-1 ATS at home this year. Honestly, if this was anyone other than the terrible Texans, it would probably be a smash spot.
THE PICK: Lean Texans -2.5
Falcons -0.5 at Jaguars

The Scene: Somewhere deep in the depths of hell, a television flicks on. "Seven hours of commercial-free football… starts NOW!" Wait, they have NFL RedZone here?! Maybe this place isn't so bad after all.
But wait. They do have NFL RedZone… but it gets only two games, over and over on repeat, for all of eternity: Jets-Texans and Falcons-Jaguars from Week 11 of the 2021 season. And you have to watch on them.
This is definitely The Bad Place.
Luckily, we don't have to bet or watch this one, but we'll make a lean anyway.
The Jaguars are pretty good at running and stopping the run, but the Falcons don't run the ball, and their secondary is the weak spot. In fact, neither secondary has been any good this season. That means we have to take the better quarterback, and even though Matt Ryan has been up and down, Trevor Lawrence has been terrible.
The Falcons are slightly undervalued after that ugly shutout loss last Thursday. And remember, this was an NFC playoff team a couple weeks ago. Plus teams coming off a shutout loss are 60-44-5 ATS, covering 58% of the time, which includes 3-0 this year. Let's make it four with a toss-up road win.
THE PICK: Lean Falcons -0.5
Rams at Packers -1

Even on a great slate, this is our clear Game of the Week.
It's a huge matchup in the NFC playoff picture. The loser likely falls out of the 1-seed race and ends up much more likely to be a 4- or 5-seed. In fact, a Rams win could set up this exact rematch in the first round as a 4-vs-5 showdown in Green Bay. That is the one first-round matchup you do not want in this year's playoffs.
That said, neither team has been very good over the last month. The Packers have lost two of three and feel like they're staggering into next week's bye. They've also contended with key injuries all season. Jaire Alexander and Za'Darius Smith have been missing on defense almost all year, LT David Bakhtiari has yet to play a snap, and Davante Adams and Aaron Rodgers missed games in COVID protocol. Now Rodgers is dealing with a rough toe injury while Bakhtiari's replacement Elgton Jenkins tore his ACL, leaving an even bigger hole on the O-line. Aaron Jones is still a question mark, too. It's a mess.
The Rams haven't won a game since Halloween and they've failed to cover in four straight. Matthew Stafford struggled mightily in two losses heading into the bye week. That's the good news, though. While the Packers are just crawling toward their off week, the Rams just had theirs. That means time to integrate Odell Beckham Jr. and Von Miller into the scheme and time to adjust to the Robert Woods loss.
Stafford has actually covered in four of his last five against Rodgers, matching him blow for blow, and Stafford has a lot more help with the Rams. He's 9-3 ATS coming out of a bye week, and the Packers' secondary has been beatable, especially in the red zone. Rodgers and the Packers are excellent at home in those close games — they're 4-0 ATS at home in a season dominated by road dogs and have covered nine straight before losing to the Vikings — but this feels like a regression spot.
I just think the Rams are a little better across the board. I like the offense and defense a little better, I like their coaching a lot better, and I like the Rams as the healthier, better team right now.
THE PICK: Lean Rams +1
Vikings at 49ers -3.5

This is a monster game in the NFC wildcard race. Both teams are playing their best football of the season, and the winner is in a great shape to make the playoffs, while the loser is right back to life support again.
Don't look now, but Kirk Cousins and Jimmy Garoppolo are absolutely dealing. Garoppolo ranks first in EPA per play over the last five weeks while Cousins is just behind at third.
The Vikings are passing it all over opponents right now with Justin Jefferson virtually unstoppable, and the 49ers pass defense ranks 30th in EPA over the last five weeks. But the 49ers lead the NFL in rushing EPA over that stretch now that George Kittle and Trent Williams are healthy, and a banged-up Vikings  defensive line has left them near the bottom of the league in run defense all season.
That sets up a potential shootout and a likely over, with both defenses struggling to get off the field. The 49ers should be able to run all day, though Elijah Mitchell is a question mark, and the Vikings should pass all over the 49ers — as long as the coaches don't get bogged down running the ball, where they've been inefficient and face a stout run D.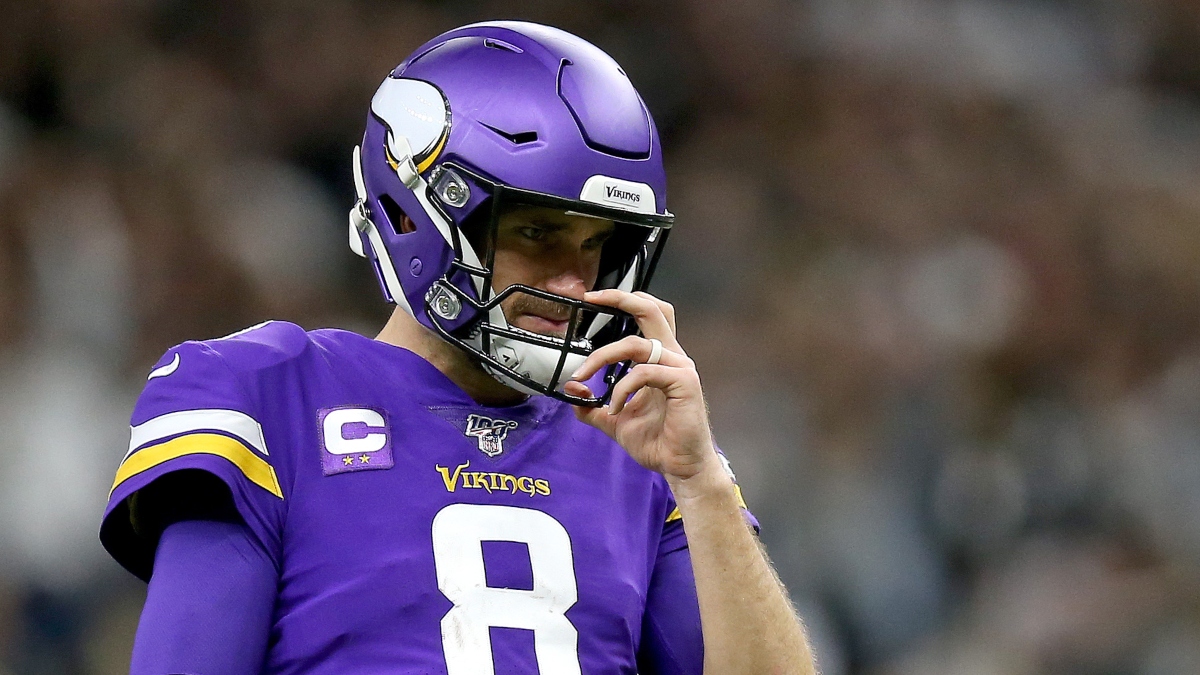 The question, then, is which of those sides matters more — and that's a good reminder that passing is always, always more important in today's NFL. Minnesota ranks second in passing offense DVOA and eight in the same metric on defense. As long as the Vikings lean on the passing game, they have the edge here.
This line is wildin' — on The Action Network Podcast, my co-host Raheem Palmer and I both loved the Vikings on our Lookahead segment last Friday, and we took Minnesota again on the Sunday night "Hot Read." Somehow the line continues to move toward San Francisco, and I don't get it. Kyle Shanahan is 10-22-1 (31%) ATS as a favorite while the Niners are 1-4 ATS at home this season, and we know road dogs have been killing it.
I'm all over the Vikings, especially if you can grab them at +3.5. I'm also playing the +150 moneyline. Underdog moneylines facing Shanahan the last two seasons have an 80% ROI. Let's see if we can add to that number.
THE PICK: Bet Vikings +3.5
Chargers -2.5 at Broncos

Suddenly, the Chargers offense looks like it has figured things out. After struggling on early downs for the first half of the season, the Chargers now rank top-five among pass-heaviest teams on early downs and top-five in early passing down EPA over the last five weeks at RBSDM. All the better that they're still top-five in late downs, too.
It turns out your offense is pretty good when you rank top-five on both early and late downs, and sure enough, the Chargers now rank third in offensive DVOA. Justin Herbert looked like a future MVP this past Sunday night the way he picked apart the Steelers' defense. The way he's playing right now, that future might not be too far away.
The Broncos' defense has struggled against top offenses and the Chargers are definitely that right now. Brandon Staley knows just how to attack a Vic Fangio defense because his guys practice against it every day. The Broncos offense is playing better lately, too, but they might have to win a shootout here. And they won't be able to dominate on the ground against a bad run D with LT Garrett Bolles in COVID protocol.
These division rivals have split the season series four of the last five years, with eight of the 10 games one-score affairs. Combine that with a road division favorite, and it often means taking the underdog, but I just think the Chargers are the much better team right now.
Denver is coming out of the bye, but favorites against rested home division underdogs are 22-12 ATS, covering 65% of the time. We may pass if this ends up at -3 by kickoff, but I still see a little value at -2.5.
THE PICK: Lean Chargers -2.5
---
---
Browns at Ravens -4

Sunday Night Football
This is a monster game in a wild toss-up division that could still go in almost any direction, and it's the first of two straight Ravens games for the Browns. I actually really like this matchup for Baltimore — but only if Lamar Jackson is actually healthy out there. Jackson and star WR Marquise Brown were late scratches last week with a virus that swept through the team.
Since this line is inching toward Cleveland anyway, we'll wait for injury news on both sides and make a call on Saturday once we get a better feel for the line and who will actually be playing.
THE PICK: Wait for the injury reports from both sides
Seahawks -0.5 at Washington

Monday Night Football
This might really be the beginning of the end for the Russell Wilson era in Seattle. Wilson clearly isn't healthy with that finger injury badly affecting his accuracy and deep ball, and the rest of the roster just isn't good enough. The Seahawks can't run the ball much, and the pass defense is a disaster right now, basically signing guys off the street to play corner.
It's ugly.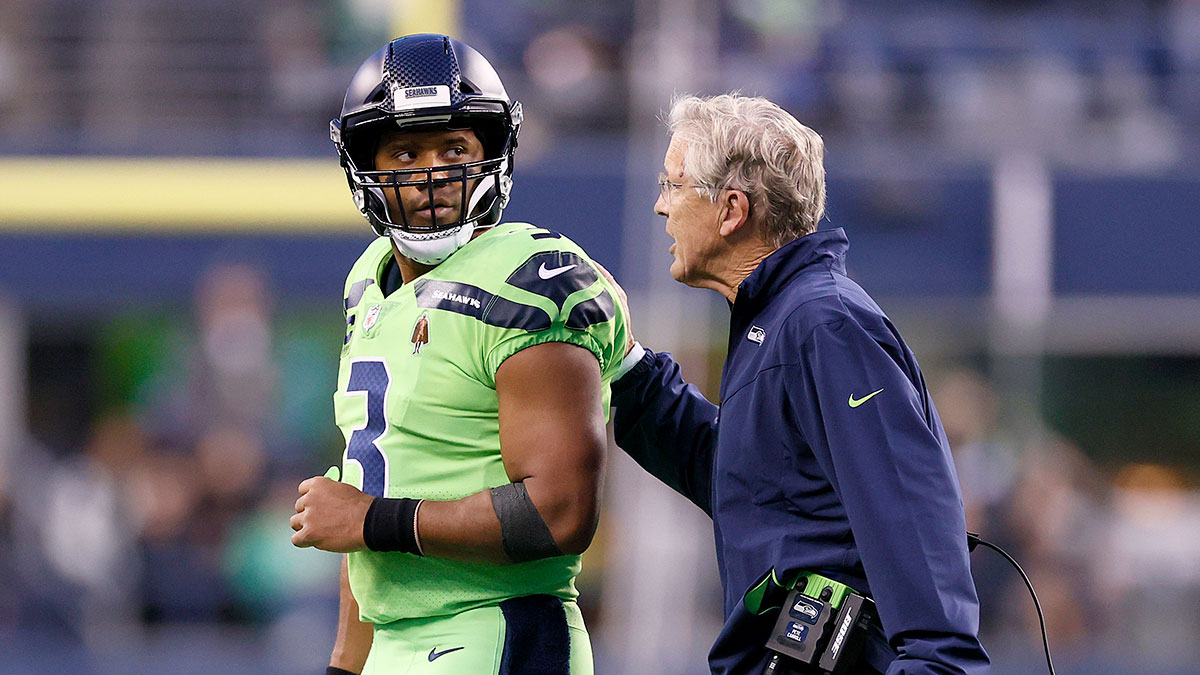 This sounds absolutely crazy, but right now, Taylor Heinicke might actually be playing better football. Heinicke won that game in Carolina all on his own, with terrific scrambling and creating on the fly plus surprisingly pinpoint accuracy. Heinicke leads the league in Completion Percentage Over Expectation over the last five weeks, per Next Gen Stats.
Neither pass defense has been any good, so that means it comes down to the quarterbacks. And it feels crazy, but I don't trust Russ right now the way he looks.
The key to this game might come down to Seattle's late-down offense. The Seahawks rank worst in the NFL at -7.1% late down conversion over expectation (LDOE), per RBSDM, but the Football Team has been awful on late-down D at +12.% LDOE and 0.49 EPA allowed per play — last by a hilarious margin.
If Wilson is even a little healthy, he'll punish this awful late down defense. That's normally where Russ is at his best. I just don't believe he's healthy.
THE PICK: Lean Washington +0.5
How would you rate this article?
This site contains commercial content. We may be compensated for the links provided on this page. The content on this page is for informational purposes only. Action Network makes no representation or warranty as to the accuracy of the information given or the outcome of any game or event.