NFL Betting Picks: The Biggest Spread & Total Edges For Week 4
Credit:
Jason Miller/Getty Images. Pictured: Joe Burrow
One way I find betting edges is by comparing the odds to my NFL Power Ratings — if there's a notable difference between my projections and the market, I'll make a bet. (You can read more about my methodology here.)
Each week of the season I'll highlight the biggest of those edges. We've got five for Week 4, so let's jump right in!
Week 4 NFL Picks
Click on a pick to skip ahead to that analysis.
Jaguars at Bengals Under 49.5
Kickoff: 1 p.m. ET | TV: CBS
Scoring is way up this season — the average score per game is 5.6 points higher than in 2019 and the median total score so far has been 49 points. There could be many reasons for the rise in scoring given the unique circumstances of the 2020 season, which is why I'm going to be very careful with totals in the meantime, especially when it comes to betting unders — I've been getting crushed by them so far.
That said, I'm projecting this Jaguars-Bengals matchup to be a slower-paced, lower-scoring game than league average. Therefore, I'm comfortable taking the under here given it's in-line with the median score of a historically high-scoring season so far.
If the high scoring has been due to sheer randomness so far, we would inherently benefit from the league regressing toward the mean this week.
I have this total projected closer to 47 points.
The Bengals' 69% pass rate ranks second, but is mainly due to them playing from behind 61% of the time so far. They've passed 75% of the time when trailing, which ranks third. Now as 3-point favorites (find real-time odds here), the Bengals could be in a leading game script for much of Sunday, which will allow them to lean on Joe Mixon quite a bit and take some pressure off Joe Burrow.
Burrow has been sacked a league-high 14 times through three weeks, so the Bengals will need to protect their franchise QB, and this should be the perfect game to do that.
On the other side of the ball, the Jaguars play at a snail's pace of 34 seconds per play, which is dead last according to Football Outsiders. They should also run the ball against a Bengals defense that currently ranks eighth against the pass according to Football Outsiders' DVOA and 21st against the run.
I expect a lower-scoring environment and would bet this down to 49.

[Bet the Under 49.5 at BetMGM and get a $500 INSTANT deposit match]
Seahawks-Dolphins Over 54
Kickoff: 1 p.m. ET | TV: FOX
I'm not going to let the massive action — 84% tickets and 92% of the money (find real-time public betting data here) scare me away from this over. I certainly over-analyzed the Cowboys-Seahawks total last week by taking the under 57.5 (despite knowing it had massive shootout potential), and I am not going to make the same mistake here.
The Dolphins are without Byron Jones again this week, making it hard for me to see how they slow down Russell Wilson. Chris Carson (questionable) is also a bit banged up, so they may limit how many carries they give him (only more reason to #LetRussCook).
On the other side of the ball, Ryan Fitzpatrick is more than capable of keeping up with the Seattle offense. He has his top-three weapons DeVante Parker, Preston Williams and Mike Gesicki closer to full health. And Seattle's defense has been a real issue this season, and will be without Jamal Adams for this game. Adams is the heart of this defense, and his absence is massive.
The Seahawks rank 29th against the pass (per DVOA) and fourth against the run. I expect the Dolphins to play into a pass-happy game script and love this game's over environment.
My total projection is 55.5, but I would not be shocked if this game ended with well over 60 points. Fifty-five is the last "key" number for totals, so we should lock it in before the market moves it higher.

[Bet the Over 54 now at PointsBet risk-free up to $250]
Cardinals-Panthers Over 51
Kickoff: 1 p.m. ET | TV: FOX
The Chargers' four turnovers against the Panthers last week is likely a big reason the market is offering value on them at +7 (more on that below), but it's likely offering value on this total as well. The Expected Points for that Panthers-Chargers matchup was 51.6 — a lot higher than the 37 points scored. It was the largest discrepancy of Week 3 and put into context how costly those turnovers really were.
I didn't lower the 'total' ratings of either the Chargers or Panthers as a result.
I have this total projected at 53.5 and expect the environment to favor the over. The up-tempo Cardinals offense should move the ball with ease against the rebuilding Panthers defense, which currently ranks 28th against the pass and 28th against the run (per DVOA). However, the Cardinals are only 3.5-point favorites because the Panthers offense should be able to keep up.
Teddy Bridgewater is a very competent NFL quarterback. His play should continue to be elevated by playmakers like D.J. Moore and Robby Anderson in the passing game. And although the Panthers are without Christian McCaffrey, they've been using check-downs to Mike Davis as an extension of the run game.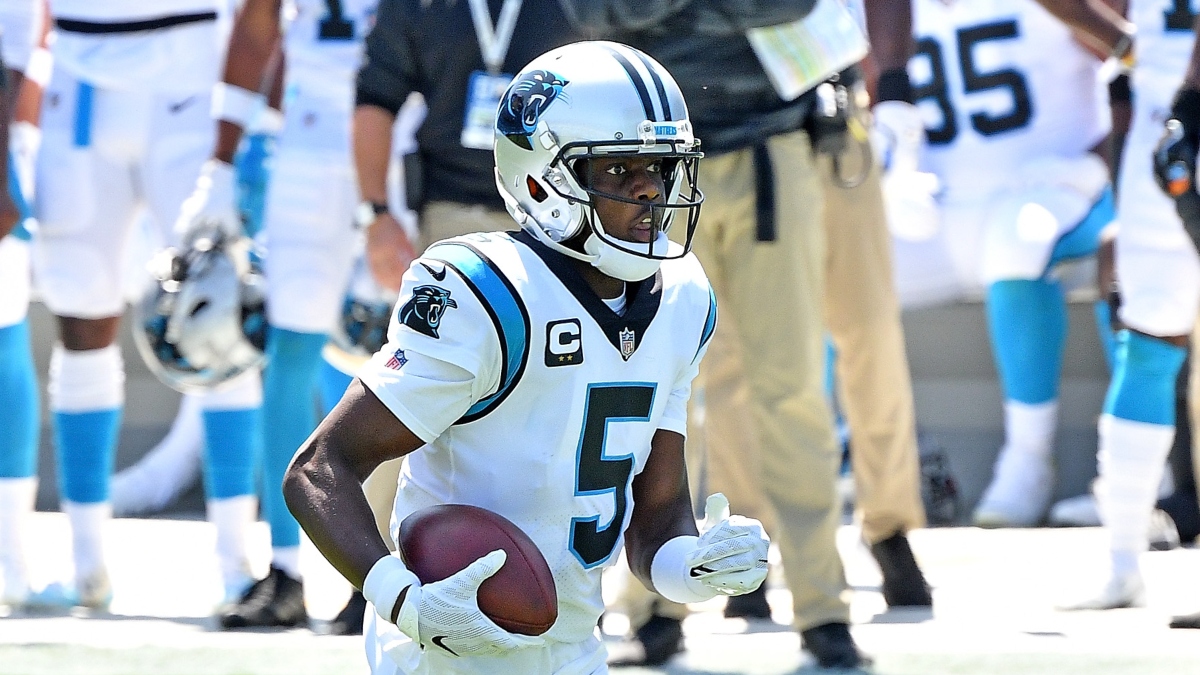 I think the Panthers should be able to match scores with the Cardinals in a back-and-forth type of game. Fifty-one is a significant number for totals, so I wouldn't bet this past it. If anything, you can wait to see if it drops to 50.5 before taking the over.

[Bet the Over 51 at DraftKings and get a $1,000 bonus, including a $500 risk-free bet]
Chargers +7 at Buccaneers
Kickoff: 1 p.m. ET | TV: CBS
Editor's note: Due to injuries to the Chargers' offensive line, Koerner is no longer backing Los Angeles.
Tyrod Taylor has already been ruled out for Week 4, so we can be sure that Justin Herbert will be making his third career start here.
Herbert looked incredible in his season debut, nearly leading the Chargers to a win over the No. 1 team in football, the Kansas City Chiefs. The following week was the exact opposite as Herbert was responsible for two turnovers (one interception and one fumble lost), and the Chargers lost to the rebuilding Panthers.
Overall, Herbert has been quite good over his first two starts. His .12 Expected Points Added per pass attempt ranks 16th (out of 35), and his positive play rate of 57% ranks ninth (out of 32) according to Sports Info Solutions.
Herbert will need to limit some of his mistakes, but he should give the Chargers a chance to be competitive most weeks. Last week's four turnovers (including three fumbles lost) are likely what's creating the value on the Chargers here.
Meanwhile, the Buccaneers will be without Chris Godwin and Leonard Fournette, which lowered their power rating 0.7 points (mostly due to Godwin). I have the Bucs projected as 5.5-point favorites and would bet the Chargers at +7, though it's such a critical number that I wouldn't want to risk waiting for it to drop to +6.5.

[Bet the Chargers +7 at BetMGM and get a $500 INSTANT deposit match]
Giants +13.5 at Rams
Kickoff: 4:05 p.m. ET | TV: FOX
The Giants made me look silly for backing them as +3.5 underdogs against the 49ers, who were without every key player last week. The bet stood no chance as the Giants lost 36-9.
Very few people will be willing to go back to the well this week, but I am.
I have the Rams projected as 10.5-point favorites here, so I anticipate they'll take an early lead. The Rams have turned into a run-heavy team with the lead this season as their 42% pass rate is the seventh lowest. I pegged the Giants defense as being a pass funnel because they do have a strong run defense (30th vs. pass and eighth vs. run DVOA confirms this so far). It could result in the Rams having drives stall once they get up by one or two scores.
The Giants have been very pass-heavy this season, as evidenced by their 70% pass rate (highest in the league). As seen in Week 2 by their 13-17 loss to the Bears, Daniel Jones can mount a backdoor cover in tandem with the Giants' strong run defense. It's why I'm comfortable backing the Giants and taking the value here.
I would bet this down to +12.5.
[Bet the Giants +13.5 now at PointsBet risk-free up to $250]
How would you rate this article?