NFL Betting Picks: Spreads, Totals & More Bets to Make For Sunday's Week 5 Slate
Credit:
Michael Workman/Icon Sportswire via Getty Images. Pictured: Dalvin Cook
The dominant storyline heading into Week 5 has been increased news surrounding COVID-19, which has created much more uncertainty in the market. Combine that with our first bye weeks (Packers and Lions) of the season, and the options are slimmer than we've seen over the past month.
I'm not in love with the card, but there are four sides that offer value for bettors. Let's dig into those four matchups, then I'll also finish up with some quick hitters on the other Week 5 games and share my betting target ranges.

---
Jump to: Picks | Targets
---
Week 5 NFL Picks
Vikings +7 at Seahawks
When these teams met the end of 2019, the line closed at Seahawks -2.5/-3. Now they're 7-point favorites against the Vikings (compare real-time odds for every Week 5 game here). But has that much really changed between these two teams?
Kirk Cousins and Russell Wilson finished that matchup with fairly similar stat lines in a 37-30 win for the Seahawks. It's worth noting that Dalvin Cook left that game early with an injury, Adam Thielen didn't play and the Vikings turned the ball over four times in their own territory if you include one turnover on downs.
Sure, Wilson is playing at an MVP level, tying Peyton Manning's single-season record of 16 passing touchdowns through a team's first four games. However, that's nothing new for Wilson.
This is pretty much the same Seahawks team as 2019. And yes, they seem to be letting Russ cook earlier than usual, but the defense has struggled mightily, partly due to injuries.
Three of Seattle's wins have come against the Falcons, Cowboys and Dolphins — a trio that features some of the worst NFL defenses and has combined for two wins: The Cowboys over the Falcons and the Dolphins over the Jaguars — Seattle's victories over Dallas and Atlanta look worse with each passing week. And the Seahawks' fourth win came against the now 2-2 Patriots, who fell one yard shy of pulling out the road victory.
The Seahawks still have plenty of flaws in the trenches on both sides of the ball and on the back end of the defense.
Meanwhile, the Vikings have lost to the Packers, Titans and Colts — three teams with one combined loss.
Statistically, the Vikings and Seahawks have fairly similar profiles. They each feature very good offenses that rank in the top five in yards per play and defenses that have struggled over the first month. Seattle has allowed 6.6 yards per play (bottom-five in NFL) while Minnesota has given up 6.3. From a net yards per play perspective, both clubs sit at +0.4.
The biggest difference between these two teams is public perception: The Vikings are not as bad as their 1-3 record indicates and they're trending in the right direction, while the Seahawks' perfect 4-0 record overall and ATS is misleading.
I'm sure Russ will cook up some explosive plays against the raw Minnesota corners, but remember this matchup was lined at Seattle -2.5 last December in primetime with fans. Now, it's +7?
Look, I've bumped Seattle and downgraded Minnesota since then, but I still only make this game Seattle -4.8.
Ultimately, I just need to avoid a Seahawks win by more than one possession — something they rarely do as, over the past three seasons, 16 of their past 18 wins came by a single possession.
I took +7.5 as soon as I saw it earlier in the week and still love anything at a touchdown or greater — let's just hope All Pro Eric Kendricks can give it a go after missing practice this week.
[Bet Vikings +7 at BetMGM and get a $500 INSTANT deposit match]
Texans -5.5 vs. Jaguars
This is the perfect time to buy low on the Texans, who have started out 0-4 overall and against the spread.
Part of that record has to do with their ridiculous schedule, opening the season with the Chiefs, Ravens and Steelers — two of which came on the road.
The roster also has flaws, but the coaching hasn't helped. For example, not attacking the Vikings young corners more last week was very bizarre. Well, now Bill O'Brien is gone, which can only bring a positive bump to the play-calling, game management and, potentially, locker room morale.
Per our Bet Labs database, 28 teams have fired their coach in-season since 2003, including two in 2019 (Washington and Carolina). Those teams have gone 12-16 straight up and 14-14 against the spread the following week.
A 42.9% straight-up win rate might not look great, but those teams had a 78-205-2 record (27.6%) prior to the head coaching change. They also compiled a 106-173-5 (38%) ATS record prior to the coaching change.
On average, those teams closed as 4.6-point underdogs, implying a win probability of approximately 35%, meaning they've won more than two more games (12) than expected (9.8) immediately after the coaching change. However, that lens could be misleading due to a few outlier spreads. Therefore, I calculated the expected win probability for each game based on all 28 closing lines. The teams still won about two games more than expected.
It's not an enormously significant amount, and we are dealing with a small sample size. But this does at least hint at a small positive bump after a coaching change, which logically makes sense to me.
It may be partially related to a boost in locker room morale, but it likely has more to do with positive changes a new coach will implement and, most importantly, fresh looks that the opponent doesn't have tape on for that first game post-change.
After everything I've seen from O'Brien in the past, I personally think the coaching change can only work in the Texans' favor this Sunday as 5.5- to 6-point home favorites against Jacksonville.
Plus, I have no issues fading a flat out atrocious Jaguars team that has lost back-to-back games to the Dolphins and Bengals in pretty convincing fashion. Per my numbers and many advanced metrics, Jacksonville has the worst defense in the NFL, which shouldn't be surprising after the recent rebuild. There's no reason Deshaun Watson can't have a field day at NRG Stadium against a poor Jags defense that also has a few potential key injuries.
Houston's defense has major holes, but the schedule hasn't helped. The Texans also remain the only team in the NFL yet to force a turnover. There's some takeaways coming their way as the schedule eases up.

[Bet Texans -5.5 at FanDuel completely risk-free for $1,000]
Washington +7.5 vs. Rams
Washington has decided to roll with Kyle Allen under center this week instead of Dwayne Haskins. It's an interesting decision, but one that doesn't really move the needle for me from a point spread perspective as I don't see any material difference between the two quarterbacks.
Allen, who has familiarity in Scott Turner's system, should provide more of a spark in the downfield passing attack. Haskins just wouldn't really take enough shots, getting rid of the ball on average at a league-low 2.18 seconds. And he didn't have much success when getting rid of the rock quickly, ranking 25th in QB Rating when getting rid of ball in under 2.5 seconds.
Sean McVay had the Rams offense humming early in the season after making some tweaks in the offseason to cater to the strengths and weakness of his personnel. However, teams now have some tape on what the Rams are doing differently in the rushing and short passing games.
The Rams were nowhere near as effective on offense last week against the Giants. The Rams finished that game with only 240 total yards, averaging just 4.2 yards per play, a stark contrast with their averages over the first three weeks of 450 total yards at 6.6 yards per play.
I believe Washington can contain this Rams offense. Its defense has been playing very well over the first four weeks, ranking fourth overall in Football Outsiders' defensive DVOA. The secondary has performed much better than I had projected, and we know about Washington's defensive line, which could get rookie phenom Chase Young back this week.
Washington should generate plenty of pressure, which usually spells trouble for the mechanical Jared Goff, who ranks 25th out of 29 quarterbacks (min. 100 dropbacks) with a 57.1 Adjusted Completion Percentage when under pressure.
I make this line closer to Rams -5, so I gladly scooped up +8.5 and would play anything at +7 or above. Washington's defensive line will force Goff into some key mistakes, and Allen will make enough plays along with Terry McLaurin and Antonio Gibson to at least keep Washington within a touchdown.

[Bet Washington +7.5 at DraftKings and get a $1,000 bonus, including a $500 risk-free bet]
Browns +1.5 vs. Colts
I was higher on the Browns than most coming into the season based on their offseason staff and personnel additions. I loved the upside of this team, which is why I bought a preseason Super Bowl future. We're seeing some of that potential play out on the field even earlier than I anticipated.
Yes, Cleveland got trounced in its opener against Baltimore, but that was an almost impossible situation for a team going through wholesale schematic changes against a powerhouse Ravens team. The Browns have since played excellent football, dominating the Bengals and securing relatively easy wins against Dallas and Washington.
The play-calling and game-planning has significantly improved, and Baker Mayfield is being put in much more comfortable passing situations that complement his skill set. The improvement along the offensive line, specifically at the two tackle spots — a major weakness in recent seasons — has also paid dividends for the league's No. 2 rated DVOA rush offense.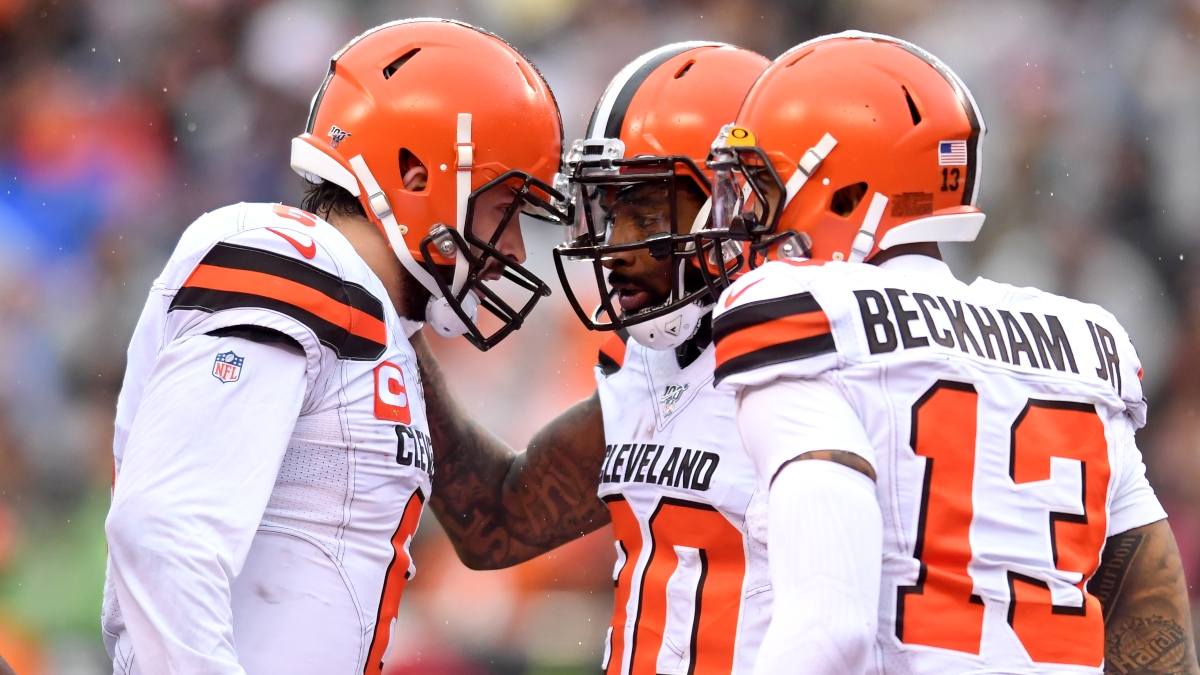 Nick Chubb is now sidelined with an injury, but Kareem Hunt is more than capable of shouldering the load at running back. I expect Cleveland to have plenty of success on the ground once again on Sunday. That will set up some playaction shots down field to the talented Cleveland receivers against what I still think is a vulnerable Indy secondary.
Believe it or not, Cleveland's offensive line actually leads the NFL in Adjusted Line Yards, per Football Outsiders. Meanwhile, Indianapolis' highly-touted offensive line ranks 28th in that same category. It's one of the reasons the Browns lead the league at 5.9 yards per carry, while the Colts surprisingly rank dead last at 3.5.
The Colts offensive tackles have been especially vulnerable. That's an area Myles Garrett and a defense that continues to get healthier can exploit against the statuesque Philip Rivers. Plus, starting tackle Anthony Castonzo might have to sit with an injury. Remember this unit already lost Marlon Mack, Michael Pittman and Parris Campbell to injury.
Yes, the Colts defense has been nothing short of spectacular statistically to start the season. However, they've benefited from a relatively easy schedule. Plus, they could be extremely undermanned at linebacker in their 4-3 base. Darius Leonard, Bobby Okereke and Anthony Walker have injuries that could keep them off the field on Sunday.
I'm a huge fan of the Colts staff, including defensive coordinator Matt Eberflus, who should have something special cooked up in his return to his home state. But the Colts are simply overvalued after three straight wins against mediocre competition. Mix in their key injuries, and I have to ride with the home dog.
I make the Browns close to 2-point favorites, so I immediately scooped up +3 (-120) earlier in the week. (Shameless plug: Follow me on the Action App to get real-time alerts when I track a bet.) I'd still play the Browns at +1.5 or better. They're also a very appealing teaser piece if you can get them over a touchdown.
[Bet now at PointsBet and get $125 if the Browns score a point]
Other Quick Hitters
I'm still very gun shy to hit many totals in 2020 after the rapid scoring increase as a result of no crowds and fewer penalties. It looks as if I'll have only one over/under bet on Sunday in the Steelers-Eagles game. Both defensive lines should steal the show against two offensive lines that have seen a significant drop in production. I'd bet under anything 44 or higher.
The Ravens (vs. Bengals) are 17-2 at home against rookie quarterbacks in franchise history. Although, historically, double-digit division dogs have been very profitable over the first half of the season, going 37-18-2 since 2003, per BetLabs.
The above trend also applies to the Raiders (+12 at Chiefs), but I'm not sure how a banged up Vegas team will get many stops with its porous defense. The Chiefs have outscored the Raiders by a combined score of 103-22 over their past three meetings.
There's been no shortage of COVID-19 news this week. The Bills and Titans has been rescheduled for Tuesday. There's also too much uncertainty surrounding the Patriots (vs. Broncos) on a short week for me to get behind Bitter Bill Belichick after a loss, which has been a cash cow historically. Belichick is a silly 35-13 ATS (72.9%) after a loss since 2003.
Part of me wants to buy low on the Falcons (-1 vs. Panthers), but that looks like a pass to me with their dire injury situation on a short week.
I make the Cardinals (-7 at Jets) 7-point favorites in New York against Joe Flacco, so nothing there for me.
In regards to the 49ers (-9 vs. Dolphins), keep an eye on who gets the nod at quarterback for San Francisco.
---
Week 5 Betting Targets
Vikings +7 (-120) or better
Texans -6 (-110) or better
Browns +1.5 (-110) or better
Football Team +7 (-110) or better
Eagles-Steelers Under 44 (-110) or better
How would you rate this article?