Koerner's NFL Power Ratings: Projecting the Best Week 5 Spreads, Over/Unders
Credit:
USA Today Sports. Pictured: Carson Wentz, Patrick Mahomes, Tom Brady
Sean Koerner projects spreads and over/unders for every Week 5 NFL game using his proprietary power ratings.
Use these power ratings -- and his analysis -- to find pregame and live betting opportunities.
Every week I use projected spreads and over/unders to identify the best bets. It's a been more difficult than usual to find value this week, but we do have a couple games worth betting (and some in-game wagers to look out for).
Now let's run through every Week 5 matchup and my favorite picks.
---
Odds as of Wednesday evening and via PointsBet, where Action Network users get an exclusive 200% deposit match (deposit $50, bet with $150).
---
Rams at Seahawks
Odds: Seahawks -1.5; 49.5
My Projections: Pick'em; 49
Thursday Night Football
Despite getting 55% of the early action, the Rams have gone from a pick 'em to +1.5. I wouldn't read too much into this reverse line move as we aren't dealing with any key numbers here.
This is a no bet from me, but if the Seahawks jump out to an early lead — say by 10 or more points by the half — I would lean toward backing them and/or the under.
The Rams' offense is firing on all cylinders when their running game is clicking and defenses struggle to figure out if they're going to run or pass, but when they get into come back mode, their passing offense is more predictable and easier for defenses to slow down. The Seahawks, meanwhile, really try to let the air out of the ball when leading, reverting to their ideal run-heavy offense.
An early Seattle lead would shift this to a game flow that favors the under while an early L.A. lead would shift it to one that favors the over.
Ravens at Steelers
Odds: Ravens -3; 44.5
My Projections: Ravens -2.5; 43
The Ravens opened their season with two cupcake matchups against Miami and Arizona. Once they faced tougher competition in Kansas City and Cleveland, they have come back down to earth and are 2-2. Now they face a Steelers team that's still trying to find their identity with Big Roethlisberger out for the season.
The Steelers deployed an extremely conservative offense against the Bengals that involved a wildcat formation with Jaylen Samuels taking the snap. It's not a sustainable offensive game plan, but a sign that they're going to tailor this offense to who they have in order to grind out wins.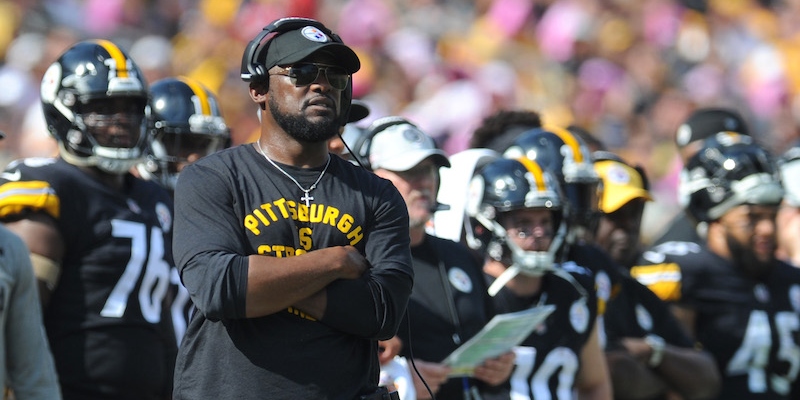 Mike Tomlin is 30-17 against the spread as an underdog and we need to consider taking the Steelers at a key number like +3.5, which is available at some books, due to the adaptability we're seeing from them.
The under is also showing some value here; this game flow could lend to it as well. The Ravens are by far the NFL's most run heavy team while the Steelers are shifting to an extreme short-passing, run-heavy game plan. This is much more likely going to be a grind-it-out division game than a shootout, so I like the under at 44.5, which locks in two fairly key total numbers in 43 and 44.
Bears vs. Raiders
Odds: Bears -5.5; 40
My Projections: Bears -5.5; 40
Our first "neutral" game of the season features the Bears and Raiders in London.
With Mitchell Trubisky set to miss an extended period of time with a shoulder injury, this spread has essentially come down to how much he's worth. The answer appears to be 1.5-2 points, which was the original range I came up with and the market appears to be in line with. Not only is Trubisky struggling this season and not considered an above average quarterback, his backup is Chase Daniels, who is a fairly competent veteran backup QB.
Daniels has been in this Matt Nagy system for two years now and is more than capable of managing the game to rely on the Bears' solid defense and beat a weaker team like the Raiders. He was a check-down machine in his two starts last season, during which Tarik Cohen, Taquan Mizzell and Jordan Howard combined for 25 receptions.
This spread and total are right in line with what I have pegged, so we'll need to look for value elsewhere.
Cardinals at Bengals
Odds: Bengals -3; 47.5
My Projections: Bengals -3.5; 48.5
One of these teams will come away with their first win of the season. Both are coached by young, up-and-coming offensive-minded coaches, so a win could boost that team's confidence to give them some momentum over the next few games.
I'm right in line with the Bengals being 3.5-point favorites, so I'd rather avoid choosing a side entirely.
The over is way I'd lean on the total, as both offenses are competent enough to take advantage of poor defenses (and both of these defenses are indeed that). However, the line drop of a point makes some sense with John Ross placed on IR and Christian Kirk a game-time decision. If Kirk also ends up out, it should impact the total slightly. While neither receiver would be considered valuable enough to impact the spread, both teams missing their No. 2 WR might lead each to lean toward the run more, creating value toward the under.
This is a pass for me.
Jaguars at Panthers
Odds: Panthers -3.5; 41
My Projections: Panthers -3.5; 41
Kyle Allen came back down to Earth last week, but the Panthers were still able to pull off the 16-10 upset over the Texans — and that was despite Allen losing three fumbles. Now he gets a Jaguars defense reeling the past two games and will continue to be overrated as long as Jalen Ramsey sits out.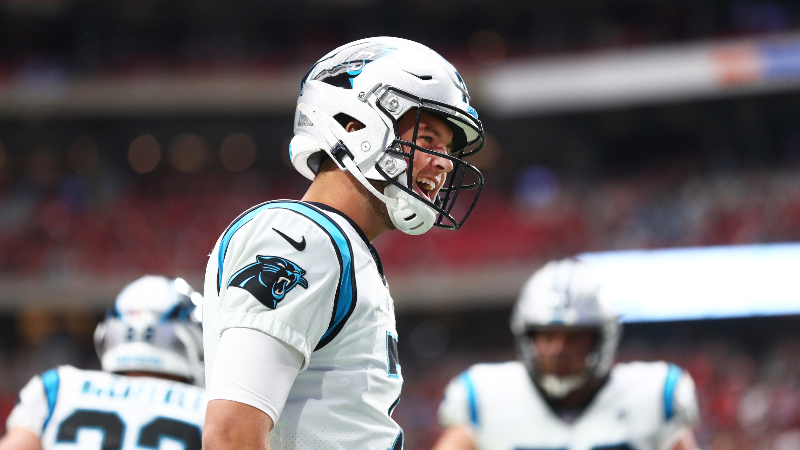 To put things into perspective, the Jaguars have allowed 300-plus yard games to Marcus Mariota and Joe Flacco over the past two weeks. Allen is more than capable of taking advantage of a Ramsey-less Jags defense, so the Panthers would be a slight lean here if Ramsey is ruled out.
Vikings at Giants
Odds: Vikings -5.5; 43.5
My Projections: Vikings -4; 44
The potential value here could lie on the over. After opening a bit too high at 46, the market has bet the total down to 44. It might not be done dropping, either, as 94% of the money is apparently coming in on the under. This would make sense considering just how run-heavy the Vikings have been this season.
After their Week 4 loss, Adam Thielen vented in a post-game interview saying the team needs to throw more. He was clearly frustrated after a 2/6/0 game, but he has a point: They aren't necessarily just running when they have a lead, even in Week 2 they stuck with their running game in an attempt to come back against the Packers.
There's a saying that winning cures everything. In this situation, you could see the Vikings making a slight shift to throw more in this matchup as the Giants secondary has been a sieve this season. It's a perfect spot to give someone like Thielen the squeaky wheel treatment, which makes me think this game flow could lean more toward the over.
Patriots at Redskins
Odds: Patriots -15.5; 42.5
My Projections: Patriots -14.5; 45.5
Books are getting flooded with Patriots money as 86% of the tickets and 94% of the money have been on their side as of writing (see live public betting data here). There's a real chance this line could end up closer to -17 by kickoff.
When it comes to these massive two-touchdown favorites, the smart play is to typically take the points, but I'm choosing to pass on this line considering Jay Gruden, when asked who the starting QB will be this week, replied "we don't have one."
Although I have this total graded three points higher than the current total of 42.5, I'm also considering it a no bet. The Patriots could get out to a comfortable lead then shorten the game with a run-heavy offense in the second half. We also can't rely on the Redskins putting up enough points against this New England defense, which has been lights out this season.
This is a pass for me.
Jets at Eagles
Odds: Eagles -13.5; 44
My Projections: Eagles -13.5; 43.5
I'll be blunt: This is not a great week for handicapping, so it's another pass for me.
It sounds like Luke Falk will draw another start and we can expect Sam Darnold to return in Week 6. The ultimate outcome for both the spread/total of this matchup could come down to just how much mercy the Eagles are willing to show in the second half. I prefer having to avoid speculating that much, so instead my focus for this matchup will be strictly player props.
Buccaneers at Saints
Odds: Saints -3; 47
My Projections: Saints -4; 48.5
The Buccaneers don't play at home again until Week 10, which means we'll very much be looking to fade them over that stretch. The fact that they opened this brutal stretch with a convincing road win over the Rams is only going to offer us more value down the road. However, this doesn't appear to be the spot to fade them quite yet as the Saints are another team we'll want to fade in the short term.
Despite having a -8 point differential, the Saints are 3-1. They've been able to eek out back-to-back wins with Teddy Bridgewater under center while Drew Brees recovers from thumb surgery.
One thing to note is that the Bucs are a pass funnel defense. They've managed to shut down Christian McCaffrey, Saquon Barkley and Todd Gurley over the past three weeks. On the flip side, they have allowed 330-plus yards to Cam Newton, Daniel Jones and Jared Goff over that same stretch. The Saints might have to game-plan Bridgewater to be less of a game manager and force the issue downfield to take advantage of this specific matchup.
I think this sets up as a potential in-play over bet if the Saints either lean on the passing game more early on or if the Bucs take an early lead.
Falcons at Texans
Odds: Texans -5; 49
My Projections: Texans -4; 48.5
Both teams are off to a bit of a disappointing start.
The Falcons in particular are reeling. Their offensive line issues are likely to be a problem all season and they recently lost safety Keanu Neal to a second straight season-ending injury.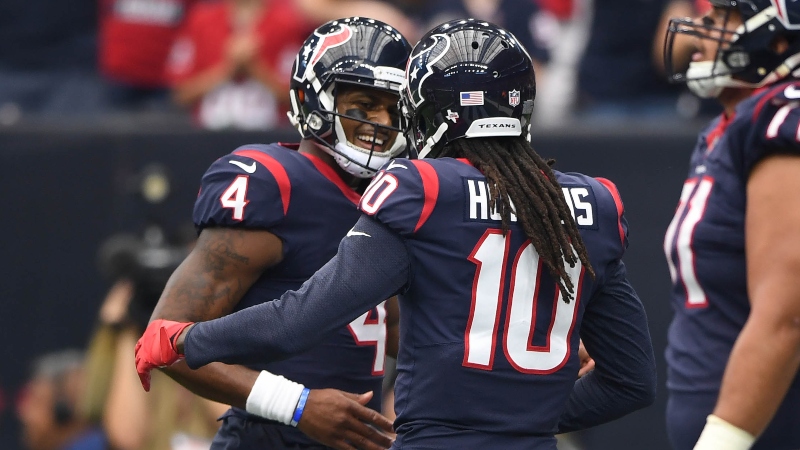 This sets up as a Texans bounce back spot and I expect DeAndre Hopkins to erupt for a big game. Unfortunately, this market is very much in line with what I'm projecting, which means I'll pass here.
Bills at Titans
Opening Odds: Titans -3; 38.5*
My Projections: Titans -4.5; 37
Josh Allen is questionable as he's in the concussion protocol after a nasty hit. The game is currently off the board, but the openers were Titans -3  and 38.5, which would assume Allen as playing.
My projected odds above are for if Allen is ruled out and the Bills are forced to go with Matt Barkley.
Broncos at Chargers
Odds: Chargers -6.5; 44.5
My Projections: Chargers -7; 44.5
The Broncos could not be off to a worse start as they're 0-4 and just lost Bradley Chubb to a torn ACL. Chargers stud pass-rusher Melvin Ingram is also set to miss this week. And given both defenses are vulnerable to the pass, this game flow could lean more toward the over than my power ratings would indicate.
Despite opening at 44 and receiving near split action, the total has moved up a half-point. That could be an angle some sharps are picking up, which has led to slightly more sharper action on the over here.
Packers at Cowboys
Odds: Cowboys -3.5; 47
My Projections: Cowboys -3.5; 46
This matchup sets up perfectly for a big game from Ezekiel Elliott in which the Cowboys attack the Packers' weakness in their run defense and avoid their strength, which has been their pass defense thus far. By grinding out with Zeke, it will allow Dallas to shorten the game and keep Aaron Rodgers off the field.
We've seen the Packers be a much more balanced team in tight games this season, leaning on their running game/defense much more than years past. Rodgers erupted for 422 yards against the Eagles due to Philly being a pass funnel defense and also because the Packers were in comeback mode at times during Thursday Night Football.
Because all of the above, the opening total of 48 has come down to 47 despite near split action. I bet sharps are going to keep betting it down closer to 46 since the ideal game flow for both teams lends toward the under.
Colts at Chiefs
Odds: Chiefs -11; 56.5
My Projections: Chiefs -10; 55.5
Sunday Night Football
Everything about this matchup favors the over.
The Chiefs should impose their will on an Indy defense that's been disappointing. On the other side of the ball, Jacoby Brissett has done a much better job replacing Andrew Luck in this offense than we saw in 2017. Brissett has much better coaching and talent around him to put up points if needed. This week they'll need him to be much more aggressive in order to keep up with the Chiefs.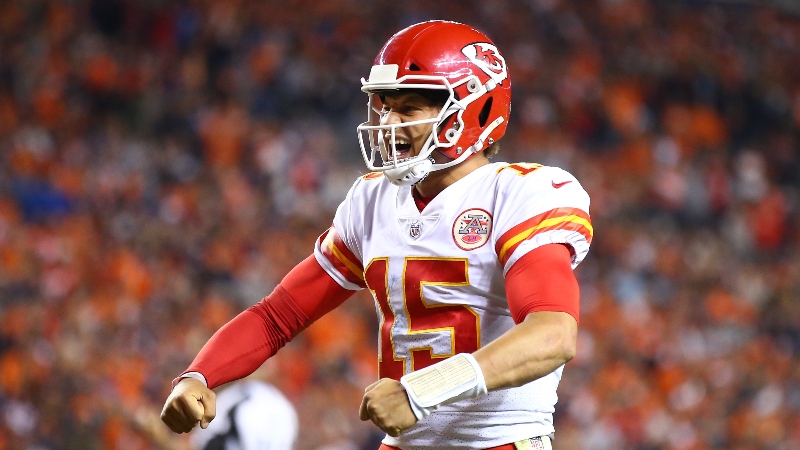 Unfortunately, the market is completely aware of the scoring environment of this matchup and there isn't much value in the current total of 56.5. If the Colts happen to take an early lead, it'll amplify the over, in which case I'll consider an in-game bet.
Browns at 49ers
Odds: 49ers -3.5; 46.5
My Projections: 49ers -4; 48
Monday Night Football
The 49ers are quietly turning out to be one of the biggest surprises of 2019. Now 3-0 with a +42 point differential, they're coming off of a bye while the Browns are coming off a convincing Week 4 win on the road in Baltimore.
The 3.5-point spread is arguably the easiest line to gauge which side sharp action is coming in on. If the sharps are on the underdog, you'll typically see quick pressure for books to lower the line to 3. If the line stays put or starts moving toward 4, it typically indicates sharps are backing the favorite.
I think the latter is the case here, so taking SF -3.5 is my lean here.
How would you rate this article?