Koerner's Week 5 Fantasy Football Tiers: Ranking Every QB, RB, WR, TE, More
Credit:
USA TODAY Sports. Pictured: Travis Kelce (87), Kyler Murray (1), Keenan Allen (13).
Use Sean Koerner's Week 5 fantasy football tiers to help set your lineup.
Sean dig deeps into every position below -- quarterback, running back, wide receiver, tight end, defense and kicker.
Week 4 was highlighted by dominant performances from Chris Godwin (12/172/2), who was a game-time decision, and Christian McCaffrey, who was equally dangerous as a runner and receiver (179 total yards).
Week 5 sets up as a show-me week for a number of guys. So, which players should you be buying and selling?
Let's dive into my Tiers, which should be viewed as a window into how I'm approaching the week. As always, check out this piece for my most up-to-date rankings.
And if you're looking for streaming advice, you can find my favorite streamers here.
---
Go To: QB | RB | WR | TE | K | DEF
---
Week 5 Fantasy Football Tiers
Quarterbacks
Tier 1
Patrick Mahomes (vs. IND)
Mahomes had a "floor" game and still finished as the QB11. This was despite the fact he failed to score even one touchdown. His 315 passing yards and, more importantly, his 54 rushing yards allowed him to still provide a useful score. He still gets Tier 1 all to himself.
Tier 2
Lamar Jackson (@ PIT)
Deshaun Watson (vs. ATL)
Jackson has regressed a bit the past couple games, but still has a cheat code high-ceiling, high-floor combo that should not be taken for granted.
After putting up a dud against the Panthers, Watson gets a bounce-back spot at home against the Falcons.
Tier 3
Russell Wilson (vs. LAR)
Carson Wentz (vs. NYJ)
Dak Prescott (vs. GB)
Tom Brady (@ WAS)
This entire tier is loaded with bounce-back potential this week.
Wentz and Brady are two-touchdown favorites, which means their chances for multiple touchdowns are much higher at the likely expense of fewer passing yards.
Wilson was a disappointing QB17 in Week 4 since the Seahawks didn't need him to do much to put away the Cardinals. He should bounce back against a Rams defense on a short week that was just torched by Jameis Winston.
Tier 4

Kyler Murray (@ CIN)
Kyler gets his own tier this week as the separator from the QB1 to QB2 Tier.
This is a make-or-break game for Kyler. He has a disappointing 4:4 touchdown-to-interception ratio and needs to show that he can do more than just put up empty yards.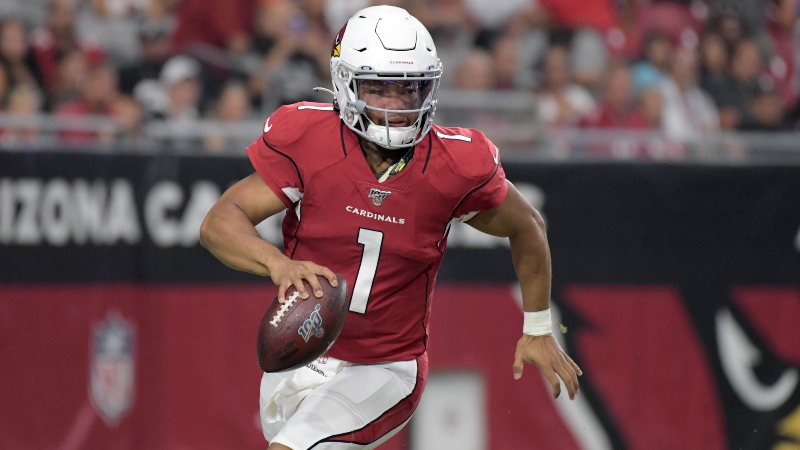 His schedule is about to open up, starting against the Bengals. It's important for him to flirt with a 20-point performance this week in order for us to trust him in our lineups going forward.
Tier 5
Matt Ryan (@ HOU)
Jimmy Garoppolo (vs. CLE)
Jacoby Brissett (@ KC)
Jared Goff (@ SEA)
Andy Dalton (vs. ARI)
Philip Rivers (vs. DEN)
Jameis Winston (@ NO)
Aaron Rodgers (@ DAL)
Daniel Jones (vs. MIN)
This week's sit/start tier is packed, which will cause plenty of hair-pulling and stressful decisions, but I really don't think you can go wrong with any of these as your QB1. And they make even better 2QB league starts.
Brissett's and Rodgers' final ranks will depend on if T.Y. Hilton and/or Davante Adams are able to suit up. Be sure to check my updated rankings to see where I have them ranked come decision time.
Jones came back down to Earth in what should've been a smash spot against the Redskins. If anything, the Giants took a big enough lead early and really didn't need to force the issue with Jones. He's more of a bench candidate against a tougher Vikings defense. The good news is that Golden Tate will return from his four-game suspension, which only helps Jones.
Tier 6
Kyle Allen (vs. JAX)
Baker Mayfield (@ SF)
Teddy Bridgewater (vs. TB)
Kirk Cousins (@ NYG)
I pumped the breaks on Allen a bit last week and cautioned to not overrate him coming off a matchup against the Cardinals. Well, I'm doing the opposite this week and am considering a solid QB2 despite the difficult on-paper matchup against the Jaguars.
If Jalen Ramsey is out again, Allen a borderline top-15 option as he's surrounded by weapons and capable of taking advantage. The past two games the Jaguars have allowed more than 300 passing yards to both Joe Flacco and Marcus Mariota.
Mayfield looks to be turning his season around, but his persona overrates his true fantasy value. He's a sit for me this week against an underrated 49ers defense.
A few of the factors that go into Baker's ranking that go overlooked:
The Browns have the 21st ranked team total this week (out of 30).
As a result, his touchdown odds aren't great (his average of one touchdown pass per game this season illustrates that).
The offense is very much fueled by Nick Chubb.
Mayfield has zero rushing yards.
Therefore you're essentially left with his passing yards, which he needs a ton of any given week to make up for all of the above.
Tier 7
Josh Allen (@ TEN)
Chase Daniel (@ OAK)
Marcus Mariota (vs. BUF)
Gardner Minshew (@ CAR)
We don't know if Allen will be able to play after the brutal hit that knocked him out of Week 4. Either way, he is a sit this week.
Don't chase Mariota's output against the Falcons. He has a brutal matchup against the Bills, so expect a heavy dose of Derrick Henry. Mariota has about a 50/50 shot of cracking 200 passing yards here.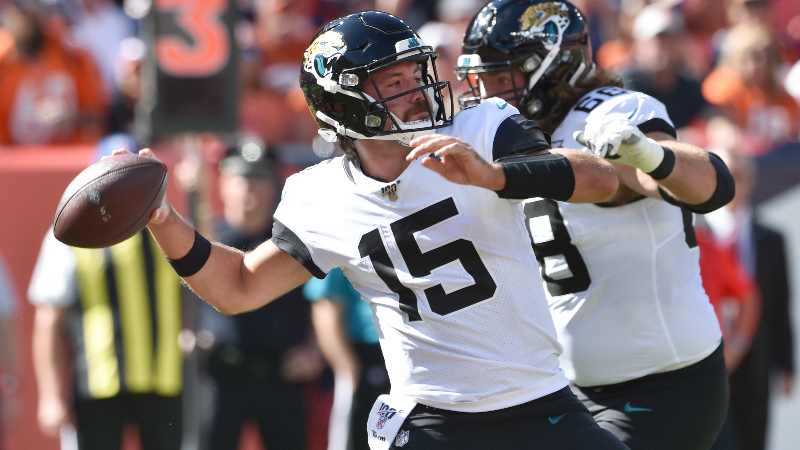 Minshew has made the Jaguars exciting again and you have to wonder what their plans will be once Nick Foles is able to return. The Panthers' defense has shut down opposing quarterbacks, yet has been a bit vulnerable to opposing running backs. You have to wonder if this sets up better for Leonard Fournette than Minshew.
I'd resist the temptation to play Minshew and recommend sitting him unless you are desperate.
Tier 8
Mason Rudolph (vs. BAL)
Joe Flacco (@ LAC)
Derek Carr (vs. CHI)
Sam Darnold (@ PHI)

Darnold might return this week and would have an ideal matchup to rack up passing yards against a vulnerable Eagles secondary. You're better off leaving him on the bench in 2QB leagues if possible and letting him shake the rust off despite the plus matchup.
Tier 9
Colt McCoy (vs. NE)
We don't know who will start for the Redskins this week, but whoever it is will have some serious in-game benching potential. Avoid this situation at all costs.
Running Backs
Tier 1
Christian McCaffrey (vs. JAX)
I didn't let CMC's poor Week 3 performance impact my projections much. He's still the No. 1 RB in fantasy and proved it last week with a 27/93/1 rushing and 10/86/0 receiving game.
Tier 2
Alvin Kamara (vs. TB)
Dalvin Cook (@ NYG)
Ezekiel Elliott (vs. GB)
Cook has replaced Saquon Barkley in the "Big 4" atop RB rankings.
I expect Elliott to have a bounce-back game against the Packers, who are shaping up to be a run funnel defense. They've allowed five backs to rush for at least 60 yards over the past three games.
We need to overlook his inefficient Week 4 performance and instead notice that he played a season-high 97% of snaps. After easing him in with 60-75% in the first three games, the Cowboys appear set to give him massive workloads. He could be in store for a huge game this week.
Tier 3
David Johnson (@ CIN)
Nick Chubb (@ SF)
Le'Veon Bell (@ PHI)
All three backs are road underdogs, and the fact they're each an integral part of their passing game only boosts their value in PPR formats.
If Darnold is unable to go for the Jets, I'll be more worried about Bell's floor as it wouldn't make sense to have him seeing unnecessary volume if they're down big in the second half.
Tier 4
Leonard Fournette (@ CAR)
Joe Mixon (vs. ARI)
James Conner (vs. BAL)
Austin Ekeler (vs. DEN)
Chris Carson (vs. LAR)
Todd Gurley (@ SEA)
Derrick Henry (vs. BUF)
I mentioned that the Panthers appear to be a run funnel defense, making Fournette a low-end RB1 this week. He erupted for 225 yards on the ground last week and no NFL player is more due for their first touchdown of the season than Fournette.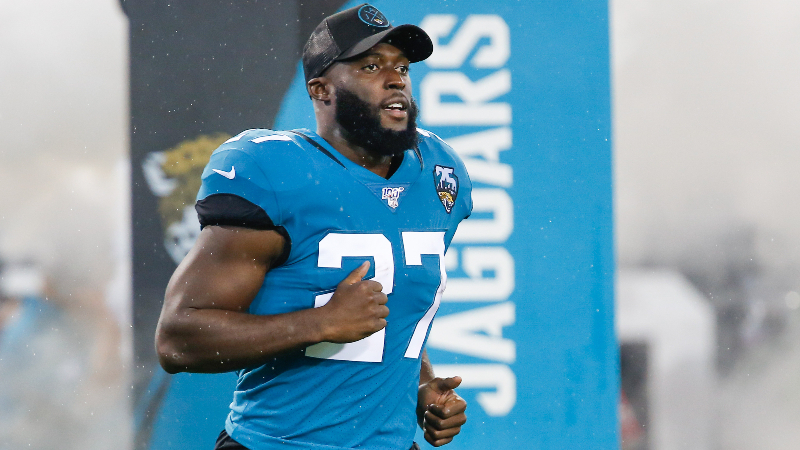 The Steelers ran the wildcat formation with Jaylen Samuels at times against the Bengals. The pitches he would give Conner counted as passes. It's unclear how much they'll use this formation — I would assume it was a one-game plan — but if they do use it again, it gives Conner a pretty big boost in PPR formats. These are essentially carries that count as receptions.
Ekeler's time as an RB1 are over after this week. The Chargers should ease Melvin Gordon back in this week before possibly letting him retake his workhorse duties in Week 6. We'll get a bit more clarity regarding just how many snaps/touches to expect from Gordon, which will have a direct impact on Ekeler's value, so be sure to check my updated rankings before making any sit/start decisions for either back.
Tier 5
David Montgomery (@ OAK)
Mark Ingram (@ PIT)
The time to buy low on Montgomery and sell high on Ingram is now.
The Bears have been hesitant to unleash Montgomery early in the season, but have recently removed Mike Davis from the committee. Montgomery is seeing workhorse usage right now and his production hasn't reflected it quite yet. He could break out against the Raiders with his best game of the season.
Ingram on the other hand, will be a fairly inconsistent RB2 as he competes with three or four other ball carriers on a weekly basis. His five touchdowns through three games was a prime sell-high mark as his touchdown rate will regress — I wouldn't be surprised if he ends up with only six rushing touchdowns the rest of the season.
Tier 6
Aaron Jones (@ DAL)
Wayne Gallman (vs. MIN)
LeSean McCoy (vs. IND)
Marlon Mack (@ KC)
Phillip Lindsay (@ LAC)
Devonta Freeman (@ HOU)
Carlos Hyde (vs. ATL)
Gallman took advantage of Barkley's absence and a great matchup against the Redskins to put up top-10 numbers — a good reminder that we need to value expected volume a bit more than talent when it comes to this position.
If you're 4-0, loaded at running back and currently have Gallman, the time to sell high is now. If you were 0-3 or 1-2 and bid to get Gallman, enjoy the ride and hopefully you can enjoy a three- to five-week sugar high with him to get your season back on track.
In the meantime, be sure to stash as many high-upside backup running backs if you can. There will be more that pop up this season, so it's better to stash a couple in order to not rely on massive FAAB bids to acquire Gallman-types. If you have Gallman, you likely don't have the budget to get the next backup being thrusted into a starting role.
My current high upside backup running back stashes would be: Alexander Mattison, Malcolm Brown, Rashaad Penny, Ito Smith, Latavius Murray, Devin Singletary, Tony Pollard, Jordan Wilkins and Chase Edmunds. If any of these backs are available they could potentially be 100% of FAAB and burn No. 1 waiver claims if their starting back were to go down.
Tier 7
Sony Michel (@ WAS)
Darrel Williams (vs. IND)
James White (@ WAS)
Jordan Howard (vs. NYJ)
Royce Freeman (@ LAC)
Josh Jacobs (vs. CHI)
Melvin Gordon (vs. DEN)
Jaylen Samuels (vs. BAL)
The few backups in this tier should not be available considering they currently offer fantasy value and would become borderline league-winners if their starting backs were to go down.
Samuels nearly broke fantasy last season when Yahoo! made him tight end eligible. I called for 100% FAAB and No. 1 waiver type bids for him on that site if you needed a tight end because, despite being a ho-hum RB2 when he was starting for the injured Conner, Samuels was typically my TE2.
Now it appears the Steelers have created a way for him to be a bit of a fantasy cheat code by lining him up in the wildcat formation. The act of pitching the ball in that set up counts as a pass completion. There's a chance we can bank on pass, rush, and receiving stats from him going forward.
Add onto the fact that Conner ended up a bit hobbled after Week 4 and his status for this week is a bit up in the air, Samuels could be one of the top pickups this week. While it's unlikely the Steelers are able to get away with the game plan they surprised us with on Monday Night Football, it gives Samuels a RB2 ceiling even if Conner is healthy and RB1 type ceiling if Conner were to miss any time.
Tier 8
Miles Sanders (vs. NYJ)
Matt Breida (vs. CLE)
Ronald Jones (@ NO)
Chris Thompson (vs. NE)
Frank Gore (@ TEN)
Rex Burkhead (@ WAS)
Tarik Cohen (@ OAK)
Welcome to the "shrug emoji" tier, featuring usable Flex options without the excitement. Cohen could be one of the sneakiest PPR plays this week with Chase Daniels under center — Cohen put up 19 receptions in Daniels' two starts last season.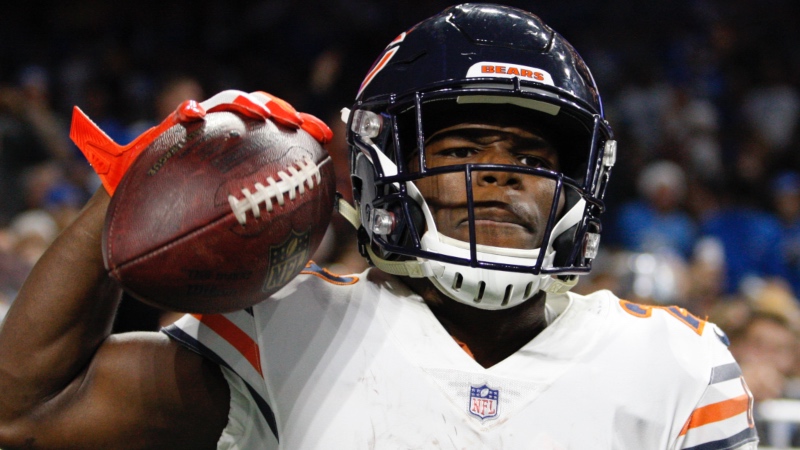 Expect the Bears to set Daniels up with a similar game plan against the Raiders, in which dump offs to Cohen/Montgomery are encouraged.
Tier 9
Adrian Peterson (vs. NE)
Jamaal Williams (@ DAL)
Rashaad Penny (vs. LAR)
Raheem Mostert (vs. CLE)
Peyton Barber (@ NO)
Nyheim Hines (@ KC)
Devin Singletary (@ TEN)
Tevin Coleman (vs. CLE)
Giovani Bernard (vs. ARI)
Ito Smith (@ HOU)
Duke Johnson Jr. (vs. ATL)
The few backs who are questionable in this tier matter more in terms of how they impact their teammates if they're able to suit up as opposed to how it impacts them as fantasy plays. Check my updated rankings to see how the running back landscape changes based on their Week 5 availability.
---
Wide Receivers
Tier 1
Julio Jones (@ HOU)
DeAndre Hopkins (vs. ATL)
Keenan Allen (vs. DEN)
I have zero concern about Hopkins' three-week stretch of poor games (by his standards). If you do not own him, now would be the time to try to buy low from an impatient owner. He's going to bounce back in a big way soon, and a Week 5 matchup against the Falcons could be exactly what the doctor ordered.
Tier 2
Amari Cooper (vs. GB)
Michael Thomas (vs. TB)
Odell Beckham (@ SF)
Sammy Watkins (vs. IND)
Cooper Kupp (@ SEA)
Mike Evans (@ NO)
Don't panic on Beckham yet. If you don't have him and he has another below average game this week, you should absolutely float an offer to a potential impatient owner in an attempt to buy low.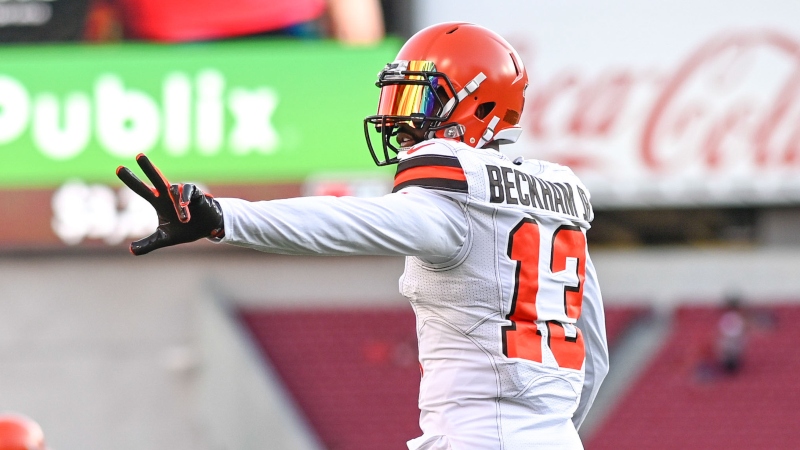 Watkins has not taken advantage of Tyreek Hill's absence, but that could change this week against the Colts' soft zone defense. The Chiefs need to get the ball in his hands and let his ability after the catch (like we saw Week 1) get him back on track.
Tier 3
Tyler Lockett (vs. LAR)
Julian Edelman (@ WAS)
Chris Godwin (@ NO)
Adam Thielen (@ NYG)
Hopefully those of you deciding whether to start Godwin last week saw my tweet from the stadium saying he looked great in warmups. I personally have him on most of my teams, so getting to watch him warmup and see him make all of the cuts, his body language just screamed that he was going to have a big game. Sure enough he ended up being the WR1 overall.
Congrats if you took him this year as he's a WR1 going forward.
Thielen had a bit of an emotional outburst after a 2/6/0 Week 4 line. Almost channeling his frustrated fantasy owners, Thielen complained about the Vikings' extreme run-heavy approach. Making solid projections involves pouring over data/film/news, but another element that absolutely should be included is the human element.
It would not surprise me if the Vikings game plan more pass plays to Thielen against a pathetic Giants secondary to give him the squeaky wheel treatment.
Tier 4
Brandin Cooks (@ SEA)
Tyler Boyd (vs. ARI)
Juju Smith-Schuster (vs. BAL)
Larry Fitzgerald (@ CIN)
Robert Woods (@ SEA)
T.Y. Hilton (@ KC)
Allen Robinson (@ OAK)
Christian Kirk (@ CIN)
Marquise Brown (@ PIT)
Stefon Diggs (@ NYG)
There's a lot of panic over Smith-Schuster after people saw the Steelers' extremely conservative game plan to put the Bengals away on MNF. I don't think we can expect that approach most weeks, but it is a clear sign that JuJu is much more of a WR2 with Big Ben out for the season.
The time to sell high on him was after Week 3 when he put up a 3/81/1 line. If you own him, all you can do is hold and simply lower your expectations. If he has another big game over the next couple weeks, you might want to use it as an opportunity to sell high.
Hilton and Kirk appear to be game-time decisions, so be sure to check my updated rankings once we get more clarity on their Week 5 availability. Brown is one of my favorite buy-lows — his snap percentage has gone up each week as the Ravens have eased him in, yet his production has declined each week.
By the end of the season I think we'll consider him as an every-week WR2 with WR1 upside once his production matches his usage and talent.
Tier 5
Will Fuller (vs. ATL)
Josh Gordon (@ WAS)
Marquez Valdes-Scantling (@ DAL)
D.J. Moore (vs. JAX)
Jarvis Landry (@ SF)
Emmanuel Sanders (@ LAC)
Courtland Sutton (@ LAC)
Demarcus Robinson (vs. IND)
Sterling Shepard (vs. MIN)
Curtis Samuel (vs. JAX)
Robby Anderson (@ PHI)
Alshon Jeffery (vs. NYJ)
Calvin Ridley (@ HOU)
This entire boom/bust tier seems ready to boom.
If you've been relying on any of these receivers as your WR3/Flex, it's important to be a bit patient and not overly rely on the recency bias of what they've done in the past one or two games — a surefire way to have a massive score on your bench, leaving you kicking yourself.
MVS is particularly intriguing if Davante Adams ends up missing Week 5. I'm currently assuming Adams sits this week out, so his rank won't move much if that ends up being the case.
I'm also assuming Darnold is able to return this week, so Anderson's rank reflects that. If the Jets have to roll with Luke Falk again, expect Robby to fall into sit territory.
Shepard will see a bit of a drop in target share now that Tate is back.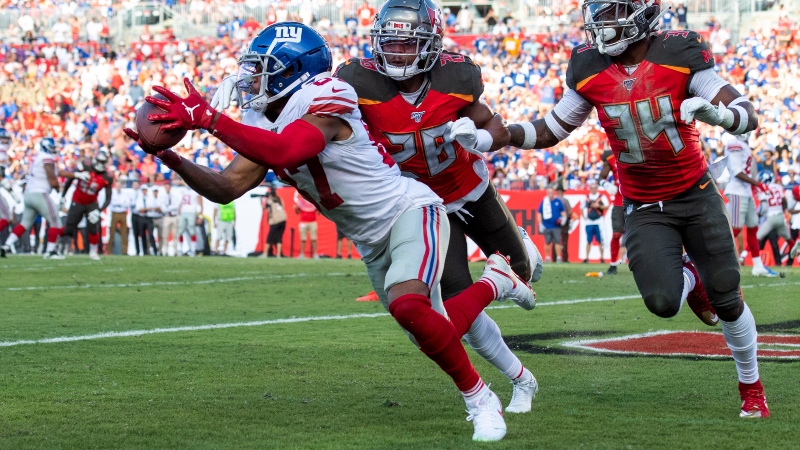 It makes sense to float a sell high trade after Shepard posted back-to-back seven-catch games. He relies on volume as opposed to touchdowns in order to provide fantasy value; a threat to his volume will ding his value more than people are letting on.
Tier 6
Mecole Hardman (vs. IND)
Auden Tate (vs. ARI)
Desean Jackson (vs. NYJ)
John Brown (@ TEN)
Golden Tate (vs. MIN)
D.J. Chark (@ CAR)
Tyrell Williams (vs. CHI)
Terry McLaurin (vs. NE)
Dede Westbrook (@ CAR)
We knew there was a floor game coming for Hardman, and that's exactly what we saw in Week 4 with a 2/9/0 line including a lost fumble. It's critical to understand his boom/bust potential every week — you're better off just playing him as a low-end WR3/Flex until Hill returns, as playing as many Chiefs as you can is a smart fantasy strategy.
It appears that Ross will miss multiple games due to injury, which puts Auden Tate squarely into the WR4/Flex discussion. The Bengals face the Cardinals, which makes him the ultimate plug-and-play for desperate teams this week. He's a towering 6-foot-5, 225-pound wide out who could be Andy Dalton's go-to target in the red zone this week.
Tier 7
Phillip Dorsett (@ WAS)
Jamison Crowder (@ PHI)
Mike Williams (vs. DEN)
Cole Beasley (@ TEN)
Mohamed Sanu (@ HOU)
D.K. Metcalf (vs. LAR)
Diontae Johnson (vs. BAL)
Geronimo Allison (@ DAL)
Randall Cobb (vs. GB)
Deebo Samuel (vs. CLE)
Auden Tate (vs. ARI)
Crowder is unplayable if Falk is under center despite the great matchup.
It was a bit concerning to see the Jets use Braxton Berrios in the slot in their loss to the Pats. Who knows if it was simply a one week thing or part of some twisted "revenge game" aspect involved with Berrios. Either way, the Jets will have Chris Herndon back after this week and Demaryius Thomas could factor in once healthy.
There are now way too many chefs in the kitchen to bank on Crowder. The time to sell him for any sort of upgrade in bench depth could be too late.
Tier 8
Corey Davis (vs. BUF)
A.J. Brown (vs. BUF)
Marquise Goodwin (vs. CLE)
Ted Ginn Jr. (vs. TB)
Dante Pettis (vs. CLE)
Willie Snead (@ PIT)
Hunter Renfrow (vs. CHI)
Antonio Callaway (@ SF)
Paul Richardson (vs. NE)
Nelson Agholor (vs. NYJ)
Chris Conley (@ CAR)

It's a shame Davis and Brown play for the Titans. They have the talent to be legit fantasy receivers, but their Week 4 breakouts will look like a tease in a few weeks. There just aren't enough passing yards to go around in Tennessee, and now the Titans face a Bills defense that shut down Tom Brady and the Patriots. Only invest in the Titans' passing game this week if you believe Mariota is better than Brady.
Callaway is another player returning from a four-game suspension and worth keeping an eye on. Neither Rashard Higgins or Damion Ratley were able to put any pressure on Callaway for No. 3 duties once he returned. Jarvis Landry is questionable with a concussion, so there's a chance Callaway is thrown into the fire as Mayfield's second or third option this week.
Tight Ends
Tier 1
Travis Kelce (vs. IND)
Kelce is the clear-cut TE1, but his value is elevated even more against the Colts' soft zone defense that can be susceptible to tight ends underneath.
Tier 2
George Kittle (vs. CLE)
Zach Ertz (vs. NYJ)
The "Big 3" is back as Kittle returns from his bye. He has yet to crack 60 yards or score a touchdown this season, but I expect him to break out any week now, so the window to buy low is going to close real soon.
Tier 3
Darren Waller (vs. CHI)
Evan Engram (vs. MIN)
Both tight ends have been pushing to join the tier above, but haven't quite been able to do so yet. I mentioned Fournette being the player who is most due for their first touchdown of the season, but Waller is right behind him.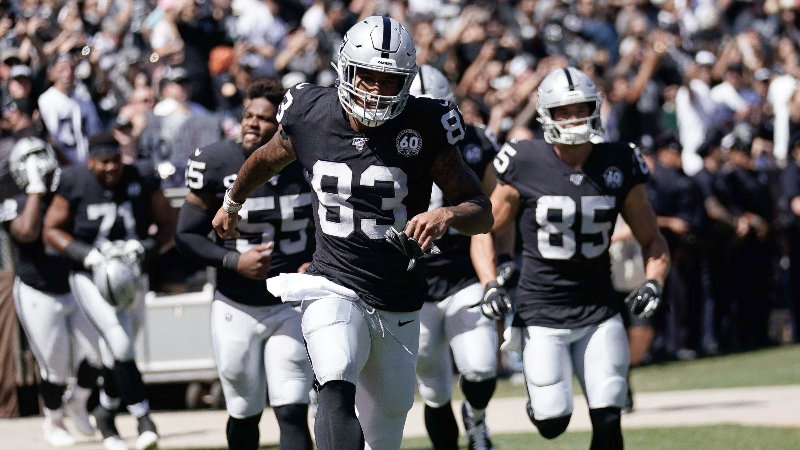 We can bank on his receptions and yards to maintain his weekly high floor, but once he's able to start adding touchdowns to the stat column, it'll unlock ceiling games from him.
Engram gets a slight hit this week with Tate set to return.
Tier 4
Mark Andrews (@ PIT)
Austin Hooper (@ HOU)
Will Dissly (vs. LAR)
Greg Olsen (vs. JAX)
This tier has rewarded people who decided to wait at tight end and instead target value later in the draft.
I personally have a ton of Hooper and have been pleasantly surprised so far. I do not think this is a sell-high opportunity as I think he's benefiting a ton from the Falcons' offensive line woes. He is Matt Ryan's security blanket, and could continue to grow into the red-zone threat I know he has the potential to be in order to hit his ceiling this season.
Tier 5
Delanie Walker (vs. BUF)
I consider Walker to be the TE1 cutoff right now. Anyone after him is a potential cut candidate and you should likely opt to stream the position until you strike gold (a la Will Dissly last week).
Tier 6
OJ Howard (@ NO)
Tyler Eifert (vs. ARI)
Eric Ebron (@ KC)
Jared Cook (vs. TB)
Jason Witten (vs. GB)
Jimmy Graham (@ DAL)
Howard is certainly in the cut-bait debate. He is going to have a big game soon, but is clearly not the steady TE1 we expected him to be this season. If you're 4-0, have the patience of a monk and understand tight ends can be very volatile, I would hold on to him just to see if he can break out of his funk.
Eifert is the top streaming option this week thanks to the "play any TE against the Cardinals" narrative. He'll never going to return to the 2015-16 Eifert as he has clearly lost a step.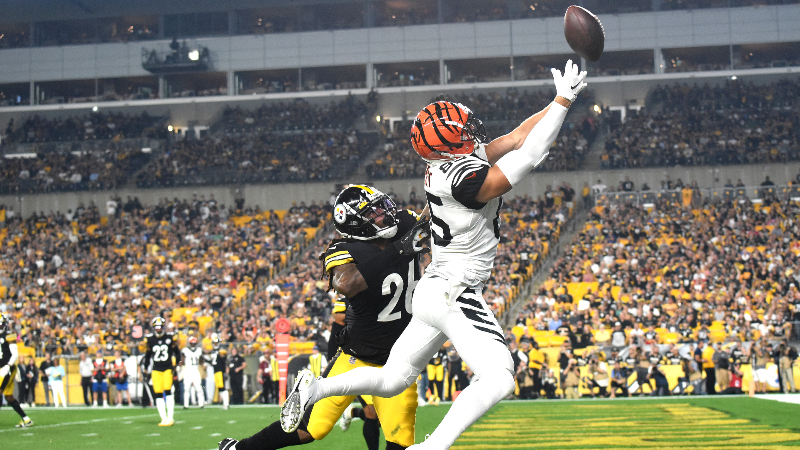 We can't expect a six-catch, 60-yard game from him, but his touchdown odds are about as high as they will ever be this week. In this range, the tight end position is very much a touchdown or bust and well … he has the fifth-highest odds to score this week at tight end, according to my model.
Tier 7
Ben Watson (@ WAS)
Jordan Akins (vs. ATL)
Trey Burton (@ OAK)
Kyle Rudolph (@ NYG)
Noah Fant (@ LAC)
Dawson Knox (@ TEN)
Vernon Davis (vs. NE)
Jack Doyle (@ KC)
Blake Jarwin (vs. GB)
James O'Shaughnessy (@ CAR)
Gerald Everett (@ SEA)
Irv Smith (@ NYG)

The streamer tier is a scrap-heap pile where everyone's floor is zero.
Watson might be the one worthy of a flier this week as he returns from a four-game suspension. The Patriots really haven't had a presence this year, so it might be worth seeing what they have in mind for Watson's role. I'm expecting a two- to three-catch game here, but there's some upside in him surprising us and becoming more than a one-week rental.
The high-upside fliers are still Fant, Knox and Smith. You're typically better off ignoring rookie tight ends, but all three have flashed their future TE1 potential and one of them could start to really click soon.
---
Kicker
Tier 1
Harrison Butker (vs. IND)
Stephen Gostkowski (@ WAS)
Justin Tucker (@ PIT)
Ka'imi Fairbairn (vs. ATL)
Jake Elliott (vs. NYJ)
Tier 2
Wil Lutz (vs. TB)
Jason Myers (vs. LAR)
Robbie Gould (vs. CLE)
Brett Maher (vs. GB)
Dan Bailey (@ NYG)
Randy Bullock (vs. ARI)
Greg Zuerlein (@ SEA)
Adam Vinatieri (@ KC)
Ty Long (vs. DEN)
Matt Bryant (@ HOU)
Mason Crosby (@ DAL)
Eddy Pineiro (@ OAK)
Tier 3
Matt Gay (@ NO)
Joey Slye (vs. JAX)
Cairo Santos (vs. BUF)
Aldrick Rosas (vs. MIN)
Austin Seibert (@ SF)
Josh Lambo (@ CAR)
Chris Boswell (vs. BAL)
Steven Hauschka (@ TEN)
Daniel Carlson (vs. CHI)
Tier 4
Brandon McManus (@ LAC)
Zane Gonzalez (@ CIN)
Dustin Hopkins (vs. NE)
Sam Ficken (@ PHI)
---
Defenses
Tier 1
New England Patriots (@ WAS)
Philadelphia Eagles (vs. NYJ)
Chicago Bears (@ OAK)
Tier 2
Tennessee Titans (vs. BUF)
Los Angeles Chargers (vs. DEN)
Minnesota Vikings (@ NYG)
New Orleans Saints (vs. TB)
Carolina Panthers (vs. JAX)
Cincinnati Bengals (vs. ARI)
Tier 3
San Francisco 49ers (vs. CLE)
Houston Texans (vs. ATL)
Jacksonville Jaguars (@ CAR)
Baltimore Ravens (@ PIT)
Buffalo Bills (@ TEN)
Dallas Cowboys (vs. GB)
Tier 4
Arizona Cardinals (@ CIN)
Cleveland Browns (@ SF)
Green Bay Packers (@ DAL)
Atlanta Falcons (@ HOU)
Oakland Raiders (vs. CHI)
Seattle Seahawks (vs. LAR)
Kansas City Chiefs (vs. IND)
New York Giants (vs. MIN)
Los Angeles Rams (@ SEA)
Tier 5
Pittsburgh Steelers (vs. BAL)
Denver Broncos (@ LAC)
Tampa Bay Buccaneers (@ NO)
New York Jets (@ PHI)
Washington Redskins (vs. NE)
Indianapolis Colts (@ KC)
How would you rate this article?