NFL Preseason Picks: How Our Experts Are Betting Giants-Patriots, More Week 4 Games
Credit:
USA Today Sports. Pictured: Mike Zimmer, Bill Belichick, Matt Nagy
Our experts reveal their favorite bets for NFL Preseason Week 4, including against the spread and over/under picks.
See how they're betting Vikings-Bills, Colts-Bengals, Giants-Patriots, Buccaneers-Cowboys and Titans-Bears.
It's the final week of preseason football. And whether you're celebrating a profitable four weeks of betting exhibition games or are ready for August to end, our analysts have you covered with their favorite picks for Thursday night's full 16-game slate.
Let's run through how they're betting the following five games:
Vikings at Bills: 7 p.m. ET
Colts at Bengals: 7 p.m. ET
Giants at Patriots: 7:30 p.m. ET
Buccaneers at Cowboys: 8 p.m. ET
Titans at Bears: 8 p.m. ET
Note: All odds as of Wednesday night.
---
Chris Raybon: Vikings -3 at Bills
Week 4 of the preseason means a lot of time for third-string quarterbacks, and the Vikings have the clear advantage: Their No. 3 man is Kyle Sloter, aka the all-time preseason GOAT QB.
In 10 career preseason appearances dating back to 2017, Sloter is 95-of-126 (75.4%) for 1,054 yards (8.4 yards per attempt) with 10 touchdowns and no interceptions, according to Pro Football Focus.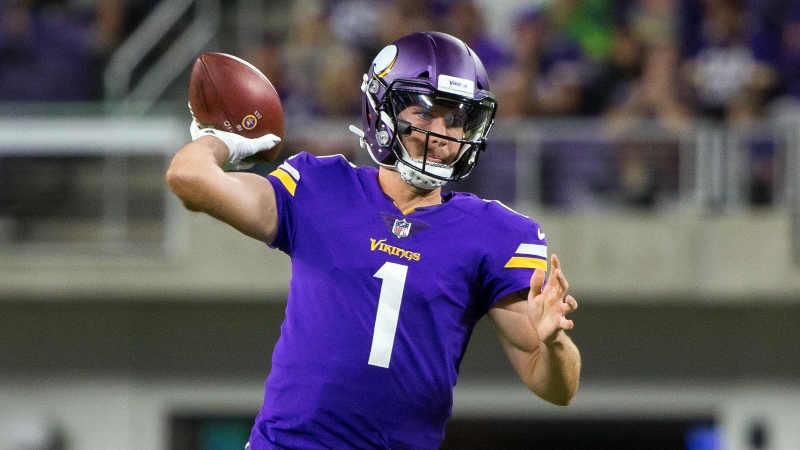 The Bills, meanwhile, trot out rookie Tyree Jackson as their No. 3 signal caller. At 6-foot-7 and 249 pounds with a 4.59-second 40 and 92nd-percentile SPARQ score, the local product is looking like he's all athlete and no skill, completing just 8-of-24 (33.3%) passes for 140 yards (5.8 YPA) with no TDs and one interception while rushing for just 25 yards on 18 attempts (1.4 yards per carry).
Both teams are 3-0 straight up and against the spread this preseason, but Sloter's uncanny ability to ball out in the preseason tilts the odds heavily in favor of the Vikings being the team to end with a perfect record.
John Ewing: Colts +3 at Bengals
Kickoff at 7 p.m. ET
Historically, it's been profitable to bet preseason underdogs.
Dogs perform better when the line moves in their direction (+3 to +2), which is a sign of sharp money on the team. Finally, the optimal situation to bet these underdogs is outside Week 3 as those games are most like regular-season matchups.
Indianapolis opened as a 4-point underdog. Less than 50% of spread tickets are on the Colts, but the line moved from +4 to +3, making Indy a match for this system.
Danny Donahue: Giants +2.5 at Patriots
Kickoff at 7:30 p.m. ET
I'm following the same wave of thinking as John, locating a preseason dog with reverse line movement. In this case, only 29% of bets are landing on the Giants, who have moved from +3.5 to +2.5 since opening.
In our Bet Labs database, teams getting less than half the bets in a preseason game in which the line moves at least a point in their direction have gone 72-44-2 (62.1%) ATS. That's been good for 25.5 units and a 21.6% ROI.
Matthew Freedman: Buccaneers +5 at Cowboys
Kickoff at 8 p.m. ET
The Cowboys are 13-21-2 ATS in the preseason under head coach Jason Garrett, earning backers a 20.3% return on investment since 2011. If you give me a chance to bet against Dallas in the preseason, I'm going to do it.
Why have the Cowboys been so uninspiring under Garrett in the preseason? I'm not sure, but I have some theories.
To start with, the Cowboys have had a top-heavy roster for most of the past decade, paying lots of money to their starters and then piecing together the rest of the team. Since starters tend not to see much action before the regular season, it's likely that the Cowboys are at a talent disadvantage relative to other teams in the preseason, when the backups are playing.
And the numbers support this theory: In Week 3, when starters have historically seen their most preseason action, Garrett is 5-4. That's pretty close to his regular-season ATS record of 66-66-4. But in the rest of the preseason, Garrett is a mere 8-17-2, gifting opponent backers a 30.2% ROI.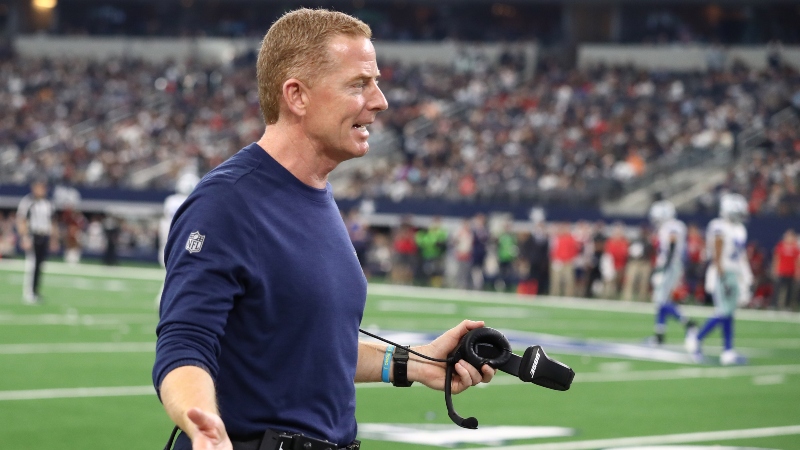 Additionally, my sense is that Garrett is a pretty go-with-the-flow coach. He seemingly has a hard time getting his players motivated when the games actually matter — and these games don't matter. He knows it, and his players know it.
And even though the Cowboys are at home and facing a Buccaneers team that went 5-11 just last season, it's hard to imagine that the Cowboys' backups are significantly better than the backups on a team run by new head coach Bruce Arians.
And the Cowboys have a limited home-field advantage. In the regular season, they are a pitiful 17-30-1 as home favorites under Garrett. I don't know why that general trend wouldn't hold true in the preseason.
The Cowboys are probably the better team, but in the preseason, especially in Week 4, anything can happen. Five points is way too much for them to lay.
Mike Randle: Titans-Bears Under 33
Kickoff at 8 p.m. ET
While all Week 4 games will feature second- and third-string players, there are recent trends that give us a key window on how to bet this game.
The Bears defense showed signs of life last week against Indianapolis, scoring two defensive touchdowns. Tennesse has averaged only 11.5 points in its last two preseason games, struggling to find an offensive rhythm. While Ryan Tannehill is a solid backup quarterback, he's expected to play less than a half. A night game in Soldier Field is also very tough, and the Chicago offense has shown nothing in its prior three games, totaling 40 points.
The 33-point line is very low, which will tempt the casual bettor, but grab the under in this defensive struggle.
How would you rate this article?