Koerner's Favorite NFL Divisional Round Props & Picks for Titans-Ravens
Credit:
Wesley Hitt/Getty Images. Pictured: Derrick Henry, A.J. Brown
What are the best prop bet picks for Saturday night's AFC Divisional Round matchup between the Titans at Ravens?
Sean Koerner runs through his model and projections to pinpoint multiple player props that have betting value, including a Derrick Henry prop that's being offered at +154 odds.
There's tons of value to be had betting NFL props. And with the slates getting smaller with the playoffs, I'm peeling the curtain back on my full prop betting process.
Below is a guide to key player props for the Vikings-49ers and Titans-Ravens matchups that kick off the Divisional Round on Saturday. That includes props I'm betting — or looking to bet once lines reach a certain threshold — based on my projections.
I've also created a downloadable spreadsheet calculator, which you can use to plug in the lines at your books and automatically calculate the exact edge on four of the prop markets we'll cover. Note that I typically wouldn't bet a prop unless the line offers a 58% edge according to my calculations, so every pick I've outlined in the following analysis reaches at least that threshold.
Now let's dig into the slate.
NFL Divisional Round Props & Picks
---
Odds as of Friday and via FanDuel, where Action Network users get a risk-free bet up to $500.
---
Vikings Props & Picks
Kirk Cousins
I have Cousins projected for 1.26 passing touchdowns, which implies a 64.1% chance of going under 1.5 passing TDs. FanDuel is offering the Under 1.5 at -136 as of writing, which means there's a bit of value.
FanDuel appears to be the only book offering this prop (likely due to Adam Thielen being questionable). I anticipate that once other books open it closer to my line of -170, it will force FanDuel to lower the odds. It's ideal to get in on the -136 while it lasts, but I would be comfortable betting it down to -160.
PICK: Under 1.5 Passing Touchdowns (-136)
[In New Jersey, Pennsylvania, Indiana or West Virginia? Bet now at FanDuel]
49ers Props & Picks
George Kittle
I have Kittle's median receiving yards at 74, and some books are offering the market as high as 79.5, but a 5.5-yard difference doesn't offer much value for a player like Kittle. A book would have to offer 81.5 before it becomes a play for me.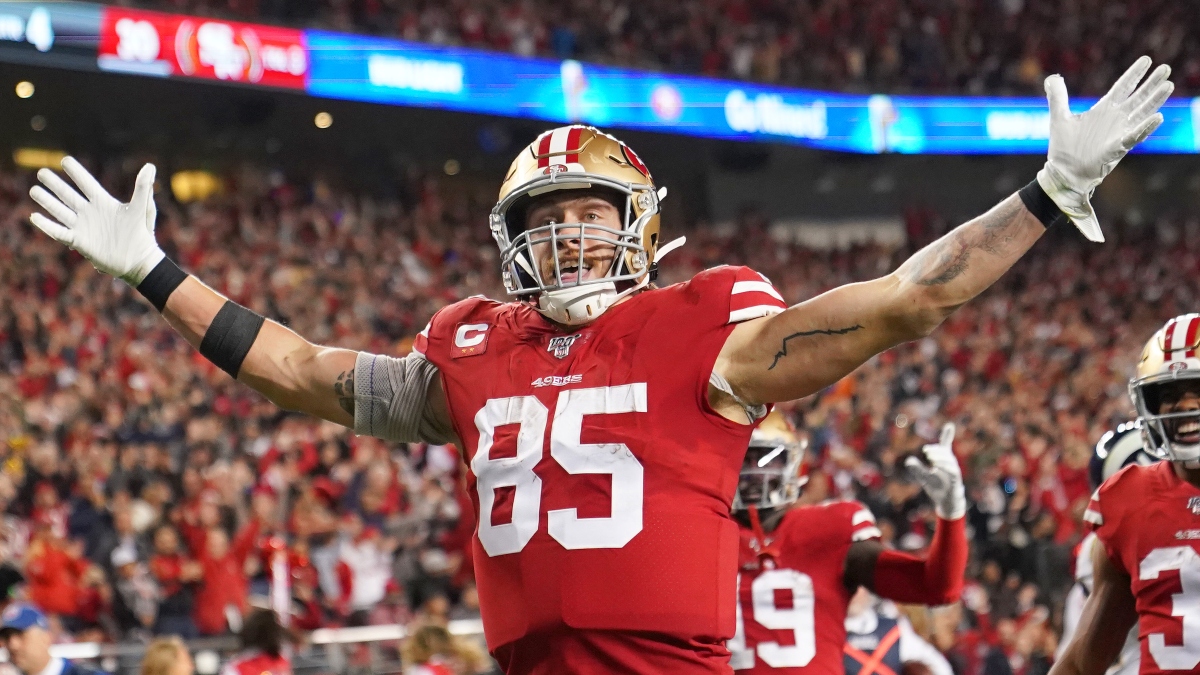 I added Kittle to the player prop calculator so you can monitor the lines offered by your book and check whether there's any value. Again, my personal threshold is 58% for when a market is offering a -115 line, but that obviously changes based on the moneyline and personal feel.
If you really wanted to pull the trigger any prop offering any value whatsoever, you could bet any prop that's showing over 0.1% in my calculator.
PICK: Under 81.5 (or More) Yards
Ravens Props & Picks
Lamar Jackson
One key to successfully betting on props is knowing which type of players to avoid altogether.
Jackson is one of those players.
The Ravens quarterback is truly an outlier in his passing and rushing ability that gives him a wide range of outcomes in both. Our ability to accurately calculate our perceived edge is going to be much easier for just about every other player, so it's better to channel our efforts elsewhere.
The only market I would advise attacking would be passing touchdowns — but only if you're able to find value. Books have been offering this at 1.5 and 2.5 passing touchdowns, so with that in mind, here's the breakdown of my probability estimates:
Seth Roberts
Books are offering Roberts' receiving prop at 14.5 as of writing. That's a tad low, so I ran my simulator to see what sort of edge it's providing.
It's important to note that Roberts is essentially Baltimore's No. 2 WR if you look at routes run per dropback: He averaged 62% from Weeks 11-16 compared to Willie Snead at 54%.
I have Roberts projected for 1.9 receptions, which translates to 22.7 average yards and 17.5 median yards according to my simulations. Those three yards of perceived edge are pretty valuable in this market as I have Roberts going over 14.5 yards 58.6% of the time, which exceeds the threshold I need to trigger a bet (58%).
Numbers could vary across the market, so be sure to download my prop calculator below.
PICK: Over 14.5 Receiving Yards (-112)
[In New Jersey, Pennsylvania, Indiana or West Virginia? Bet now at FanDuel]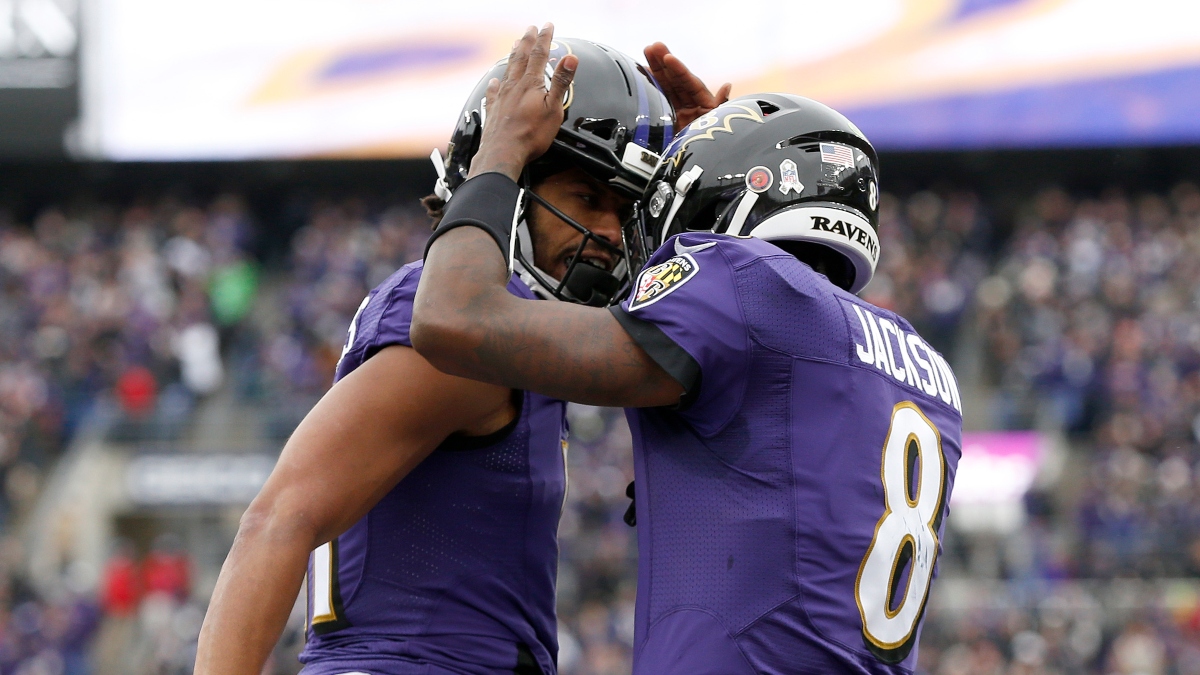 Mark Andrews
Andrews is an extremely tricky player to project. He's technically in a three-way timeshare with Hayden Hurst and Nick Boyle, yet consistently sees a high percentage of targets to overcome it.
I have Andrews projected for 4.1 receptions and an expected 12.3 yards per reception rate for this matchup. It gives him a 48.5 median projection in my simulations.
Instead of attacking his receiving yards market, it makes more sense to shift the focus to his longest reception market given books are offering that prop from over 19.5 yards (-112) to under 24.5 (-139) — a very critical range for this prop as I have it going over 19.5 yards 51.4% of the time vs. under 24.5 yards 71.4% of the time. That's a 22.8% chance Andrews ends up finishing between the two numbers, creating an interesting middle scenario.
Simulating a to-win-$100 bet on the over 19.5 and under 24.5 results in an average of $24.5 and median of -$12. It's likely a better idea to just bet the under 24.5 (-130) if you have access to it.
PICK: Longest Reception Under 24.5 Yards (-130)
[In New Jersey? Bet now at bet365]
Titans Props & Picks
Ryan Tannehill
I have Tannehill projected for 1.18 passing touchdowns, which translates to a 67% chance of going under 1.5.
FanDuel is offering his under 1.5 touchdowns passes at -160. I would take that bet all the way down to -180.
PICK: Under 1.5 Passing Touchdowns (-160)
[In New Jersey, Pennsylvania, Indiana or West Virginia? Bet now at FanDuel]
Derrick Henry
PointsBet is offering a fun market for Henry's longest rush with odds for various bands such as 0-9, 10-19, 20-29, 30-plus. I crunched the numbers to project the odds of each bucket hitting.
The 10-19 yards bucket hit 48.8% of the time in my sims, as his median is 18 yards for the longest rush. The +152 odds for this band is definitely offering enough value to warrant a bet.
PICK: Longest Rush 10-19 Yards (+152)
[In New Jersey? Bet now at PointsBet]
A.J. Brown
After being shut down by Stefon Gilmore and the Patriots in the Wild Card Round to the tune of a 1/4/0 line, the market is presenting us with a value opportunity on Brown's receptions this week.
Yes, Gilmore likely had a big role in that line, but we also have to remember Tannehill attempted only 15 passes as the Titans leaned heavily on Henry. They likely won't have that luxury this week, which means they'll likely need to throw more to keep up with the Ravens' high-scoring offense.
The matchup against Baltimore's pass defense isn't much better this week, but Tennessee would be foolish to not target Brown heavily here. I have him projected for 4.1 receptions, which implies a 58.6% chance of going over the 3.5 line books have set this week.
FanDuel is offering the over at +112, which makes this a no-brainer bet for me at that price.
PICK: A.J. Brown Over 3.5 Receptions (+112)*
*Offers +EV value up until -130
---
Divisional Round Player Props Calculator
Click this link to download the spreadsheet with my player props calculator for George Kittle, Damien Williams, Mark Andrews and Seth Roberts.
Simply use the dropdown menu in Column C to adjust the lines accordingly, plug the right vig into Columns F and G, then my calculated edges will auto-populate Columns D and E.
Here's a preview of what the spreadsheet looks like:
How would you rate this article?