NFL Sharp Report: How Pros Are Betting Patriots-Eagles
Credit:
USA Today Sports. Pictured: Tom Brady
Using the Action Network's betting tools, we break down how sharps are betting Falcons-Panthers, Saints-Bucs and Patriots-Eagles.
With Week 11 on the horizon, pro bettors have actively pushed a few lines for a loaded Sunday slate. Why are the sharps targeting a couple of marquee divisional showdowns and the Super Bowl LII rematch? We've got the latest on all the biggest sharp movement for this weekend.
Atlanta Falcons @ Carolina Panthers
1 p.m. ET | FOX
You'd think that beating the Saints as 14-point underdogs would gain the Falcons some public love. You'd be wrong, though. Just 33% of bettors are taking them this week in Carolina as a much smaller dog, which is surprising given the public's tendency to overreact after a single game.
Maybe they haven't reacted enough, though, because sharp bettors have really pounded this spread.
After opening at +6.5 (and staying there until Tuesday afternoon), the Falcons have moved all the way down to +4. There's not many occasions in the NFL where you see a spread move 2.5 points without a major injury involved.
A reverse line move at +6.5 moved the line to +5.5, while big bets have helped continue to push the line down. Despite getting just a third of the bets, Atlanta is getting 44% of the money.
Even before Atlanta's upset, the lookahead line for this game was ATL +7. Clearly sharps don't believe it was adjusted enough afterwards.
Sharp Angle: Falcons (moved from +6.5 to +4)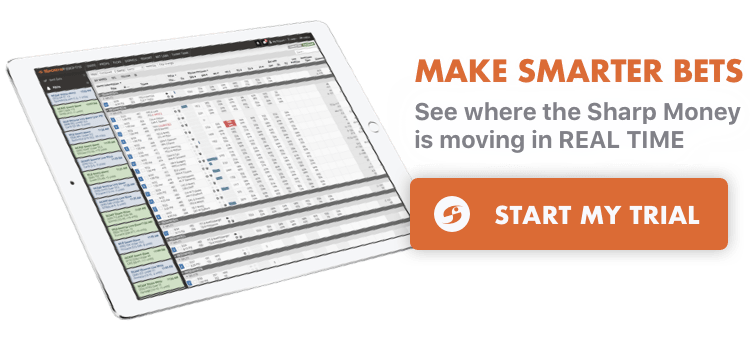 New Orleans Saints @ Tampa Bay Buccaneers
1 p.m. ET | FOX
More NFC South action! Those Saints are looking to bounce back in a big way after their loss to the Falcons, and perhaps a porous defense like Tampa's (allowing a league-worst 31 PPG) is just the cure.
Sharp bettors are not expecting a shootout, though. Most folks are, as the over is getting 71% of tickets, but sharps aren't.
After opening at 51.5 and rising to 52 in the early going, professional action has pushed the total down to 50. Bet signals triggered at 51, 50.5 and 50 have favored the under, which is also receiving way more money (62%) than it is tickets (29%).
You may have seen this tip last week, but I'll say it again this week. I'll say it a thousand times if I need to. Divisional unders late in the season are cash money.
I probably wouldn't go and bet every single divisional under for the rest of the year, but it wouldn't be the worst idea, as they've hit at a 54.5% rate historically per Bet Labs.
Sharp Angle: Under (moved from 52 to 50)
New England Patriots @ Philadelphia Eagles
4:25 p.m. ET | CBS
Super Bowl rematch! Well, it's missing the Super Bowl MVP, but whatever. The Patriots are still going to want to take out one of the few teams that got the best of Brady & Belichick and the fact that they just got dismantled by the Ravens doesn't bode well for Philly.
Since 2003, New England is 44-8 off a loss straight up, winning nearly 20 units in the process. Spread bettors have profited even more when betting the Pats off a loss, going 38-14 and covering by over seven points on average! You probably won't find many, if any, NFL systems in Bet Labs with two filters used, more than a 50 game sample, and an average cover margin north of seven.
But I'm here to talk about the total.
The opening number of 45.5 was not too high, not too low … just right. Goldilocks would've loved it!
The sharps thought this total actually was a wee bit too high and have bet it down to 44.5. The ticket/money split is a near inverse, as the under is getting 36% of bets, but 62% of dollars. A steam move also hit the under when it was at 45.
The Patriots' defense looked like garbage last game, but pro bettors do not expect that to continue.
Sharp Angle: Under (moved from 45.5 to 44.5)
How would you rate this article?