Stuckey's NFL Betting Preview: The 3 Underdogs I'm Backing in Week 1
Credit:
Steve Mitchell-USA TODAY Sports. Pictured: Jaguars quarterback Nick Foles
We are inching closer to the first full NFL regular season Sunday slate. It's eating season, my friends. Each week during the season, I will share my three favorite NFL bets as well as my plan for survivor leagues. Let's eat.
My approach for the first week of the NFL season is fairly simple. I generally like to back teams that under-performed last year as a result of bad luck (injuries, turnovers, close games, etc.) — especially if they're matched up with a team that over-performed. We saw a perfect example of this approach paying off on Thursday night with the Packers.
With that said, let's dive into Sunday's card.
NFL Week 1 Favorite Bets
Jacksonville Jaguars +3.5
The NFL has as much parity as ever and I rate most of the teams in the league within roughly a field goal of each other on a neutral field. A few bad bounces of the oblong-shaped ball or unfortunate injuries could take a team from the AFC Championship in one year to 5-11 the next.
And that's exactly what happened to the Jaguars last year. They not only had to deal with abysmal quarterback play from the now-departed Blake Bortles, they also had bad injury luck.
Jacksonville also went 2-6 in games decided by six or fewer points (and 0-3 in field-goal games). It also only recovered 39% of fumbles in 2018 — significantly lower than the 58% mark the year prior.
Look no further than last season's matchup in Arrowhead, which was a microcosm of the Jags' year. It looks like a blowout on paper (31-14 KC win), but Bortles threw four picks (including one returned for a TD) and lost a fumble.
In that meeting last year, the 5-0 Chiefs were 3-point favorites. If you assume nothing has changed since then, the Jaguars should be about a 3.5- to 4-point favorite here after accounting for the home-field swing.
But they opened as a 3.5- to 4-point dog and now sit around 3/3.5. So, what gives?
Well, obviously the Chiefs ended up being much better than the market thought and the Jaguars continued to slide for the remainder of the season. But I still think this is an overreaction– remember that season-to-season regression is vicious in the NFL.
Bortles has since been replaced by Nick Foles in one of the biggest QB upgrades of the offseason. And the Jags are much healthier on defense and in the backfield with Fournette, who should have plenty of success on the ground gainst a suspect KC run defense.
Jacksonville also upgraded in the trenches and has two elite corners who will come in handy against the explosive Chiefs offense. While the Jags do play a ton of Cover 3 and 4 with some man mixed in, Jalen Ramsey will still shadow Tyreek Hill. He's one of the few corners in the league that can stick with the Chiefs receiver.
There are questions at safety, and Travis Kelce could have a massive day, but this Jags defense can match up with KC.
Andy Reid is excellent with time to prepare (17-3 after a bye) and the Chiefs have excelled in September the past few seasons. KC has also been nails in season openers under Reid, including three straight road wins over eventual playoff teams.
But this number is just a market overreaction to last year. I'm buying the Jags and have them circled as a potential team to bet throughout September.
Carolina Panthers 1H +1
Sean McVay held out his starters during the preseason again. While that prevents injuries and the smart decision in the long run, it can lead to a slow start in Week 1.
The Rams did the same thing last year and then came out super flat against the Raiders, trailing 13-10 at the half before blowing it open in the third quarter.
More importantly, this game fits my Week 1 Buy/Sell mold. Just take a look at the differences between these teams in 2018:
Rams' One-Score Games: 6-1; 4-0 in field-goal games; +11 turnover margin (four more returns for TDs)
Panthers' One-Score Games: 3-7; 1-3 in FG games; +1 turnover margin
The Rams also recovered a league-high 66% of fumbles last season. For reference, they recovered only 47% of loose balls in 2017. All of that fumble luck in all of those close games makes a huge difference.
I also believe the Rams got worse along the offensive line (up the middle) and at linebacker. Micah Kiser, who was projected to replace Mark Barron, is out for season. That means Bryce Hager, a special teamer, will now start. Carolina has the personnel to exploit the middle of the Rams defense.
The Panthers should also be able to generate pressure up the middle And when you pressure Goff, the Rams' offense falls apart. Goff doesn't have the strongest arm, but since he's so mechanically strong, he can make all the throws and very accurately — as long as he gets time.
In the 2018 regular season, Goff finished with a 59.8 QB rating when under pressure — 28th in the NFL among QBs with a minimum of 200 snaps, per PFF.
I'm buying the Panthers, who are improved in the trenches and have a healthy Newton who can actually throw the ball down the field. I prefer the first half since I think the Rams will have some early rust. I also teased Carolina to 7.5 to cross four key numbers.
Buffalo Bills +3
In our Bills-Jets betting preview, I talked at length about the special teams gap closing between Buffalo and New York, which had the league's best special teams in 2018.
I actually think the Bills will be superior in that department this year, which is a pretty drastic turnaround for the worst unit in the NFL last year. That matters in a close game between two average teams at best.
I think this game will come down to which team is able to get more pressure on the other's second-year quarterback.
Josh Allen and Sam Darnold were two of the worst under pressure in 2018, which happened frequently in front of two sub-par offensive lines.
Neither team will have anything close to an elite offensive line this year, but I do think the Bills did more to improve their protection, primarily through the acquisition of center Mitch Morse. Buffalo also upgraded at receiver, although it's still not an overwhelming group. And the Jets defense just isn't at full strength right now with a plethora of injuries and suspensions.
The Jets offensive line is still a mess until it proves otherwise  It could be a long day against a solid Bills DL that added Ed Oliver via the draft to an already formidable group.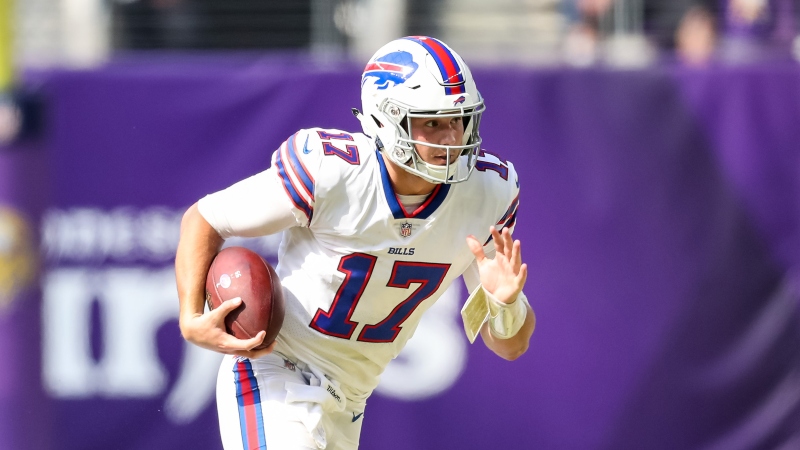 I expect the Bills to bring pressure from all over, as I don't think they fear a Jets down-field passing attack that includes a potentially hobbled primary receiver (Robbie Anderson) and a suspended starting tight end (Chris Herndon).
Both teams have excellent safeties and talent at corner, but the Bills defensive front should ultimately generate more pressure against a QB who has looked awful when not in a clean pocket. I think the Bills will win this game in the trenches against an undermanned Jets roster.
If you can't get a +3, I'd wait and potentially throw them in a teaser if you never see a field goal again in the market.
Week 1 Survivor Thoughts
I'm rolling with the Eagles in survivor. I just can't see Philly losing against a really poor Redskins roster with sub-optimal schemes. Philly is just so solid at every single level.
I know a lot of people are rolling with the Seahawks but I can see the Bengals pulling off a stunner in Week 1.
Cincy has a good enough defensive line to disrupt Seattle's rushing attack, which is key against a team that wants to run as much as anyone outside of the Ravens.
The Bengals also have the advantage of a new offensive scheme that Seattle doesn't have much to go off of for preparation. New head coach Zac Taylor didn't show much in the preseason and has shown in the past that he can succeed on offense with a questionable offensive line, which Cincy certainly has.
This one could be trickier than many think. I'm hoping to get a clean +10 in the market by kick.
For the rest of my card, follow me on the Action App. Good luck this Sunday and the rest of the season. Happy eating.
How would you rate this article?