NFL Week 1 Survivor Picks, Strategy: How To Manage Your Pool
Credit:
Jane Gershovich/Getty Images. Pictured: Geno Smith.
It's that time of year again when hope springs anew and the football-loving public collectively says, "This year I'll go all the way." I'm of course referring to survivor pools, a type of contest that sounds easy — until you're doing it.
The concept is simple: Pick one team that wins an NFL game every week. No spreads or totals, just winners. Once you use that team, they're done — creating an element of strategy and long-term planning that makes these contests deceptively difficult.
Fortunately, this year we're partnering with our friends at Pool Genius to make things easier. They've built slate-leading tools to help conquer a variety of pool contests, including survivor.
---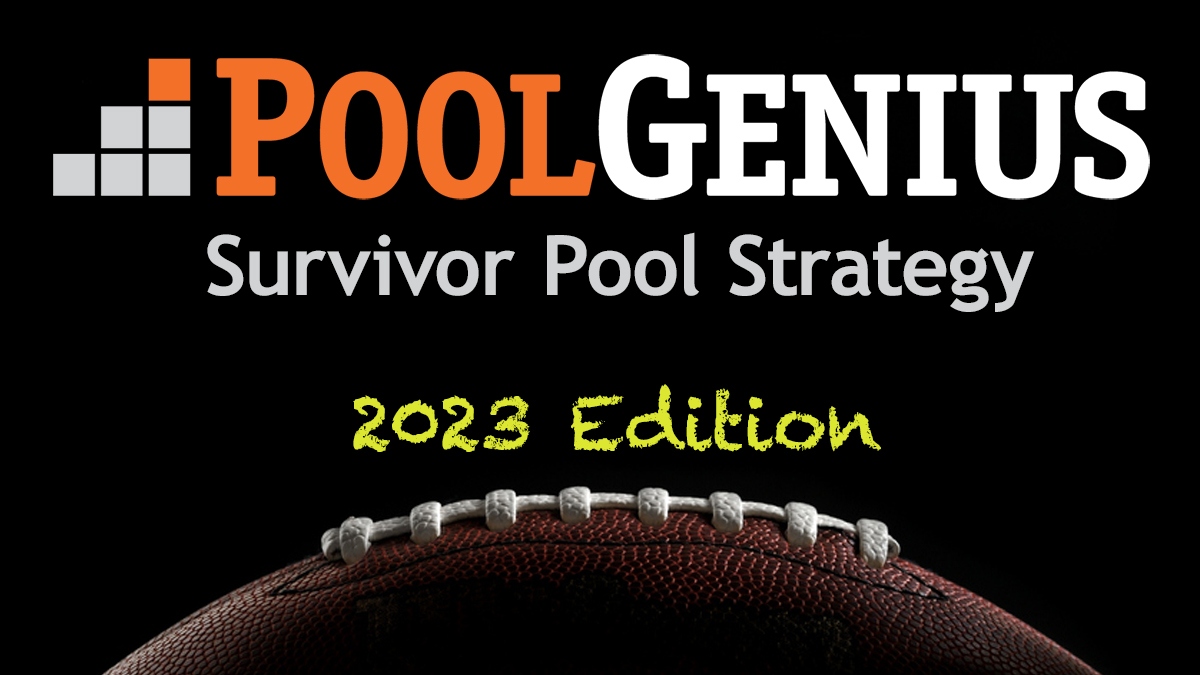 ---
My favorite feature of the site is the ability to customize for your individual pool type. Factors like contest size and payout structure are a huge factor in survivor contests, as smaller fields generally don't have any entries make it all 18 weeks.
To give a glimpse of how that works, all season I'll be providing their top option for small (less than 50), medium (roughly 100) and large (1,000+) entry pools.
Besides that, they track pick selection data to help figure out contrarian options. This is helpful in larger pools since we're trying to optimize for expected value more than just odds of winning. Finally, they use projected future spreads to assign a future value to each team — which includes considering the scarcity of strong options on certain weeks. This is crucial, as we don't want to burn the best teams when there are other strong options that week.
To get their full data, you'll need to sign up for the site. It's well worth it though, and also includes tools for taking down the increasingly popular pick 'em contests that feature massive prize pools.
---
---
Large Field: Seattle Seahawks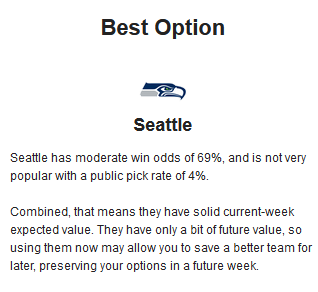 The Seahawks are the top option for larger pool sizes — think big contests on DraftKings and the like. While they're only 5.5-point favorites (fifth-best implied odds), the top teams have more future value. Remember, with pools of this size, we almost certainly need to make it all 18 weeks to have a chance, so planning for the stretch run is important.
However, Seattle is also projecting to be the strongest team to win in Week 7, so there's a bit of a tradeoff there. They play the Cardinals at home that week. That's a tough one to plan for, as the odds would presumably vary considerably if Kyler Murray returns for Arizona before then, though that seems somewhat unlikely.
Another benefit to rostering Seattle is its fairly low popularity. Pool Genius is projecting just a 4% utilization rate for the Seahawks. Much of the game in big contests like this is fading a chalky team that loses, as the more popular teams could eliminate up to a third of the field.
Medium Field: Minnesota Vikings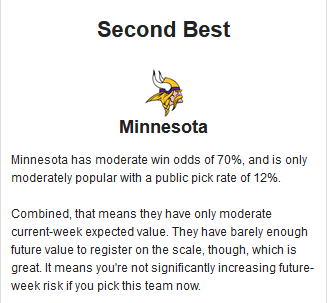 Seattle is still showing as the best option with a field size of 100, but if we tinker with the settings a bit we arrive at the Vikings. They're a more popular selection than Seattle, which is why they're better for smaller fields.
However, they're also the top choice if maximizing future value, as their 70% implied win rate this week is by far the highest they'll have all season. That makes them a good choice in contests where the expectation is needing to last all 18 weeks — but not that you'll need to be contrarian to maximize your payout.
They're six-point favorites at home against the rebuilding Bucs, which could be their easiest matchup of the season barring major injuries to any of their opponents. It's now or never with the Vikings.
Small Field: Baltimore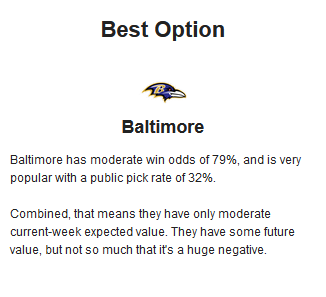 For smaller field contests, the Ravens are the obvious choice. They have by far the best-implied win probability this week at 79%, making them the safest option. While they're the most popular pick, that's far less of a concern in smaller pools like this.
With pools of this size, it's fairly unlikely that you'll need to make it all 18 weeks, so we're optimizing for safety while hoping our opponents make a mistake. As the season goes on, Pool Genius allows you to input how much of your competition is still alive, allowing you to pivot to more (or less) risky picks as needed.
The trade-off with Baltimore is their future value, as they have three other weeks where they're roughly 75% or better to win. Fortunately, in each of those weeks there are other teams with similar odds, so this might be the best week to use Baltimore anyway.
They're hosting the Texans, who are likely to be one of the more popular teams to target against all season. Some pools only let you target certain teams a limited number of times, but luckily Pool Genius has a setting for that as well. You can select that option, and plan your season based on only picking against teams a limited number of times as well.
How would you rate this article?
This site contains commercial content. We may be compensated for the links provided on this page. The content on this page is for informational purposes only. Action Network makes no representation or warranty as to the accuracy of the information given or the outcome of any game or event.