NFL Betting Picks: Buy Low On These Week 2 Underdogs & Sell High On These Favorites
Credit:
Al Bello/Getty Images. Pictured: Daniel Jones
Looking for the best Week 2 betting edges? Senior NFL analyst outlines his favorite Week 2 picks below.
He's buying low on underdogs and selling high on favorites based on overreaction to last week's results.
Find out which spreads and totals he's looking to bet for Sundays
Week 2 is one of my favorite betting weeks of the NFL season due to the overreactions in the market based off one week of results.
Historically, you simply could have profited by blindly betting teams that lost in their season opener against teams that started 1-0. The betting market is so reactionary early in the season that you can find some great buy-low/sell-high spots throughout the season, but it's especially prevalent in the first few weeks.
On a related note, per our Bet Labs database, check out some of these ATS numbers since 2003 for Week 2 underdogs that speak to the overreaction narrative:
Overall: 137-126-9 (52.1%)
Lost SU in Week 1: 82-67-4 (55%)
Failed to cover by a TD or more in Week 1 : 51-35-2 (59.3%)
Lost SU as a favorite in Week 1: 30-17-3 (63.8%) …10-3 ATS if at home in Week 2
Let's take a closer look at the potential buy-low/sell-high spots this Sunday before I get into my betting card. I'll touch on all 13 Sunday afternoon games.
We only have six games this weekend where a 1-0 team will face a 0-1 team. Those include:
Ravens at Texans (+7)
Giants at Bears (-5.5)
Broncos at Steelers (-7.5)
Bills at Dolphins (+6)
Rams at Eagles (+1.5)
Lions at Packers (-6)
I won't blindly play any of these trends, my decision to bet on a game ultimately comes down to my numbers, injuries and matchups, but I do see at least a little value on each of the underdogs listed above.
Buy-Low Opportunities
I personally ended up betting three of the 0-1 underdogs against undefeated teams that covered last week in the Giants, Broncos and Dolphins. The latter two just had too much line value to pass up on at or above key numbers.
I know the Giants are on a short week, but I thought they did some decent things on both sides of the ball on Monday night. The offensive line is still a work in progress, but they went up against one of the best defensive lines in the NFL.
Big Blue's cornerbacks are still a mess, but going from Ben Roethlisberger and Pittsburgh's receivers to Mitch Trubisky and the Bears will certainly help.
Don't be fooled by the Bears' fluke win last week. Trailing 23-6 headed into the fourth quarter, Mitch "Bortles" Trubisky threw three touchdowns to lead the Bears to a miraculous comeback against a very soft defense that was missing its top three cornerbacks and Jamie Collins, who was tossed for making contact with an official. Oh, and the Bears needed D'Andre Swift to drop a wide open touchdown in the final seconds to hold on for the win.
That flukey fourth quarter didn't change my opinion on how bad I think this Bears team is compared to the market. Anything over +5 is worth a play on the Giants to me.
[Bet the Giants spread at PointsBet and get $250 FREE.]
Maybe Nots
Speaking of the Lions, I think the number is too high on Detroit against the Packers. Green Bay looked spectacular last week but I think that performance said more about the Vikings than anything else. Detroit lost both meetings last year by a combined four points in two games they could've easily won.
You may recall the ref controversy game on Monday Night Football last year; Lions fans won't like hearing that Clete Blakeman will get the assignment again this Sunday.
I'm ultimately hesitant to pull the trigger on the Lions as a result of their cornerback injuries, which could haunt them against Aaron Rodgers. Detroit had to place Justin Coleman on IR, so I'll be monitoring the statuses of Jeff Okudah and Desmond Trufant. Star wide receiver Kenny Golladay also may or may not suit up.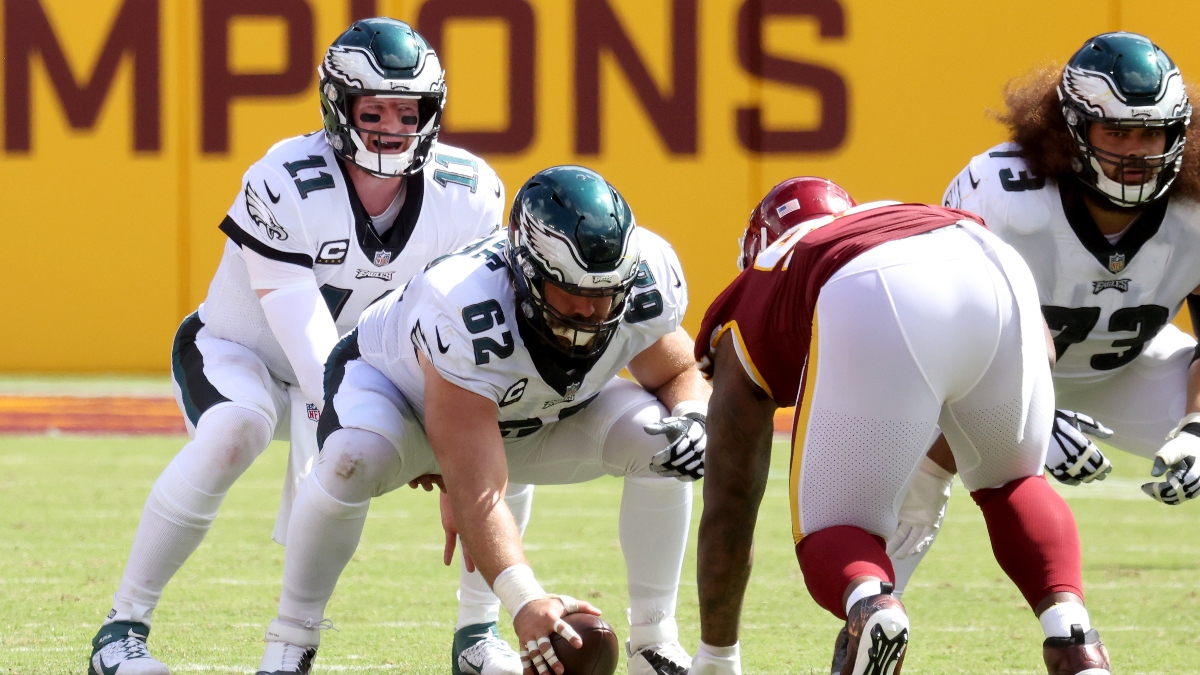 The Eagles also have noteworthy injuries worth watching. Last week, Philadelphia's offensive line sorely missed Lane Johnson, who has hinted at playing this week. Miles Sanders also didn't play and DeSean Jackson only played a little over half of the offensive snaps.
On the other side of the ball, the Eagles' top three defensive ends might not be able to go. Derek Barnett has a hamstring issue, Brandon Graham is in concussion protocol and Vinny Curry was just placed on IR. That's not ideal for a defensive line that needs to dominate for Philly.
I did give the Rams a decent bump after their Week 1 victory and was lower than almost everyone on the Eagles coming into this season. Even so, I still make Philly a tiny home favorite here.
However, with the injury concerns, I felt more comfortable teasing the Eagles through the seven to +7.5 with the Titans down under a field goal to -2.5. Derrick Henry should gash the Jacksonville run defense, which should set up Tennessee's explosive play-action passing attack  against a very inexperienced Jaguars' defense.
I don't love the matchup for the Texans, who did at least see this unique Ravens offense last year (albeit in a 41-7 laugher) and do have extra time to prepare for this game. But it's just not a great matchup for Bill O'Brien's bunch. While I'd play Houston if forced to choose a side, I prefer the under (51 or above) in a matchup of two offenses that will play on the slower side.
You can always follow all of my bets on the Action Network App but here are my thoughts on the rest of the Week 2 slate:
Arizona Cardinals (-6.5) vs. Washington Football Team
I came away very impressed with the Cardinals in Week 1, especially seeing the progression along the offensive line and on the back end of the defense.
I make Arizona more than a touchdown favorite and think we're getting under 7 only because Washington pulled off a stunning comeback upset win over the Eagles last week.
To me, that game said more about Philly's issues than anything else. Washington's excellent defensive line was able to dominate the game (8 sacks) against a depleted Eagles' offensive line. Yes, Washington came back from down 17-0 to win 27-17 but still only averaged a pitiful 3.6 yards per play on offense. That's the lowest in the league after one week.
The Arizona offensive line is in better shape and Kyler Murray's mobility will certainly come in handy. Arizona also has a plethora of weapons that Washington simply can't match up with in the secondary.
The Cardinals had success last week against a similarly dominant defensive line which I think will prepare them well for Washington this week which doesn't have nearly as much talent on the back end as San Francisco.
Also, this is still a very poor Washington offense with holes along the offensive and one legit wide receiver weapon in Terry McLaurin — who Patrick Peterson can shadow and contain.
[Bet the Cardinals at BetMGM and get an INSTANT $500 deposit match.]
Chargers (+8.5) vs. Chiefs
As I mentioned multiple times on our podcast and in my season previews, Chargers unders were squarely on my radar to start the year.
With Tyrod Taylor at quarterback, Anthony Lynn can now run his snail, rush-heavy, conservative offense. And Taylor won't turn it over like Rivers did too often last season. The Chargers want to grind the clock, rely on their solid defense and try to win games like they did last week by a score of 16-13. They did play a little faster and took a few more deep shots than I expected last week but I expect an extremely conservative game plan on Sunday as long as the game stays within reach.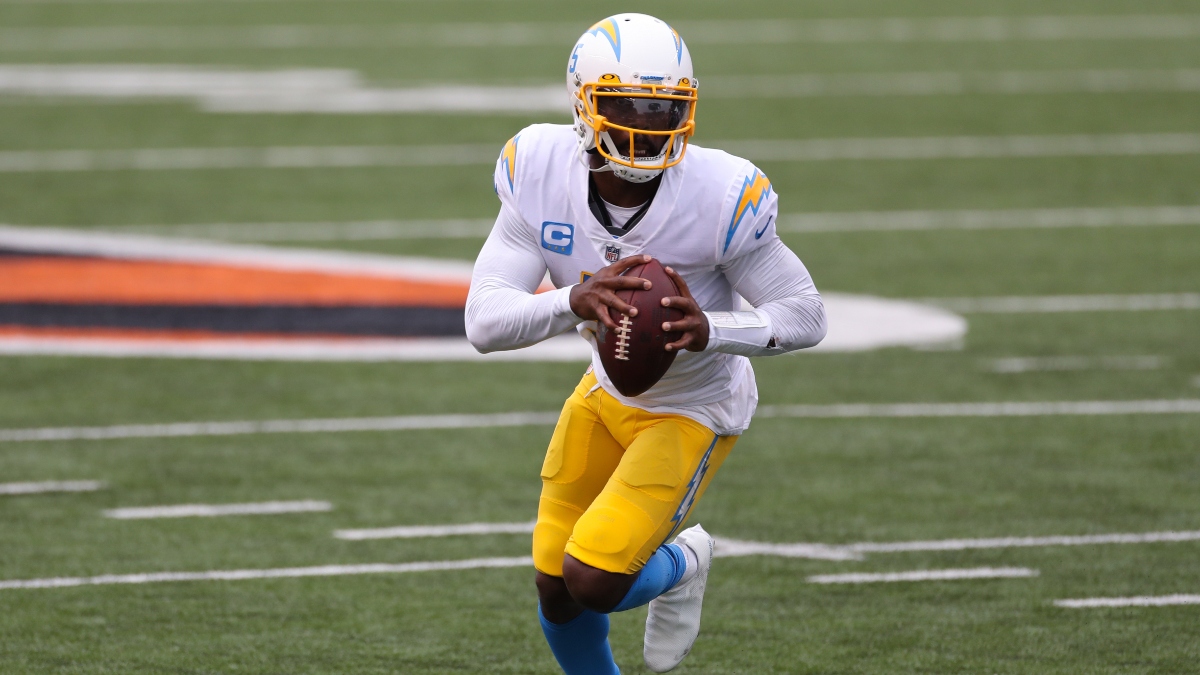 While a rush-heavy attack with Tyrod Taylor under center lowers the ceiling of Los Angeles in today's NFL, it's a strategy that could have some success against the more talented Chiefs. You can run the ball on Kansas City and that's how you keep Patrick Mahomes off the field.
And when Mahomes did take the field last year, the Chargers did as good of a job as anybody in the NFL. Mahomes threw for under 200 yards in both meetings with a total of two touchdowns and two interceptions.
The Chargers lost both meetings but outgained Kansas City 438-310 in a 7-point loss. And in a 10-point loss later in the season, they also finished with more total yards and dominated time of possession. Both games basically came down to turnovers as LA had six to Kansas City's two. Taylor should keep those down this season.
I'm not sure the Chargers can win this game against a Chiefs team that has absolutely dominated the division in recent years but I do think they can stay within a touchdown. I make this line around KC -6, so the +8.5 is even more enticing in what I expect to be a lower scoring game than the total implies.
This is wild. The Chiefs are 27-2 in their past 29 division games. The two losses came by a combined 2 points on miraculous comebacks with touchdowns as time expired.

— Stuckey (@Stuckey2) July 1, 2020
It's also scary fading Andy Reid with extra time to prepare (33-22-1 ATS with eight or more days between games) but I can't pass up the home division dog catching over a touchdown here. And yes, I'll always have a soft spot for competent NFL home dogs of seven or more — which have gone 153-136-6 ATS (52.9%) since 2003.
[Bet the Chargers at PointsBet and get $250 FREE.]
Colts (-3) vs. Vikings
Everybody is in panic mode in Indianapolis after the Colts dropped their opener against the lowly Jaguars. But dig a little deeper and you'll see the Colts dominated that game. They out-gained Jacksonville by over 200 total yards, including 207 more passing yards, and finished with a 1.3-yards-per-play edge. It was an unlucky loss. That will happen when you lose the turnover battle 2-0 on the road in  a division game.
My opinion on the Colts hasn't really changed. Rivers looked serviceable enough, especially in the first game of a new offense.
In contrast, my opinion on the Vikings has changed significantly after last week. One of the trickiest parts about Week 2 is not overreacting to what happened while also properly adjusting power ratings for teams that may be much worse or better than projected. It's much more art than science with a one-game sample size.
Well, I took a stand and downgraded Minnesota significantly after what I saw against Green Bay. I came into the season on the fence about the Vikings, who I could envision having a disastrous season
Yes, the Vikings averaged a Week 1 best 8.1 yards per play but they played from behind most of the game and accumulated plenty of garbage time stats. On the other hand, the defense looked horrendous and I don't see any quick remedies.
After Everson Griffen's departure and Michael Pierce's opt-out, the defensive line looked very thin. Then, the outlook became even bleaker even when Danielle Hunter went on IR. Newly acquired Yannick Ngakoue should eventually help, but he's still dealing with an injury and not fully up to speed with Mike Zimmer's complex defense. This is just a bad defensive front at the moment.
The Colts, who boast one of the league's most dominant offensive lines, should completely control the line of scrimmage. They shouldn't have any issues moving the ball on the ground and Rivers should have plenty of time to find open receivers in Indy's heavy-11 personnel offense against a subpar group of Minnesota cornerbacks.
In Week 1, third-round draft pick Cameron Dantzler actually took the most snaps at corner. Holton Hill was abysmal in coverage and Mike Hughes still doesn't look ready to take that next step. It's also a group of corners that don't possess elite speed, which could be problematic against Indy's speedy wideouts.
On the other side of the ball, Minnesota really only has one bona-fide threat at receiver in Adam Thielen. On paper, he might have a big edge on Xavier Rhodes, who I believe is way past his prime.
However, Rhodes, who had a horrid game against Jacksonville, might have a better shot at success this week. He practiced against Thielen for seven years and knows all of his tendencies.
It does work both ways but I tend to give the edge to the cornerback in this scenario. I'm sure the Colts will run a lot of zone looks and offer help to Rhodes as well.
With the offseason acquisition of DeForest Buckner and a healthy Darius Leonard in the middle of the 4-3 base defense, the Colts front seven also should have the advantage at the point of attack against a below average Minnesota offensive line.
Give me the Colts at home this week at a field goal or less against a Vikings squad I may fade frequently over the first half of the season. I know Mike Zimmer has been money after a SU loss in the past (17-6 ATS), but he just doesn't have his typical high-performing defense at the moment.
In regards to the total, it has ticked up since the open, which I think has created value on the Under 48. It's tough to pull the trigger with two questionable secondaries but both teams feature run-first offenses that don't play fast.
Remember, Rivers is the king of running the game clock all the way down before snapping it.
Also, you could see both clubs play more conservative with a potential devastating 0-2 start on the horizon.
[Bet the Colts spread at BetMGM and get an INSTANT $500 deposit match.]
Jets (+7) vs. 49ers
This is the hold-your-nose special of the day.
I make this line around six points and have no issues fading the 49ers as a touchdown favorite for the second straight week. San Francisco is still getting too much respect for a team with  issues on the interior offensive line and a completely decimated wide receiving corps.
Catching seven with the home dog becomes even more appetizing since I fancy the Under 43. Points should come at a premium in this non-conference Week 2 matchup.
The 49ers defense is still rock solid, especially considering how great rookie defensive tackle Javon Kinlaw looked in his first career game. I can't envision New York's putrid offense doing much with its helpless offensive line going up against San Francisco's ferocious front.
The Jets also have injuries at receiver and will apparently start Frank Gore at running back as a result of injuries in the backfield. Expect a very basic offensive plan of attack.
I anticipate an ugly grinder with a speedy clock as a result of run-heavy play calling and a lack of downfield threats. Just hope we don't see many turnovers that lead to short fields.
[Bet the Jets spread at PointsBet and get $250 FREE.]
NFL Week 2 Leftovers
I see slight value on the Bucs (-9.5) in a game I make a tad over 10. However, I'm not in a rush to bet Tampa. Tom Brady still needs time to adjust to Bruce Arian's offense and Chris Godwin remains in concussion protocol. I also want no part of a Carolina team undergoing widespread changes. I think the play here is the under with some of the early expected growing pains of the Bucs' offense, which played slow last week. Plus, Tampa's defense can neutralize Christian McCaffrey on the ground and in the short passing attack. In two meetings last year, CMC had 38 carries for only 68 yards and six catches for 42 yards. I also do think the Bucs are a safe survivor pick or moneyline parlay piece.
I also show some value on the Cowboys (-4.5) after this recent line drop. I know Dallas has some key injuries but this steam is getting a little out of control. I may be forced to play my hand if Big D reaches -4.
NFL Week 2 Sunday Betting Targets
Colts -3 or better
Broncos +7.5 or better
Giants +5 or better
Cardinals -6.5 or better
Chargers +7.5 or better
Dolphins +6 or better
Jets +7 or better
Chargers-Chiefs Under 47 or better
Jets-49ers Under 43 or better
Colts-Vikings Under 48 or better
Bucs-Panthers Under 48 or better
Ravens-Texans Under 51 or better
Eagles +7.5/Titans -1.5 tease (cross the seven and three or pass)
Find the best real-time line on our NFL odds page.
I'll also have individual game write-ups for both Sunday Night and Monday Night Football, so look for those in the coming days.
How would you rate this article?