Packers vs. 49ers Betting Picks: NFC Championship Spread & Props
Credit:
Ezra Shaw/Getty Images. Pictured: Jimmy Garoppolo, George Kittle, Tevin Coleman
The latest NFC Championship Game betting odds are 49ers -8 vs. Packers with an over/under of 46.5 points. The spread moved in San Francisco's favor in the final hours before kickoff.
Our experts reveal how they're betting Sunday night's NFC title game, featuring a pick on the spread and three player props, including Aaron Rodgers' passing yards.
One of our experts even details a live betting strategy for the Packers vs. 49ers total, including the number he's looking to play in-game and when it's likely to peak.
Packers at 49ers Picks: NFC Championship Game
Odds: 49ers -7.5
Over/Under: 46.5
Kickoff: 6:40 p.m. ET
TV Channel: FOX
---
Odds as of Sunday morning and via FanDuel, where Action Network users get a risk-free bet up to $500.
---
The spread has moved in favor of the San Francisco 49ers since opening, from -7 to -7.5 heading into their showdown against the Green Bay Packers. Where is the value on it now? What about the over/under?
Our experts reveal how they're betting the NFC Championship Game with spread, total and prop picks.
The 49ers closed as 7-point favorites over the Vikings — and the Vikings were a better team than the Packers.
Simple Rating System (schedule-adjusted margin of victory) pegs the Vikings at +5.4 and the Packers at +3.2. Or take DVOA, a schedule-adjusted team efficiency metric by Football Outsiders that ranks the Vikings seventh at +15.4%, twice as efficient as the 10th-ranked Packers (+7.7%). The 49ers, meanwhile, clock in with +11.0 SRS (second in the NFL) and a +27.5% DVOA (fifth).
Despite home-field advantage and extra rest, the Packers barely held on against an injury-ravaged Seahawks team in the Divisional Round, getting out-gained 375-344 in total yardage and 6.3-5.8 in yards per play. And all of the advantages Green Bay enjoyed against Seattle are no longer present.
Wide receiver Davante Adams went 8-160-2, accounting for a ludicrous 66% of Green Bay's passing yardage. But this is a San Francisco defense that allowed a league-low 4.8 net yards per pass attempt. It's also the defense that held Adams to 43 yards on 12 targets in Week 12.
That leaves running back Aaron Jones, Green Bay's only other means of offense against Seattle (66 yards, two touchdowns). But San Francisco held Jones to 38 yards on 13 touches in the teams' first matchup, and he's at risk of suffering a similar fate as Dalvin Cook, who gained only 26 yards on 15 touches in Minnesota's 27-10 Divisional Round loss to San Francisco.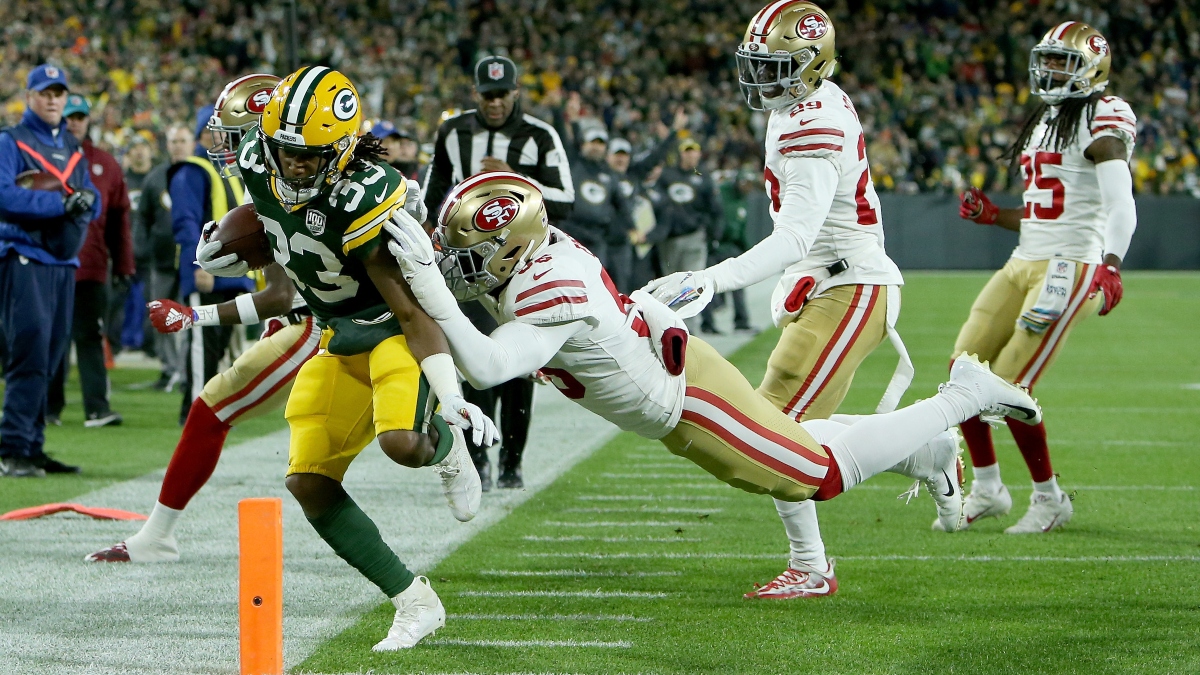 This 49ers squad is well battle tested: All six playoff teams they've faced have come in Week 10 on, and they're 5-1 against the spread, covering by an average of 5.6 points per game.
The Packers are 4-2 ATS against playoff teams, but look closer and their resume is far less impressive: Two of their wins came against a Minnesota team they match up well with, a third came against a Kansas City team with Matt Moore at quarterback, and the fourth was their half-point cover against Seattle last week.
Despite the winning ATS record, the Packers' cover margin is in the red, at -2.5.
The market has been underrating the 49ers' dominance all season. That was the case in Week 12, when they were favored by three against these Packers and won by 29 in a 37-8 rout. And it's been even more true in the postseason, when they got back a stud at every level of their defense in safety Jaquiski Tartt, linebacker Kwon Alexander and pass-rusher Dee Ford. In eight games with all three in the lineup together, the 49ers allowed 11.9 points per game. They went 8-0 straight up and 6-2 ATS in those games, with a staggering +14.9 ATS margin.
When teams are relatively evenly-matched, the added familiarity in rematches can benefit the team that lost the first time, but this isn't one of those cases: The Packers offense relies too heavily on Adams and Jones to contend with a dominant defense that can take those two away. The blowout in the first matchup was not something a few coaching adjustments can fix.
I bet the 49ers at -7 but like them to -8.
[In New Jersey, Pennsylvania, Indiana or West Virginia? Bet now at FanDuel]
Raybon is 230-177-15 (56.5%) overall betting on the NFL. Follow his picks in our free app.
I'll have a pre-game position on this under, but am waiting to see if the total ticks any higher.
A fully-healthy San Fran defense is back to its dominant early-season form and the bye week served that unit very well — injuries and no bye week since Week 4 took a toll. I also think the Packers run defense is a little more disciplined than the unit we saw early in the season.
Add in familiarity between these two coaches from the meeting earlier this season with two teams that don't play fast,  and I think a pre-game under is worth a small investment at anything over 45, but it'll be only a small investment as I'll be hunting to add more live.
If Green Bay gets off to that fast start, that will be a good chance to add more as we've seen its offense sputter over the final three quarters throughout the season. And if San Fran builds a lead, we know it'll go super conservative as it showed all season (and last week against Minnesota) when it gets up in the second half, relying on its defense to maintain a cushion.
Both teams actually rank in the bottom-10 in pace with a lead of seven or more points (per Football Outsiders).
I'd love to add to the live under much like I did during last week's Vikings-49ers game. The ideal line would be the key number of 51 or better.
Stuckey is 327-283-9 (53.6%) overall betting on the NFL. Follow his picks in our free app.
Raybon: Aaron Rodgers Under 238.5 Passing Yards (-118)
Much like it was against the Vikings last week, when they held Kirk Cousins to a listless 172 yards through the air — despite allowing a 41-yard touchdown by Stefon Diggs against subsequently-benched cornerback Akhello Witherspoon — the 49ers' ability to get pressure without blitzing will be the key to limiting Rodgers' passing yardage.
Rodgers vs. blitz: 148 att, 8.3 YPA
Rodgers vs. normal rush: 448 att, 6.7 YPA
According to Pro Football Reference, San Francisco blitzed at the fourth-lowest rate in the NFL (20.9%) during the regular season, while still generating pressure at the second-highest clip (28.7%).
Another key is the 49ers' ability to slow down Adams.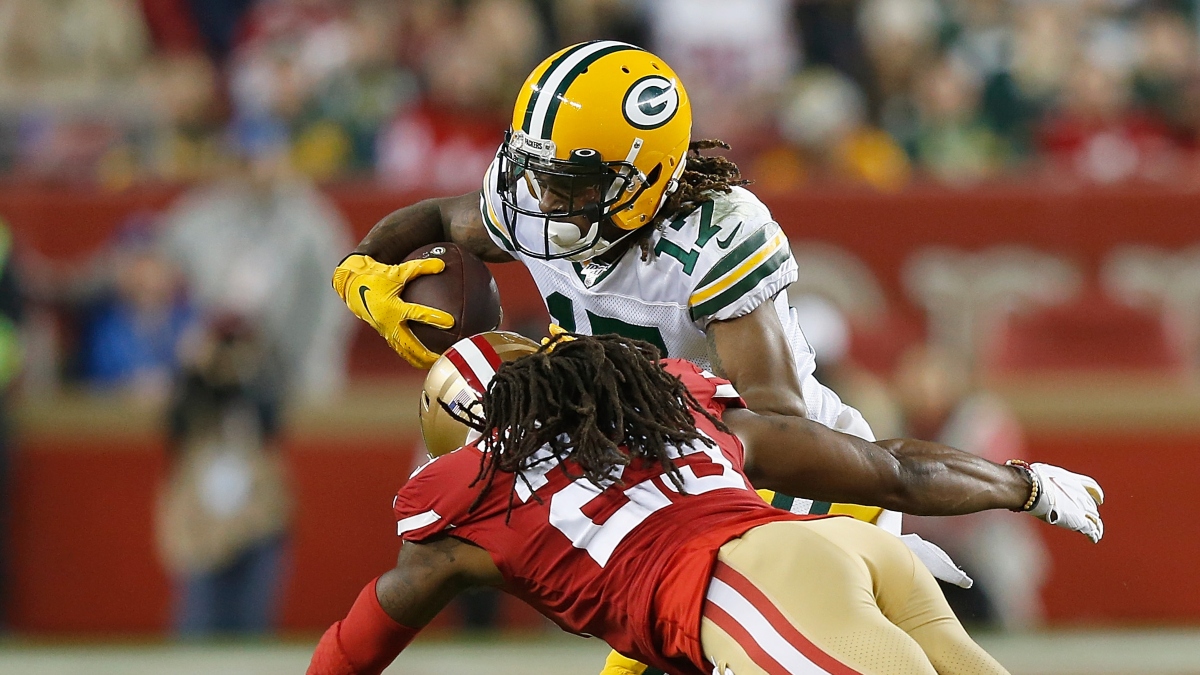 Despite a monster 160-yard performance from Adams in the Divisional Round that accounted for a ridiculous 66% of Rodgers' passing yardage, Rodgers would have cleared this prop by only 4.5 yards. Adams was also responsible for 36% of Rodgers' yardage in the 12 games the wide receiver was active during the regular season. But San Francisco allowed the fewest schedule-adjusted yards per game to No. 1 wide receivers (54.7), and held Adams to seven catches for 43 yards on 12 targets when these two teams met in Week 12. Rodgers managed only 104 yards on 33 attempts in that game, the lowest yardage total of his career in a game in which he attempted at least 23 passes.
Rodgers' efficiency also tends to dip on the road: He's averaging only 6.1 YPA on the road this season compared to 8.0 at home, and his career mark in away games (7.5) sits a half-yard lower than when at Lambeau (8.0).
Only four of 17 quarterbacks have gone over their passing yardage prop against San Francisco, including only two of nine when the now-healthy trio of Ford, Alexander and Tartt are all in the lineup together.
[In New Jersey, Pennsylvania, Indiana or West Virginia? Bet now at FanDuel]
Since Adams returned in Week 9, Graham has a median of two receptions and 17 yards. He is dust.
And strong safety Jaquiski Tartt is a tight end eliminator: Even though he missed Weeks 14-17, the 49ers were still No. 1 in the regular season with just 34.5 yards receiving per game allowed to tight tight ends and No. 2 against the position in pass defense DVOA.
Graham had just one reception and seven yards on two targets against the 49ers in Week 12.
Say goodnight, Gracie.
Freedman is 571-446-22 (56.1%) overall betting on the NFL. Follow his picks in our free app.
How would you rate this article?