Rams Fantasy Rankings, Projections, Analysis for Every Player
Credit:
Kelley L Cox-USA TODAY Sports. Pictured: Jared Goff, Todd Gurley, Cooper Kupp
See our experts' fantasy rankings, projections and analysis for every relevant Los Angeles Rams player.
Todd Gurley was the talk of the offseason before Ezekiel Elliott's and Melvin Gordon's holdouts. But what should we actually expect from him and the Rams' backfield in 2019?
Our analysts rank all the Rams' key players by scoring format, project their season-long stat lines and analyze their overall outlooks heading into the season.
Rams Fantasy Rankings, Projections
Jared Goff, QB
Pass: 352 comp | 545 att | 64.5 comp% | 4,437 yds | 29.4 TDs | 11.3 INTs
Rush: 39 car | 94 yds | 1.5 TDs
Todd Gurley, RB
Rush: 193 car | 882 yds | 10.1 TDs
Rec: 41 catches | 399 yds | 2.8 TDs
Darrell Henderson, RB
Rush: 93 car | 419 yds | 3 TDs
Rec: 32 catches | 281 yds | 1.6 TDs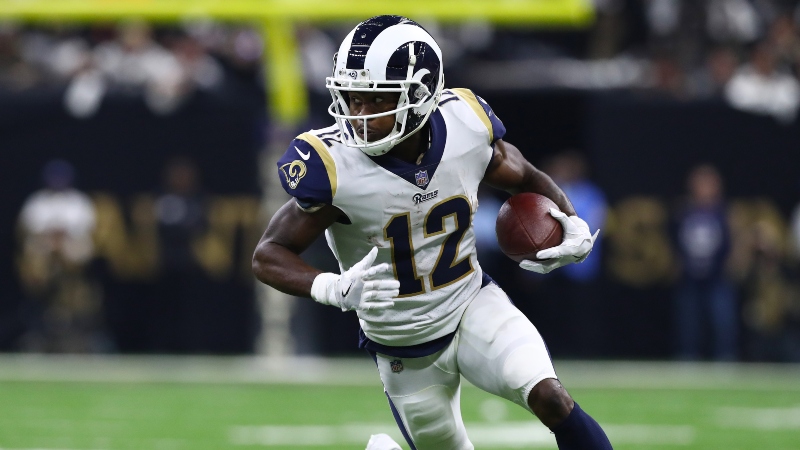 Brandin Cooks, WR
Rec: 70.2 catches | 1029 yds | 5.8 TDs
Robert Woods, WR
Rec: 66.9 catches | 930 yds | 5.6 TDs
Cooper Kupp, WR
Rec: 63.7 catches | 879 yds | 6.5 TDs
Gerald Everett, TE
Rec: 30 catches | 330 yds | 3 TDs
Tyler Higbee, TE
Rec: 18 catches | 205 yds | 1.4 TDs
Note: Projections as of August 22.
---
>> Get our experts' latest fantasy rankings and projections in our Draft Kit.
---
Rams Fantasy Outlooks
Chris Raybon breaks down Sean McVay's playcalling tendencies to forecast who will benefit most.
After feeding Todd Gurley 19.8 carries and 5.3 targets over the first 10 games of the season, McVay dialed it back to 12.6 carries and 3.3 catches over the last seven games (including just 10.0 carries and 2.3 targets in three postseason games) as Gurley's knee increasingly became an issue. Picking up Malcolm Brown's option and drafting Darrell Henderson in the third round provide hints about McVay's plan going forward. Brown is the clock-killer: Of his 106 carries in two seasons under McVay, 50% have come in the fourth quarter up by more than one score. Gurley has 47 over that span, so using Brown more in this role would allow McVay to chop 1.6 carries off Gurley's per-game workload. Henderson can replace Gurley in shotgun situations. While Gurley averaged just 2.8 yards per carry on 49 shotgun carries and 6.8 yards per target on 107 shotgun targets under McVay, scouting reports note it's where Henderson is at his best. That could theoretically cut another 4.0 touches per game from Gurley, though Henderson will likely be even more involved than that, considering that over the past 10 years, running backs drafted in Round 3 have averaged 9.4 per game. (The "Chris Thompson role" has been floated regarding Henderson, and Thompson handled 7.3 touches per game in McVay's final season in Washington.) All in all, McVay has the means to take anywhere from 5-11 touches per game from Gurley, who averaged 22.5 per game last season, without hindering the offense much, if at all. That would leave Gurley around 15 touches per game, which, using his per-touch fantasy scoring rates from last season, would net out to 17.7 PPR points per game (RB9 finish) and 14.9 standard points per game (RB10 finish).
One of the most underrated fantasy developments last season was the emergence of the jet sweep. Rams wideouts averaged 2.2 carries per game last season, which essentially tacked on a game of RB1 production to Robert Woods' stat line (19/157/1) and RB2 production to Brandin Cooks (10/68/1).
Cooper Kupp's ability to get open from the slot unlocks the best of McVay's play designs, forcing the defense to pick its poison among single covering one of the wide receivers or letting Gurley run free in the flat. The offense gets more efficient as a result: Kupp has a positive effect on the per-game splits of both Cooks (6.3-102.7-0.29 with Kupp, 4.5-60.6-0.38 without) and Woods (5.6-85.5-0.38 with Kupp, 5.1-66.9-0.38 without Kupp). Kupp's 2.26 yards per route from the slot in 2018 ranked 11th in the league, Josh Reynolds is virtually a non-factor inside (0.74 slot yards per route run), forcing Woods and Cooks to instead pick up the slack. Woods' yards per route run drops 2.61 outside from to 1.59 in the slot, while Cooks dips from 2.64 outside to 1.26 in the slot. No one benefits from Kupp's presence as much as Jared Goff, though: Goff averages a full yard per attempt more (8.3 vs. 7.3) with Kupp in the lineup over the past two seasons.
How would you rate this article?