Road Trips & Vegas Vacations: How To Bet Travel in the NFL
Cross-country travel in the NFL has turned from a disadvantage many years ago to what is now a more structured three-day excursion.
Not only has travel gotten easier for teams, but the mental and physical toll of traveling has eased over time.
Maybe the biggest travel advantage for bettors comes early in the season.

"First Class" Travel
Let's start with home-field advantage. Through the first eight games of the season, here are home teams against the spread records since 2019.
Home Teams ATS — Through First 8 Games Since 2019
2022: 56-64-1 ATS
2021: 52-72-1 ATS
2020: 58-68 ATS
2019: 50-72-2 ATS
Combined, home teams early in the season are an astounding 216-276-4 ATS in that span, a -14.9% return on investment for bettors.
If you take a look at the average spread for home teams over the past four years, that has dropped dramatically as well.
Average Home Point Spread — Past Four Seasons
2022: -1.5
2021: -1.8
2020: -2
2019: -2.5
To say it simply, home-field advantage across the NFL is hanging on by a thread.
Let's just look at home favorites as a whole in the NFL. Only four times in the past 20 years have home favorites been profitable for bettors across an entire season: 2017, 2013, 2007 and 2005.
In the past nine years, we've only seen ONE year show a profit for home favorites.
NFL Home Favorites By Season Since 2014: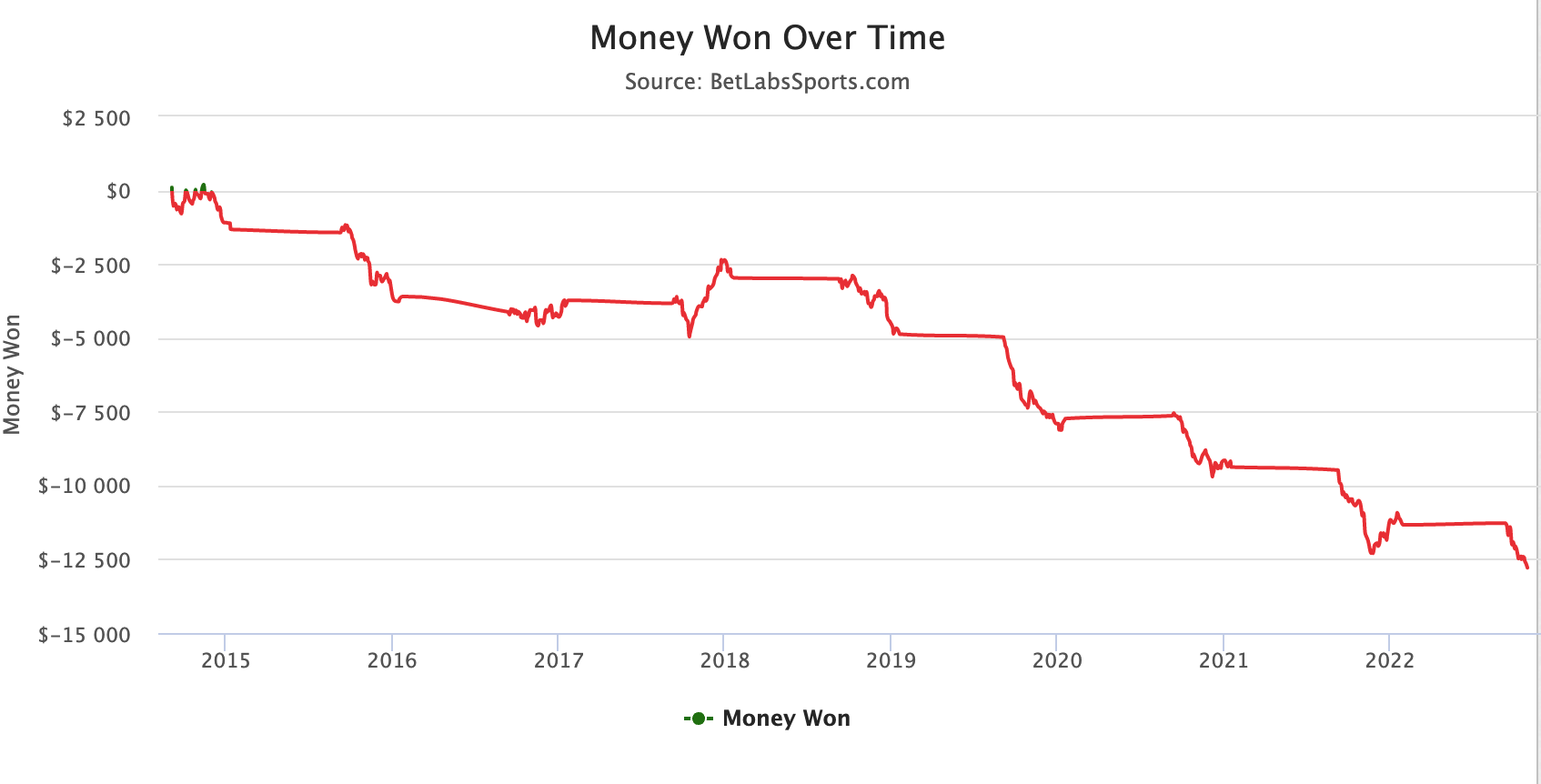 Quick Trip East …
Let's take a look at two profitable trends for this travel concept.
Mountain and Pacific Time Zone teams to play in Eastern Time Zone after playing their previous game at home.
These teams are 80-58-2 (58%) ATS in the past decade, including 4-0 ATS this season.
For this week, that would be the Chargers at Falcons and Rams at Buccaneers.
Mountain and Pacific Time Zone teams playing in the Eastern Time Zone.
These teams are 57-31-1 ATS (64.8%) since 2019.
For this week, that would be the Chargers at Falcons, Rams at Buccaneers and the Raiders at the Jaguars.
Avoiding The Night Cap …
Even though the travel disadvantage across the league has largely been neutralized, it doesn't mean there aren't certain spots where bettors can take advantage.
If you've visited Harry Reid International Airport, there's a good chance you've heard of the "Vegas Flu."
"Vegas Flu"

The sickness you come down with while in Vegas because you're partying way too hard. Rumored to effect away teams visiting Vegas.
The "flu" has impacted the NHL. Since the Golden Knights arrived on the scene in 2017, road teams have struggled with a little bit more time to enjoy the lifestyle.
Vegas is 111-61 (64.%) at home when their opponent has at least one day between their games (the sixth-most profitable home city in the league).
Since the Raiders moved to Vegas, it's been more of the same:
The Vegas Effect 🎰

+ Texans lost to the Titans today after playing in Vegas last week.

+ Teams after facing the Raiders in Vegas are now 6-16 ATS in their next game — losing their last 7 in a row ATS. pic.twitter.com/bYGI3Tghlb

— Evan Abrams (@EvanHAbrams) October 30, 2022
If we take a macro view and look at a collection of cities like Vegas, the advantage or disadvantage becomes even more interesting.
Let's start with this list: Atlanta, Las Vegas, Los Angeles, Miami, New Orleans and New York.
How do NFL teams perform after playing in a "party city"?
After playing on the road in the cities listed above, teams are 73-100-4 ATS since 2019 in their next game, including 29-47-1 ATS over the past two seasons.
When that road team coming off a game in a party city, plays on the road again, the results are even more staggering.
Unfortunately for this week, that puts us betting against the Las Vegas Raiders and the Carolina Panthers.
The Raiders are coming off a loss in New Orleans and are on the road again in Jacksonville.
The Panthers are coming off a loss in Atlanta and are on the road again in Cincinnati.
Teams playing consecutive road games, in which the previous road game was in a "party city", are 36-62-4 (36.7%) against the spread since 2015, including 2-5 SU and 2-4-1 ATS this season.
No single bet should be made on or against a team simply because of travel, but picking your spots week-to-week when it comes to road trips clearly has its advantages in the NFL.

How would you rate this article?
This site contains commercial content. We may be compensated for the links provided on this page. The content on this page is for informational purposes only. Action Network makes no representation or warranty as to the accuracy of the information given or the outcome of any game or event.