Seahawks vs. Vikings Betting Guide: What Run-Heavy Offenses Mean For Total
Credit:
Brad Rempel-USA TODAY Sports. Pictured: Minnesota Vikings running back Dalvin Cook (33).
Seattle Seahawks at Minnesota Vikings Betting Odds
Spread: Vikings -3.5
Over/Under: 41.5
Kickoff: 8 p.m. ET
TV: FOX
The Vikings host the Seahawks in one of two NFL Preseason Week 2 matchups on Sunday. Let's take a look at key storylines for both teams, complete with a betting pick.
Seattle Seahawks
The Seahawks have a type: Big, fast and athletic human beings.
They've taken this idea of stocking their roster with physically-intimidating monsters to another level at wide receiver
Tyler Lockett: 5-foot-10 and 182 pounds; 4.4-second 40-yard dash
Jaron Brown: 6-foot-2 and 205 pounds; 4.45-second 40-yard dash; 88th-percentile SPARQ-x athlete
DK Metcalf: 6-foot-3 and 228 pounds; 4.33-second 40-yard dash; 99th-percentile SPARQ-x athlete
David Moore: 6-foot-1 and 219 pounds; 4.48-second 40-yard dash; 96th-percentile SPARQ-x athlete
Amara Darboh: 6-foot-2 and 214 pounds; 4.45-second 40-yard dash; 77th-percentile SPARQ-x athlete
Gary Jennings: 6-foot-1 and 214 pounds; 4.42-second 40-yard dash; 95th-percentile SPARQ-x athlete
Jazz Ferguson: 6-foot-5 and 227 pounds; 4.45-second 40-yard dash; 27th-percentile SPARQ-x athlete
Lockett is the only undersized receiver on the Seahawks' projected final roster, and he's coming off a season in which he somehow managed to register a perfect 158.3 passer rating on 70 targets.
The league's most run-heavy offense might not make a habit of asking Russell Wilson to throw the ball 40 or even 30 times in a single game, but their copious amount of explosive receivers should continue to help Wilson function as one of the league's most efficient quarterbacks.
Minnesota Vikings
This might just be the season that Dalvin Cook cements himself as one of the best and most productive running backs in the league. He's certainly flashed that upside on several occasions over the past two seasons…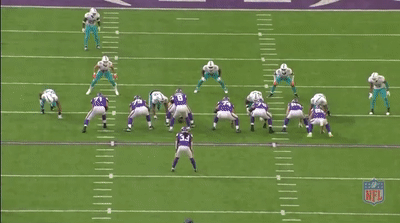 …and now Cook enters a cozy depth chart situation with only third-round pick Alexander Mattison serving as a legitimate threat to snaps.
Then again, it's tough to imagine Mattison finding a way to impact Cook any more than Latavius Murray managed to. The Vikings have largely shown little hesitation with featuring their 2017 second-round pick whenever he's been healthy enough to suit up.
Dalvin Cook has been a three-down back whenever healthy:

2017
Week 1: 78% snaps
Week 2: 57%
Week 3: 73%
<injured>

2018
Week 1: 80%
Week 2: 68%
<injured>
Week 9: 57%
<bye>
Week 11: 88%
Week 12: 59%
Week 13: 77%
Week 14: 86%
Week 15: 61%
Week 16: 75%
Week 17: 93%

— Ian Hartitz (@Ihartitz) April 29, 2019
The transition to run-first offensive coordinator Kevin Stefanski, combined with the addition of renowned running-back-whisperer Gary Kubiak, makes 2019 seem like an inevitable breakout year for Cook as long as he can maintain his health.
I think both offenses have enough firepower in the pass and run games to repeatedly take advantage of what figures to be a constant dose of unsophisticated defensive schemes.
PICK: Over 41.5
How would you rate this article?