Our Experts' Seahawks vs. Rams Betting Picks: SNF Spread & Prop Bets
Credit:
USA Today Sports. Pictured: Jadeveon Clowney (90), Jared Goff (16)
Our experts reveal how they're betting Sunday Night Football between the Seattle Seahawks and Los Angeles Rams.
Find Stuckey's and Sean Koerner's spread picks below, as well as one of the top player props of the week.
Seahawks at Rams Betting Picks
Odds: Pick 'em
Over/Under: 47.5
Kickoff: 8:20 p.m. ET
TV Channel: NBC
---
Odds as of Sunday afternoon and via DraftKings, where Action Network users get a risk-free bet up to $500.
---
The 7-5 Los Angeles Rams sit just outside the NFL playoff picture as the No. 7 team in the NFC while the Seattle Seahawks could clinch their playoff berth with a win on Sunday Night Football.
With the stakes in mind, how should you bet this NFC West showdown?
Our experts reveal how they're playing the primetime matchup, featuring two spread picks and one of the top player prop bets.
The 10-2 Seahawks head to Los Angeles to take on the 7-5 Rams, but Seattle has one of the most misleading records in the NFL.
Pete Carroll's bunch has a perfect 5-0 record in games decided by four or fewer points, and nine of their 10 wins have come by one possession. In fact, they're the first team in NFL history to have 10 wins in their first 12 games with an average scoring margin on three or fewer points.
Russell Wilson has been nothing short of spectacular, but the Seahawks could easily be 7-5. Just take a look at their first meeting in Seattle, when the Seahawks only won after coming back to take a late one-point lead made possible by the usually-reliable Greg Zuerlein missing a 44-yard field goal in the final seconds.
The Rams finished with a total of 477 yards at a clip of 7.1 yards per play compared to the Seahawks' 6.4 in that game. That should sound familiar as the Seahawks are a very mediocre +0.2 in terms of net yards per play on the season — 14th in the NFL. Conversely, the Rams rank third overall at +0.8.
That 29-point outing by the Rams offense was actually the fewest points they've scored in the past four meetings against their division rivals. They've put up an average of 34.75 points in those meetings, which all would've been wins if Zuerlein connected on that field goal.
This is a good matchup scheme wise for what Sean McVay wants to do on offense. And not only is it a favorable matchup on the back end, but Seattle doesn't generate a ton of pressure (30th in adjusted sack rate per Football Outsiders), which is how you throw Goff completely off of his game.
Why has Seattle been so fortunate?
Well, Wilson deserves some credit for his late-game heroics, but they're also running very well when it comes to turnovers — their 16 takeaways via fumble recovery leads the NFL — and opponent injuries. They've faced a number of backup quarterbacks and have benefited from a number of other key injuries. Just look at the past two weeks: The Eagles lost some key members of its offensive line and had their entire receiving corps out, and the Vikings not only didn't have Adam Thielen, but lost star running back Dalvin Cook and their starting tackle mid-game.
The Seahawks are a good, playoff-worthy team, but they aren't as good as their 10-2 record indicates, which is why there's value on this line against a Rams team that seemingly saved their season last week in Arizona.
I already mentioned the plus matchup for the Rams offense. And while Wilson will undoubtedly make his fair share of plays, their run defense should slow the Seahawks' rushing attack. Los Angeles ranks third in Football Outsiders' rush defense DVOA and is holding opponents to 3.7 yards per rush (third in NFL).
I also give the nod to the Rams in special teams. Maybe the Seahawks magic continues. but I'm willing to put my money up here that it doesn't.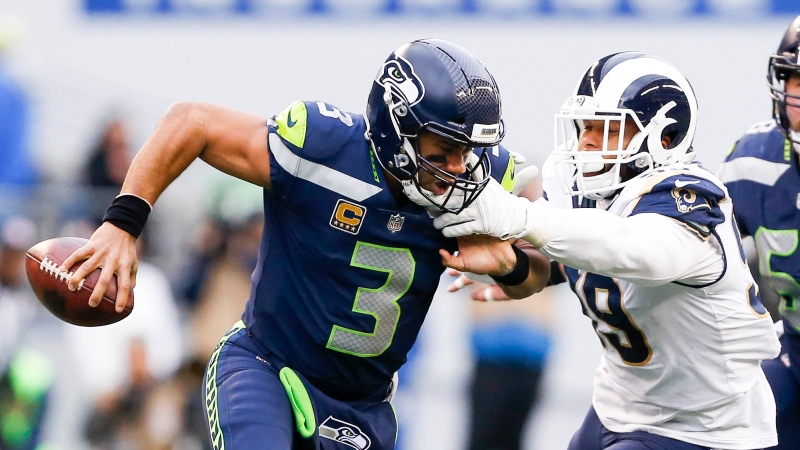 This number is just too good to pass up for a Rams team that will be looking to save its season with an extra day of prep and revenge on the mind. The two matchups to watch are Aaron Donald — who should be able to blow up the pocket against a very vulnerable Seahawks interior (specifically at center with Joey Hunt) — and Cooper Kupp in the slot. Both should have big days.
Stuckey is 296-234-7 (55.8%) overall betting on the NFL. You can follow him in our free app.
[In New Jersey, Pennsylvania, Indiana or West Virginia? Bet now at DraftKings]
This matchup is giving me a bit of deja vu of the Week 12 matchup between the Ravens and Rams. I bit on the Rams +3.5 at home and could tell about two  minutes into the game that it was a loser.
There's no reason to @ me on Twitter that the Rams are overrated and their offensive line stinks — trust me, I'm well aware of that. But the Rams will win this game if they can give Goff a clean pocket. The Seahawks have the fourth-worst pressure rate at 20.2%, so I think there's a chance Goff will have the time to operate.
The Rams also have a +3.1 edge in Pythagorean expected record differential over the Seahawks. A lot of that has to do with the Seahawks being 8-1 in one-score games this season, and while you can certainly make a case that Wilson playing at an MVP caliber is the reason for that, that type of record in close games involves quite a bit of luck.
Pythagorean wins can really help expose scenarios in which our collective perception of a team can be skewed based solely on to-date results. I'll be betting on that here with the Rams +1.
[In New Jersey, Pennsylvania, Indiana or West Virginia? Bet now at DraftKings]
Koerner is 134-92-2 (59.3%) overall betting on the NFL. You can follow him in our free app.
Mike Randle: Rams TE Tyler Higbee Over 3.5 Receptions (-143)
With Gerald Everett again ruled out with a knee injury, Higbee is a fantastic DFS or seasonal fantasy play at home against Seattle.
Higbee produced the overall TE1 performance last week against Arizona with seven receptions, 107 yards and one receiving touchdown. Seattle is the fifth-most generous team to opposing tight ends, allowing the third-most receiving yards.
We project Higbee for 4.1 receptions, which is 9% above his implied total of 3.8 receptions. I would bet this 7-rated prop up to -150.
[In New Jersey, Pennsylvania, Indiana or West Virginia? Bet now at DraftKings]
How would you rate this article?