Steelers vs. Bills Odds, Predictions, Week 1 NFL Pick: How To Find Betting Value On Buffalo As A Big Favorite
Credit:
Timothy T Ludwig/Getty Images. Pictured: Josh Allen.
Steelers vs. Bills Odds
Steelers Odds
+6.5  (-110)
Bills Odds
-6.5 (-110)
Over/Under
48.5
Time
1 p.m. ET
TV
CBS
Odds via DraftKings. Get up-to-the-minute NFL odds here. 
After a seven-month hiatus, the NFL will retake centerstage on Sundays yet again. The wait probably felt even longer for a Bills team that likely couldn't wait to get back on the field.
Buffalo won its first playoff game in 25 years last season. In fact, the Bills got as far as the AFC Championship Game before losing to the Chiefs, 38-24.
They'll begin the season at home against another playoff team, the Pittsburgh Steelers. Pittsburgh will look to bounce back after a disappointing finish to the season, where it won just one game of its final six games after an 11-0 start.
Steelers coach Mike Tomlin is widely regarded as a good NFL coach. For one, bettors are up 7.03 units lifetime if they backed him during the regular season.
But how has he fared in the curtain-raiser? I'll explore that and much more to get you ready for this Week 1 matchup.
Assessing football teams during preseason can be anecdotal at best. However, the Steelers did win their first three games before electing not to feature any notable players in their final preseason matchup. They finished 3-1 overall but did get a chance to trot out quarterback Ben Rothlisberger for a few series in the third game.
The 17-year veteran looked good in his lone appearance as he completed 8-of-10 passes for 137 yards and two touchdowns. But again, it was a preseason game, and the opponent he faced was a Lions team that not only went winless in its three preseason games, but it's also a team PFF ranks in the bottom tier defensively heading into the season.
That should provide us a bit of context before we go deeper.
Last season, I had the Steelers power rated in the top 10 in the league. This season, I've got them regressing toward the middle of the pack. There's still plenty of room for improvement as Pittsburgh's offense was often limited for multiple reasons.
First, the Steelers lacked the blocking up front to run the ball successfully. To combat that, they utilized designed screens to their backs to try to get the running game going, but that didn't work either. They also failed to stretch the field due to the limitations with Roethlisberger's arm strength. That led to quick passing plays, with Roethlisberger releasing the ball in less than 2.2 seconds — the fastest since PFF began tracking the metric in 2011. Now, the question for this season is whether the offense has resolved those four issues.
The natural place to begin our assessment is the offensive line. Last year, Football Outsiders ranked the Steelers at the league's bottom in their Basic Offensive Line Stats. Now, if we look at their projections for this season, courtesy of PFF, we'll find they're ranked 31st.
A big part of that is they'll have three new starters on the line following the retirement of center Maurkice Pouncey and the release of right guard David DeCastro before training camp. Their remaining options aren't necessarily elite with rookie Kendrick Green vying for a position and Chukwuma Okorafor (57.5 PFF grade) possibly playing left tackle. There's also right guard Trai Turner (34.8 PFF grade), who finished in the bottom three in his position last season.
Now that we've identified the shortcomings of the offensive line, let's shift to Roethlisberger, who finished 26th in intended air yards per pass attempt among quarterbacks with at least eight starts. This ties back to their offensive schemes that utilized the designed screens and quick passes because they couldn't throw the ball vertically behind opposing defenses.
Roethlisberger is already saying all the right things about how his arm feels great, but we also heard a similar claim before the 2020 season.
To the Steelers' credit, they did upgrade the running back position by drafting Najee Harris out of Alabama in the first round. But if we look at their preseason numbers, the Steelers ranked 28th with 3.3 yards per rush. Harris finished below their preseason average as he carried the ball 13 times for 42 yards (3.23 yards per rush).
Again, it's just the preseason. But if you're looking for something to hang your hat on as a Steelers fan, I'm not sure you've found it as of yet. Those stats don't sound like a running game that's completely solved at the moment.
---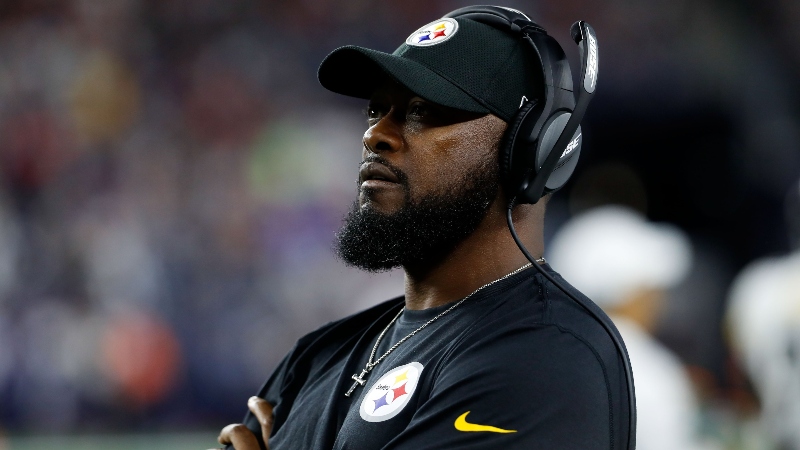 If you're looking for any takeaways coming out of the preseason, you're probably not going to get a better indication than what Buffalo did in its three games. Not only did the Bills go undefeated, but they also outscored their opponents 76-30. That kind of performance has to catch your attention and what it tells me is that this is a team that's well-drilled and ready to take the field in Week 1.
Like the Steelers, the Bills only played their starting quarterback in one game. But Josh Allen looked in midseason form as the California native completed 20-of-26 passes for 194 yards and two touchdowns.
Buffalo finished in the top five in my power ratings last year. The Bills are back in a similar spot this season, and I see no reason to make any adjustments at this point. Offensively, Buffalo also finished the season in the top five of Football Outsiders' Offensive DVOA. In fact, two of the top five teams played in the Super Bowl and four of the top five played in the conference championships.
We know the Bills fell short of the Super Bowl after losing 38-24 to the Chiefs in the AFC Championship Game. They started well and jumped out to an early 9-0 lead in the first quarter.
It wasn't Allen's best game by any stretch as he finished 28-for-48 with two touchdowns, one interception and a QBR of 52. However, the year-over-year progress he showed from 2019 to 2020 was enough to warrant a six-year, $258 million extension worth up to $288 million, with $150 million in guaranteed money. That's quite a commitment to a quarterback with only three years under his belt. But here's what Allen has done in his three seasons as a passer:
2018: 2,074 passing yards, 52.8% completion, 10 touchdowns, 12 interceptions (49.8 QBR)
2019: 3,089 passing yards 58.8% completion, 20 touchdowns, nine interceptions (49.4 QBR)
2020: 4544 passing yards, 69.2% completion, 37 touchdowns, 10 interceptions (76.6 QBR)
He's become a better quarterback every year in virtually every statistical category. Before he was drafted, Allen was regarded as a prospect with a big arm who could barely hit the broad side of a barn. So to improve to nearly a 70% completion percentage in this third season speaks not only to his development, but his character and willingness to put the work in. That's why he got paid handsomely by the Bills, and that's why bettors are rushing to back him to win this year's NFL MVP award.
Josh Allen (14-1) is now the biggest liability at @BetMGM sportsbooks to win NFL MVP.

Allen has the most bets (18%) and third-most handle (14%).

Tom Brady has over 26% of the handle.

— Ben Fawkes (@BFawkes22) September 6, 2021
Cody Benjamin of CBS Sports ranks the Bills eighth in terms of their offseason moves this summer. Through free agency, they added offensive weapons like WR Emmanuel Sanders (74.6 PFF grade) and RB Matt Breida (67 PFF grade). They also addressed their defense in the draft by selecting pass rushers Gregory Rousseau and Carlos Basham Jr.
Perhaps, more importantly, they were able to sign many of their own free agents at times, even at a hometown discount. There's a clear plan within the organization and the players see that. The Bills are one of the few teams in the league that probably don't have to do as much tinkering. Now, if they can avoid the injury bug, they should have a chance to be one of the frontrunners to contend for a title.
Steelers-Bills Pick
I'm not particularly sold on the Steelers just yet as I remain bearish on their offensive line, which is still very much a work in progress. The Bills are the team that looks further along this early on in the season. They've won and covered their last four games at home — all by double-digit scores.
Another worry for Pittsburgh could be if this game becomes fairly high-scoring. That would mean the defense hasn't done its job, and they'd have to lean even more on Roethlisberger's arm.
With so many moving parts for the Steelers at this point in the season, I checked to see if there was an angle I could exploit in Week 1.
Sure enough, they're just 3-7 against the spread in their last 10 games.
But I'm actually going to use that information to fade the Steelers as part of a six-point teaser. The Bills went 15-1 covering teasers last season, and I think they'll get the money here again. I'd pair them with the 49ers.
Pick: 2-team, 6-point teaser with Bills (-6.5 to -0.5) & 49ers (-8 to -2) at BetMGM
How would you rate this article?
This site contains commercial content. We may be compensated for the links provided on this page. The content on this page is for informational purposes only. Action Network makes no representation or warranty as to the accuracy of the information given or the outcome of any game or event.