BlackJack & Freedman: The Tom Brady vs. Greg Zuerlein Super Bowl 53 MVP Wager
Credit:
USA Today Sports. Pictured: Tom Brady, Greg Zuerlein
One is betting on the GOAT. The other is betting on ... a kicker? Yep.
See BlackJack Fletcher's and Matthew Freedman's side wager on who will win Super Bowl 53 MVP.
In case you missed it, I made the wonderful argument for Los Angeles Rams kicker Greg Zuerlein to win Super Bowl 53 MVP.
At +12500 odds.
I actually think this has a shot at happening. And if it does, I will be insufferably smug and significantly more monied, especially because BlackJack and I have just entered into a wager.
Don't Be An Idiot: Bet On Greg Zuerlein
Why am I betting against BlackJack? Because he recorded this video, and someone at the company decided to troll me via our official Twitter account.
When BlackJack has to sell one of his jackets to cover what he owes me when Zuerlein wins, maybe he'll be a little less cocky?
After I saw this tweet, we had the following exchange on Slack.
Freedman for Zuerlein vs. BlackJack for Brady
Freedman: You want to give me odds on Zuerlein to be Super Bowl MVP?
Fletcher: Whatcha thinking brother?
Freedman: Zuerlein is available at +12500. I wager $1 to win $125? I mean, I'm trying not to bankrupt you. In my mind, I don't see how he doesn't win. haha
Fletcher: How about when I win you can buy me a shot of Jim Beam next time you're in New York. If you win it's $150 to you.
Freedman: How much is a shot of Jim Beam in NYC? Like $5?
Fletcher: Bout that.
Freedman: Why would I go from $1 at 125:1 to $5 at 30:1? That's horrible.
Fletcher: Well I've gotta get a little honey on my stinger too brother.
Freedman: OK, what player do you want action on?
Fletcher: The golden boy of course.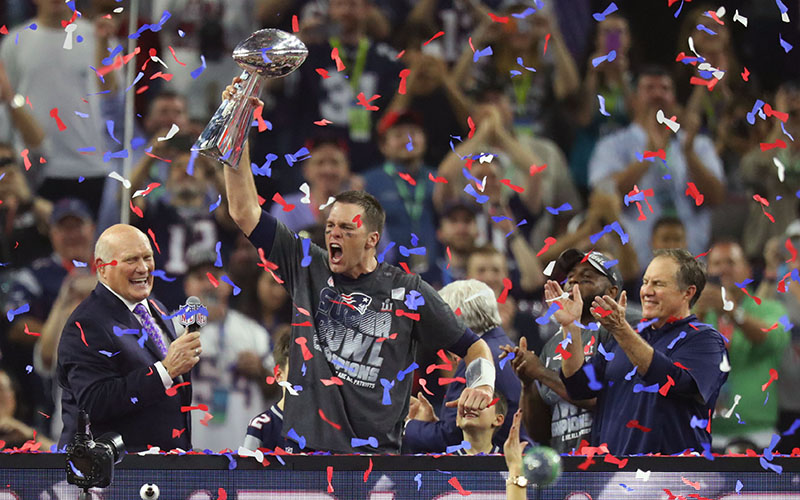 Freedman: Use the odds from the MVP draft piece we did? Brady +110, Zuerlein +12500?
Fletcher: Sure.
Freedman: How much do you want to bet?
Fletcher: Whatever tickles your fancy, huckleberry.
Freedman: OK, wasn't sure how much exposure you wanted if you've already bet Brady's player props and MVP odds.
I'll do $1 to win $125, what do you think sort of evens it out on your end from a risk/reward perspective? You risk $113.64 to win $125?
Fletcher: Sounds like a deal.
Freedman: Boom, let's do it. I've never felt so good about losing $125.
Fletcher: Lol. This is a bizarre move my man.
Freedman: Yeah, it's officially time for me to stop betting on the Super Bowl.
---
So to recap…
If Zuerlein Wins MVP: Freedman Wins $238.64
If Brady Wins MVP: BlackJack Wins $126
If Neither Wins MVP: Freedman Wins $112.64
---
Matthew Freedman is the Editor-in-Chief of FantasyLabs. He has a dog and sometimes a British accent. In Cedar Rapids, Iowa, he's known only as The Labyrinthian.