Bales' Favorite Super Bowl 54 Prop Bets: Safety, Touchback, More for Chiefs vs. 49ers
Credit:
Michael Reaves/Getty Images. Pictured: Patrick Mahomes, Jimmy Garoppolo
There's an edge in Super Bowl props.
These aren't NFL spreads and totals. The limits are lower, and — especially in the Super Bowl — a bunch of donkeys are firing on a whim just to get action. The books aren't putting tons of time into setting these lines, the market isn't robust enough to quickly correct props that are wrong, and they very often aren't updated as quickly as they should be.
I believe that will change in the future as a younger generation of bettors begins focusing on player-centric bets, but for now, there are inefficiencies.
Further, although the vig is usually high on props, it doesn't matter (sort of).
When I say that vig doesn't matter, I mean that you can't just label both sides of a bet "bad" because the juice is crazy, which it often will be on prop bets (especially those on low-probability events). The vig doesn't change whether a bet is good or bad; it just decreases the odds of one side of a prop being +EV.
And if you think about it, why would the odds on one side of a bet affect if the other side is sharp? Yes, the vig can be a lot higher on props, but the lines can also be off enough that you can still find +EV sides. So if I'm betting on whether there will be a safety in the Super Bowl, I'm snap-firing "no" at -900 regardless of whether "yes" is +600 or +200.
With that said, let's get to the bets.
Note: Odds via Westgate and as of Tuesday. As always, shop around for the best number.
Will There Be a Safety? NO (-900)
The odds on this bet are the same as last year when I recommended it. A big reason for that is because no one really wants to lay huge odds — betting a lot to win a little, even if the bet is correct.
Vegas is going to get a bunch of bets on big underdogs just because it's more fun, and while they're highly concerned with accuracy on bets like the spread and total, getting it "right" on this one is less important with most bets likely coming in on "yes."
There's been a safety in-between 1-in-13 and 1-in-14 NFL games over the past five seasons — an implied line of about +1250. I really have no good reason to think there's a significantly better or worse chance for a safety in this game than any other, and thus anything in the -900 range is likely an +EV bet.
I would bet this up to -1200.
[Bet now at William Hill. NJ only.]
Will There Be a Missed Extra Point? YES (+300)
This bet is interesting because I think games see a missed extra point more often than people might believe.
The two most important factors in determining the probability of a missed extra point are, of course, the kickers' accuracy and the number of attempts they figure to take.
Harrison Butker and Robbie Gould are both above-average kickers. Butker has connected on 95.2% of his career extra-point attempts, while Gould has hit 94.1% since the league moved back the try.
The league-average is somewhere around 93-94%.
Based on the current total, we should expect somewhere between six and seven extra-point attempts on Sunday. Below, I've charted the probability of one being missed based on six or seven attempts and various accuracy rates for the kickers.
Given that we only need a 25% chance of a missed extra point for this bet to be breakeven, it looks pretty decent.
I would bet this down to +285.
[Bet now at DraftKings. NJ, PA, IN and WV only.]
Will the First Kickoff by Harrison Butker Result in a Touchback? YES (-170)
Butker recorded a touchback on 61.2% of his kickoffs this year — right around the league-average, which wouldn't make this a bet. His rate jumped to over two-thirds of his kickoffs when on the road, however. Further, Hard Rock Stadium was top-10 in touchback rate despite the Dolphins' kicker having the sixth-worst average kickoff distance in the league.
I'm confident Butker's real probability of a touchback is higher than the 63.0% needed to break even as he moves to a more friendly kicking environment.
I would bet this up to -220.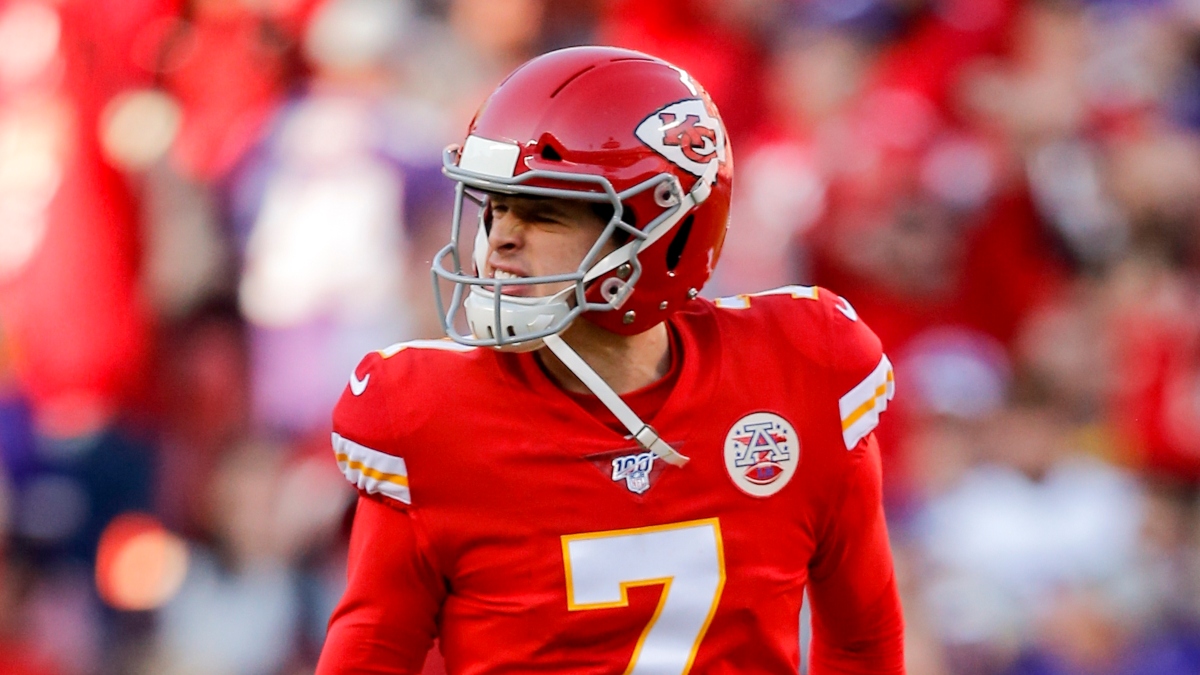 Emmanuel Sanders Over 2.5 Receptions (-130)
Westgate is offering some of the best odds on the over for Sanders' receptions. My colleague Sean Koerner has Sanders projected at 3.7 receptions, making this one of the better player props in our FantasyLabs Player Props Tool.
I would still bet the over on 3 receptions to -130.
Blake Bell Over 1.5 Receiving Yards (-110)
This is basically just a bet on if Bell will catch a pass.
Including the playoffs, he's caught at least one pass in just seven of 17 games, but seven of his 10 catches on the season have been over the past five games. His only four multi-target games on the year also came over that stretch.
FantasyLabs has Bell projected at 11 yards. I would bet this up to -140.
George Kittle (+1.5) More Receiving Yards than Travis Kelce (-110)
My colleague Matthew Freedman summed up this bet nicely in his Super Bowl props article: Kittle and Kelce have effectively been a toss-up in yards per game over the past two seasons, but Kelce is facing the league's stingiest defense to tight ends this season, whereas Kittle gets a Chiefs' D that yielded the sixth-most yards to tight ends.
There are better odds outside of Westgate, but they're giving 1.5 additional yards to Kittle. I would bet this up to -130.
How would you rate this article?