Super Bowl Betting Strategy: Chiefs vs. Buccaneers Prop Bets, MVP Picks & More
Credit:
Mark Brown/Getty Images
Player prop bets. Longshot MVP picks. The over/under.
Our NFL analyst breaks down his Super Bowl betting strategy.
Find all of his picks for Chiefs vs. Buccaneers outlined below.
NFL betting analyst Raheem Palmer breaks down his betting card for Super Bowl 55. Find out how he's betting the Chiefs-Buccaneers total below followed by his 17 favorite props as well as two MVP picks.
---
Super Bowl Over/Under
Over 56
While many people are expecting a lower-scoring game, as Super Bowls tend to be more about defense, I think we can see a higher-scoring game than the market indicates. In their Week 12 game, these two teams put up a combined 960 yards of offense with the Chiefs putting up 7.5 yards per play and the Buccaneers putting up 7.6 yards per play.
Looking back, these teams performed well under expectation despite the Buccaneers not getting anything going offensively until this game was all but over, as the Chiefs held a 27-10 lead before the Buccaneers scored two touchdowns in the fourth quarter to cover the spread.
Bruce Arians knows that they'll have to be much more aggressive in order to beat this Chiefs team, so you can expect a faster start from this Buccaneers offense which has really found their footing after their Week 13 bye. Since then they've played seven games, averaging 34 points per game, only scoring less than 30 points once — a game against the Minnesota Vikings in which the Vikings controlled the time of possession 39:03-20:57 — and they still managed to score 26 points.
On the Chiefs' side of the ball, their point output is truly correlated to many of the props I'm playing, specifically Mahomes over 40.5 passing attempts and Darrell Williams Under 30.5 yards. We just aren't expecting the Chiefs to run the ball very often against a Buccaneers defense that's first in stopping the run and has Vita Vea back in the lineup. If the Chiefs are passing the ball more, that should lead to more points.
I only like this up to 56.
Super Bowl Player Prop Bets
Patrick Mahomes Over 40.5 Pass Attempts (-165)
The Chiefs throw the football. That's their bread and butter and it's been the key to their success, as they have the 10th-highest pass vs. run ratio in the league at 62% pass to 38% run.
If you have Patrick Mahomes as your quarterback, you certainly wouldn't look to #EstablishTheRun or play three-yards-and-a-cloud-of-dust football like it's the 1950s, especially against a Buccaneers defense that ranks first in rushing success rate (34%), EPA (-0.180) and is allowing just 3.8 yards per carry — the lowest among NFL teams.
It's no coincidence that in their Week 12 win over the Buccaneers, Mahomes threw a season-high 49 passes. The issues on the Chiefs' offensive line with the absence of left tackle Eric Fisher and right tackle Mitchell Schwartz should lead to more passes, and we should see less five-step drops, shorter passes and more methodical drives.
In 10 of his 16 games this season, Mahomes has thrown the ball 40 or more times. The games in which he didn't throw the ball 40 or more times typically meant it was a blowout, there were weather issues or they were attacking an opponent's weakness and inability to stop the run, like they did in their Week 1 game against the Houston Texans. That won't be the case in this matchup as the Buccaneers have a youth-filled secondary with rookie Antoine Winfield Jr., Jordan Whitehead, Sean Murphy-Bunting and Carlton Davis, who are all under the age of 24.
The way to beat this team is to pass, so I expect Mahomes to go over 40.5 passing attempts, which you can still get at DraftKings.
I'd play this up to 41.
Patrick Mahomes Over 19.5 Rush Yards (-122)
This is another prop that's correlated. The Chiefs are missing Fisher and Schwartz while still being a pass-heavy offense, and that should create opportunities for Mahomes to run. This proposition is priced lower than it should be based on the perception that his turf toe injury is still impacting him. While he did rush for just 5 yards in the AFC championship game against the Buffalo Bills, that was two weeks ago in a game that wasn't competitive midway through the second quarter.
The Buccaneers have a solid pass rush and are prone to blitz, so we should see Mahomes have opportunities to run here. He's hit this total in nine out of his 16 games this season so it's clear he's hitting this more often than not.
FanDuel is offering the best line as of Saturday at 19.5 (-122).
I would play this up to 20.
Darrel Williams Under 30.5 Rush Yards (-110)
This proposition is correlated with the Mahomes over 40.5 passing attempts proposition. While Williams rushed 13 times for 78 yards against the Browns in the AFC Divisional Round and 13 times for 52 yards against the Bills in the AFC Championship, he'll be facing the toughest matchup of the postseason this week.
With the Buccaneers holding opposing teams to just 3.8 yards per carry and a rushing success rate of 34%, I don't think he'll have the same success in this game. Also with Clyde Edwards-Helaire having a few weeks to get healthy, we may see running back by committee with him and Le'Veon Bell this week.
Something worthy to note is that Aaron Jones, Melvin Gordon, Alvin Kamara, Josh Jacobs, David Montgomery, Cam Akers and Todd Gurley have all failed to hit 30 yards against this Buccaneers defense. I'm not seeing Williams going over this prop.
I'll take Darrel Williams under 30.5 rushing yards, which you can get at FanDuel as of Saturday.
I'd play this down to 30.
Ronald Jones Over 8.5 Rush Attempts (-112), Over 35.5 Rush yards (-110) & Most Rush Yards +275
Jones may not be a pass-catcher, but he is their workhorse out of the backfield. He's had more than 8.5 carries in 13 of their 16 games. The Buccaneers are top 10 in run vs. pass ratio (56%/44%) on first downs and I expect that to continue against a Chiefs defense that ranks 29th in rushing success rate (45.7%) and gives up 4.5 yards per carry.
I would play the over on his attempts up to 9 and his yards up to 39. You can get the former at DraftKings for 8.5 (-112) and the latter at FanDuel for 35.5 (-110).
The +275 odds on him to finish with the most rushing yards are available at DraftKings.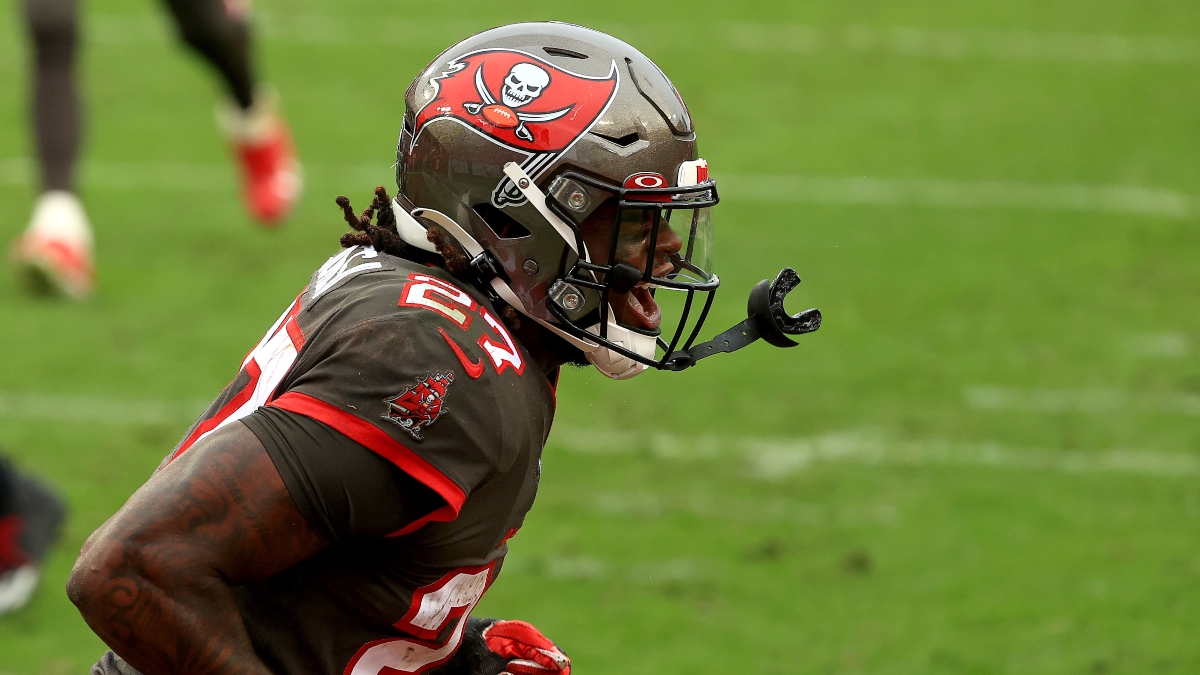 Leonard Fournette Over 3.5 Receptions (-135)
The Buccaneers are loaded with an embarrassment of riches to catch passes from Tom Brady, including Mike Evans, Chris Godwin, Antonio Brown, Scotty Miller, Rob Gronkowski and Cameron Brate.
Despite that, guess who's second in targets in the postseason? RB Leonard Fournette, who has 17 targets and 14 receptions over the last three games against the Washington Football Team, New Orleans Saints and Green Bay Packers.
In Arians' risk-it-no-biscuit offense, Brady leads the league in Intended Air Yards (9.5) but the strength of his game is still the short passing game that he executed in New England with James White and Dion Lewis.
Ronald Jones hasn't been a factor in the passing game this postseason, as he has just one target and zero receptions during the past three games. It's clear Fournette is the safety net and checkdown option for Brady in this offense, so he should have no problem hitting this over which he's hit every game of this postseason.
I would play this only at 3.5, which you can still get at BetMGM.
Super Bowl Touchdown Props
Patrick Mahomes First TD +2200 & Anytime TD +300
The Chiefs have actually scored the first touchdown in 10 of their 18 games. Mahomes and Hill have each scored three of those 10 touchdowns.
It's hard not to like Mahomes because he's always a threat to score anytime the Chiefs are in the red zone. Flash back to last year in Super Bowl 54: Darwin Thompson was stopped at the 1-yard line on first down, and the very next play Mahomes scored on a keeper. With the absence of Fisher and Schwartz on the offensive line, we can assume that Mahomes will be under more pressure, meaning he'll be making more plays with his legs.
I also don't see him throwing deep much, and if this team methodically moves the ball down the field with less explosive plays, the Chiefs may find themselves in a similar situation to last year where they have the ball inside the 5-yard line with a chance to score. With the Chiefs not having a true goal-line back, Mahomes typically gets touches.
BetMGM is offering the best odds on him to score first (+2200) and anytime (+300) as of Saturday.
Rob Gronkowski Anytime Touchdown +220
Who on this team does Brady trust more than Gronkowski?
With Brate coming into this game with a questionable tag, the opportunity is there for Gronkowski to receive some of the targets that Brate has been getting in the red zone the last few weeks. Given Brady and Gronk's rapport, this feels mispriced.
I'll take a shot here with FanDuel offering +220 as of Saturday.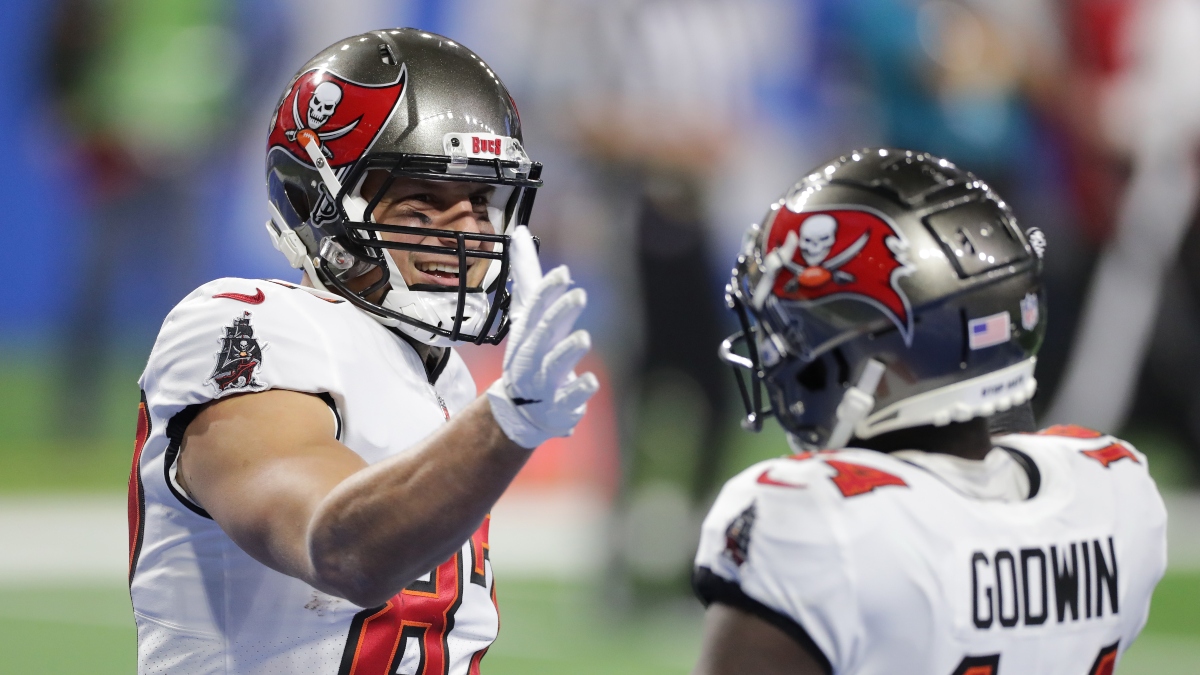 More Super Bowl Props
Will a Bradley Pinion Punt Result in a Touchback? No -350
I heard this one on a podcast with Gil Alexander from VSIN and found it interesting. This would fit under the bill of a bridge-jumper prop. While these props require a bigger bankroll, they often have a positive expected value. Nonetheless, you have to determine how you manage the risk vs. the reward. While your average recreation gambler wants a bigger return for a smaller risk, there are many pros who don't mind laying a big price for something that's almost certain to happen.
In this case, the Buccaneers have punted 55 times this year with just two touchbacks. Given the aggressiveness of Arians, it's likely we won't see the Bucs punt from anywhere near the 50. If the Bucs punt, it's more likely we'd see them punt from their own territory.
Doing some math on this… 53/55 = 96.3%. If we assume that Tampa will punt three times in this game and take 96.3% to the third power, we're looking at around 10%, which means that 90% of the time this shouldn't end with a touchback. With this being priced at -350 — (350/(350+100)) = 77% — we're looking at a +EV wager should be inclined to lay the heavy juice.
This is available at FanDuel as of Saturday.
Buccaneers to Record First Sack -135
In their first matchup against the Bucs, the Chiefs threw the ball 83% of the time in the first half. The Buccaneers have the 10th-highest run vs. pass ratio on first down.
The Buccaneers will simply have more opportunities to get sacks given the amount that the Chiefs throw, and when you consider the absences on their offensive line vs. an aggressive Bucs defense, I see Tampa getting a sack first.
You can get this at -135 at William Hill.
I'd play this up to -140.
Highest Scoring Half: 2H (-134)
The market is telling an interesting story. The first-half total opened at 28 and has since been steamed down to 27.5, which tells us that many of the sharpest bettors throughout the market are expecting a slower start to this game.
Historically, Brady's Patriots have started slow in Super Bowls, scoring just one field goal and zero touchdowns in the first quarter throughout his first nine Super Bowls. Given the Buccaneers' tendency to run on first down and the Chiefs' absences on the offensive line leading to shorter drops, I'm expecting both teams to start slow before this game opens up in the second half. I like more points to be scored in the second half than the first half.
This line is available at Sugar House as of Saturday.
MVP Bets
Shaquil Barrett +5000
Kansas City's offensive line is depleted.
In the fourth quarter of the AFC Championship, left tackle Eric Fisher tore his Achilles tendon, which doesn't bode well for a line that's been without right tackle Mitchell Schwartz since Week 6. The Chiefs now face a Buccaneers pass rush that's fourth in sacks (48), third in pressure rate (27.8%), and just sacked Aaron Rodgers a season-high five times. The absence of left tackle David Bakhtiari loomed large for Rodgers in the NFC Championship: He was pressured on 16-of-55 dropbacks (29%), completing just 50% of passes with a 60.4 passer rating when under pressure.
Mahomes may be the NFL's best quarterback, but he certainly isn't immune to pressure.
Mahomes' 71.5% completion rate on 8.5 yards per attempt with a 116.4 passer rating when not facing pressure drops to 48% on 6.3 yards per attempt with a 74.3 passer rating when under duress. When you also consider that 10 of his 25 interceptions since 2018 have happened under pressure, it's clear that the key to a Buccaneers' victory is generating pressure and that the Super Bowl will be decided by how well the Chiefs' offensive line plays.
In Super Bowl 50, Von Miller destroyed former Broncos offensive lineman and current Chiefs right tackle Mike Remmers to sack Cam Newton 2.5 times, hit Newton twice and force two fumbles en route to winning MVP. How incredible would it be to see history repeat itself here? I'm expecting a similar performance from this Buccaneers defensive line, so I'll be betting on them. And with my first pick, I'm selecting Barrett — he had three sacks, two tackles for loss and four quarterback hits in the NFC Championship.
Added: You can buy Barrett's MVP odds for +5000 at DraftKings as of Saturday.
Jason Pierre-Paul +8000
The same reasoning that supported my Barrett pick earlier applies here, too. The Chiefs offensive line is depleted and we're betting on the Buccaneers' two best edge rushers to dominate this game and lead them to the win.
JPP was second on the team in sacks with 8.5 this season and had two sacks, two tackles for loss and two quarterback hits in the NFC Championship. There's a chance he could make a similar impact this week.
You can get JPP for +8000 at FanDuel as of Saturday.
---
Bonus Prop Bets
First punt: Buccaneers -120 (up to -140)
Buccaneers' third-down conversions: Over 5.5
Total sacks by the Buccaneers' defense: Over 2.5 (+120)
Total penalties accepted: Under 11.5 (down to 10.5)
How would you rate this article?