Super Bowl Prop Bets For Chiefs vs. Buccaneers: A Patrick Mahomes Under, A Trio of Receiving Picks, More
Credit:
Getty Images. Pictured: Chiefs QB Patrick Mahomes
Sean Koerner, our Director of Predictive Analytics, is breaking down his favorite prop bets for Super Bowl 55 as he makes them. Find his latest below.
You can also download this player prop calculator here.
---
Total TD Yardage Under 115.5 Yards (-120)
I set up a way to simulate this prop 10,000 times based on each team's touchdown distances from the 2020 season against their touchdown odds for the Super Bowl. I am right in line with the market in terms of projected touchdowns with 6.7, but I found that the median total touchdown yardage we should expect is closer to 95.5 yards.
The total number of yards ended up fewer than 115.5 in 63% of my simulations.
I would bet the under 115.5 yards down to -150, which BetMGM is offering at -120 as of Friday. The number/price for this prop varies a ton from book-to-book, though, so be sure use my Player Prop Calculator to enter whatever number/price you have access to in order to calculate the edge.
Patrick Mahomes Under 28.5 Completions (-124)
My projection of 329.5 passing yards is slightly higher than the market, which has settled at 325.5 yards.
It's hard not to love Mahomes in this spot: The Chiefs will lean on him even more against a pass funnel defense like Tampa Bay's unit. However, a four-yard difference isn't enough to trigger a bet — that's why I find it interesting that my projections are showing quite a bit of value in him going under his completion prop.
Mahomes is averaging 12.1 yards per completion this season, which if you multiply that by 28 completions, would be 339 yards. Think of this prop as a sneaky way to take under 339 yards. He has cleared 28.5 completions in only 6-of-17 games this season (35%).
I'm projecting him to go under this number about 59% of the time, which is worth a bet at -124, which is available at DraftKings as of Thursday.
Leonard Fournette Most Rushing Yards (+175)
The majority of my Super Bowl prop bets are on unders. That's no coincidence: Sportsbooks are getting significantly more money on the overs — to be fair, who wants to root for a player to do nothing? Still, many of these props are inflated as a result, exposing some value on unders.
That said, there are other ways to bet on big performances from certain players. This prop is a good example: I consider it as a unique way to bet on Fournette's over.
I'm bullish on Fournette and Ronald Jones against the Chiefs, who rank 31st in Football Outsiders' defensive DVOA against the run — they practically invite teams to run against them. As a result, the Bucs should continue to ride "Playoff Lenny," who should get 2-3 more carries than Jones in this game.
On the other side of the ball, I don't expect the Chiefs to run much. When they do, it's likely to be an even 50/50 split between Clyde Edwards-Helaire and Darrel Williams. Taking Fournette at +175 is also a way to bet against both Kansas City running backs here.
My fair odds for Fournette to lead the Super Bowl in rushing yards is +135. I would only bet this down to +150, but DraftKings is offering +175 as of Thursday.
Travis Kelce Most Receiving Yards (+260)
Like my reasoning for Fournette above, I consider this as a sneaky way to bet on Kelce's over.
I am right in line with his yardage prop at 95.5 yards. However, he and Tyreek Hill are more likely to have ceiling games with the Chiefs lacking a true No. 3 receiving threat.
The Bucs spread the ball around much more, making it more difficult for Mike Evans, Chris Godwin or Antonio Brown to hit their ceilings.
I have Kelce's fair odds to lead the game in receiving yards closer to +170 and would bet it down to +210. FanDuel is offering it at +260 as of Thursday.
Tyreek Hill Under 7.5 Receptions (-137)
Like with Mahomes' props, I'm showing slight value on Hill's receiving yardage over, but a ton of value on his receptions under. One way to think about those seemingly conflicting positions is that I'm expecting more explosive plays from each player — i.e. more yards on fewer completions/receptions.
Both of their unders are not as simple as "fading Mahomes and Hill." In fact, an 80-yard touchdown connection would be a good thing for both of these unders.
Hill has cleared this number in only 5-of-17 games (29%). However, it's notable that one of those games was his 13-catch performance against the Bucs in Week 12 and that he's gone over this total in each of his past two games with 8 and 9. I'm projecting him for 6.8 receptions.
You can get this under at -137 at DraftKings as of Thursday, but I would bet that down to -150.
Sammy Watkins Under 3.5 Receptions (-134)
Watkins was able to practice on a limited basis on Thursday and should be able to suit up for the big game. I'm projecting him to return to his typical role, which will be about 75% routes run per dropback.
The reason I love his under is the possibility that he's limited to a 50-70% routes run rate. Demarcus Robinson, Mecole Hardman and Byron Pringle are more than capable of stepping up for Watkins if he's limited.
I'm projecting Watkins at his ceiling and still showing a fair price for this prop at -150. It's available at -134 at DraftKings as of Thursday, but I'm willing to bet it down to -170.
---
» Go to my Super Bowl Prop Betting Calculator
---
Scotty Miller Under 20.5 Rec Yards (-105)
Antonio Brown returned to a limited practice on Wednesday then participated in full on Thursday, making him likely to suit up on Sunday. His return will cut into Miller's playing time, which I'm projecting to be around 35% routes run per dropback.
When a deep threat like Miller sees a significant drop in playing time, it creates even more value on their under.
I'm projecting him for 1.3 receptions, which seems to be in line with the market, with his over 1.5 receptions set at +130 and under at -162. Why the heck do they have his yardage prop at 20.5 though?
There's a 27.3% chance, based on my player prop simulations, that he doesn't finish with any catches and we win!
If he has one catch, which is the most likely scenario based on my simulations (35.4% of the time), we would still win about 75% of the time because 28 of his 37 receptions this season were under 20.5 yards.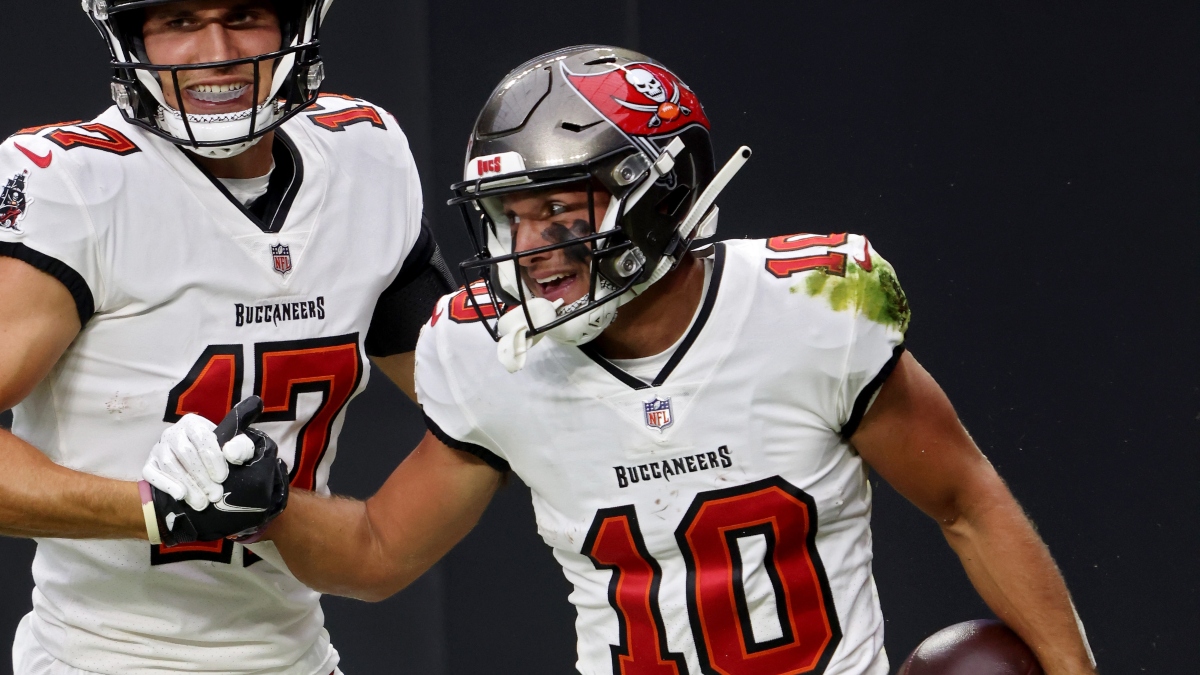 Even if he has more than one catch, we would still have a chance: My simulations give him a 9.8% chance of hauling in two or more passes and remaining under 20.5 receiving yards.
All of that adds up to a 12.6% edge on his under.
There's still a bit of risk when locking in this prop considering Brown may not be healthy enough to play his usual 50-60% routes run. Because of this, I would be willing to bet this down to only -140. You can get -105 at FanDuel as of Thursday.
---
The following props were added before Thursday and odds may have changed.
---
Bradley Pinion Longest Punt Under 54.5 Yards (-120)
The Super Bowl is the only game each year that features a handful of punter props to bet on, and I happened to find one offering quite a bit of value.
Pinion has cleared 54.5 yards in only 7-of-18 games this season (39%). I realize that's a small sample size and that there may be some explanation as to why his line was 2-3 yards higher than I would expect, which is why I dug a bit deeper and looked into his 2018 and 2019 seasons as well: He cleared 54.5 yards in only 8-of-32 games (25%) over that span.
That means he's gone under this number at a 69.4% rate over the past three seasons.
I would set his line closer to 52.5 yards. Every yard you can get in this market is massive — each is worth ~6-7% of an edge in the 50-55 range. I would bet the under 54.5 down to -150 juice as well as down to 53.5 yards. FanDuel is offering the under at 54.5 (-120) as of Wednesday afternoon.
Darrel Williams Under 2.5 Rec (-130)
This is the first Super Bowl player prop to immediately stand out.
The Chiefs' backfield will be very tricky to project since they're likely to use the "hot hand" approach with Clyde Edwards-Helaire and Darrel Williams.
Williams averaged 60% routes run with CEH out of the lineup in Week 13, Week 16 and the Divisional Round. By contrast, Williams averaged 21% routes run in the past three games with CEH in the lineup (Week 14, Week 15 and the AFC Championship). For the Super Bowl, I'm projecting Williams to be in the 35-40% range, which would place his projection closer to 1.7 receptions.
The other variable that adds value to this under is the availability of Le'Veon Bell. He was inactive for the AFC Championship due to a knee injury but should be available for the Super Bowl. I'm not expecting Bell to see more than a few snaps, but if he ends up getting more playing time than anticipated, it would only eat into Williams' usage.
The juice on this under has already moved, but BetMGM is still offering it at -130 as of Thursday afternoon the week before the Super Bowl. I would bet it down to -180.
How would you rate this article?