Grading Super Bowl WR/CB Matchups: Will Tyreek Hill Face Richard Sherman?
Credit:
Peter G. Aiken/Getty Images. Pictured: Tyreek Hill, Richard Sherman
Wide receiver-cornerback showdowns might be the most important individual matchups in football.
In this piece, I leverage snap data from Pro Football Focus to project Super Bowl 54 WR/CB matchups.
For more, see the FantasyLabs Matchups page, where we provide basic and advanced data — including fantasy and red-zone performance — for each offensive skill-position player based on his matchup.
I'll update my WR/CB projections as the Super Bowl approaches.
Super Bowl WR/CB Matchups: 49ers vs. Chiefs
49ers WRs: Since joining the 49ers in Week 8, Emmanuel Sanders has been the ostensible No. 1 wide receiver, but he's been out-produced by rookie Deebo Samuel, who has had a very 2018 D.J. Moore-esque performance with 47-722-2 receiving and 14-200-3 rushing in his 12 games with Sanders.
Kendrick Bourne is locked in as the No. 3 wide receiver, but despite his six touchdowns this year, he's rather unreliable. He played just 14 snaps in the NFC Championship because the team leaned on the running attack and used fullback Kyle Juszczyk instead of a third wide receiver for most of the game.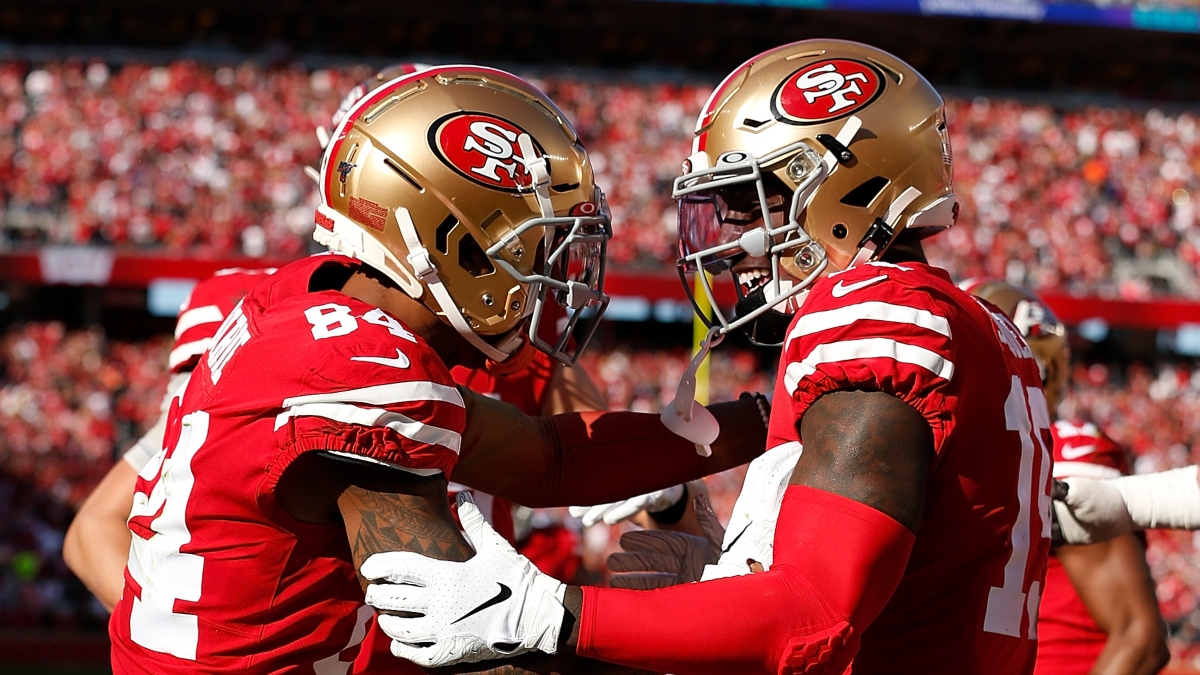 Chiefs CBs: Because of the Week 17 injury to safety Juan Thornhill (knee, IR), regular slot corner Kendall Fuller has played at free safety over the past two games, and backup Rashad Fenton has started in the slot. They are likely to play in those same roles in the Super bowl.
Despite being a sixth-round rookie, Fenton has been solid in limited usage, allowing a catch rate of just 53.8%. He might be better than the typical backup.
The Chiefs have a solid yet nondescript group of corners in Bashaud Breeland, Charvarius Ward and Fenton. In the regular season, they were No. 6 in Football Outsiders' pass defense DVOA and specifically Nos. 3 and 7 against opposing Nos. 1-2 wide receivers (per Football Outsiders).
No team held opposing wide receiver units to fewer receptions and yards receiving than the Chiefs did with 9.4 and 119.3 per game in the regular season.
This is by no means a favorable matchup for the 49ers wide receivers, who might see limited volume anyway if the 49ers get out to a lead.
Chiefs WRs: Against the Titans in the AFC Championship, the Chiefs used Tyreek Hill heavily in the slot in order to move him away from No. 1 cornerback Adoree' Jackson and get him matched up with exploitable slot corner Logan Ryan. Given that Hill had a 5-67-2 receiving performance on seven targets, I'd say that tactic worked.
The Chiefs might use him similarly in the Super Bowl to ensure that he avoids No. 1 cornerback Richard Sherman.
Then again, Sherman as a physical press corner has struggled at times with small-and-fast receivers, so the Chiefs actually might line Hill up against Sherman more than we'd anticipate, knowing that he has the ability to get deep on him.
My sense, though, is that the Chiefs will want Hill to avoid Sherman for most of the game. When they played each other in Week 3 of the 2018 season, Hill ran only 17.8% of his routes lined up wide to the right.
All the receivers regularly move across the formation, so it's hard to project where Hill will line up most, but I expect he will face cornerbacks other than Sherman for most of the game.
Sammy Watkins is locked-in as the No. 2 wide receiver, and last week he put together his best game since Week 1 with a 7-114-1 breakout. He will continue to play the supermajority of the snaps, but in the No. 3 role, Mecole Hardman appears to have overtaken Demarcus Robinson.
Last week, Hardman played more snaps than Robinson for the first time in over two months. Robinson will continue to rotate in, and they will likely have something close to a 50/50 split, but I give the edge to Hardman, a dynamic slot playmaker with the ability to stretch the 49ers defense down the seem with his speed.
49ers CBs: As expected, former starter Ahkello Witherspoon played on special teams this past weekend after his Divisional Round benching, and the 49ers rolled with backup-turned-starter Emmanuel Moseley on the perimeter opposite left corner Richard Sherman.
Collectively, Richard Sherman, Moseley and slot cornerback K'Waun Williams are a strong triumvirate of pass defenders, and the 49ers are No. 1 in PFF coverage grade.
With Patrick Mahomes, the Chiefs wide receivers are always capable of getting yards, but this is a tough all-around matchup.
Super Bowl 54 WR/CB Matrix
I take a cautious approach to injured players I expect to be questionable or out. If by the Super Bowl it seems likely that they will play, I will include them in my updates.
Pos = left, right or slot WR or CB
Projected shadow matchups are CAPITALIZED
WR Exp = Wide Receiver Expectation: I rank from 3 to -3 how much I think we should adjust expectations for wide receivers based on matchups. 3: Large upgrade. 2: Medium upgrade. 1: Small upgrade. 0: No change. -1: Small downgrade. -2: Medium downgrade. -3: Large downgrade.
Thanks to Scott Barrett for providing me with some of PFF's historical data.
How would you rate this article?