The Problem With Fading Trendy Dogs in the NFL Playoffs
Credit:
Bill Streicher-USA TODAY Sports
At the Action Network, we preach a contrarian approach to sports betting. That means buying on bad news (teams after a blowout loss) and selling on good news (fading the Cavs after a win this season: 20-9 ATS). These tactics allow us to exploit public perception and take advantage of inflated lines.
Historically, the public likes to lay the chalk (favorites) because it's fun to cheer for winners. Oddsmakers understand this tendency and force squares bettors to take bad numbers on popular sides.
Using the Bet Labs database, we found that at least 50% of spread bettors have taken the favorite in 79.6% of all regular season NFL games.
Favorites get pounded at a similar rate across all the major sports (NBA, MLB, NHL, college basketball and football). What's interesting is that the pattern doesn't hold in the postseason.
Since 2003, at least 50% of spread bettors have taken the favorite in the NFL Playoffs in just 58.5% of games. Why the difference? Many recreational gamblers believe that a team must be talented and well -coached to make the postseason. If this is true, then it reasons to take the points and expect a competitive game.
Since squares are more willing to bet on underdogs in the playoffs, the contrarian approach is to back favorites getting little public support (45% or less of the bets). This strategy has worked in every major sport's postseason except…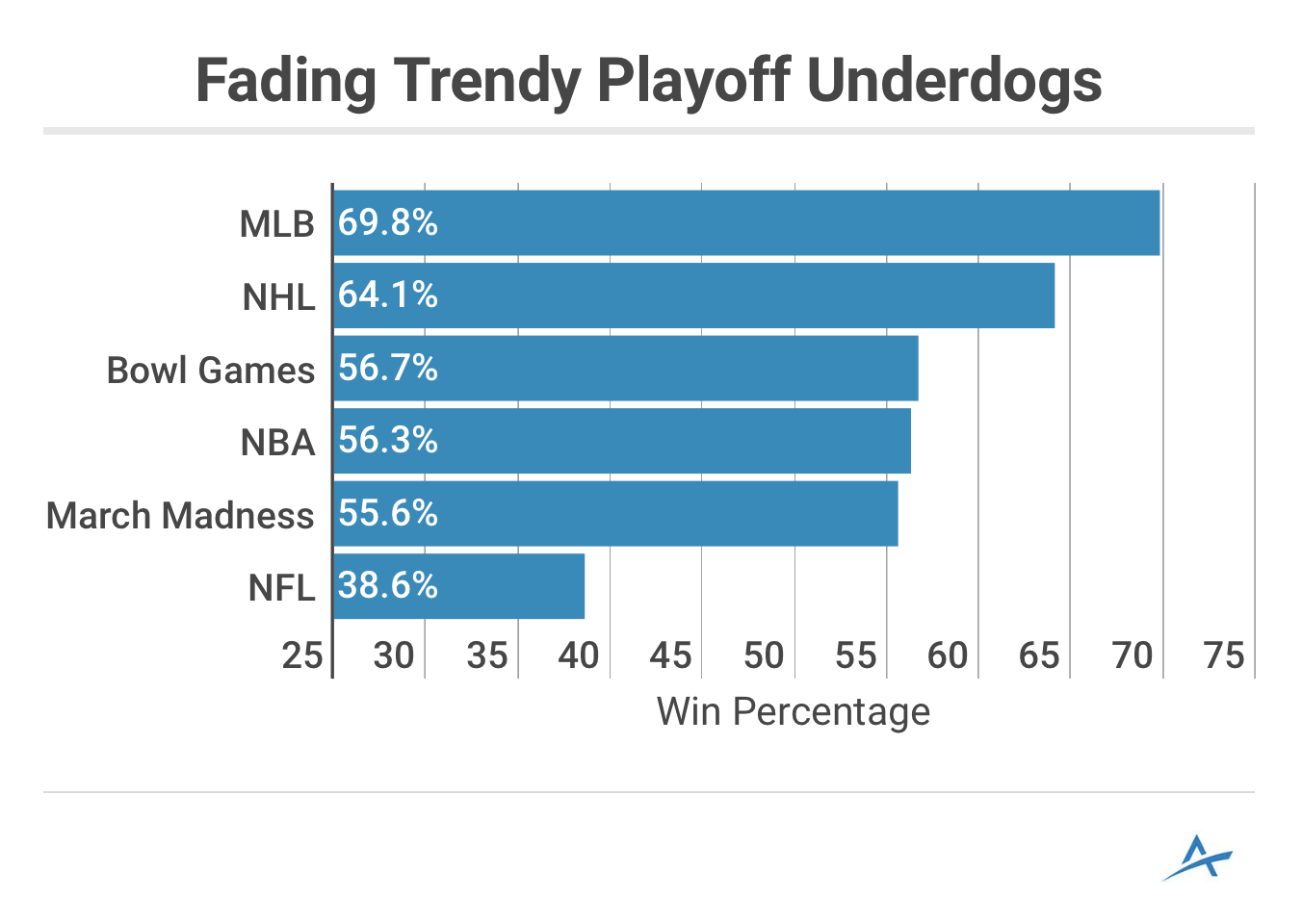 That's right, fading trendy underdogs has been a profitable strategy in every sport but the NFL. In the five other major sports, betting against popular dogs in the playoffs has combined to go 387-269-15 (59.0%) on the moneyline (for MLB and NHL) and spread since 2003. A $100 bettor would be up $7,614 taking this approach.
In the NFL Playoffs, this strategy doesn't work. Underdogs receiving 55% or more of spread bets have gone 27-17-1 ATS. Is there something unique about the NFL postseason that makes popular underdogs more likely to cover than in other sports? Not that I can think of. Instead, I propose the difference is merely an error in sample size.
It has been profitable to take trendy dogs in the NFL playoffs but across the smallest sample of sports we track (45 games), which doesn't compare to a combined 671 games in MLB, NHL, NCAAF bowls, NBA and the NCAA tournament.
At the time of publication, 55% of spread tickets are on the Eagles +4.5. On Sunday we will find out if betting trendy underdogs continues to be an outlier in the NFL or it starts to regress to the mean.
Photo via Bill Streicher-USA TODAY Sports
How would you rate this article?
This site contains commercial content. We may be compensated for the links provided on this page. The content on this page is for informational purposes only. Action Network makes no representation or warranty as to the accuracy of the information given or the outcome of any game or event.