Vikings vs. Seahawks Odds & Pick: Your Guide To Betting Sunday Night Football
Credit:
Getty Images. Pictured: Russell Wilson, Kirk Cousins
Russell Wilson has been money in primetime with a 64.7% rate of covering the spread at night. But can you trust him as a touchdown favorite after a 4-0 start against the spread?
Stuckey takes a closer look at how the Seattle Seahawks match up with the Minnesota Vikings, analyzing the betting odds before making his pick.
Vikings vs. Seahawks Betting Odds
Odds as of early Sunday and via DraftKings. Get up to a $1,000 sign-up bonus at DraftKings today or see more offers and reviews for the best online sportsbooks.
---
The Seattle Seahawks will look to keep in rolling on Sunday night, seeking a 5-0 start for the first time in franchise history.
The Minnesota Vikings, meanwhile, haven't enjoyed as pleasant of a start to the 2020 season, picking up its first win last week in Houston. This is a huge swing game for the Vikings as there's an enormous difference between starting 1-4 and 2-3.
Let's take a closer look at this NFC showdown.
The Sunday Night Football Narrative
Let's first take a trip to Narrative Town since that's all you'll hear about leading up to the game.
I mean who would want to back Kirk Cousins in primetime against Russell Wilson? Just look at these against the spread (ATS) numbers for each respective quarterback at night:
Wilson: 22-9-3 ATS
Cousins: 7-15 ATS
That includes Seattle covering at home last December in primetime against the Vikings. But I only care about a trend if there's some causation. Does Wilson try harder at night? Is 9 p.m. past Cousins' bedtime?
I chalk all of that up to randomness.
I can just as easily give you other trends that would make Minnesota look like the play. For example, head coach Mike Zimmer owns an impressive 26-17 ATS record as an underdog in his career.
Let's revisit that meeting at the end of the 2019 season.
Cousins and Wilson finished that matchup with fairly similar stat lines in a 37-30 win for the Seahawks. It's worth noting that Dalvin Cook left that game early with an injury, Adam Thielen didn't play and the Vikings turned the ball over four times in their own territory if you include one turnover on downs.
Plus, that line closed at Seattle -2.5/-3. Has that much really changed between these two teams?
Sure, Wilson is playing at an MVP level, tying Peyton Manning's single-season record of 16 passing touchdowns through a team's first four games. However, that's nothing new for Wilson.
This is pretty much the same Seahawks team as 2019. And yes, they seem to be letting Russ cook earlier than usual, but the defense has struggled mightily, partly due to injuries.
Three of Seattle's wins have come against the Falcons, Cowboys and Dolphins — a trio that features some of the worst NFL defenses and has combined for two wins: The Cowboys over the Falcons and the Dolphins over the Jaguars — Seattle's victories over Dallas and Atlanta look worse with each passing week. And the Seahawks' fourth win came against the now 2-2 Patriots, who fell one yard shy of pulling out the road victory.
The Seahawks still have plenty of flaws in the trenches on both sides of the ball and on the back end of the defense.
Meanwhile, the Vikings have lost to the Packers, Titans and Colts — three teams with one combined loss.
Statistically, the Vikings and Seahawks have fairly similar profiles. They each feature very good offenses that rank in the top five in yards per play and defenses that have struggled over the first month. Seattle has allowed 6.6 yards per play (bottom-five in NFL) while Minnesota has given up 6.3. From a net yards per play perspective, both clubs sit at +0.4.
The biggest difference between these two clubs is the public perception.
Minnesota Is Trending Up
I came into the season with plenty of concerns about the Vikings, who I downgraded pretty severely after their Week 1 loss to the Packers. I had serious questions about the offense without Stefon Diggs and major doubts about a defense with so much inexperience at cornerback and meaningful attrition up front.
Well, after the past two weeks, the Vikings deserved a positive bump in large part due to rookie wideout Justin Jefferson. The former LSU product looks like the real deal. In fact, he's actually tied with Diggs for the most 20-yard receptions (8) so far this season. Jefferson also leads the NFL in yards per route run at 3.7.
I now have much more confidence that the Vikings once again have two bona-fide threats on the outside.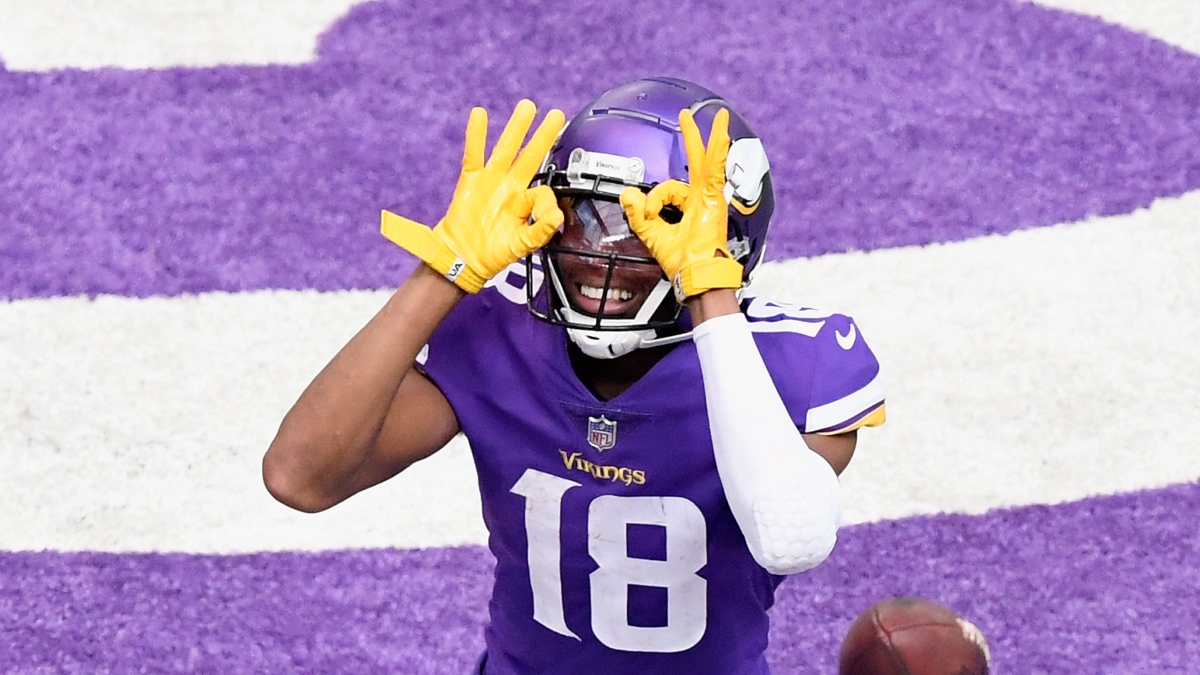 Another reason for the positive bump has to do with a play-calling shift last week against Houston.
Curiously, the Vikings refused to call play-action at a high frequency over the first three weeks. However, last week, something clicked with Zimmer and Gary Kubiak. After the first few drives, they started throwing the ball more on first downs and went play-action on 50% of their offensive play calls — up from 20% over the first three weeks.
That will lead to more efficient offense in general, but that's especially true when you have Cook, who leads the NFL in rushing yards and broken tackles, and Cousins, who thrives in the play-action game.
This wasn't just a fluke, either — it was a directive from Zimmer to Kubiak, per this quote from the Minnesota Star Tribune:
"I told Koobs during the game, I said, 'Go ahead and be aggressive here, don't worry about throwing the football,'" Zimmer said. "They were trying to load up on us to stop the run and I said, 'Don't be afraid to throw the ball.'"
That's a good sign moving forward. The apparent sudden awakening of the coaching staff combined with Jefferson's breakout gives me much more confidence about this offense.
The offense still isn't perfect but it has top-10 potential. The offensive line has improved outside of guard where the Vikings really miss Pat Elflein. Per Pro Football Focus, guard Dru Samia has graded 763rd of 763 players who have taken a snap in 2020. However, as a whole, this unit has done a superb job in run blocking.
The progress in the second year of Kubiak's zone scheme is evident.
They have struggled in pass protection (30th Adjusted Sack Rate). However, that's not a concern against Seattle's nonexistent pass rush (bottom-five in Adjusted Sack Rate). Plus, the shift to more play-action should help compensate for some of the pass protection issues.
Minnesota's defense is still a work in progress under Zimmer. The offseason losses of Everson Griffen and Linval Joseph combined with Michael Pierce's decision to opt out left the cupboard bare on the interior. The situation became even more dire when the Vikings placed Danielle Hunter on IR.
Cornerback was also an area of concern after Minnesota essentially revamped that entire group in the offseason. Injuries also haven't helped, but it looks like two rookies are their best options on the outside in Cameron Dantzler and Jeff Gladney. On the bright side, the Vikings' corner play was very poor last season  and the rookies should improve with experience. Gladney actually played pretty well against Houston, which he can certainly build on.
Additionally, the Vikings' late offseason signing Yannick Ngakoue has started to look more comfortable after a few weeks of action.
With a strong linebacker and safety group, the outlook for this defense gets a lot rosier if Gladney can give them anything on the outside and Yannick can generate some pressure. Hunter's eventual return should also provide a boost.
Regression Looms for Seattle
Seattle has benefited from playing three of the worst defenses in the NFL so far this season. That said, its red-zone touchdown scoring percentage of 86.67% is completely unsustainable. For reference, the Seahawks finished around 65% over the past two seasons and 55% in 2017.
No team has ever finished an NFL season at over 80%.
Now, Seattle will actually have to face a very competent red-zone defense. Minnesota has allowed touchdowns on only 41.18% of opponent trips inside the 20, second in the NFL. That's nothing new for a Zimmer defense that ranked second in 2019, third in 2018 and third in 2017 — all at under 45%.
The Seahawks have also benefited from extreme turnover luck. Despite immense struggles on defense, they rank second in both takeaways and interceptions, which has led to an unsustainable +5 turnover margin through four games.
Yes, Wilson won't really turn the ball over, but no team (except for the 2015 Panthers) can realistically maintain a +1 or greater per game turnover margin average, especially with a poor defense. I project Seattle at around 0.7 for the season. The Patriots under Tom Brady were the long-term gold standard at slightly over 0.8 during his time in Foxboro.
On the other hand, Minnesota has only three takeaways — and only Philadelphia and Dallas have a worse turnover differential.
The Vikings have also been the unluckiest team in the NFL in terms of hidden special teams points by a wide margin, per Football Outsiders. That measures things out of their control, such as opponent field goals, kickoffs and punts. You can generally expect regression in that department.
I could go on and on about the breaks Seattle has gotten this season — see: the zero penalties against the Dolphins for the first time in a game this decade as an example — but I'll save the ramble. Just know the regression monster is coming for Pete Carroll's crew.
Vikings-Seahawks Pick
After further examination, the Vikings are not as bad as their 1-3 record and are trending in the right direction, while Seattle's perfect 4-0 record overall and ATS is a bit misleading.
I'm sure Russ will cook up some explosive plays against the raw Minnesota corners, but remember this matchup was lined at Seattle -2.5 last December in primetime with fans. Now, it's +7?
Look, I've bumped Seattle and downgraded Minnesota since then, but I still only make this game Seattle -4.8.
Ultimately, I just need to avoid a Seahawks win by more than one possession — something they rarely do as, over the past three seasons, 16 of their past 18 wins came by a single possession.
I took +7.5 as soon as I saw it earlier in the week and still love anything at a touchdown or greater — let's just hope All Pro Eric Kendricks can give it a go after missing practice this week.
PICK: Vikings +7 (or better)
[Bet $1 on the Vikings +7 at BetMGM and win $100 if there's a touchdown]
How would you rate this article?