Week 16 Fantasy Football Mailbag: Can Gardner Minshew Step Up in Place of Jalen Hurts?
Credit:
Mitchell Leff/Getty Images. Pictured: Philadelphia Eagles quarterback Gardner Minshew.
In this special edition of the Week 16 mailbag, I primarily address concerns related to Jalen Hurts, whose outlook for this week and beyond is murky amid bombshell injury news yesterday.
Will Minshew-mania descend on AT&T Stadium come Saturday afternoon? We shall soon find out.
Want personalized lineup advice? Have start/sit questions? Want me to adjudicate dicey league disputes? Email sprevite@bettercollective.com with your questions each week to be featured in this article.
---
Impact Of Jalen Hurts Injury
How Will A.J. Brown Fare Without Jalen Hurts?
@JoeDellera asks via Twitter: "How much should we expect A.J. Brown's production to change without Jalen Hurts?"
Samantha: Brown's fantasy value will take a hit, but perhaps not as much as you would think.
First, Brown spent his first three seasons catching passes from primarily Ryan Tannehill with some Marcus Mariota sprinkled in — neither of which inspire much fear offensively.
Second, Gardner Minshew — while a massive step down from Hurts — is still one of the league's better backup quarterbacks. He was serviceable as the Jaguars' starter briefly and as the Eagles' starter for two games last year.
He led the team to a victory over the Jets in Week 13, as tight end Dallas Goedert racked up 105 yards and two touchdowns. Even if Goedert — who is designated for return from injured reserve — does play, there's a good chance he ends up on a snap count.
Brown should be considered the No. 1 option on this offense and still a WR1 in Week 16 against the Cowboys.
All Is Fair In Fantasy Football And War
@Full_Slate_Pod asks via Twitter: "Fantasy football hypothetical (I know no one cares): my opponent this week has [Jalen] Hurts and no backup. How much of an a**hole am I if I grab the top two QBs on the waiver wires that I don't need. Simply to block him from doing so. D*** move or fair play?"
Samantha: First off, I care.
Second, NTA (not the a**hole). This is fantasy football — not Miss Congeniality — and defense can win championships.
Just recently, I used some of my remaining FAAB on a receiver I definitely had no intention of starting just so my opponent — who had less remaining FAAB — could not pick them up and start them against me.
This is a completely fair move in any league, and whether it's pride, money or a trophy on the line, it's your competitive prerogative to use any means necessary to defeat your opponent — especially in the playoffs.
You have my blessing to go wild and pick up any of the quarterbacks they might want.
Worried About DeVonta Smith
@elmachino asks via Twitter: "DeVonta Smith ([with Gardner] Minshew) or Hollywood Brown ([with God] knows who)….also have to decide what to do at QB if Lamar [Jackson] is OUT (play [Brock] Purdy or…….Taysom Hill)"
Samantha: Smith and Purdy for me.
The delta between Minshew and (likely) Trace McSorley is significant. Smith has three straight games with 15 or more fantasy points in half-PPR scoring and has double-digit fantasy points in five of the last six games. He's the overall WR18, while Brown has not really been fantasy relevant since returning from injury.
Smith should be considered a WR2 this week, while Brown falls into the WR3/flex tier.
Purdy is a borderline QB1 this week after finishing as the QB8 and QB14 in back-to-back weeks. He has been extremely impressive since taking over for Jimmy Garoppolo and faces a middle-of-the-road Washington pass defense.
I actually love Hill this week — but as a tight end. He should see a hefty workload on the ground with temperatures projected to be below freezing, but Purdy gives you significantly more guaranteed points.
---
Jalen Hurts Replacement Questions
SOS! Lost Jalen Hurts And Kyler Murray!
@LASportsRadio asks via Twitter: "Jalen Hurts out. I need a QB and my backup was Kyler Murray lol. [Gardner] Minshew, [Andy] Dalton, [Russell] Wilson top 3 available."
Samantha: Oof. That is some suboptimal luck.
Of those three, I would have to go with Minshew. He started two games for the Eagles last season — one in Week 13 and another in Week 18. He was the QB10 in his first start against the Jets and the QB17 in his second start against the very Cowboys he will be squaring up against this week, so that really feels like his floor this week — especially given how improved this Eagles offense is with the addition of A.J. Brown.
The Cowboys have been a tough matchup all year but were just lit up by the Jaguars in their upset loss. Minshew should be considered a high-end QB2/low-end QB1 in this matchup, assuming he starts.
Dalton is going to be playing in a game in the frigid cold that has an over/under of 32 points as of writing. I do not expect a ton of fantasy points to come out of that one.
And as far as Wilson is concerned, there's no guarantee he will even play, as he's still in the concussion protocol. The Rams are no easy matchup either and have allowed the ninth-fewest fantasy points to the position this year.
This will be another low-scoring game (over/under of 36.5), and even a fully healthy Wilson is far from a sure bet.
Looking For A Jalen Hurts Replacement Rest Of Season
@Steph_Kort asks via Twitter: "Replacing [Jalen] Hurts [rest of season]…[Derek] Carr, [Matt] Ryan, [Sam] Darnold, [Kenny] Pickett, [Gardner] Minshew?"
Samantha: Minshew is my favorite of this group (see explanation above).
Carr is apparently terrible in the cold weather, which is exactly what's predicted for Saturday's Christmas Eve spectacular against the Steelers.
Per FantasyPros, "Derek Carr is 0-6 when the temperature at game time is below 37 degrees. The Raiders have not scored more than 20 points in any of those games, and he has never thrown multiple touchdowns in those games."
Ryan couldn't even score more than 11 fantasy points in a game in which the Colts scored 33. He has exactly three top-12 finishes all season — the most recent of which came in Week 10 against the Raiders.
Darnold has a sweet matchup, but back-to-back QB20 finishes don't exactly spark much optimism.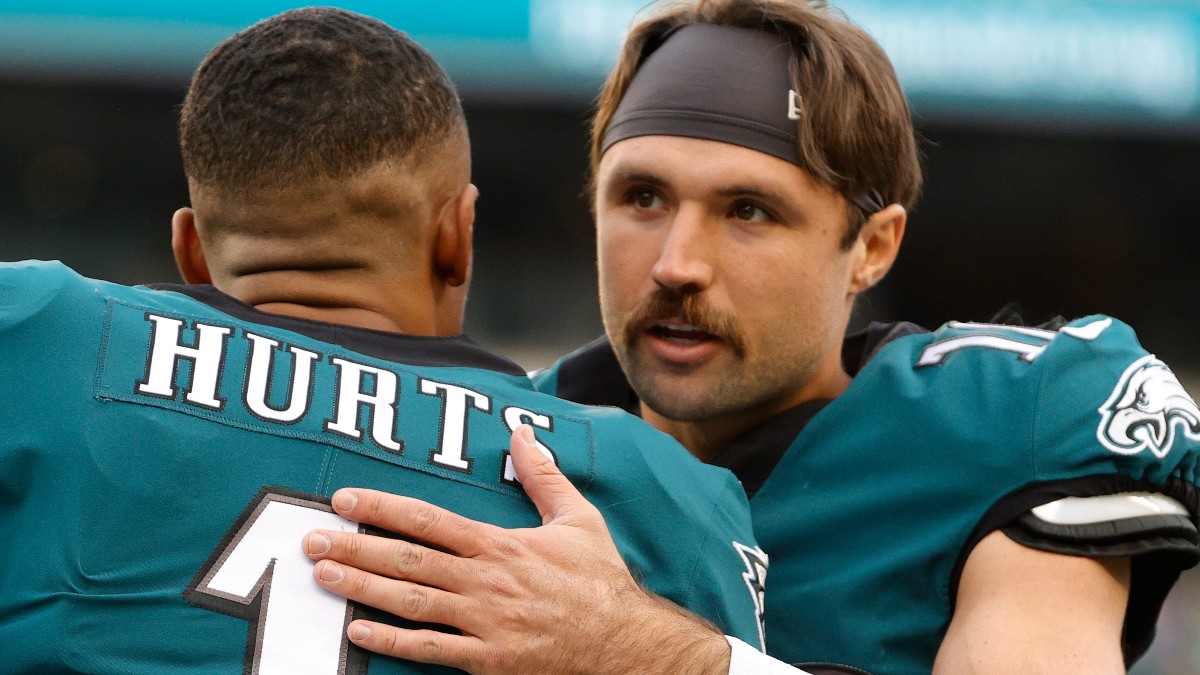 Trevor Lawrence, Derek Carr or He Who Must Not Be Named?
@DougFFChamp asks via Twitter: "Which QB if [Jalen] Hurts is out?! [Trevor Lawrence], [Derek] Carr, or Voldemort?"
Samantha: Well, we definitely do not want to be starting the dark lord.
Operating under the assumption that Hurts is out, Lawrence is definitely your better bet.
He has a tougher matchup against a Jets defense that ranks sixth in pass DVOA, but Lawrence overcame the Cowboys defense in Week 15. He still tossed four touchdowns and was the QB5 for the week, so I have zero reservations about starting him this week and beyond.
Carr has a significantly lower upside and a wider range of outcomes, in my opinion. Start Lawrence with confidence.
Derek Carr or Russell Wilson? 
@DavidMi34444968 asks via Twitter: "(Probably) lost [Jalen] Hurts. [Derek] Carr or Russell Wilson? Any help is appreciated!"
Samantha: Carr feels like your better bet in this situation. He has a better matchup and has had a much better season than Wilson.
Wilson has finished as a top-12 quarterback just twice all year, whereas Carr has found himself inside the top 12 seven times. The Steelers are allowing the 10th-most fantasy points to quarterbacks this year, while the Rams are allowing the ninth-fewest.
Carr also has more healthy and elite weapons in Davante Adams and Darren Waller. He's a much safer bet this week as a Hurts fill-in.
Geno Smith or Gardner Minshew? 
@mrmz318 asks via Twitter: "Geno [Smith] or [Gardner] Minshew?"
Samantha: Smith. I actually do like Minshew all things considered, but he does have some wild-card risk having sat on the bench all year.
On the flip side, Smith has been a consistent producer week in and week out. He has eight top-12 finishes for fantasy in 14 starts and is the overall QB7. He also has a sweet matchup this week against the Chiefs defense, which ranks 25th in pass DVOA and has allowed the third-most fantasy points to quarterbacks this year.
I expect Smith to bounce back from his one-touchdown performance in Week 15 against the 49ers' stout defense.
Brock Purdy or Gardner Minshew?
@will_I_aM505 asks via Twitter: "[Jalen] Hurts is out. Start [Brock] Purdy or [Gardner] Minshew this week?"
Samantha: This one is really close.
As mentioned I do like Minshew, but I would probably lean Purdy in this spot. The 49ers have a better matchup against Washington, and Purdy has been reliable in his first two NFL starts. Minshew, meanwhile, remains a bit more of a question mark.
I would rather roll with someone I have seen be successful in this pinch-hitting spot previously.
Gardner Minshew, Daniel Jones or Brock Purdy?
@Omarj11214 asks via Twitter: "[Gardner] Minshew, Daniel Jones, or [Brock] Purdy?"
Samantha: I actually like all three this week, but Jones is definitely your safest bet of this group.
He has finished as a QB12 or better in four of the last eight games and remains buoyed by his rushing abilities. He struggled last week against the Commanders' tough run defense but gets a much more ideal matchup this week against the Vikings, whose defense ranks 27th in pass DVOA and has allowed the eighth-most fantasy points to quarterbacks this year.
Purdy is fine, but there's always a chance he could turn back into a pumpkin at any time given his small sample size and the 49ers facing the same Commanders team that kept Jones in check last week.
Minshew is intriguing but still has that wild-card risk considering his last start came in Week 18 last season. I would definitely go with Danny Dimes.
Gardner Minshew, Brock Purdy, Russell Wilson, Kenny Pickett or Sam Darnold
@Fant_Punisher asks via Twitter: "If [Jalen] Hurts is out, who would you start: [Gardner] Minshew, [Brock] Purdy, [Russell] Wilson, [Kenny] Pickett or Sam Darnold?"
Samantha: This question comes down to Purdy vs. Minshew, and I would refer you to my answer above. I would lean Purdy because of his more recent success relative to Minshew's.
Purdy is the floor play while Minshew has the higher upside.
---
Fantasy Start-Sit Question
Gardner Minshew, Brock Purdy, Russell Wilson, Kenny Pickett or Sam Darnold?
@GrahamTiedtkePO asks via Twitter: "With [Ryan] Tannehill likely out next week I have Deshaun Watson (barf) only because my league decided to start taking QBs off the board in R2 and I wasn't prepared for that. I could go with Zach Wilson, Gardner Minshew, Kenny Pickett, [Brock] Purdy, [Russell Wilson], Mac [Jones], [Desmond] Ridder, [Sam] Darnold…Thoughts?"
Samantha: Of this list, I like Purdy and Minshew better than Watson.
Since returning from suspension, Watson has not shown us anything to suggest that he's a reliable fantasy starter. He has two touchdowns and two interceptions over three starts and has yet to finish as a QB12 or better.
Minshew and Purdy offer more intrigue to me, mostly because Purdy has been successful thus far and Minshew was productive filling in for Hurts previously.
If I had to pick one, I would probably go with Purdy as the higher floor option, while Minshew has a bit more wild-card/home run appeal.
How would you rate this article?
This site contains commercial content. We may be compensated for the links provided on this page. The content on this page is for informational purposes only. Action Network makes no representation or warranty as to the accuracy of the information given or the outcome of any game or event.