MLB Betting Odds & Projections: Expert Breakdown for Saturday's 15 Games (June 25)
Credit:
Elsa/Getty Images. Pictured: Shohei Ohtani
With all 30 MLB teams in action on Saturday, there's plenty of value on today's slate.
Sean Zerillo breaks down his projections for every game and shares how to bet each one.
Check out his picks and analysis below.
Saturday features a 15-game MLB slate.
You can find my projections for every MLB game in the Action Network App (on both the PRO Projections tab and the game pages) and our Projections Hub (which you can bookmark).
You can also shop for the best lines on our odds page.
Instead of diving deeper into just a handful of games, I'll provide my betting notes for all 15 games.
Using my projections, where can we find actionable value on Saturday?
---
Houston Astros vs. New York Yankees
Cristian Javier vs. Gerrit Cole (full projections here)
After MLB cracked down on the sticky stuff late in June of 2021, Gerrit Cole initially experienced a significant drop in Spin Rate across all his pitches.
As you can see in the graphic below, Cole's Spin Rate steadily climbed during his time in Houston  – and maintained during his early stint in the Bronx – before reverting to late 2019 levels.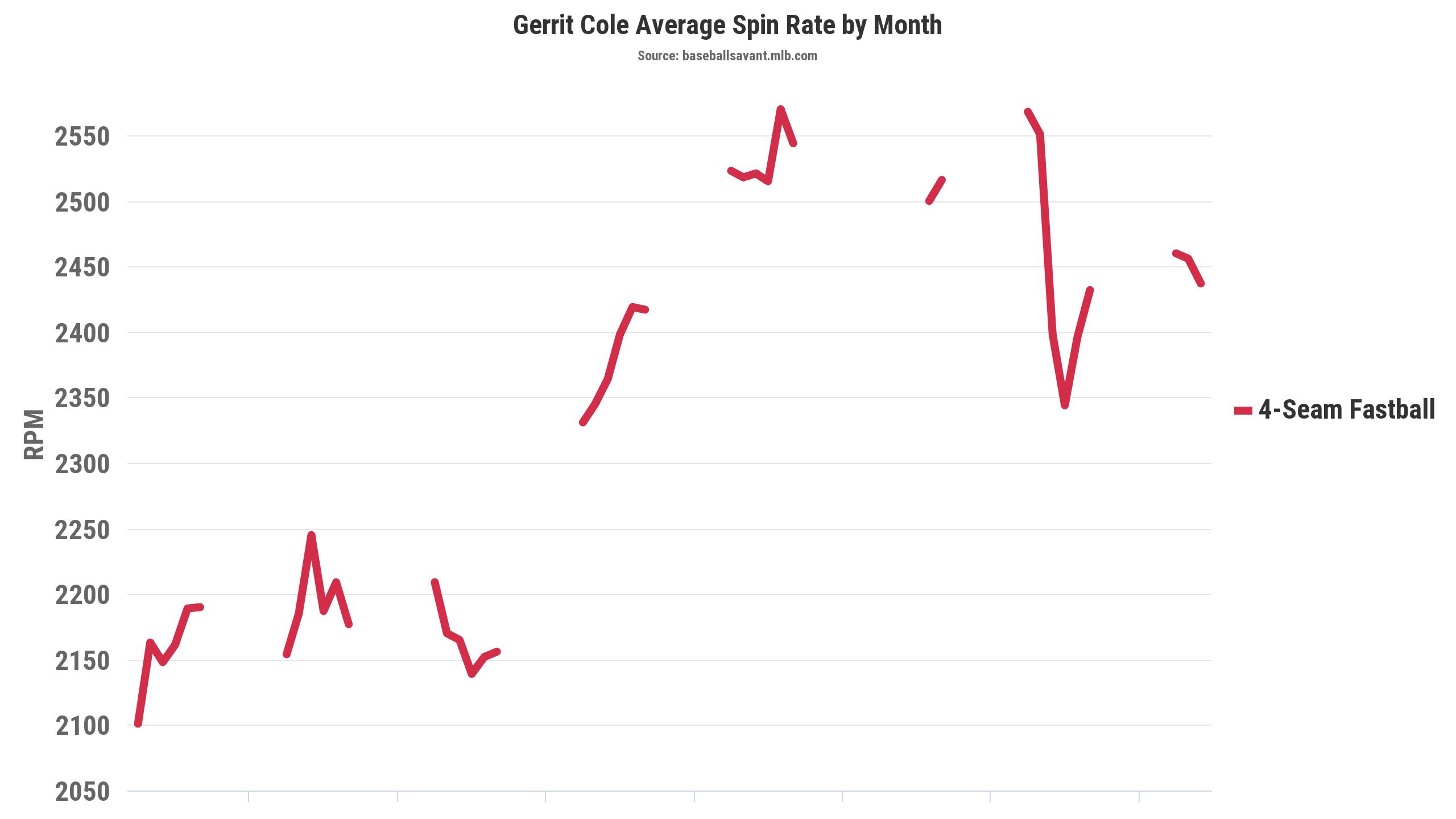 However, Cole slowly managed to add spin back to his pitches, and his ERA indicators are currently at their best levels during his time in New York (2.94 xERA, 2.77 xFIP, 2.82 SIERA). Moreover, if you deduct the back-to-back-to-back home runs he surrendered during his June 9 start in Minnesota, he's been even better (2.62 xFIP).
Despite an extremely high Flyball Rate (58%), which ranks as the highest among 142 pitchers (min. 40 innings pitched), Cristian Javier has avoided the home run ball (0.65 HR/9, 5.2% HR/FB rate) in 2022 — which plagued him throughout his first two MLB seasons (1.55 HR/9, 13.6% HR/FB from 2020-21).
Javier's expected ERA, or xERA (3.17), suggests that this might be a skill – as opposed to luck – since he's mostly avoiding hard contact. Still, I won't be shocked if Javier starts suddenly allowing home runs in droves.
Despite that concern – especially with the short porch in Yankee Stadium – I projected Houston at +135 (42.5% implied) for the first five innings (F5) and +132 (43.1% implied) for the full game on Saturday.
You can place those bets down to +147 (40.5% implied) and +144 (41.1%), respectively, with either wager representing a two percent edge.
Pittsburgh Pirates vs. Tampa Bay Rays
JT Brubaker vs. Corey Kluber (full projections here)
Corey Kluber (4.02 xERA, 3.92 XFIP, 3.73 SIERA) may be a better pitcher than JT Brubaker (3.91 xERA, 4.36 xFIP, 4.27 SIERA. Still, I see them as relatively comparable arms in terms of overall effectiveness, with a slight advantage for Tampa's starter.
And I give the Rays the superior bullpen (3.75 vs. 4.30 model weighted ERA) and defense.
However, the gap between these two lineups isn't particularly drastic. On the season, Pittsburgh ranks 27th (85 wRC+) and Tampa Bay 20th (93 wRC+) against right-handed pitching; and that doesn't fully account for the absence of players like Wander Franco, Manuel Margot, Kevin Kiermaier, and Brandon Lowe for the Rays, or the recent addition of O'Neill Cruz to the Pirates lineup.
Per expected wOBA or xwOBA, the Pirates' offense ranks 25th on the year, while the Rays rank 26th.
And in terms of my model projection, I set these projected lineups as relative equals against right-handed pitching.
Tampa Bay is undoubtedly the better – and deeper – team, but on a game-to-game basis, it's challenging to make them a substantial favorite against almost any opponent.
I projected the Pirates at +128 on the F5 moneyline and +133 for the full game, and I would bet those lines down to +139 and +145, respectively.

Baltimore Orioles vs. Chicago White Sox
Spenser Watkins vs. Lance Lynn (full projections here)
In two starts since returning from a knee injury, Lynn's fastball velocity is sitting at its lowest level since early 2018: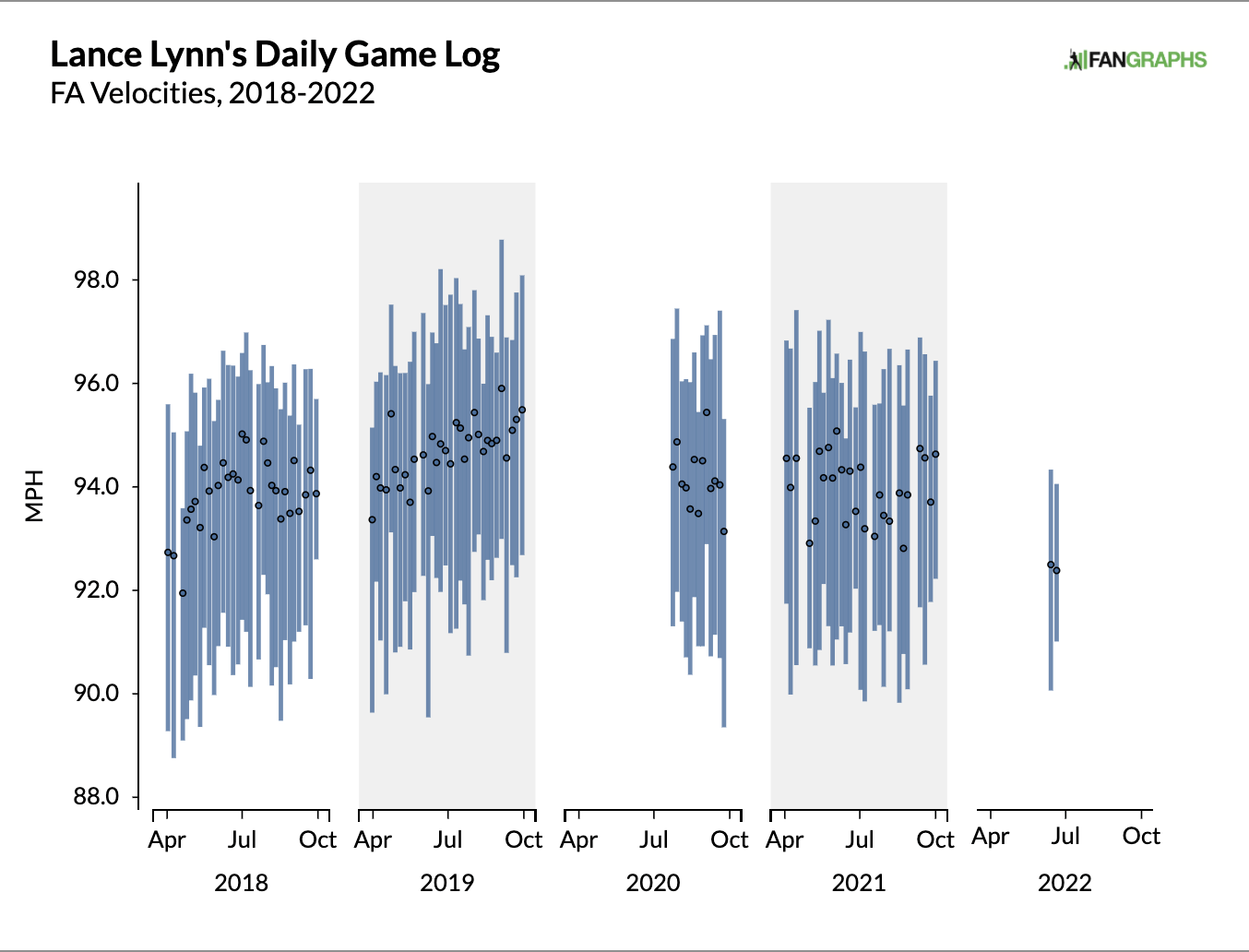 Perhaps it's merely noise as Lynn rounds into form. Still, the big righty tossed 10 innings over three rehab starts, too, so he should be close to stretched out by this point.
Spenser Watkins (7.53 xERA, 5.92 xFIP, 5.91 SIERA) isn't the type of pitcher in which you should invest a ton of money. However, these two bullpens are likely closer than you'd anticipate (14th and 15th in xFIP); both xwOBA and wRC+ only put these offenses about five spots apart in terms of power rankings.
Additionally, the Orioles rank as the superior defensive team (eighth in Defensive Runs Saved or DRS; 19th in Outs Above Average or OAA) compared to Chicago (24th and 25th, respectively).
While I doubt that I'll show value on Baltimore's F5 line, I make their full game win probably 5% higher as compared to their F5 odds; and you can bet the Orioles' full game moneyline down to +170 (projected +159) at more than a two percent edge.
Despite strong winds blowing in from right field, I don't see value on the Under for this matchup unless the total climbs to 9.5 (-114).
Chicago Cubs vs. St. Louis Cardinals
Adrian Sampson vs. Miles Mikolas (full projections here)
I would look to bet the Under 9 in St. Louis in typical weather conditions.
However, in warmer temperatures with the wind blowing out to left field at around 10 miles per hour on Saturday at Busch Stadium, I bumped the run-scoring environment between 5-10%.
As a result, I don't see value on either side of the full game total unless an Under 9 (-103) pops up. That said, you can bet the F5 Under 5 to -120.
I may look to jump in on the Cubs' full-game moneyline at around +174 or better (projected +160) as journeyman Adrian Sampson (career 5.06 xFIP) makes his first start of the year against Miles Mikolas.
The Cardinals' starter has been fortunate to sustain a 2.64 ERA, thanks to a .239 BABIP (.281 career). The expected indicators for Mikolas forecast an ERA of about a full run higher the rest of the way: 3.40 xERA, 3.88 xFIP, and 3.96 SIERA.

Washington Nationals vs. Texas Rangers
Josiah Gray vs. Matt Bush (full projections here)
Neither Gray (4.59 xERA, 4.54 xFIP, 4.27 SIERA) nor Keibert Ruiz (.295 wOBA, .357 xwOBA, 86 wrC+) has necessarily lived up to expectations after coming over from the Dodgers in the Trea Turner deal last season.
Gray was supposed to offer above-average command. Still, his Walk Rate (11%) ranks 90th out of 93 qualified starters (min. 60 innings pitched) this season. That said, Gray does generate a fair number of strikeouts, and his K-BB% is 52nd in that same group of pitchers.
While Gray's slider and curveball have netted a positive pitch value, his fastball and changeup are rated below-average offerings.
Texas will compile a bullpen game led by Matt Bush, though I expect Taylor Hearn (6.21 xERA, 4.65 xFIP, 4.65 SIERA) to serve as the bulk reliever. Hearn has shown fairly drastic splits, proving far better against lefties (4.10 xFIP) than righties (5.16 xFIP) throughout his career. And it's not as though he excels the first time through the order (4.87 xFIP) compared to the second time through (4.52 xFIP).
Overall, I trust the Texas bullpen (3.94 xFIP) more than the Washington bullpen once both teams dig into their relief corps.
And I view Texas as the far superior team in general, even though the two offenses rate relatively similarly. While the Rangers' offense started the year slow, they've heated up over the past six weeks (113 wRC+, 10th), while the Nationals have remained in the bottom 10 (101 wRC+, 20th).
Given the bullpen and lineup advantages, I projected Texas as a -124 favorite in both halves of this contest, and you can bet either or both of their moneylines up to -113.
Now that the total has climbed closer to 9, you can also bet the Under at the key number, down to -112.
New York Mets vs. Miami Marlins
Chris Bassitt vs. Trevor Rogers (full projections here)
Trevor Rogers – last season's runner-up in NL Rookie of the Year voting, has struggled mightily with command this season (11.2% Walk Rate; 8.6% K-BB%).
Both his stuff and his pitch mix remain intact. However, batters are making contact on pitches outside of the zone (68%) far more frequently than they did last year (52.5%) – so Rogers is generating far fewer whiffs on pitches designed to get opposing hitters to chase; and his ERA estimators have inflated (5.07 xERA, 4.69 xFIP, 4.77 SIERA).
Still, it appears that Rogers is a mechanical adjustment away from rediscovering his 2021 form (3.37 xERA, 3.54 xFIP, 3.72 SIERA), which could turn Saturday's contest into a pitcher's duel.
Spare 11 seconds and watch Trevor Rogers just decimate Xander Bogaerts on 3 pitches.

The overlay at the end of the FB/SL/CH combo together is just…beautiful. pic.twitter.com/bmgqSzl0eP

— Alex Fast (@AlexFast8) March 17, 2022
Chris Bassist is having arguably the best season of his career, and he's been a touch unlucky to pitch to a 4.03 ERA (3.26 xERA, 3.58 xFIP, 3.51 SIERA).
After their hot start, you can consistently find value betting against the Mets daily. For Saturday, you can bet Miami's full-game moneyline down to +126.
Toronto Blue Jays vs. Milwaukee Brewers
Yusei Kikuchi vs. Corbin Burnes (full projections here)
Yusei Kikuchi has had a perplexing career and has primarily underperformed (4.97 ERA) relative to his underlying metrics (4.44 xFIP, 4.50 SIERA). Compared to his xERA, however, Kikuchi has overperformed (5.23 xERA in 2021, 6.57 in 2022).
The southpaw allows a ton of hard contact and has a severe home run issue (1.65 HR/9, 18.6% HR/FB rate) on top of a sky-high Walk Rate.
Oddly enough, the walks have gotten worse in 2022 as Toronto has made him throw more fastballs (up from 36% to 52.1%, year-over-year), sliders, and far fewer cutters (down from 34.7% to 6.3%).
Among the 114 pitchers who have tossed at least 50 innings, Kikuchi has the highest Walk Rate, the second-highest Hard-Hit Rate, and the ninth-highest Home Run Rate.
Conversely, Corbin Burnes has continued to excel after his Cy Young campaign, despite taking a partial step back (2.80 xERA, 2.68 xFIP, 2.64 SIERA).
Burnes' Strikeout Rate has reverted toward his 2020 levels, despite maintaining a similar Whiff Rate and Called-Strike Plus Whiff Rate as in 2021.
His 2.31 ERA is due to regress, thanks to some BABIP luck (.259 vs. 301 career) and stranded runner luck (84.4%, vs. 75.6% career). Still, Burnes remains near the top of the pitching leaderboard – or paces the National League – in nearly every key metric.
The righty is now throwing his cutter 56.8% of the time, and as Buck Showalter described him – Burnes is like Mariano Rivera as a starting pitcher.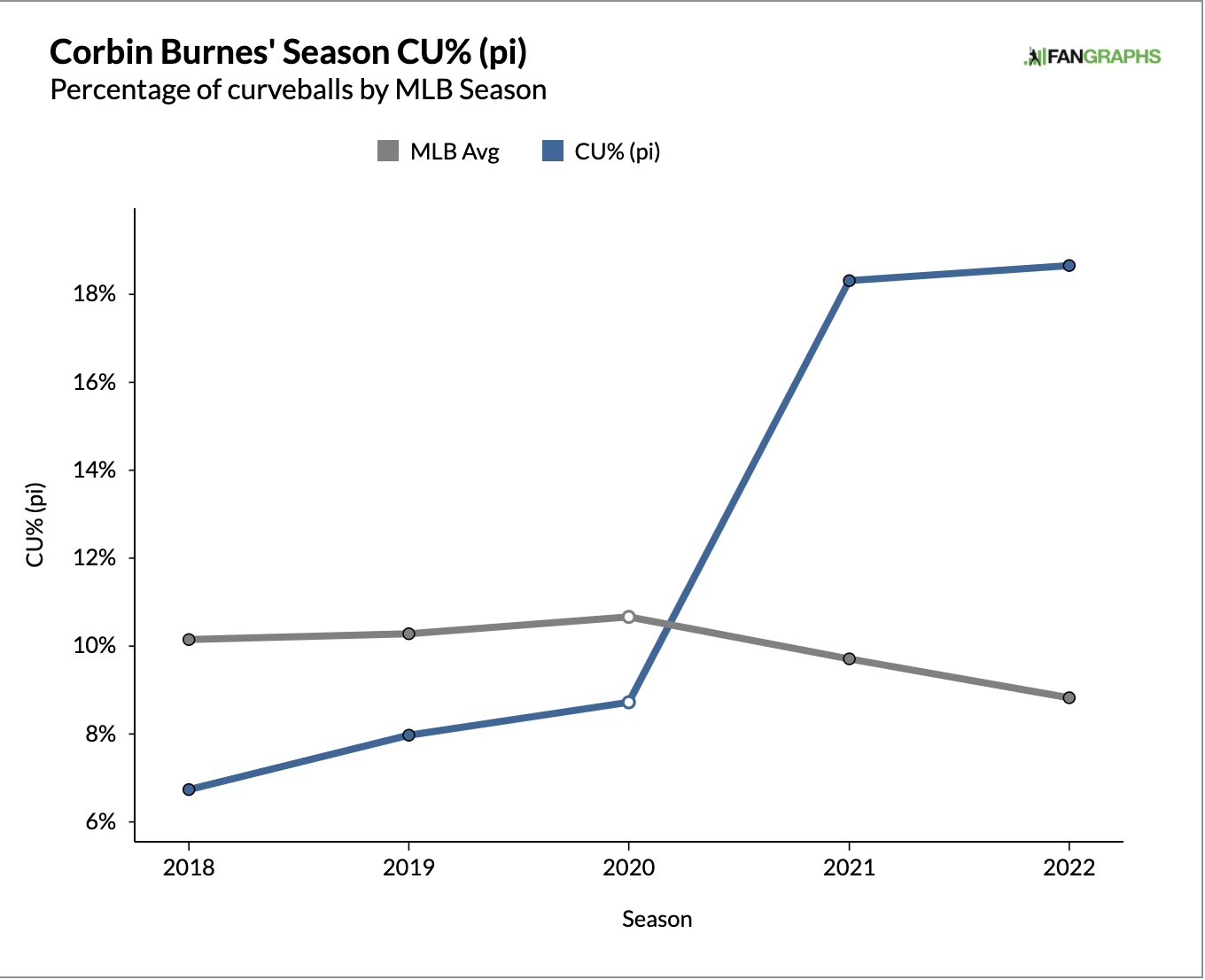 I projected the Brewers F5 moneyline around -200 and their full game line at -167. You can bet those up to -184 and -153, respectively, given the substantial gap between the two starters.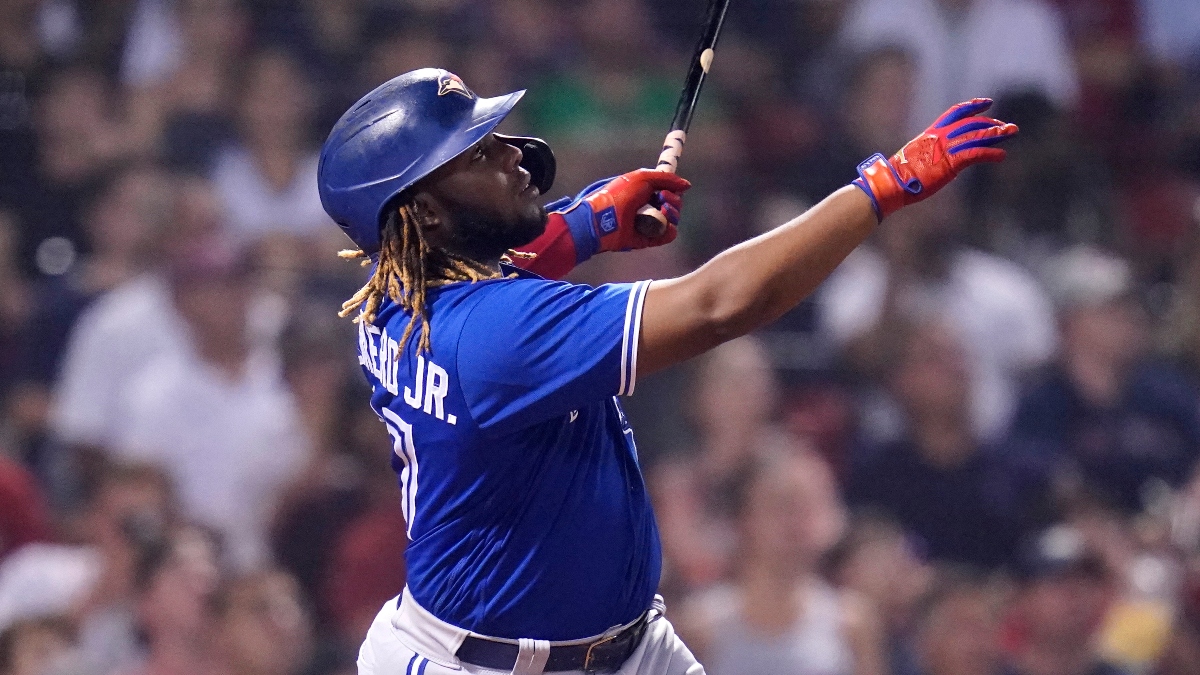 Sign Up Now to Start Betting the Blue Jays!
Oakland Athletics vs. Kansas City Royals
Jared Koenig vs. Brad Keller (full projections here)
Jared Koenig came up through independent ball and pitched well in the high minors for Oakland. And while he has struggled mightily at the MLB level (eight BB, six K in 13 2/3 innings), it's a minimal sample, and I would still project his ERA closer to 5.00 as compared to his expected indicators (8.35 xERA, 6.72 xFIP, 6.26 SIERA) for the remainder of the 2022 season.
Brad Keller (4.41 xERA, 4.29 xFIP, 4.65 SIERA) might never turn the corner into becoming a frontline starter. Still, he is a consistent arm for the back-end of any rotation by limiting home runs (career 0.82 HR/9) and keeping the ball on the ground (50.8%)
I projected the Royals' F5 line at -189 and would play their F5 price up to -173.
Additionally, with the wind blowing out to right field at Kauffmann Stadium, I had to boost the run environment for this contest.
You can bet an Over 9 up to -126 or an Over 9.5 to -107.
While both offenses (Kansas City 90 wRC+; Oakland 75 wRC+) have struggled mightily this season, this is a pitching matchup that should put a substantial number of balls in play, where the wind could carry them into the power alleys and over the fence.
Boston Red Sox vs. Cleveland Guardians
Josh Winckowski vs. Shane Bieber (full projections here)
Despite pitching at a reduced velocity (90.8 mph, down two mph from 2021 and 3.4 mph from 2020), Shane Bieber has maintained his effectiveness in 2022 (3.86 xERA, 3.09 xFIP, 3.26 SIERA) by throwing his slider far more frequently (41.1% vs. 25.6% career).
Bieber isn't generating as many chases or whiffs as he used to, but he still has excellent command. He should allow more home runs over the remainder of the season (8.1% HR/FB rate vs. 13.7% career) than he has to date.
Despite limited scouting upside, Josh Winckowski generated solid numbers in the high-minors for the Red Sox. FIP projections view him as little more than a back-end starter (projected range (4.54 to 4.84), and his strikeout and walk numbers through three MLB outings are a bit concerning (five walks, nine strikeouts in 14 2/3 IP).
Still, the righty has maintained a healthy Groundball Rate for his entire professional career (>50%) while generating a high number of popups. Even when the strikeouts aren't present, he still forces opposing offenses into unproductive outs.
Generating weak contact is vital against a Cleveland offense that whiffs less often (9%) and strikes out less frequently (18.5%) than any other team.
And Boston's defense is vastly improved this year (fourth in Defensive Runs Saved and fifth in Outs Above Average), though still not quite as good as Cleveland's defense (second and third, respectively).
Despite a limited track record for Winckowski, I project value on Boston in both halves of this contest, and I'm willing to bet their lines down to +137 and +130 on the F5 and full game moneylines, respectively.
Cincinnati Reds vs. San Francisco Giants
Mike Minor vs. Logan Webb (full projections here)
Mike Minor missed the 2015 and 2016 seasons with injury then returned as an effective reliever in 2017 before posting a pair of solid seasons as a starter in both 2018 and 2019.
However, Minor's velocity has dipped substantially since those relatively successful campaigns (from 92.7 mph to 90.4 mph), and he now appears to be little more than a replacement level arm.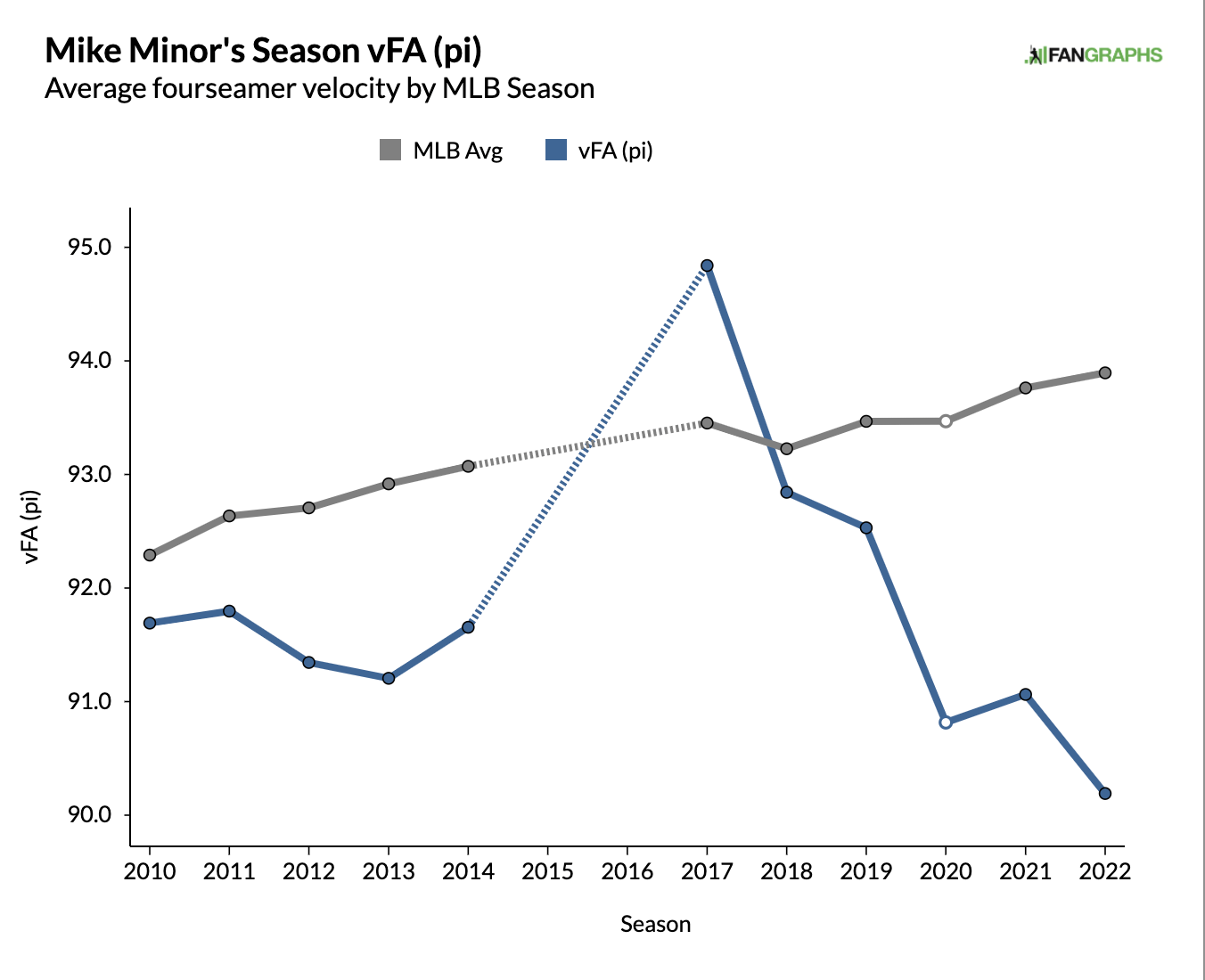 Projection systems peg Minor for a FIP between 4.59 to 5.22 for the remainder of this season, and I would undoubtedly side closer to the latter, in line with his 20-inning sample in 2022 (5.07 xERA, 5.29 xFIP, 4.81 SIERA).
Aside from a slightly lower Strikeout Rate, Logan Webb is essentially the same pitcher he was late in last season. His ERA indicators are only a quarter of a run higher relative to previous levels.
I would need a line closer to -200 for the Giants in the first five innings or +214 on the Reds over the full game to consider making a bet in either half.
However, considering how far Minor's level has fallen, I might consider including the Giants' F5 moneyline in a small parlay (at -211 or better).
Colorado Rockies vs. Minnesota Twins
Antonio Senzatela vs. Chris Archer (full projections here)
Antonio Senzatela (6.06 xERA, 4.33 xFIP, 4.82 SIERA) remains one of my favorite pitchers to bet against. Still, I'm uncertain that I can get there with Chris Archer (5.03 xERA, 4.96 xFIP, 4.91 SIERA), whose underlying indicators are equally concerning.
Among the 114 pitchers who have tossed 50+ innings in 2022, Archer ranks 108th and Senzatela ranks 111th in K-BB%. Furthermore, they rank 102nd and 114th respectively in CSW%.
Technically, I project value on the Twins' F5 moneyline at -161 or better, but I would have difficulty laying that much juice on Archer.
With strong winds blowing out to right field, I show value on the F5 Over (projected 5.39) up to 5 (-112).

Data via Action Labs
Los Angeles Dodgers vs. Atlanta Braves
Mitch White vs. Max Fried (full projections here)
Fried has shaved a couple of percentage points off his Walk Rate (10th among 141 qualifying pitchers) and pitched to the best-expected metrics of his career (3.08 xERA, 2.91 xFIP, 3.17 SIERA) in 2022 while increasing the velocity baseline on all of his pitches.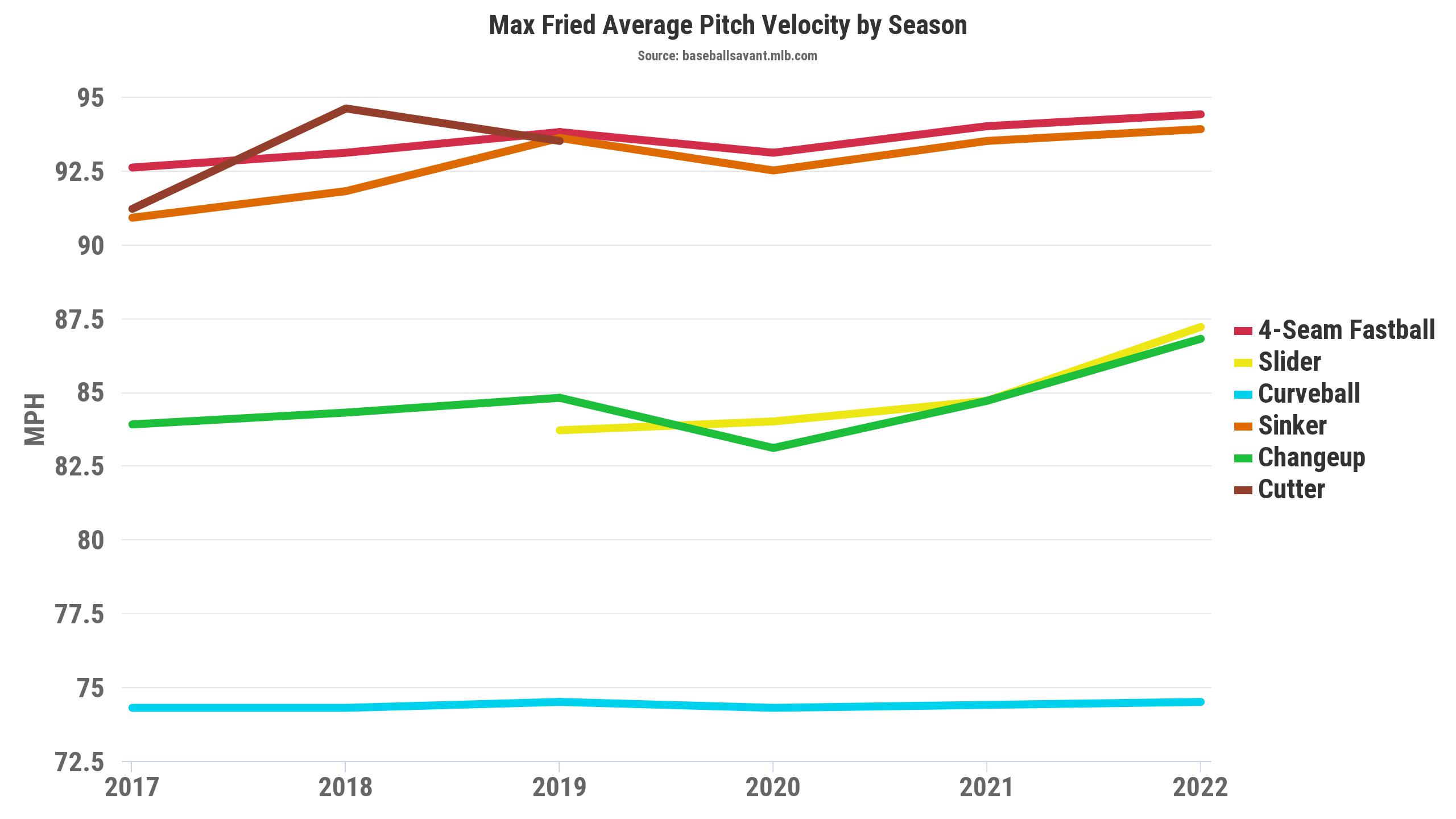 Opposing hitters are chasing his pitches outside the strike zone 38.6% of the time – a 6.2% increase over his previous high, so there's room for his Strikeout Rate to grow even further.
Mitch White is a capable starter for the Dodgers (4.27 xERA, with a projected FIP range of 4.19 to 4.26). While White would be a solid rotation piece for most teams, he's easily the Dodgers' least effective starter – and I tend to find value going against Los Angeles when White takes the ball.
The Dodgers have hit righties (120 wRC+, second) much harder than they have lefties (106 wRC+, 13th) – and I project their offense about 12% better against right-handed pitching too,
As a result, I show value on the Braves' F5 moneyline (up to -160) and would also buy their full game moneyline at -143 or better.
Seattle Mariners vs. Los Angeles Angels
Logan Gilbert vs. Patrick Sandoval (full projections here)
Gilbert (3.69 xFIP vs. LHH; 4.19 vs. RHH) is an excellent example of a pitcher with reverse splits, which is essential to measure against an Angels offense that excels against righties (106 wRC+, 11th) but struggles against southpaws (94 wRC+, 34th).
And my model projects the Angels' offense 13% better against righties than lefties too. Functionally, Gilbert treats opposing offenses like a left-handed pitcher. Still, his changeup – which he primarily reserves for left-handed bats – is his second-most effective pitch (despite throwing it fewer than 10 percent of the time overall).
Oddly enough – Sandoval, who relies on his changeup usage significantly, carries far more neutral splits but is more effective against same-side hitters.
The Mariners' offense is far more effective against righties (111 wRC+, seventh) than lefties (100 wrC+, 17th) on the year – and ranks 10% better against righties in my model – which works to Sandoval's benefit.
While I would need -118 or better to play the Angels on the full game moneyline, I show value on the Angels' F5 moneyline, up to -129.
Moreover, with the wind blowing out in Anaheim, I would bet the Over 8 up to -110.
Philadelphia Phillies vs. San Diego Padres
Zach Eflin vs. Blake Snell (full projections here)
Snell's Walk Rate has spiked during his tenure in San Diego. Among a group of 184 pitchers who have thrown 100+ innings over the past two years combined, Snell has the fourth-highest Walk Rate (12.6%).
The former Cy Young winner is still generating strikeouts at a high clip, but his command has fallen off drastically:
Moreover, the Phillies rake against left-handed pitching (113 wrC+, seventh) and rank 9% better against lefties compared to righties in my model, so this should be a difficult matchup for him.
Snell faced the Phillies on May 18 and allowed three hits, three walks, and three runs over 3 2/3 innings.
I have maintained that Zach Eflin is also among the more underrated pitchers in baseball.
Among the 99 pitchers who have tossed 200+ innings combined over the past three seasons, Eflin ranks 26th with a 3.58 xFIP, ahead of both Frankie Montas and Walker Buehler. He also ranks 29th in K-BB%, with the fourth-lowest Walk Rate in that same group of pitchers.
I projected the Phillies as favorites in both halves of Saturday's matchup. You can bet their F5 moneyline to -115 and their full game moneyline to +101.
You can also bet their F5 spread (+0.5 runs) up to -156.
Alex Faedo vs. Zach Davies (full projections here)
I'm still unconvinced that Alex Faedo is as bad as his expected indicators (5.27 xERA, 4.70 xFIP, 4.61 SIERA) or FIP projections (ranging from 4.59 to 5.08) would suggest.
The former first-round pick offers a plus-slider and solid command. Still, Faedo's fastball has gotten crushed, and his changeup seems like an average offering on its best day. Perhaps he'll be better suited as a reliever who leans on his slider (>50% usage) for the long term.
Zach Davies has pitched to his best levels in some time (3.70 xERA, 4.30 xFIP, 4.37 SIERA). Still, aside from reduced hard contact and a low BABIP (.258 vs. .288 career), nothing in his pitch mix or underlying metrics suggests that he's doing anything differently, just that he's been a bit fortunate to avoid barrels.
I don't project actionable value on either a side or total in this contest. Unless the Tigers' moneyline climbs to +138 or higher, I'll likely pass on betting this matchup.
As for the totals, you can bet the F5 Over 4.5 to -120, and the full game Over up to 8.5 (-110).
Sean Zerillo's Bets (June 25)
Atlanta Braves F5 (-155) at BetMGM (bet to -160)
Atlanta Braves (-138) at Wynn (bet to -143)
Athletics/Royals Over 9 (-120) at DraftKings (bet to -127 or 9 (-107))
Baltimore Orioles (+175) at Caesars (bet to +170)
Boston Red Sox F5 (+145) at BetMGM (bet to +137)
Boston Red Sox (+140) at Caesars (bet to +130)
Cardinals/Cubs F5 Under 5 (-120) at BetMGM (need -120)
Chicago Cubs (+180) at Wynn (bet to +174)
Cincinnati Reds (+215) at Wynn (bet to +214)
Detroit Tigers (+144) at Wynn (bet to +138)
Kansas City Royals F5 (-165) at BetMGM (bet to -173)
Los Angeles Angels F5 (-120) at BetMGM (bet to -129)
Houston Astros F5 (+150) at BetMGM (bet to +147)
Houston Astros (+150) at Caesars (bet to +144)
Mariners/Angels Over 8 (+100) at Wynn (bet to -110)
Miami Marlins (+140) at Caesars (bet to +126)
Milwaukee Brewers (-143) at Wynn (bet to -153)
Nationals/Rangers, Under 9 (-110) at Fanduel (bet to -112)
Pittsburgh Pirates F5 (+150) at BetMGM (bet to +139)
Pittsburgh Pirates (+170) at Caesars (bet to +145)
Philadelphia Phillies F5 (+106) at FanDuel (bet to -115)
Philadelphia Phillies F5 Spread (+0.5, -130) at FanDuel (bet to -156)
Philadelphia Phillies (+106) at BetRivers (bet to +101)
Rockies/Twins, F5 Over 5 (-110) at DraftKings (bet to -112)
Texas Rangers (-108) at FanDuel (bet to -113)
Tigers/Diamondbacks, F5 Over 4.5 (-115) at BetMGM (bet to -120)
Tigers/Diamondbacks, Over 8 (-110) at Wynn (bet to 8.5 (-110))
How would you rate this article?
This site contains commercial content. We may be compensated for the links provided on this page. The content on this page is for informational purposes only. Action Network makes no representation or warranty as to the accuracy of the information given or the outcome of any game or event.