MLB Home Run Props Today | Picks for Juan Soto, JT Realmuto, Pete Alonso (Monday, August 7)
Credit:
Getty Images. Pictured: Juan Soto, Pete Alonso, JT Realmuto.
Baseball betting is one of a kind. Each day diving into a full slate is grueling and sometimes edges are nowhere to be found within a side or total. But opportunities to fade pitchers at a lesser degree remains a constant. One of the areas in which I've tapped into this season has been the player prop market. More specifically, looking at hitters and their total bases/home runsprops.
Whether it's a positive split or the wind blowing out in double-digit force, there's always opportunities to back some of MLB's best hitters to find the outfield seats. These bets are rarely not (+) money and home run props can often reach the 6-700 mark, providing plenty of value at a small cost.
That leads us to my new regular feature here at Action Network: DiSturco's Triple 7s. In each article, I will give out my three favorite total bases props and pair that with the odds for those same players to hit a home run.
The idea of Triple 7s comes from the slot machines. That's the ultimate jackpot and it's important to note the rarity of notching that feat. Similar to slots, parlaying all three players below to hit a home run is nothing more than a lottery ticket.
It's important to bet responsibly, and while I do bet every player o1.5 TBs (.5u) and to hit a HR (.1u), you shouldn't overextend yourself with a parlay of all three. It's a long shot for a reason.
But if you're feeling confident or have no plans and want to try and hit Triple 7s, pull the lever and cross your fingers. Today's lottery ticket comes with +9366 odds.
Visit our MLB Props page for a full list of props and odds for every player on the MLB slate each and every day.
Juan Soto, San Diego Padres
Dodgers vs. Padres, 4:10 p.m. ET
Opposing starting pitcher: Tony Gonsolin (RHP)
Betting Juan Soto isn't for the faint of heart. One of the best sluggers in baseball, much of Soto's success comes from his plate discipline. He has the best eye and ranks in the 100th percentile in both chase and walk rate. 
But this is a great matchup for Soto on Monday night. The lefty draws Tony Gonsolin, a consistent overperformer year over year. His xERA sits just shy of 5 and he's in the bottom 30% of all pitchers in xSLG, barrel rate and strikeout rate. 
Despite overperforming, Gonsolin is still in the midst of his worst year in MLB. He typically thrives on inducing soft contact and limiting barrels, but his underlying metrics from last season to now, and they're night and day. 
His barrel and hard-hit rate have jumped 3.5 and 4.9 percent, respectively. His strikeouts are down and walks are up, and his xSLG (.447) is over 100 points worse than 2022 (.342). Yet, his BABIP is .224 whereas league average sits around .300. 
Negative regression is still coming for Gonsolin who maneuvered through the Athletics lineup and mitigated damage his last time out. But the Padres are a different story and Soto is a matchup nightmare.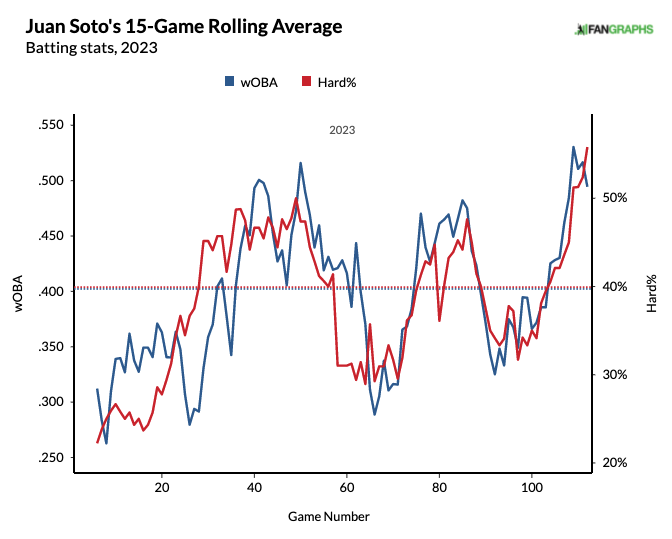 Soto is on a tear right now. Over the last 15 days, he has a 1.074 OPS with five home runs and a double (16 hits). He ranks in the top 3% of all hitters in average exit velocity, xwOBA and hard-hit rate, and has an elite barrel rate (13.7%) and xSLG (.526). 
While he has never homered off Gonsolin before, he has a double and triple in nine at-bats. The wind is blowing at near double-digit rates out to right center, another positive for the lefty Soto. His best HR line is +420 at FanDuel. 
---

J.T. Realmuto, Philadelphia Phillies
Nationals vs. Phillies, 6:40 p.m. ET
Opposing starting pitcher: Trevor Williams (RHP)
The balls should be flying at Citizens Bank Park on Monday night with double-digit winds out to left center in the dead heat of summer. 
Based on RotoGrinders' WeatherEdge, there's a projected +57.8% increase in HRs and +35.1% increase in total runs, based on a 69 game sample size. In other words, fly balls should travel a helluva lot farther and typical deep fly outs should find the bleachers. 
While Kyle Schwarber was my first instinct, his odds are around +200 across the sportsbooks, providing little to no value. Instead, I'm heading to JT Realmuto, who has quietly been seeing the ball much better of late. 
There's no question Realmuto is having a down season. He has a career-worst .247 average and his OPS is sub-.780 for the first time since 2016. But it's what he's done recently in which I'm buying the catcher. 
Over the last week, he has five hits — one home run — and an OPS above 1.000. Looking at his rolling graphs on FanGraphs, Realmuto's hard-hit rate has also taken a staggering jump from where it was midseason, as has his wOBA. 
And from the outside looking in, his barrel rate (11.5%) is actually his second-highest ever and his xSLG (.455) is above his career average. 
Trevor Williams takes the mound for the Nationals and it's a great fade spot for the right-hander. He heavily relies on pitching to contact — 16.4 strikeout rate — and has a 41.8 fly ball rate. He ranks in the bottom 25% of all pitchers in xBA, xSLG and barrel rate, a perfect recipe for success for the Phillies' hitters. 
The ball should be flying with the wind blowing out at CBP and Realmuto  — who does have three home runs in 10 at-bats against Williams, for what it's worth — is where I'm headed. His best HR line is +360 at Bet365.

Pete Alonso, New York Mets
Cubs vs. Mets, 7:10 p.m. ET
Opposing starting pitcher: Drew Smyly (LHP)
The New York Mets may be a sinking ship and often runs out an offense with Triple-A caliber batters, but I'm looking to back their offense against Drew Smyly on Monday. 
Last week, I touched on Smyly's recent struggles. After a dominant first two months of the season, the veteran lefty has been all downhill since June. He has given up 15 home runs in 11 appearances and has an ERA north of 6 in that span. 
The Reds were the latest aggressors against Smyly, hitting three home runs in 4 2/3 innings against the southpaw. His numbers across the board continue to rise — for the negative — and I'll continue to fade him on a start-by-start basis. 
While the Mets have struggled mightily, Pete Alonso is a player I'm looking to buy low on. He has really struggled with strikeouts and a low average (.220) this season, but the power continues to be there. 
Over the last 15 days, Alonso is hitting .280 with five home runs and a pair of doubles in 50 at-bats. His power and hard-hit rate have taken a significant step forward in that span and I'm expecting the rise to continue for the slugger.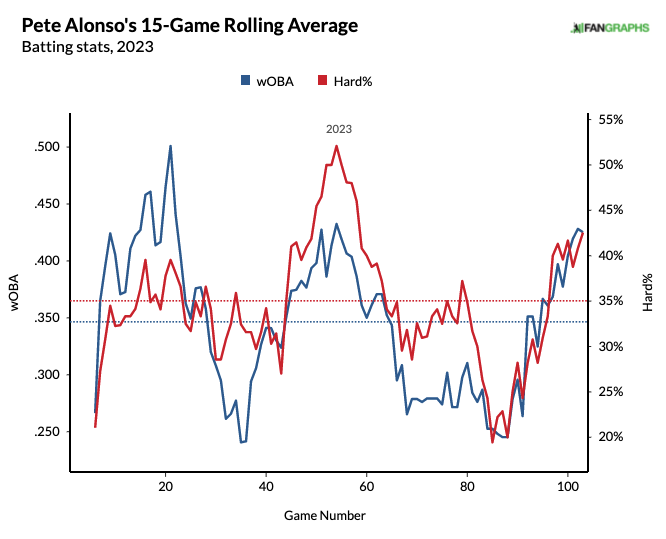 Alonso carries extra-base power with every swing and despite the Mets being 0-6 in August, the offense should get going against Smyly. Alonso is the best Mets hitter against left-handed pitching — 114 wRC+ and .264 ISO — and will look to build on his recent success at the plate power-wise. 
He is +320 to hit a HR at DraftKings.
---
DiSturco's Triple 7s Home Run Bets for Monday, August 7
Juan Soto (+420)
J.T. Realmuto (+360)
Pete Alonso (+320)
If you like all three plays and want to try a spin at hitting triple 7s, a $10 parlay of these three home run props at Bet365 comes in at $936.60.
How would you rate this article?
This site contains commercial content. We may be compensated for the links provided on this page. The content on this page is for informational purposes only. Action Network makes no representation or warranty as to the accuracy of the information given or the outcome of any game or event.