MLB Picks Today | Odds, Predictions, Expert Projections for Friday, May 5
Credit:
Getty Images. Pictured: Marcell Ozuna, Hunter Greene and Jose Ramirez.
Welcome to Opening Pitch, my column that you'll find daily throughout the 2023 MLB season.
My goal for Opening Pitch is to highlight my top daily projection edges for MLB moneylines and totals, share my favorite bets and provide some betting notes and analysis, mainly as I react to opening and overnight lines while using my baseball betting model.
I will look to release a new version of Opening Pitch daily between midnight and 3 a.m. ET; after I enter my overnight bets in the Action Network App and update the MLB projections. Hopefully, you will use it as your morning betting guide to get ahead of the baseball markets.
You can find my projections for every MLB game in the Action App (on both the PRO Projections tab and the game pages) and our Projections Hub (which you can bookmark).
You can also shop for the best lines on our odds page.
Expert Picks for Friday, May 5
Chicago White Sox vs. Cincinnati Reds
Lance Lynn vs. Hunter Greene
First Pitch: 6:40 p.m. ET
I like this spot for the Reds at home after an off day while the White Sox played a grueling three-game set with the Twins, including a pair of extra innings contests, and had to use two of their best relievers (Aaron Bummer and Kendall Graveman) on back to back days.
As a result, I see a slight bullpen advantage for the Reds on Friday, on top of their advantage in the starting pitching matchup with Hunter Greene (3.42 xERA or expected ERA) facing Lance Lynn (5.87 xERA).
While I don't project nearly as significant of a difference in quality between the two pitchers as their 2023 results might suggest, I still view Greene as at least half a run better (on a season-long ERA) and a clear tier above Lynn.
The White Sox have the better offense, but both teams are below-average defensively; since Greene generates more strikeouts than Lynn, he has a more significant margin for error within any inning.
I projected the Reds closer to -125 in both halves of this matchup; you can bet their moneylines, either for the first five innings (F5) or the full game, up to -116.
Boston Red Sox vs. Philadelphia Phillies
Chris Sale vs. Zack Wheeler
First Pitch: 7:05 p.m. ET
Through six starts, Chris Sale has been very hit or miss, but the underlying indicators (4.98 xERA, 18.7% K-BB%) and an early velocity dip suggest that he still has work to do to regain peak form.
Sale posted expected ERA marks of 2.68 and 2.26 during his first two seasons in Boston (49 combined starts), but that number fell to 3.5 in his fourth and mostly-injured fifth season and now sits at 4.75 over the past two seasons combined (eight starts).
Sale will still have his days where he throws a gem and generates double-digit strikeouts, but he's probably never hitting his peak form again: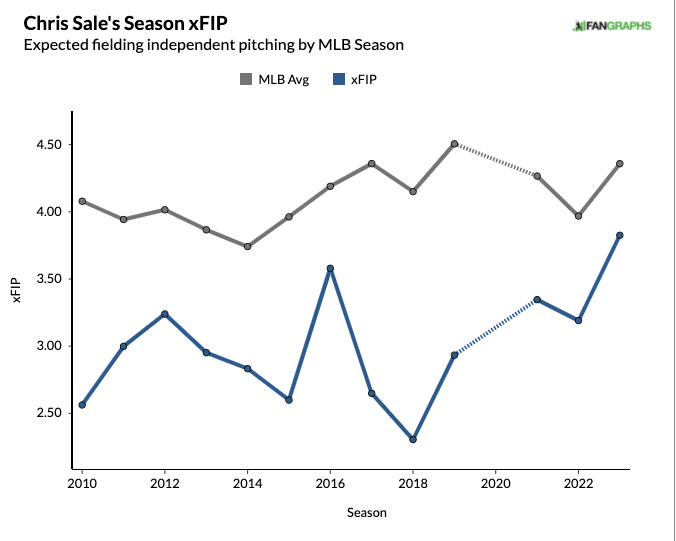 Zack Wheeler (3.22, 3.10, 2.79 xERA in the past three seasons) is a much more reliable and effective arm than Sale, and I projected the Phillies as fairly definite favorites for Friday.
You can bet the Phillies in either half to -180 (F5) and -160 (full game), with either bet representing a two percent edge compared to my projected number.
Minnesota Twins vs. Cleveland Guardians
Bailey Ober vs. Peyton Battenfield
First Pitch: 7:10 p.m. ET
Similar to the Reds-White Sox matchup, Cleveland enters a home game after an off-day, while the Twins played extras twice in the past three days; still, they managed their bullpen slightly better than Chicago did, and their bullpen should be in better shape than Chicago's heading into a weekend series.
While Bailey Ober projects as a substantially superior pitcher to Peyton Battenfield, the Guardians can compensate for the pitching disadvantage with significant edges in both speed and defense. And if the Guardians can take a tied game to the bullpens, they might flip to a live favorite in the late innings.
I projected this game as a coin flip, and I would bet Cleveland at +108 or better.
Additionally, I set the total at 7.8, with some decent pitching weather (58 degrees at first pitch, wind blowing in from right field at nine mph) in the forecast. Bet Under 8.5 to -116.
Colorado Rockies vs. New York Mets
Antonio Senzatela vs. Kodai Senga
First Pitch: 7:10 p.m. ET
I'll tell you upfront: I wouldn't say I like the two bets I had to place on this game.
Antonio Senzatela (5.24 xERA) is one of my favorite pitchers to bet against. His career 15.3% strikeout rate is putrid for modern baseball and the lowest mark among 106 qualified starters (min. 500 innings pitched) since he entered the league in 2017 (Ivan Nova, 15.6% and Mike Leake, 15.7% are nearest).
Kodai Senga (4.91 xERA, 4.08 xFIP) has underwhelmed thus far, walking 18 batters in 26 innings. Command issues have been a common theme for Japanese pitchers upon their rival stateside; the baseball is different, the batter quality is higher, and the strike zones are often less friendly for pitchers.
I feel that positive regression is likely coming for Senga's command. His 30.7% called strike plus whiff rate, or CSW%, ranks 16th among 128 qualified starters (min. 20 innings pitched), and he ranks third in called strike rate (20%) among that same group.
With temperatures in the 50s at Citi Field, we could see a potential pitcher's duel between struggling starters. I projected the total closer to and would bet Under 8.5 to -110.
Additionally, you can bet the Rockies' moneyline down to +205; I used the least optimistic projection for Senzatela that I could justify and a more optimistic forecast for Senga, and I still see value on the Rockies.
Baltimore Orioles vs. Atlanta Braves
Dean Kremer vs. Max Fried
First Pitch: 7:20 p.m. ET
The Baltimore Orioles are off to an impressive 21-10 start, so it may be surprising to find them as massive underdogs against another top team. This feels like a price we would get on Baltimore in road games in recent seasons, but not this year.
Still, I project a massive pitching advantage for Max Fried (1.82 xERA; 2.85 in 2022) over Dean Kremer (7.14 xERA; 4.49 in 2022). Additionally, the Braves have a superior bullpen, offensive players and offensive handedness splits for this matchup.
Baltimore projects as a better team against righties (projected 112 wRC+) than lefties (projected 94 wRC+) in my model, even though the opposite has been confirmed so far this season (106 vs. righties; 126 vs. lefties). Go back to last year, and you can see the Orioles ranked 13th against righties (102 wRC+) and 23rd against lefties (90 wRC+) with essentially the same cast; I expect their splits to flip back by the end of the season.
I set the Braves as fairly substantial favorites in this contest, and you can bet their lines up to -233 (F5) and -195 (full game), respectively.
Baltimore has racked up 15 of their 21 wins against terrible teams (Nationals, Royals, Tigers, White Sox). Friday seems like a smash spot for the Braves, given the pitching disparity.
Oakland Athletics vs. Kansas City Royals
Kyle Muller vs. Brad Keller
First Pitch: 8:10 p.m. ET
Betting an Over between two teams who rank 26th and 27th in OPS (both around .668) seems unappealing; however, bad offenses can beat bad pitching; and Oakland has one of the worst bullpens I have ever seen through a one-month sample (124 2/3 IP, 7.07 ERA, 6.12 xFIP, 86 BB, 101 K, 20 HR allowed).
The Royals (4.15 xFIP, 11th) have fared much better late in games, and I have talked up Brad Keller as a potential breakout candidate, even though the results (24 BB, 24 K in 30 1/3 IP) have been alarming.
I like Keller more than Kyle Muller (5.41 xERA through 77 2/3 MLB innings), and I would bet the Royals' F5 moneyline to -140 (projected -152).
However, I prefer the Over 9 in this matchup, up to -115 (projected 9.68).
Houston Astros vs. Seattle Mariners
Cristian Javier vs. Luis Castillo
First Pitch: 10:10 p.m. ET
Castillo and Javier were two of my favorite AL pitchers to bet on from a preseason props and awards perspective. As you can imagine, I am generally higher on both pitchers than the betting market.
As a result, I won't overthink it when the model recommends betting the Under in a game between two pitchers I like.
Bet Under 7 to -110 (projected 6.46) in a game with two elite starters and bullpens and a pair of offenses that rank below average (18th for Seattle, 21st for Houston) against right-handed pitching.
Milwaukee Brewers vs. San Francisco Giants
Corbin Burnes vs. Sean Manaea
First Pitch: 10:15 p.m. ET
We have played several Over wagers at Oracle Park already this season, and we'll back another Over on Friday up to 8 (-110), compared to my projection of 8.5.
Sean Manaea deserves every bit of his 7.85 ERA this season (8.24 xERA) despite adding three ticks of velocity relative to last season. One bit of concern? The Brewers rank dead last (67 wRC+) against left-handed pitching this year and ranked 22nd (92 wRC+) last season. Perhaps Manaea can produce his second quality start of the season after taking the mound in the seventh-layer pitcher's hell in Mexico City.
Corbin Burnes (3.78 xERA) has also shown cracks this season. Strikeout rate tends to stabilize quickly, and Burnes' strikeouts (19.7%) are down alarmingly compared to recent seasons, and he's lost a tick of velocity across his entire arsenal.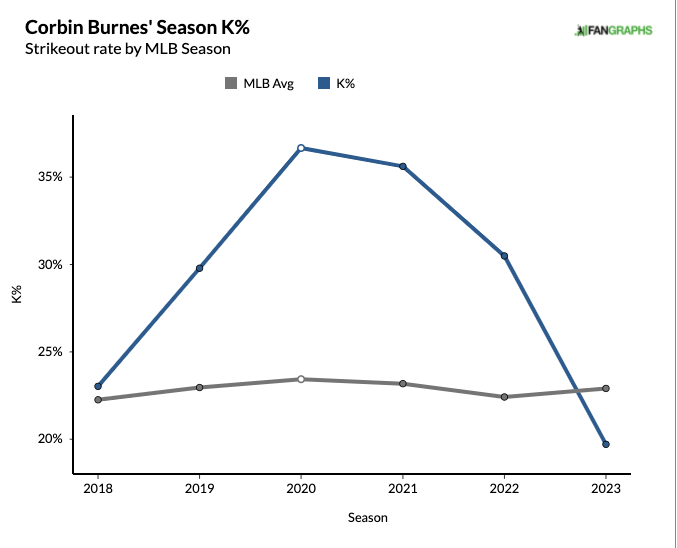 Perhaps the pitch clock impacts Burnes' ability to generate maximum effort when needed, and his results suffer.
The Giants also have the better offensive splits in the matchup, posting a 122 wRC+ (4th) against righties, compared to a 75 wrC+ (27th) against lefties.
I would love to bet the Giants here in addition to the Over, but Manaea's recent form is enough to get my moneyline projection in line with the betting market.
On top of the full game Over, bet an F5 Over 4 to -130.
Zerillo's Bets for Friday, May 5
For additional bet notifications, follow me in the Action Network App. 
Atlanta Braves F5 (-188, 0.5u) at FanDuel (bet to -233)
Atlanta Braves (-190, 0.5u) at Caesars (bet to -195)
Cincinnati Reds F5 (-114, 0.5u) at FanDuel (bet to -116)
Cincinnati Reds (-105, 0.5u) at DraftKings (bet to -116)
Cleveland Guardians (+115, 0.5u) at WynnBet (bet to +108)
Cleveland Guardians / Minnesota Twins, Under 8.5 (-105, 0.5u) at FanDuel (bet to -116)
Colorado Rockies (+205, 0.5u) at WynnBet (bet to +205)
Kansas City Royals F5 (-138, 0.5u) at FanDuel (bet to -140)
Kansas City Royals / Oakland Athletics, Over 9 (-110, 0.5u) at DraftKings (bet to -115)
Milwaukee Brewers F5 (-118, 0.5u) at FanDuel (bet to -140)
Milwaukee Brewers (-110, 0.5u) at WynnBet (bet to -122)
Milwaukee Brewers / San Francisco Giants, F5 Over 4 (-110, 0.5u) at DraftKings (bet to -130)
Milwaukee Brewers / San Francisco Giants, Over 8 (-105, 0.5u) at DraftKings (bet to -110)
Philadelphia Phillies F5 (-168, 0.5u) at DraftKings (bet to -180)
Philadelphia Phillies (-145, 0.5u) at DraftKings (bet to -160)
Pittsburgh Pirates (+145, 0.5u) at WynnBet (bet to +140)
How would you rate this article?
This site contains commercial content. We may be compensated for the links provided on this page. The content on this page is for informational purposes only. Action Network makes no representation or warranty as to the accuracy of the information given or the outcome of any game or event.