MLB Picks Today | Odds, Expert Projections for Wednesday, May 24
Credit:
Getty Images. Pictured: Randal Grichuk, Matt McLain, Owen Miller
Welcome to Opening Pitch, my column that you'll find daily throughout the 2023 MLB season.
My goal for Opening Pitch is to highlight my top daily projection edges for MLB moneylines and totals, share my favorite bets and provide some betting notes and analysis, mainly as I react to opening and overnight lines while using my baseball betting model.
I will look to release a new version of Opening Pitch daily between midnight and 3 a.m. ET; after I enter my overnight bets in the Action Network App and update the MLB projections. Hopefully, you will use it as your morning betting guide to get ahead of the baseball markets.
You can find my projections for every MLB game in the Action App (on both the PRO Projections tab and the game pages) and our Projections Hub (which you can bookmark).
You can also shop for the best lines on our odds page.
Expert Picks for Wednesday, May 24
Texas Rangers vs. Pittsburgh Pirates
Martin Perez vs. Johan Oviedo
First Pitch: 12:35 p.m. ET
The Pirates are my most significant overnight projection edge for Wednesday and a bet I placed early at +115 on Tuesday evening.
I think the wrong team is favored in this matchup. Bet the Pirates to -112 in the First Five Innings (F5) and -105 for the full game.
I don't see much difference between Johan Oviedo (3.9 xERA, 98 Pitching+; a combination of Stuff+ and Location+) and Martin Perez (4.98 xERA, 98 Pitching+). If anything, Oviedo has more upside.
Perez overperformed last season (2.89 ERA, 3.59 xERA), but he's seen both his velocity dip and his strikeout rate regress this season. His groundball rate has plummeted, and his home run rate has spiked: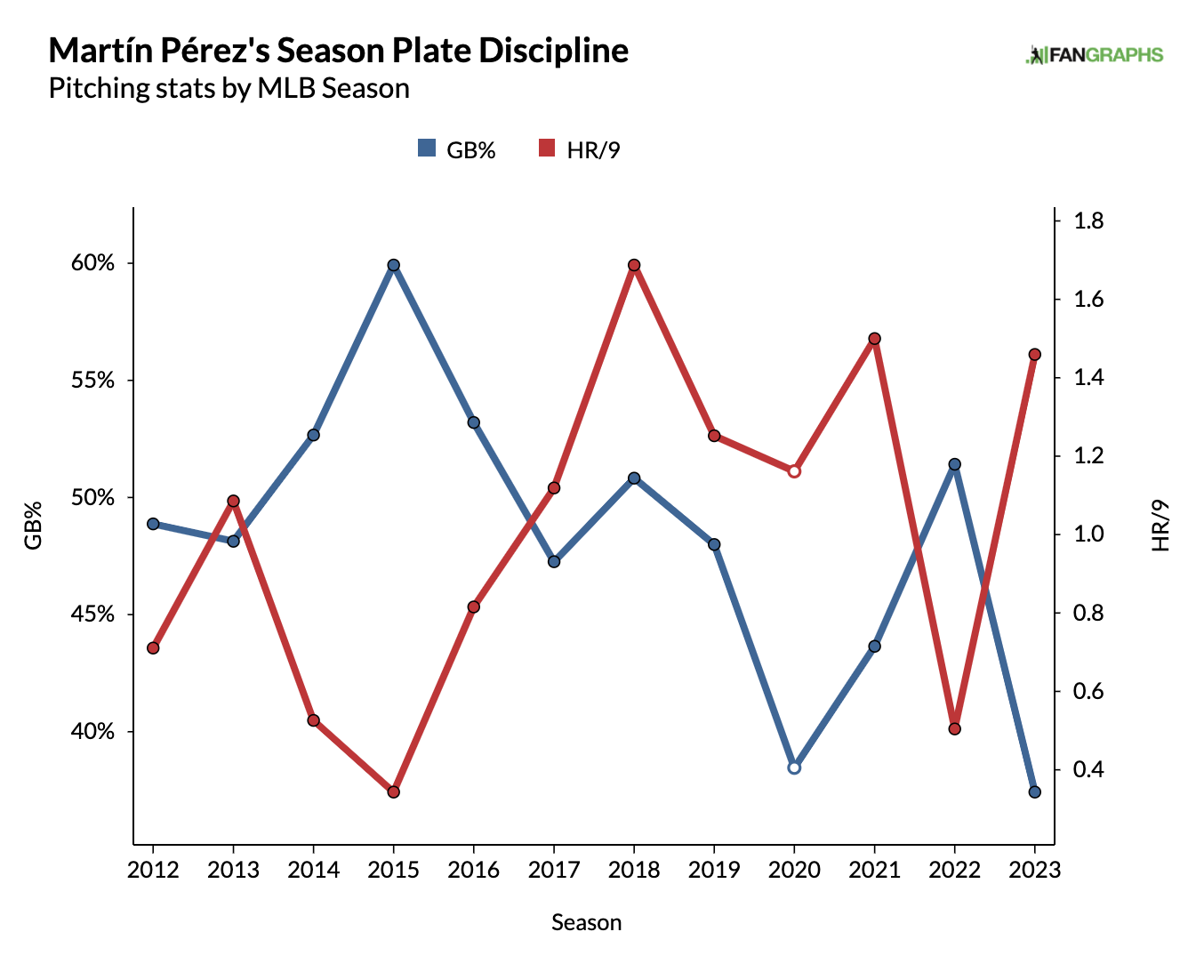 And the Pirates have the superior bullpen, both in my projections and by 2023 results (4.08 vs. 4.73 xFIP). The Rangers' position player advantages — both offensively and defensively — aren't enough to swing them to road favorites for me.
Arizona Diamondbacks vs. Philadelphia Phillies
Zac Gallen vs. Ranger Suarez
First Pitch: 1:05 p.m. ET
Among qualified pitchers, Zac Gallen has the fourth-highest line-drive rate, ranking just below a trio of declining starters — Miles Mikolas, Rich Hill and Lance Lynn.
Gallen hasn't been fortunate this season (.305 BABIP, 64% strand rate vs. .268 and 77% career). However, his actual ERA (2.9) is still a half-run better than his expected mark (3.4). Gallen sports a career-best strikeout minus walk rate — up nearly five percent year over year — but when batters do connect, Gallen is getting tagged.
While I still view Gallen as a superior pitcher to Ranger Suarez — who is still working his way back into form after a late start to the season — the Phillies have the superior bullpen in this matchup. The season-long results are comparable; however, my model thinks the Phillies have a far superior group of relievers.
Bet the Phillies' moneyline to +100.
Houston Astros vs. Milwaukee Brewers
Brandon Bielak vs. Adrian Houser
First Pitch: 1:10 p.m. ET
Both pitchers have brief 2023 samples, but Adrian Houser (101 Pitching+) has shown above-average pitch data, while Brandon Bielak (94 Pitching+) is a rotation filler for the Astros.
Jose Altuve, who recently returned from his injury in the WBC, exited Tuesday's game early; I'd expect him to miss Wednesday afternoon's matchup.
The Astros have the superior bullpen and position player group, but the Brewers have the better splits. Milwaukee's offense rates better against righties than lefties, while the opposite is true for Houston.
Bet the Brewers to -128 in the first half (F5) and -110 for the full game.
San Francisco Giants vs. Minnesota Twins
Anthony DeSclafani vs. Joe Ryan
First Pitch: 1:10 p.m. ET
Among 234 starting pitchers this season, Joe Ryan ranks 17th in Pitching+ (109); Anthony DeSclafani ranks 120th, right at league average. And by xERA, Ryan (2.30) ranks third, while DeSclafani (3.90) ranks 78th.
Essentially, that's the difference between an ace and a No. 3 starter. Ryan's effectiveness has exploded after introducing a splitter to his arsenal (111 Stuff+ vs. 97 last season); DeSclafani is carrying a career-best walk rate, but hasn't seen an improvement in stuff (92 Stuff+ this season; 93 last year).
Both teams are in their superior split against a righty, and I like the Twins in the first half, up to -170. You can also use them as a parlay piece up to -177.
St. Louis Cardinals vs. Cincinnati Reds
Steven Matz vs. Ben Lively
First Pitch: 6:40 p.m. ET
We haven't seen a ton of Ben Lively, but his command (104 Location+) has been solid thus far, even if his stuff (78 Stuff+) is subpar. If he can limit walks, Lively can pitch to the more optimistic end of his projected FIP range (4.51 to 5.46). And he keeps the Cardinals in their lesser split.
The overall package of Steven Matz (99 Pitching+) isn't much better than Lively, which is surprising, but many of these back-end rotation fillers are interchangeable. And even though the Cardinals' bullpen has drastically outperformed the Reds' relievers this season (4th vs. 20th in xFIP), the model projects the two units as much more comparable.
Bet the Reds to +137 for Wednesday.
Toronto Blue Jays vs. Tampa Bay Rays
Yusei Kikuchi vs. Shane McClanhan
First Pitch: 6:40 p.m. ET
While his 2.05 ERA looks stellar, Shane McClanahan is due for regression (3.58 xERA) thanks to a 92% stand rate (league average is closer to 72%) and a 10.7% walk rate, which has nearly doubled compared to last season (5.9%).
He also draws a difficult matchup against the Blue Jays, who have performed better against righties than lefties this season but project better against southpaws, with most of their key bats hitting from the right side. In 85 plate appearances, current Toronto hitters own a .816 OPS against McClanahan — and they have already faced him once this season.
I still don't know what to make of Yusei Kikuchi on a start-to-start basis, but this is his third consecutive season with an xERA north of five, even though he is making an effort to pitch to contact; both his strikeout and walk rates are down more than five percent compared to last season.
While the Rays' offense ranks first overall in wRC+ against both righties and lefties, they have torched southpaws (162 wRC+) to a .943 OPS in 330 plate appearances. For context, Randy Arozarena (.957 OPS) ranks seventh among qualified hitters, so it's like the Rays have had nine of him against lefties.
I projected this total at 8.8; bet Over 8 to -120, or 8.5 to -101.
Baltimore Orioles vs. New York Yankees
Tyler Wells vs. Nestor Cortes Jr.
First Pitch: 7:05 p.m. ET
We bet an Under 8 in the Bronx on Tuesday thanks to some decent pitching weather, and I drew the same conclusion with the Under 8.5 for Wednesday. Temperatures will be a relatively cool 68 degrees at first pitch, with winds increasing from six to twelve mph from left field as the game extends.
Tyler Wells is generally underrated, carrying Mike Fiers-level popup rates while bumping his strikeout rate by five percent compared to last season. Wells' expected ERA (3.60, 3.80, 3.84 through three big league seasons) puts him as a mid-rotation starter and closer to where I'd rate him than his xFIP (4.40) would indicate.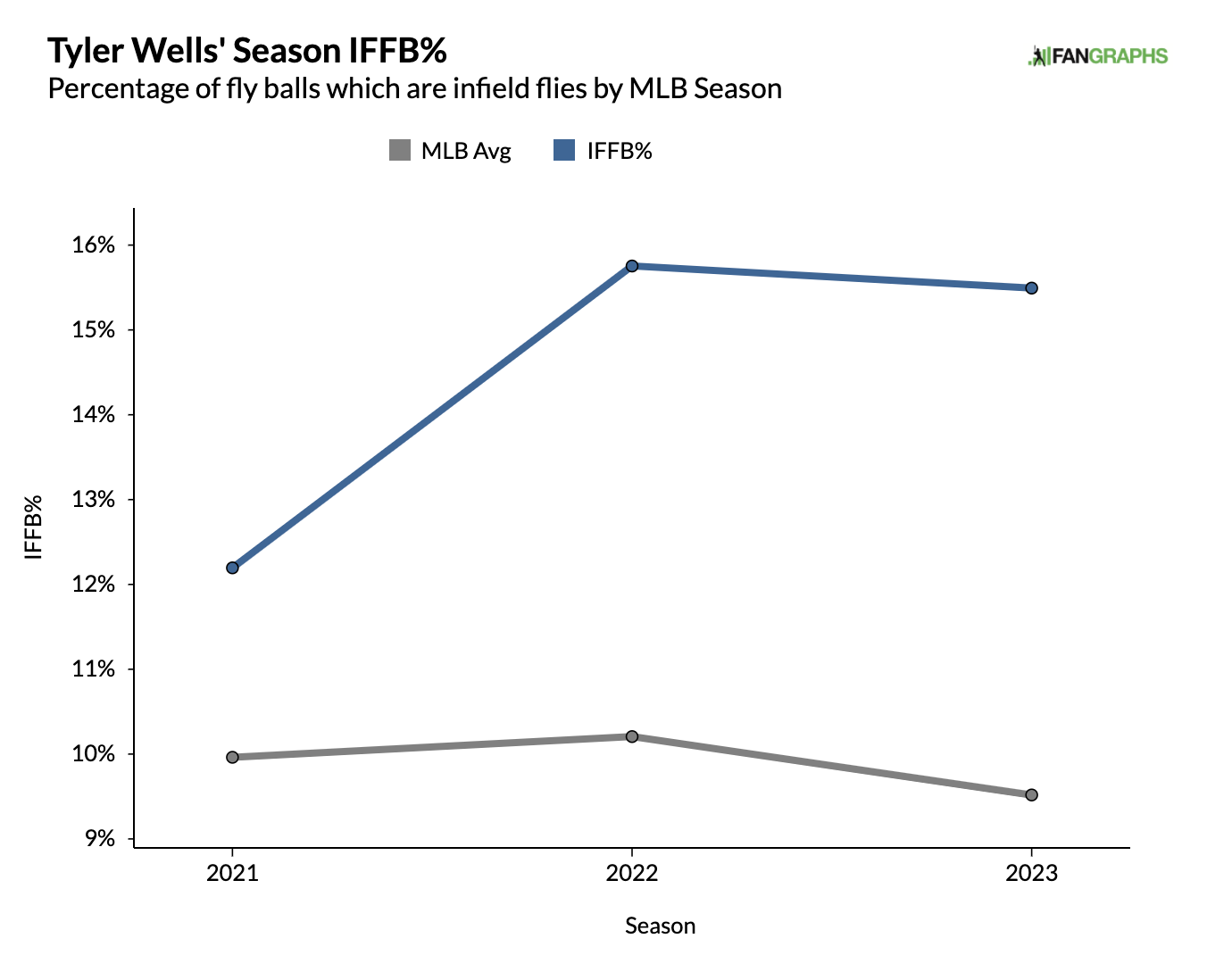 Nestor Cortes Jr. has always been a model favorite too, and even though his xERA (3.79) has taken a step back compared to previous seasons (2.70 in 2022; 3.30 in 2021), his actual ERA (5.21) should eventually normalize.
Bet Under 8.5 to -118, or Under 8 to +100, and consider adding a Live Under 9 or 9.5 at some point during the early innings; I expect the pitching weather to peak in the late innings as the temperatures cool and the wind speeds increase.
Los Angeles Dodgers vs. Atlanta Braves
Tony Gonsolin vs. Bryce Elder
First Pitch: 7:40 p.m. ET
Bryce Elder has shown decent command, but pitching models don't love his arsenal (77 Stuff+), and his 2.06 ERA should eventually regress heavily (4.57 xERA). The Dodgers have also been one of the better teams against right-handed pitching this season, and Elder has had a lot of soft matchups.
With a career 2.62 ERA in 19 outings, Elder has drastically outpitched both his expected ERA and xFIP (3.89); perhaps his 52.7% groundball rate has been opportune to generate double plays (82% strand rate) and keep runners out of scoring position.
Tony Gonsolin has also outperformed his underlying metrics for his entire career (2.49 ERA, mid 3's xERA, 4.14 xFIP), so perhaps trying to bet an Over against these starters is a fool's errand.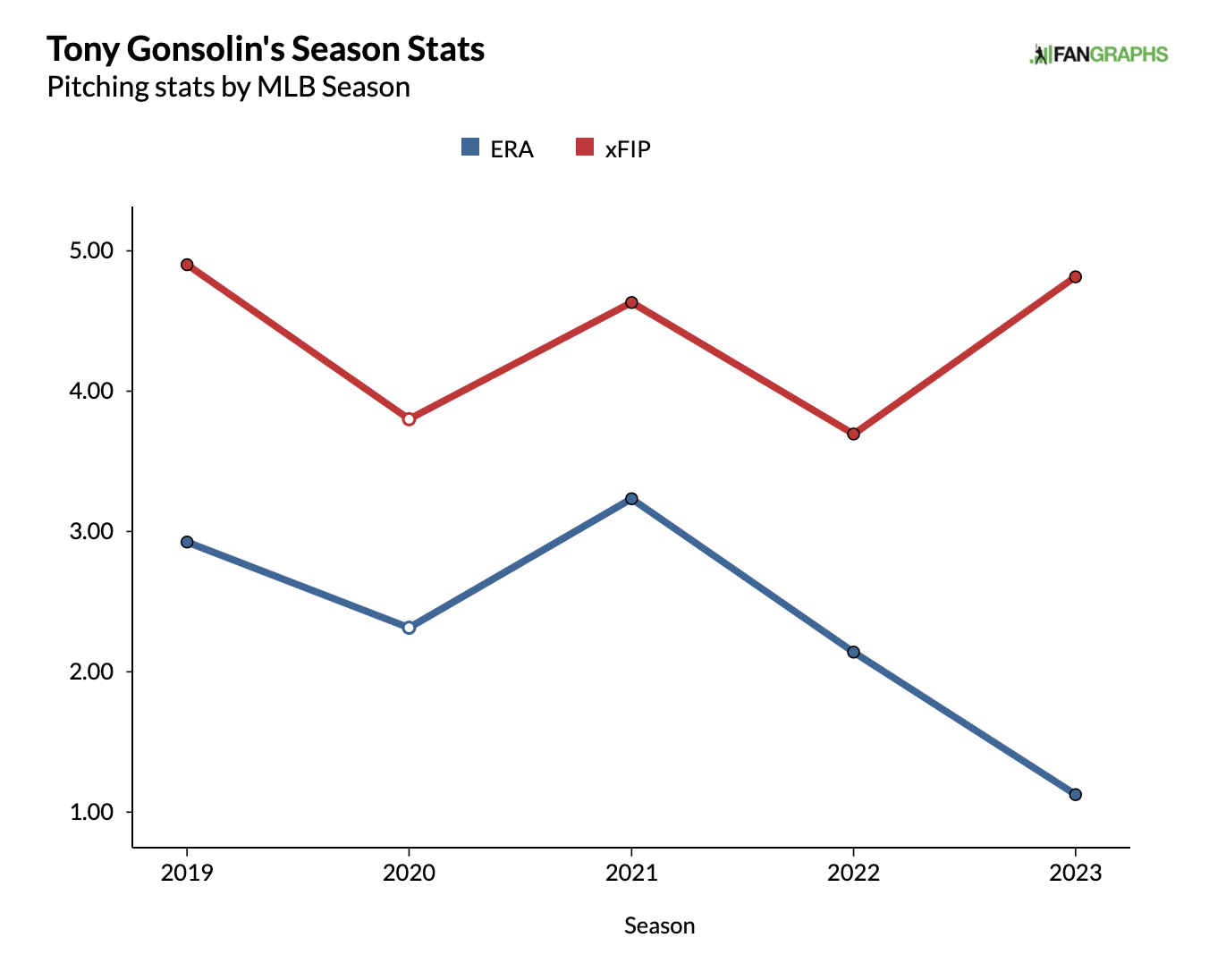 Still, I projected this total at 9.9; bet Over 9 to -123, or Over 9.5 to -104.
New York Mets vs. Chicago Cubs
Kodai Senga vs. Marcus Stroman
First Pitch: 7:40 p.m. ET
Wednesday's matchup at Wrigley Field features extreme weather; 15 mph winds blowing in from the left field at first pitch. It triggered the following BetLabs system, which has generated a 16% ROI since 2005.
I downgraded the run-scoring environment by about 20 percent compared to a weather-neutral night on the north side of Chicago. However, I couldn't get my total quite as low as the market.
The betting market is much sharper than just a few years ago. Since 2019, the same Wrigley system is just 55-46 (4.5% ROI) and 4-4-1 this season. While that's a small sample, this game is still an excellent example to show that I am not a system or trends bettor.
I set the total at 7.3; bet Over 6.5 to -122, or Over 7 to -103.
Miami Marlins vs. Colorado Rockies
Sandy Alcantara vs. Karl Kauffmann
First Pitch: 8:40 p.m. ET
I won't harp on Sandy Alcantara — we have done that enough this season — but suffice it to say that permitting more line drives and flyballs — and fewer groundballs — is a recipe for disaster at Coors Field.
Alcantara still seems to have "it" in the early part of his starts, but as he cycles through a lineup multiple times, eventually, his command unravels.
Both Alcantara and Karl Kauffmann will look to rely on changing speeds at Coors Field. Kauffmann has a bad fastball and showed poor results in the high minors. Projections hate him (4.79 to 5.93 FIP range), and his stuff rates well below average (79 Stuff+).
Tuesday's Over at Coors probably should have gotten home; the teams went 3-16 with runners in scoring position (15 LOB). We'll take another shot on Wednesday; bet Over 11 to -108.
The model would also continue the Alcantara fade at +150 or better.
Oakland Athletics vs. Seattle Mariners
Ken Waldichuk vs. Brandon Miller
First Pitch: 9:40 p.m. ET
Ken Waldichuk hasn't been able to control his whiffle ball slider this season (12.7% walk rate), and I expected something better than a 6.26 xERA. Still, even his eye-popping strikeout numbers from the high minors haven't translated to the big league level.
Bryce Miller finally faced some resistance in his last start against the Braves (6 1/3 IP, 4 H, 3 R, 1 BB, 4 K), but I thought he was imposing in defeat.
Miller has passed every test so far at the big-league level, and even though he already faced the A's once (6 IP, 2 H, 1 R, 0 BB, 10 K) in his debut, I don't see why he can't dominate them again.
Among all starters this season, Miller ranks 10th in Stuff+ (122) and 11th in Pitching+ (112), validating the explosive results we've seen from him to date. He might actually be the Mariners' best starter.
You can bet the Mariners F5 moneyline to -265 or include them in a parlay to -280.
Zerillo's Bets for Wednesday, May 24
For additional bet notifications, follow me in the Action Network App. 
Detroit Tigers/ Kansas City Royals, Over 9 (-105, 0.5u) at DraftKings (bet to -110)
Cincinnati Reds (+140, 0.5u) at WynnBet (bet to +137)
Colorado Rockies / Miami Marlins, Over 11 (+100, 0.5u) at WynnBet (bet to -108)
Los Angeles Dodgers F5 (-105, 0.5u) at Caesars (bet to -107)
Los Angeles Dodgers / Atlanta Braves, Over 9 (-120, 0.5u) at WynnBet (bet to -123 or 9.5, -104)
Milwaukee Brewers F5 (-118, 0.5u) at WynnBet (bet to -128)
Milwaukee Brewers (-105, 0.5u) at WynnBet (bet to -110)
New York Mets F5 (-105, 0.5u) at Caesars (bet to -113)
Parlay (+119, 0.75u): Minnesota Twins F5 (-170) & Seattle Mariners F5 (-265) at FanDuel (parlay to -177 and -280)
Philadelphia Phillies (+106, 0.5u) at FanDuel (bet to +100)
Pittsburgh Pirates F5 (-102, 0.5u) at FanDuel (bet to -112)
Pittsburgh Pirates (+115, 0.5u) at WynnBet (bet to -105)
Toronto Blue Jays / Tampa Bay Rays, Over 8 (-120, 0.5u) at Draftkings (bet to -120 or 8.5, -101)
How would you rate this article?
This site contains commercial content. We may be compensated for the links provided on this page. The content on this page is for informational purposes only. Action Network makes no representation or warranty as to the accuracy of the information given or the outcome of any game or event.