2023 NBA Division Futures Odds & Picks: 4 Bets to Make, Including the New Orleans Pelicans
Credit:
Sean Gardner/Getty Images. Pictured: Zion Williamson #1 of the New Orleans Pelicans.
The NBA season is finally here, and not a moment too soon. That means it's time to get those final futures bets in.
Division bets are one of the best ways to play futures. The NBA has six divisions of five, so betting divisions is a great way to isolate two or three teams against one another and make a correlated bet, backing one team you like and fading another you don't believe in.
Let's go around the NBA and preview each division. I'll recommend a bet for each with a confidence level, then give out best division bets.
Don't forget to check out my other futures breakdowns and best bets:
---
Odds are the best available for each pick as of Oct. 15. Shop for the best real-time lines with our NBA Futures Betting Odds page.
---
Atlantic Division
Boston Celtics +140
Brooklyn Nets +230
Philadelphia 76ers +300
Toronto Raptors +1300
New York Knicks +6600
The Atlantic has three presumed title contenders, which means three chances of at least one great team winning mid 50s. That's just not a level the Knicks or Raptors can realistically get to with both teams' lack of offense.
I think the wrong team is favored, and they're not even second favorite. I love the 76ers at +300.
Philadelphia has at least one superstar and maybe two, depending on James Harden. The Sixers have a burgeoning third star in Tyrese Maxey and an overqualified fourth banana in Tobias Harris. It's possible Philadelphia has the best second-, third-, and fourth-best players in the NBA.
Now after an awesome offseason, they have a deep collection of excellent defensive role players that includes P.J. Tucker, DeAnthony Melton, Matisse Thybulle, and Danuel House. I put Philly's defense up there with anyone in the league, including Boston's, and the offense has far more potential.
The healthy 76ers can be a 60-win juggernaut, and Maxey and Harris are the perfect guys to ramp up to bigger offensive roles within a great defensive ecosystem to keep the team winning when Joel Embiid and Harden inevitably miss time.
The Celtics were the best team in basketball the back half of last season, but everything's going wrong into the new year. Ime Udoka is gone, Danilo Gallinari is sidelined, and Robert Williams starts the year injured.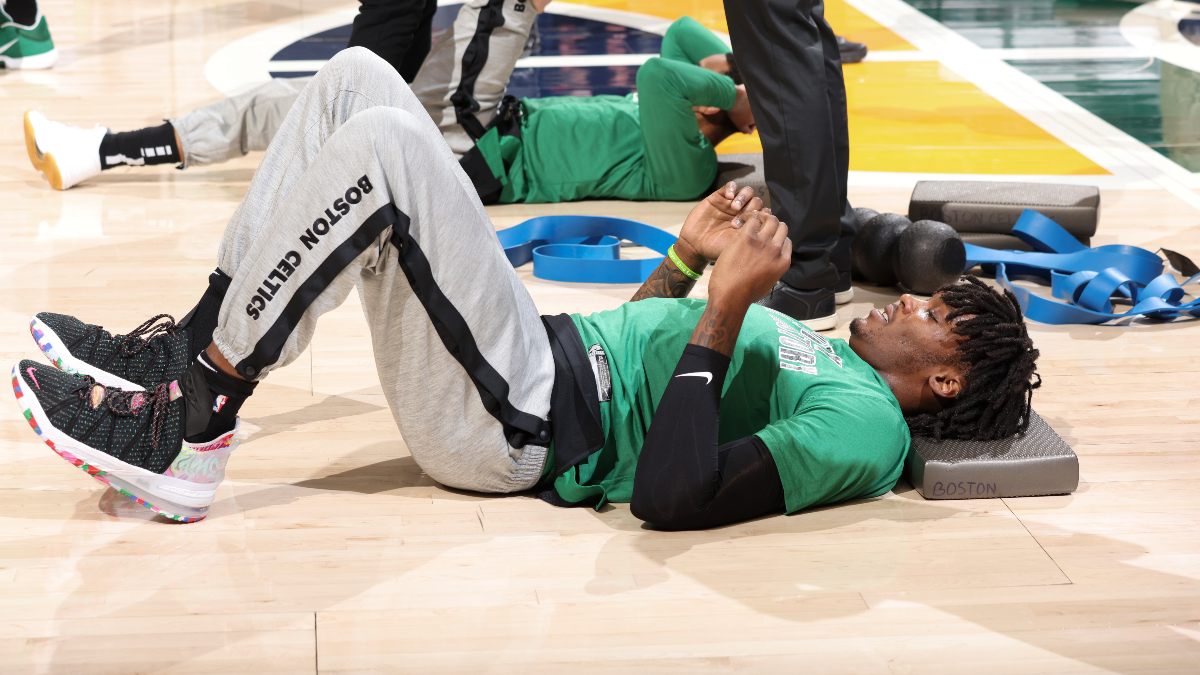 He's the most important player to this elite defense, and injuries are already compromising the depth that was supposed to make this team great.
The Nets will be awesome some nights but MIA others with their lack of defense and shooting that will run hot and cold. Brooklyn is a wildcard, but one that scares me more in a short playoff series than over 82 games.
I'm happy to fade Boston's bad mojo and Brooklyn's complete unknown. Philadelphia's defense gives it a high floor night to night, and the stars give them a ceiling as good as anyone.
I make Philadelphia a clear division favorite and would price them at Boston's number. The Sixers are an easy bet. I bet them twice earlier at a longer number but still like them at this number, especially with the early Celtics worries.
Decision: Bet Philadelphia +300
Central Division
Milwaukee Bucks -240
Cleveland Cavaliers +350
Chicago Bulls +700
Detroit Pistons +21000
Indiana Pacers +35000
The Bucks are the biggest division favorite on the board. They have maybe the best player in basketball, championship equity, great offense, and probably great defense too now with Brook Lopez and Jrue Holiday healthy. At -240, the Bucks are implied 71% to win the division. That's too high. It's a no bet.
Khris Middleton is already injured, and we saw how that went in the playoffs. The preseason Bucks went 0-5 and and looked old and tired. This roster isn't exactly a spring chicken. Holiday and Middleton are in their 30s. Lopez is 34, ancient for a big man. George Hill and Wes Matthews are 36. Joe Ingles is 35 and coming off a torn ACL. Even Giannis Antetokounmpo comes into the year with EuroBasket mileage and hints of a back injury there.
Remember how old the Lakers looked last year? Are we sure the Bucks won't just do all they can to weather the long regular season and save their legs for a playoff run?
A healthy, motivated Bucks team coasts to a division title and more. If they falter, it's the Cavs or Bulls — and there's only one choice.
Chicago had the underlying metrics of a .500 team last year and may not get Lonzo Ball anytime soon. Cleveland, on the other hand, had the best metrics of any team in the East for much of the year. Both teams fell apart late with injuries, but the Cavs have a much better winning formula.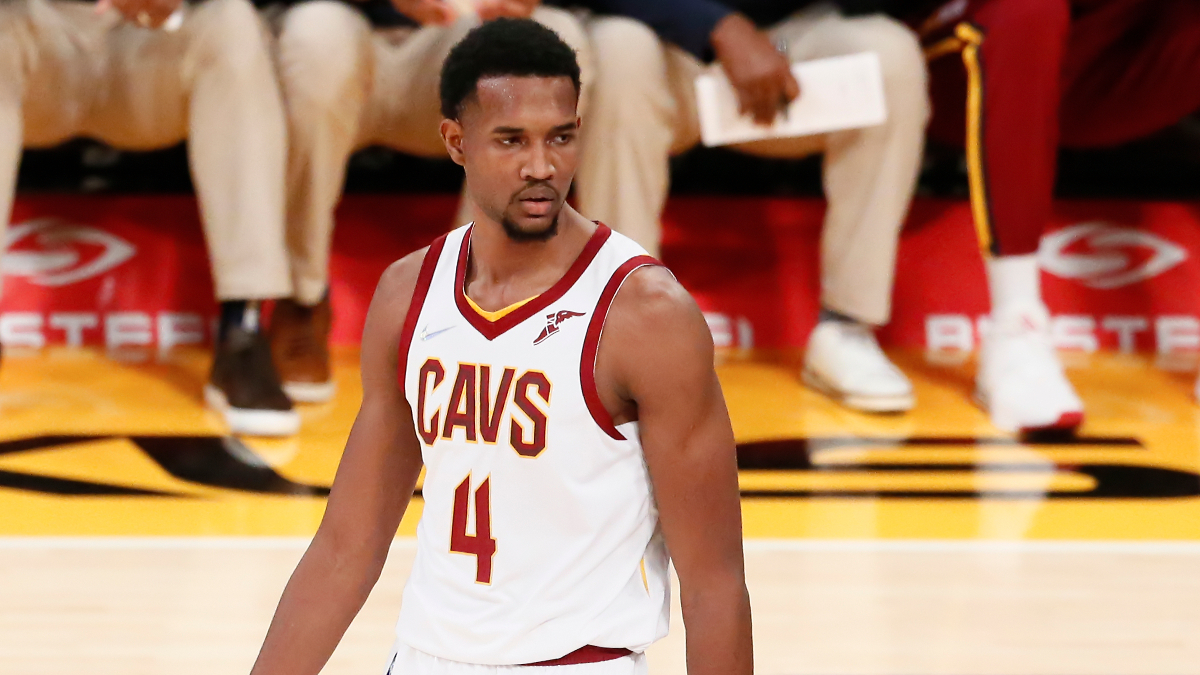 Evan Mobley and Jarrett Allen could make this a top five defense, a great way to grind out regular season wins. Donovan Mitchell raises the floor of the offense, especially if Mobley and Darius Garland take another leap.
The Cavs had more tasty odds before the Mitchell trade. The number isn't as juicy now, but they're a better team with a higher floor and better shot at the division now. They probably can't compete with Milwaukee's best, but with the Bucks looking so ghastly in the preseason, this is worth adding to your portfolio before the season starts and the Milwaukee doubt sets in.
Decision: Lean Cleveland +350
Southeast Division
Miami Heat -150
Atlanta Hawks +170
Charlotte Hornets +1600
Washington Wizards +4000
Orlando Magic +20000
This is a two-team race. The Hornets look abysmal and are missing last year's top two players with LaMelo Ball hurt. The Wizards and Magic will compete night to night but not in this division. That leaves the Heat and Hawks.
I like Miami slightly more. Defense is a better regular season formula, and Heat culture is proven while we don't know yet what Dejounte Murray will look like in Atlanta. I like the Hawks' upside more but Miami has the safer floor.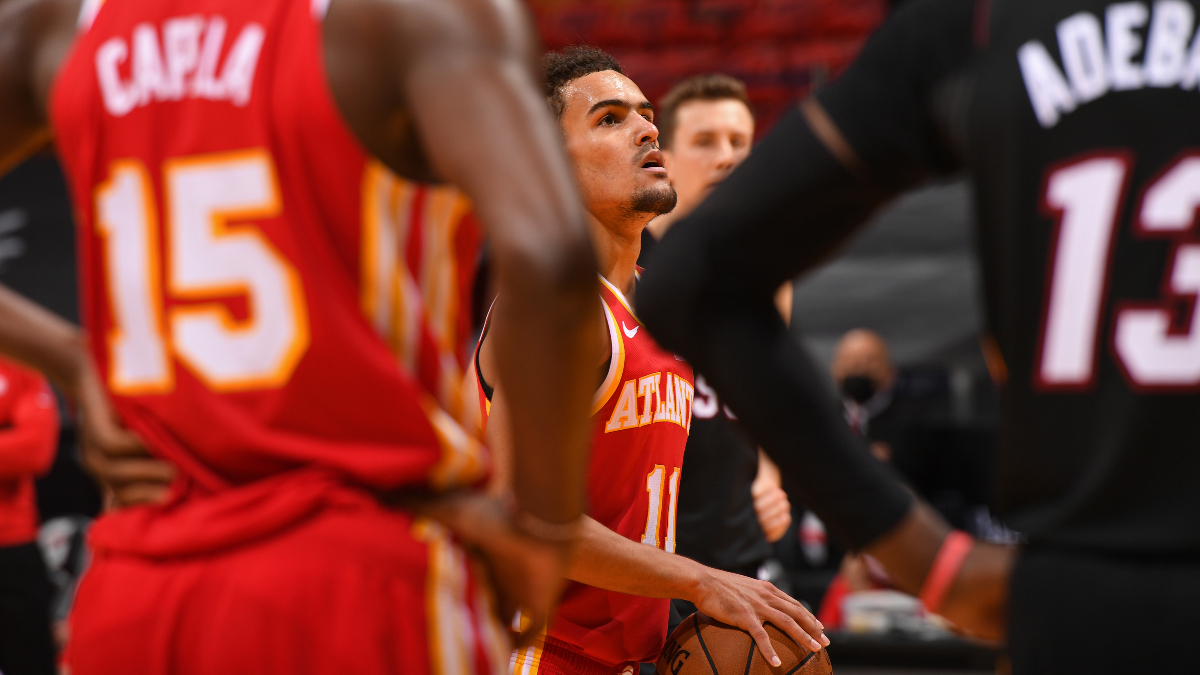 My model makes the Heat and Hawks essentially co-favorites, close to a coin flip. At even odds, I'd take the Heat — but we're getting +170 on that coin flip.
Even better, we can bet exact division outcome with Atlanta-Miami at BetMGM at +250, an implied 29%. With these teams so far ahead of the field, that's a great way to juice Atlanta's otherwise coin-flip odds.
Decision: Bet Atlanta 1, Miami 2 exact outcome +250
Pacific Division
Golden State Warriors +200
Los Angeles Clippers +200
Phoenix Suns +225
Los Angeles Lakers +950
Sacramento Kings +40000
Sportsbooks have shrugged their shoulders at the Warriors, Clippers, and Suns, effectively pricing all three as co-favorites in the division with similar win total over/unders. Books don't know, and I'm not sure we do either.
The Warriors lost some important veterans and defense and enter the year with the Draymond Green thing hanging over the team. But they've faced adversity before, the young guys look ready, and the championship core is there. They would win 45 or 65.
The Suns have the stank of an awful offseason hanging over the franchise. The playoff exit was ugly, the Kevin Durant pursuit was long and unfruitful, Deandre Ayton and Jae Crowder don't want to be there, and there's the Robert Sarver stuff plus a worrying lack of depth. But, you know, the Suns just won 64.
I like the Clippers best. The depth is insane, especially on the wing, and a .500 team from a year ago adds Kawhi Leonard, Norman Powell, John Wall, and effectively Paul George and Robert Covington. On paper, this might be the team to beat. But the Clippers have been the team to beat on paper before.
We'll have to make a choice on these three at some point, but we don't need to do it now. All three have aging stars likely to miss time, and all three have title aspirations and bigger goals than regular season wins and division banners. I don't need my money tied up in so much unknown.
There's one slight edge in this division in my model — and it's the Lakers. I like LA's defense with the rebuilt roster, and with obvious downside for the three teams above, and healthy LeBron James and Anthony Davis are as good as any pair of stars. The ever-present desperation means this is probably not the final roster, so the Lakers likely have a better chance than +950 implies (9.5%).
Poor Kings.
Decision: Lakers +950 (Pass)
Northwest Division
Denver Nuggets -139
Minnesota Timberwolves +155
Portland Trail Blazers +1000
Utah Jazz +25000
Oklahoma City Thunder +25000
Haven't we seen these Blazers before? Only this version loos worse. Damian Lillard and Jusuf Nurkic are older and Anfernee Simons isn't as good as CJ McCollum.
The trio will be a disaster defensively. I'm simply not a believer in this Portland roster, so this is another two-team race.
The Wolves should be a high-floor team with a potential to finish top 10 on offense, defense, or both. That's what you get Rudy Gobert for, and we know the formula works — in the regular season. It'll take some time to figure out on both ends though, and this is a young team that will need to find itself and learn how to play with the new target on its backs.
The Nuggets are my clearest division favorite. What's not to like? Nikola Jokic is the back-to-back MVP and elevates his teammates. Jamal Murray and Michael Porter Jr. are back. Kentavious Caldwell-Pope and Bruce Brown were the perfect role player additions.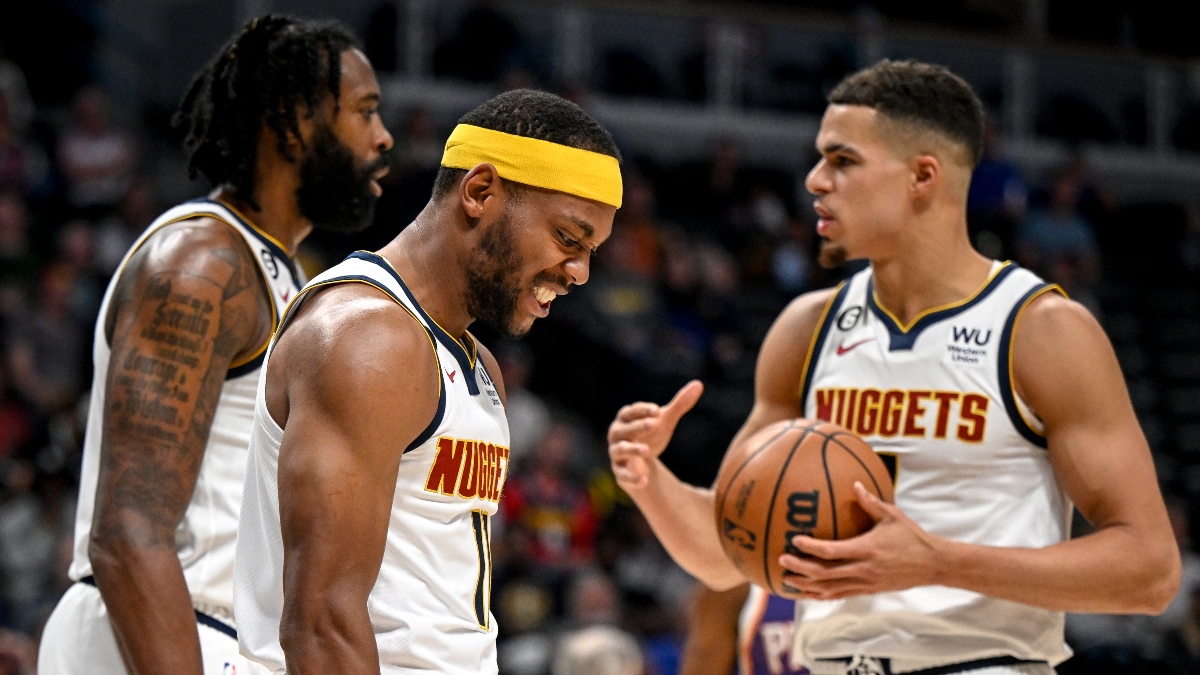 Aaron Gordon and Jeff Green return to roles they're better suited for. Michael Malone maximizes the roster every year. This could be the best offense in the league. They're going to win a lot of games.
The Nuggets are implied 58% to win the division at -139. That's a touch low for me, so there's value. But there's even better value on Denver-Minnesota exact outcome at +140.
That's a bet on Nuggets over Wolves, and Wolves over Blazers, and those are pretty clear decisions for me with a six-to-eight win clearance between each of the three.
Decision: Bet Denver 1, Minnesota 2 exact outcome +140
Southwest Division
Memphis Grizzlies +125
Dallas Mavericks +160
New Orleans Pelicans +400
San Antonio Spurs +50000
Houston Rockets +50000
My model effectively agrees with the prices for the three good teams in this division — but wildly disputes which team should be paired with which odds.
I'm out on the Grizzlies at +125. That's a wild price for a team that lost key depth pieces in Kyle Anderson and DeAnthony Melton and starts the year without its most important player, Jaren Jackson Jr.
Obviously Ja Morant is the star, but Jackson makes everything work at both ends. His rim protection and switchability is the heart of the defense, but he might be even more important on offense with his ability to clear out space for Morant to attack the paint. Memphis won last season with defense and depth, and both are compromised this year.
I'd make the Mavs a slight division favorite. Luka Doncic is the MVP favorite, and Christian Wood is a good addition that should offset the loss of Jalen Brunson once they figure out his role. If Dallas's defense performs like last year, the Mavs will be good again.
But could the Pelicans be even better?
Zion Williamson looks healthy and awesome, and skinny Zion changes everything. He averaged 29.6/7.7/4.3 with a 120 Offensive Rating his last 20 games, and New Orleans has since added CJ McCollum and defensive role players Herb Jones and Jose Alvarado and seen a big step forward from Brandon Ingram. Trey Murphy and Dyson Daniels look ready for impact too.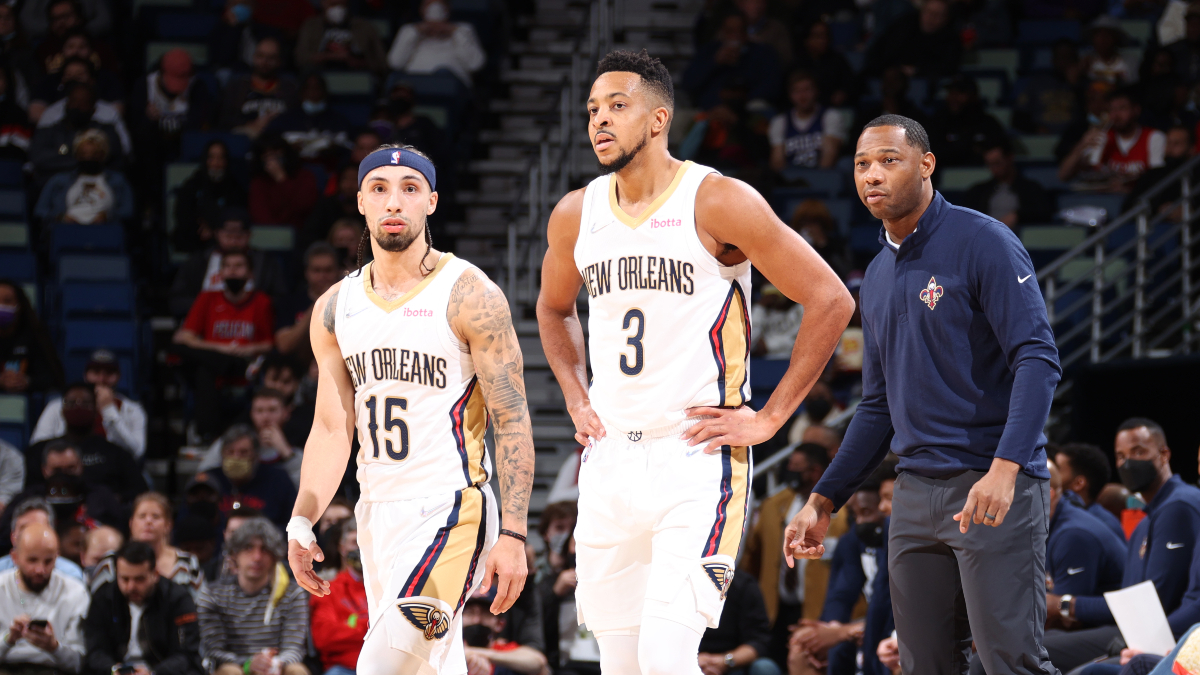 New Orleans is the highest variance team in the league. The offense might not work, the defense could just be bad, and the stars are injury prone. But the good version of this team should be really good, with best offense in the league potential if everything clicks.
With a high variance team, bet the extremes. I want no part of a Pelicans over/under, but I'd consider a No Playoffs bet for the low end and love New Orleans in the division, especially since I'm lukewarm on the Mavs and Grizzlies.
I can't believe this is still at +400. It won't stay there if the Pels look good the first couple weeks. This looks like a three-team race at worst, so I'm grabbing the long number.
Decision: Bet New Orleans +400
Best Division Bets
1. Philadelphia 76ers +300
2. New Orleans Pelicans +400
3. Denver 1, Minnesota 2 exact outcome +140
4. Atlanta 1, Miami 2 exact outcome +250
How would you rate this article?
This site contains commercial content. We may be compensated for the links provided on this page. The content on this page is for informational purposes only. Action Network makes no representation or warranty as to the accuracy of the information given or the outcome of any game or event.