NBA Win Total Odds & Picks: Analysis for Cavaliers, Nuggets and More Over/Under Bets
Credit:
Lauren Bacho/NBAE via Getty Images. Pictured: Donovan Mitchell #45 of the Cleveland Cavaliers.
The 2022-23 NBA season is here, so it's time to get on the record with my favorite over/under win total best bets of the year.
Matt Moore and I covered all 30 teams' win totals this summer on the Buckets podcast. You can find full analysis for each team there sorted by division along with best bets at the time.
Of course, the lines have shifted over the past month and we're learning more about these teams as we wrap up preseason and get ready for games that count. Below are my seven favorite win total over/under bets on the precipice of the new season.
Don't forget to check out my other futures breakdowns and best bets:
Denver Nuggets Over 49.5 (-140 DraftKings)
I can't figure out why this line is so low and even dropping at some books.
What's not to like about the Nuggets? Start with defending back-to-back MVP Nikola Jokic, who might well be the best player in the world. Jokic is at his peak, gets better every year, and elevates everyone around him. Just Jokic alone might be enough to push a team near 50 wins.
Don't believe me? Check last year's standings! Jokic and a bunch of dudes he found at the YMCA won 48 games. Now we add potential All Stars Jamal Murray and Michael Porter Jr. back into the mix, and it's not just them.
Kentavious Caldwell-Pope and Bruce Brown look like the perfect role players on this team, smart team defenders who do the little things and keep the ball moving on offense. Bones Hyland and Zeke Nnaji look ready for more.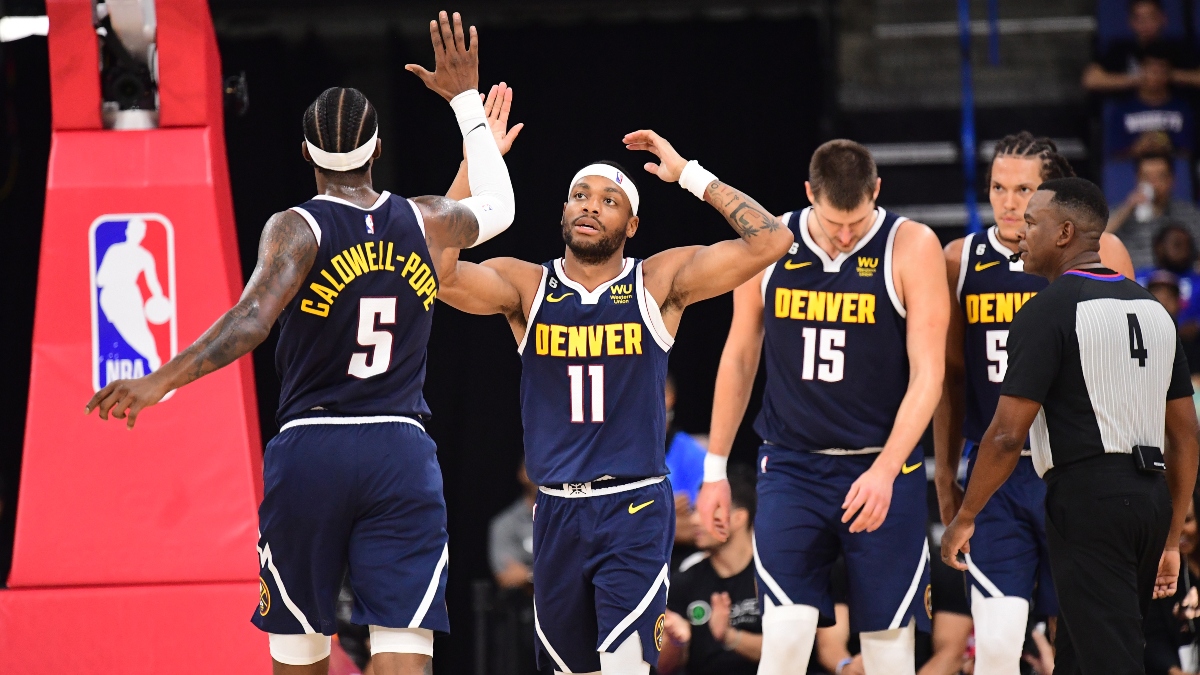 A more balanced roster also returns guys like Aaron Gordon and Jeff Green to more complementary roles where they'll thrive better than outsize spots last year.
The Nuggets won 48 games last year even without most of those guys, so how in the world is their new season win total just two higher? This team played at a 53-win pace or better each of the three seasons before last, and every key player is still just entering his prime and ostensibly better this year.
Denver is my No. 1 ranked offense heading into the season, and they could be historically great if Murray and MPJ stay healthy. The defense has ranked above league average the last two years already and should be a bit better with KCP, Brown, and Gordon in the right roles.
Michael Malone has this regular season thing down. He's gone over his posted win total every season of his career but one.
There's no reason this team shouldn't win in the 50s, unless it's because they hit 60 instead. I'll look at odds for 1-seed and best record in the NBA too.
This might just be the best team in the league staring us right in the face.
---
Philadelphia 76ers Over 50.5 (-130 DraftKings)
I keep extolling the 76ers at every turn, so what's one more time?
Daryl Morey spent the offseason building this roster around his two stars, and it was a slam dunk summer.
P.J. Tucker is the perfect addition to this team. He has great chemistry with James Harden and is an elite role player. DeAnthony Melton could be a similarly strong fit on the wing. Danuel House is a familiar 3-and-D guy. These are the exact sort of players this team lacked last season: low usage players who hit open shots at a decent rate and play a ton of defense in between.
Add all those guys to Joel Embiid and Matisse Thybulle's five All-Defense berths and this looks like a nasty defense, one I think could be best in the league. Doc Rivers has led some great defenses, and elite defense is the best and most consistent marker of a great regular season team.
Defense travels and shows up night after night, even when the shots aren't falling and even when Embiid or Harden inevitably miss some time. That's also where Philadelphia's two other stars, Tyrese Maxey and Tobias Harris come into play. Both are capable of scaling up when the stars sit, and either one of them can get hit and drop 30 any given night.
Philadelphia looks like a regular season juggernaut. The Sixers played at a 50-win or better pace in four of the last five years, and this is the best version of this team yet. Healthy Joel Embiid is as good as any player, Maxey is ready to break out, and Harden still has MVP upside on nights he's at his best.
I'm not sure if I believe in this team's playoff chances just yet with Embiid, Harden, and Rivers all leaving more than a few questions. None of that matters for a regular season win total.
I'm smashing this over and considering Philly bets for 1-seed or best record. Denver and Philadelphia are my top two teams entering the regular season.
---
Memphis Grizzlies Under 50 (-110 WynnBet)
How are the Grizzlies basically even with the Nuggets and 76ers? Consider the rosters. Memphis has the worst best player by a sizable margin. They have the worst second best player, and theirs is hurt to start the year too. Denver's offense is clearly better. Philadelphia's defense is clearly better. I don't get it.
The perception of Memphis is that they broke out last season thanks to the superstar MVP play of Ja Morant, and he was great. But this team won last year with outstanding defense and depth, and both areas have been compromised heading into the new season.
Kyle Anderson and DeAnthony Melton were real losses, over 3,000 minutes of terrific defense and depth missing, replaced by younger unknowns. More importantly, Jaren Jackson Jr. is out to start the season. He's been a slow healer in the past, and he is absolutely vital to this team on both ends.
Jackson's rim protection and switch ability is key to the defense, and his shooting spaces out the offense to open things up for Ja Morant's drives. His absence also further compromises the depth by pushing Brandon Clarke into a bigger role.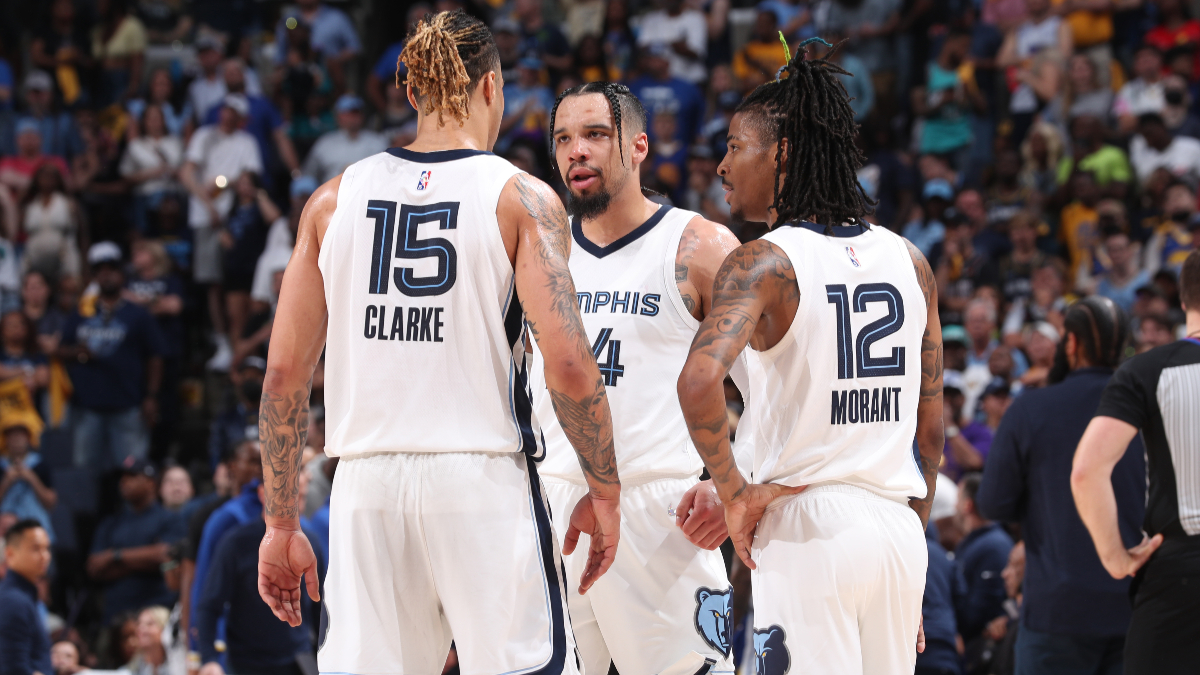 Growth is not linear. The Grizzlies leapt from 33, 34, and 38 wins to 56 last season. Even pacing some of those shortened seasons out shows just how huge a leap last year was, buoyed by outlier performance in a slew of wins without Morant.
This feels like a transition year for the Grizzlies. It's a smart long-term move not overpaying for guys like Anderson and Melton, and this franchise has been good developing its young players. That takes time, though.
Last year's biggest strength was its bench. This year's bench to start the season looks something like Tyus Jones, John Konchar, Ziaire Williams, Santi Aldama, and Xavier Tillman, with maybe some Jake LaRavia and David Roddy mixed in.
I'm expecting  a slow start without Jackson and think this could be a bit of a reality check campaign for the Grizzlies. I've looked at alternate unders and may even sprinkle the long shot odds to miss the playoffs at +845 at Circa. Memphis looks like a potential play-in team.
---
Cleveland Cavaliers Over 46.5 (-125 BetMGM)
I've been high on the Cavs all summer, if you've been following along on the Buckets podcast, and I like them even more with Donovan Mitchell.
The Cavs were 35-21 heading toward the break last year with their underlying metrics best in the entire Eastern Conference. Darius Garland and Jarrett Allen leapt to All-Star status, and Evan Mobley was coasting to Rookie of the Year.
Allen and Mobley transformed this defense overnight from laughable to top five, and Garland and Allen were a deadly pick-and-roll combo on offense. Then Garland and Allen got hurt, everything fell apart, and the Cavs finished 9-19 and fell off everyone's radar.
The original Cavs 41.5 total was my favorite over on the board. Cleveland should have a terrific defense if Mobley and Allen stay healthy, which means a high regular season floor.
The Cavs should get 20% more from their trio of young stars via health and development, plus 40 more games of Caris LeVert. They also added veterans Ricky Rubio, Raul Neto, and Robin Lopez, badly needed depth at positions of huge need.
All signs point up, and that was all before Cleveland traded for Mitchell. His presence greatly increases the floor for this team because he adds a badly needed second offensive engine.
I bumped the Cavs offense from 20th to 14th with Spida, and that's significant. A great defense can be held back by an inconsistent, below average defense. Make them at least average instead and you're pushing 50 wins.
This team reminds me of last year's Grizzlies, with great defense and a young star — two or three in this case. We'll see if they're ready for the playoffs, but they should be a high floor regular season team.
The old line of 41.5 was far too low. Perception of the team is higher now, with the line moving way up, but I project Cleveland in the 48-to-54-win range so this is still a good play even at the higher number.
---
BetMGM's bonus offer will give new users will get a $1,000 risk-free bet on their first wager.
---
The Poo Poo Platter Tankfecta
UtahJazz under 24.5 (-110 DraftKings)
Houston Rockets under 24.5 (-120 Bet365)
Oklahoma City Thunder under 24.5 (+100 WynnBet)
This is a different kind of pupu platter, a tanktastic trio with every incentive to lose a lot of games with the prospect of Victor Wembanyama and Scoot Henderson waiting at the end of the rainbow.
These three teams should race to the bottom with the goal of finishing bottom three and a 27.42% chance at a top-two pick. They'll compete with each other, the Spurs and Pacers (with lower over/unders), and likely one or two other teams that pulls the plug early.
Because of lottery incentives, teams at the bottom tend to cluster together, competing for every last loss. Look how compact (and bad) the win totals for teams at the bottom were the last few years:
2022: 20, 22, 23, 24, 26, 27
2021: 17, 20, 21, 22, 22, 23
2020: 15, 19, 19, 20, 20, 21, 22
I probably don't need to spend much time convincing you these three teams stink. I have all three bottom six on both offense and defense with the exception of OKC's defense.
The Jazz blew it up, trading five of their seven-man rotation, and Mike Conley will exit soon enough too. Left behind is a veritable who's who of sixth men: Jordan Clarkson, Collin Sexton, Malik Beasley, Lauri Markkanen, Talen Horton-Tucker.
Take your pick of empty Calorie gunners, not a lick of defense or efficiency to be found. There's no point guard once Conley goes, and Udoka Azubuike and Walker Kessler ain't exactly Rudy Gobert defensively.
If the Jazz don't have the worst defense in the league, the Rockets might. Houston doesn't have a true center, so Alperen Sengun and Jabari Smith are the final line of defense. Nine of 12 presumed rotation guys are 22 or younger.
Youth typically means no defense, inefficient offense, and a ton of Ls. Smith and Jalen Green's archetypes take a long time to develop into winning players. The Rockets won 20 last year despite a random seven-game win streak, then traded their only positive impact player Christian Wood.
The Thunder were intriguing until Chet Holmgren got hurt. Now Shai Gilgeous-Alexander is out for the start of the year, and who knows when we'll see him again with OKC set up to tank yet again.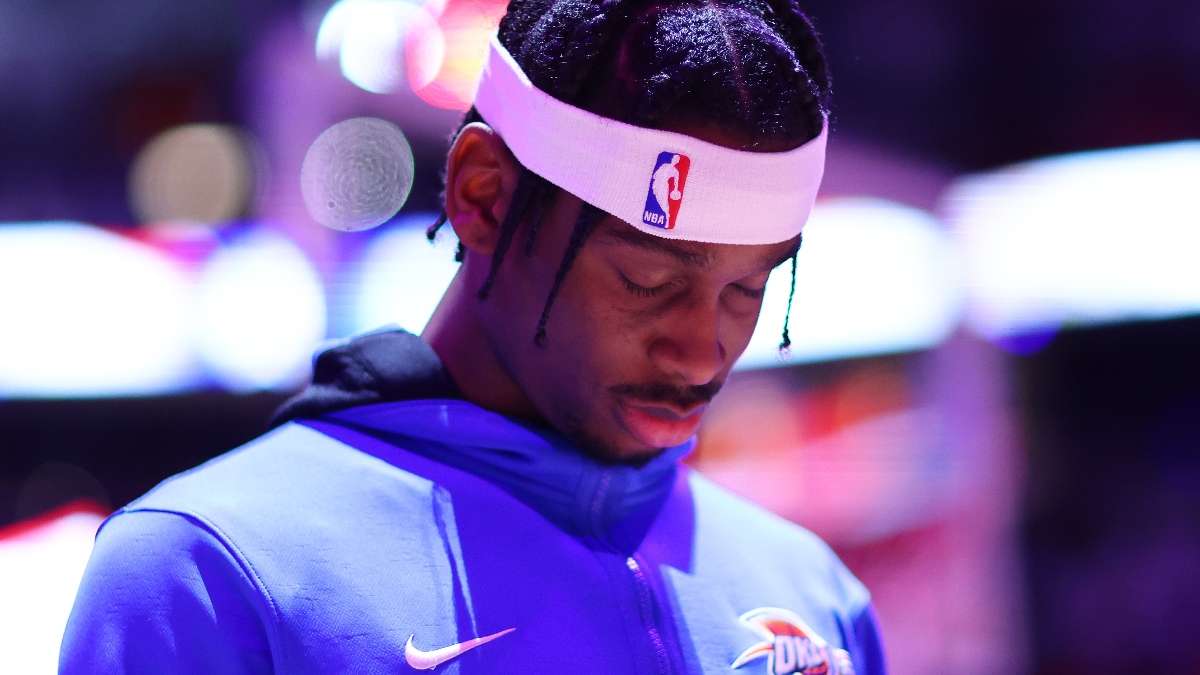 Holmgren's absence is killer for a team that built both its offense and defense around his gravity. SGA is the only remotely positive offensive player on this team, and guys like Josh Giddey, Jalen Williams, and Lu Dort are inefficient works in progress at best.
I'm playing all three unders together. I love our chances of hitting at least two of three as these teams race to the bottom, and we might just get all three.
This is about both badness and incentive.
Sam Presti and the Thunder have embraced the tank with 24 and 22 wins the last two seasons, shutting things down late in hilarious style. The Jazz blew up their team and have no real building blocks going forward. Danny Ainge is not a half measures guy, and this is a long-term rebuild.
The Rockets don't even fully own rights to their next three draft picks, and those Brooklyn swaps aren't worth much either now, so they need to make this one count.
I bet a couple of these earlier this summer, Jazz under 28, Rockets under 27.5, Jazz under 26.5 again. The lines keep falling, but I'm still seeing value.
The prospect of Victor Wembanyama quite literally looms large, over this NBA season and over these franchises for years to come.
How would you rate this article?
This site contains commercial content. We may be compensated for the links provided on this page. The content on this page is for informational purposes only. Action Network makes no representation or warranty as to the accuracy of the information given or the outcome of any game or event.