NBA Coach of the Year Odds & Picks: Doc Rivers, Michael Malone Have Most Value Entering the Season
Credit:
Pictured (L-R): Doc Rivers of the 76ers, Chris Finch of Timberwolves and Michael Malone of the Nuggets.
Who wins Coach of the Year?
The NBA awards the Red Auerbach Trophy to the coach deemed most integral to his team's success in the regular season — whatever that means. Monty Williams won Coach of the Year (COY) last season with the 64-win Phoenix Suns.
So does COY just go to the coach of the league's best team? Well … not exactly.
Unlike MVP, Most Improved, or even Rookie of the Year, only 30 men can win this, so our field is very manageable to start with. We can narrow the field even further with a few simple rules.
As always, we can learn a lot about future awards by looking back at the past. Let's build a historical Coach of the Year profile by looking at past winners, then follow our patterns to choose who to bet on in 2022-23.
Don't forget to check out my other futures breakdowns and best bets:
Who Wins Coach of the Year?
There are three key rules for Coach of the Year. We'll look back at the last 12 winners since 2011 was the start of a new modern era with the formation of the Heat super team.
1. You need to win — a lot.
The easiest way to judge coaching success is that trusty wins column. To win Coach of the Year, you need to win a lot.
The last 12 COYs averaged a 60-win pace. Half of the 12 actually won 60 games. Two more were at 60-win paces in shortened seasons, and another won 59. That's 75% of our winners with at least a 59-win pace, which means we're basically trying to predict the 1-seed.
Tom Thibodeau was an outlier in 2021 at 41-31, the lowest Coach of the Year win rate (57.7%) this century. Other than Thibs, every COY since 2011 has at least a 55-win pace.
Make no mistake about it: this is not just an award for overachievers. You need at least 55 wins, probably more.
2. You need to improve on last season's record — by a lot.
The Coach of the Year doesn't just need to win. They need to win a lot more than last season. This is an improvement award.
Thibs improved the Knicks from 26 wins to a 47-win pace and the Bulls from 41 to 62 wins. Mike Budenholzer took the Bucks from 44 to 60 and the Hawks from 38 to 60. These are massive leaps.
Our last 12 COYs all improved upon their team's previous record, and by a lot. The average Coach of the Year improved on last year's record by a whopping 10.8 wins.
We need teams that win a lot — but also didn't win that much last year.
3. You need to outperform expectations — by a lot.
This is the narrative portion of the award. It's not enough for a Coach of the Year to win a bunch of games or improve on last year. They need to surprise us.
All 12 recent COYs crushed their Vegas over/under win total, going over by an average of 12.1 wins. Every one of them finished at least 6.5 wins above the posted total, and all but two of them (83%) went at least 10 over.
Monty Williams and the Suns went over by 12.5 wins last year. The Thibs Knicks were 20 wins over. Even the year Steve Kerr won COY with the loaded Warriors, they needed 73 wins to go over by 13.
We need a winning team that wasn't already great and that isn't necessarily expected to be great either. Typically we're looking for a team that won 40-to-50 games last year that can jump into the 55-to-60-win range this season.
Our Winning Coach of the Year Profile:

We need a coach that wins a lot, way more than last year and way more than expected. Ideally we're looking for 55+ wins and typically around 10 more than last season and at least 10 above this year's over/under.

A few other notes to keep in mind:
We've never had a back-to-back COY winner. In fact, Gregg Popovich is the only one who's won COY twice with the same franchise in the last 35 years.
Three of our last six COYs were first-year coaches with their team. Six of the last eight were in their first two years there.
Eight of the last nine COYs finished top six in Defensive Rating. Elite defense travels and establishes a high regular season floor.
With that winning profile established, let's take a look at the field. If we could perfectly predict this year's breakout team, we'd be rich. But even though we can't do that, we can narrow this field from 30 to 10 pretty quickly. Let's do that and then consider the top candidates.
Odds are the best available as of Oct. 17.
Sorry, They're Just Not Going to Win Enough

Gregg Popovich, Spurs
Rick Carlisle, Pacers
Mark Daigneault, Thunder
Stephen Silas, Rockets
Will Hardy, Jazz
Jamahl Mosley, Magic
Dwane Casey, Pistons
Steve Clifford, Hornets
Wes Unseld Jr., Wizards
Mike Brown, Kings
Sorry to be the bearer of bad news, but these teams just aren't going to win enough games this season to have a Coach of the Year. Remember, this is not an overachiever award — 11 of our last 12 COYs won at a 55-win pace or better.
Look, I know you love the Pistons. Cade Cunningham and Jaden Ivey are super fun, Bojan Bogdanovic was a sneaky addition, the bench is really coming together, it's a real tilt-a-whirl of fun. That team is not winning 55, and none of these teams are getting even close. If you believe otherwise, it's your money.
I know you want to reward overachievers, but voters don't. Need proof?
Last year's Cavs passed their over/under of 26.5 wins before the All-Star Break and had the best metrics of any East team midway through the season.
A team expected to finish bottom four and contend for the No. 1 pick won 44 games instead. J.B. Bickerstaff should've probably won Coach of the Year. Instead, he finished fifth and didn't get a single first-place vote.
Sorry, I don't make the rules. Bam! There goes a third of our field.
---
No Repeat Winners Allowed

Monty Williams, Suns
Tom Thibodeau, Knicks
Nick Nurse, Raptors
Mike Budenholzer, Bucks
Steve Kerr, Warriors
We've never had a Coach of the Year go back-to-back, so that knocks out Monty Williams. We've also had only one coach win the award twice with the same franchise over the past 35 years, and that was Pop.
None of these guys are Pop. Once you're rewarded for greatness with a franchise, voters move on to someone else. We can only reward so many guys.
And just like that, we've cut out half the field. Let's slice five more.
---
Too Good Already to Win 10 More Games This Season

Taylor Jenkins, Grizzlies
Jason Kidd, Mavericks
Billy Donovan, Bulls
Steve Nash, Nets
Erik Spoelstra, Heat
We're cutting some serious candidates now. Remember, our average Coach of the Year won 10.8 games more than the previous season, and all but two of them went at least 10 wins over the posted total, averaging 12.1 extra wins.
Everyone loves Taylor Jenkins, but he missed his COY window last year. The Grizzlies won 56 games, many without Ja Morant, and far outperformed expectations. Jenkins checked all the boxes — last year.
This year, those 56 wins set too high a bar. Are the Grizzlies really going to win 66 or more games after losing some key depth and starting the season without Jaren Jackson Jr.?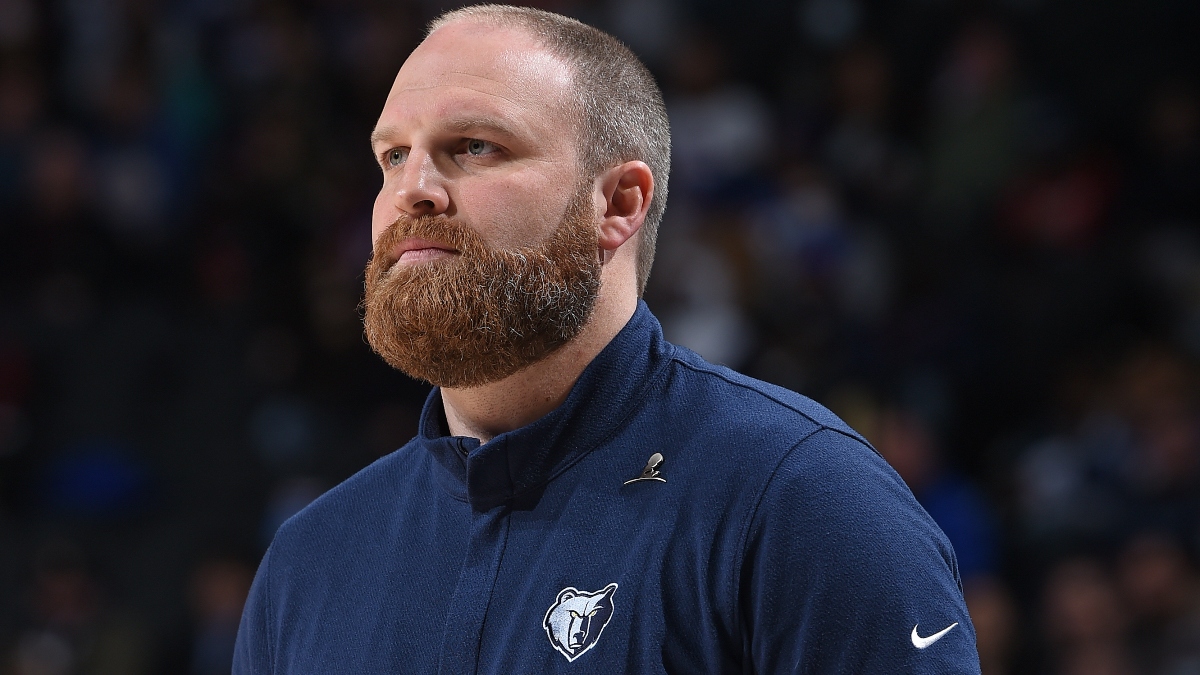 The Mavs won 52 last year. Do you see 62 this season? If you do, just bet Luka Doncic to win MVP. The Bulls won 46, well above Pythagorean expectation. Is that a 56-win team? I don't see it.
The Heat led the East with 53 wins and came one shot from the Eastern Conference Finals. It's tough to improve enough on that, and 63+ wins for an older team is hard to envision.
The Nets only won 44 last year, but expectations are sky high with the return of Kevin Durant, Kyrie Irving, and Ben Simmons so their over/under is 50.5. That means you need 60 wins to sniff this award, and even if they do win that many, you're dreaming if you think voters will reward Steve Nash instead of pushing Durant for MVP.
We're down to our final 10. Let's count them down in reverse.
---
Defense Wins Championships — and Regular Season Games

We need 55 or 60 wins, and the best road map to a monster regular season is a great defense that shows up night in and night out.
Remember, eight of our last nine COYs finished top six in Defensive Rating. It's an offensive era, but that makes a great defense even more valuable.
It's not that these three coaches aren't defensive-minded, it's that they just don't have the defensive personnel. All three teams finished bottom 10 in Defensive Rating last season, and the Blazers finished dead last. The stars on these teams, other than Dejounte Murray, just aren't renowned for defense.
Just a top-half-of-the-league defense would be an accomplishment for these three teams, and there's just not a road map to top 20%. A great offense plus a below average defense usually tops out around 50 wins and a middling playoff seed. This award's history says that's not good enough.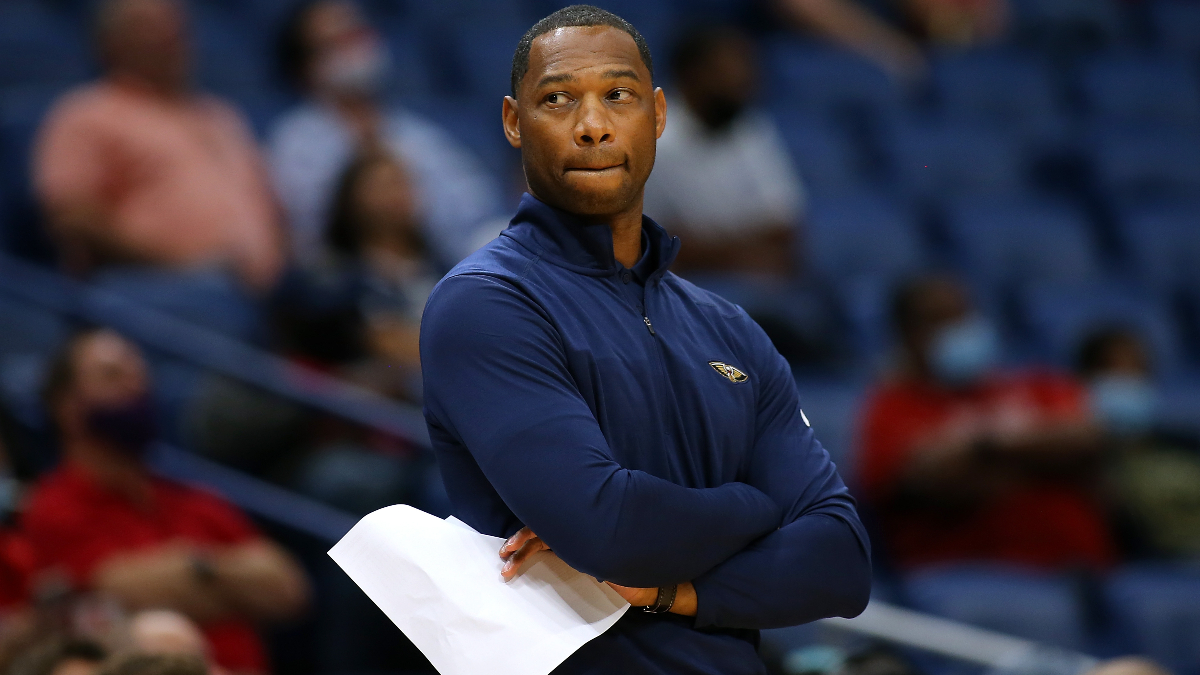 Willie Green is a tough cut, but if the Pelicans really hit 55 wins to qualify here, you're probably better off with a Zion Williamson MVP ticket.
---
Not Impossible, But It's an Awfully High Bar

These teams should be really good, but teams need to blow away expectations to win Coach of the Year, and it's tough to do that when expectations are already sky high.
Expectations are always high for the Lakers. Ham is a defensive-minded coach and the Lakers had an outstanding defense the last time they went big. LA could get into the mix with 55 wins if that defense is great and LeBron and Davis stay healthy.
But if LeBron and Davis actually stay healthy and the Lakers are good enough to win COY, don't voters just reward one of those superstars instead? It's telling that no LeBron coach has ever won Coach of the Year, and no Lakers coach has won it in 25 years. It's easier to credit the stars.
The Celtics and Clippers are title favorites, and they have the two highest win totals on the board. To fit our historical patterns, we're looking for something like 65 wins. That's certainly possible with two loaded rosters, but is it probable or worth betting on?
Hard to get there, though Joe Mazzulla could get a narrative boost if he makes the Celtics even better after replacing Ime Udoka late.
---
Utah's Loss Is Their Gain

The Utah Jazz tore their team down this offseason, dealing Rudy Gobert to the Timberwolves and Donovan Mitchell to the Cavs. The Jazz have been one of the league's best regular season teams the last few years, with Quin Snyder a perennial COY candidate.
Chris Finch is the Coach of the Year favorite. Gobert has been a one-man top 10 defense, and this offense has a heap of weapons. If Anthony Edwards makes a leap and Karl-Anthony Towns is good to go, this could be a great team — at least in the regular season. The question is how much defense Finch can coax out of the players around Gobert.
For Bickerstaff, the questions come on offense. How will Mitchell mesh with Darius Garland, and who's the fifth starter? But the defense was already great last year and elite at times, and Evan Mobley could make a sophomore leap.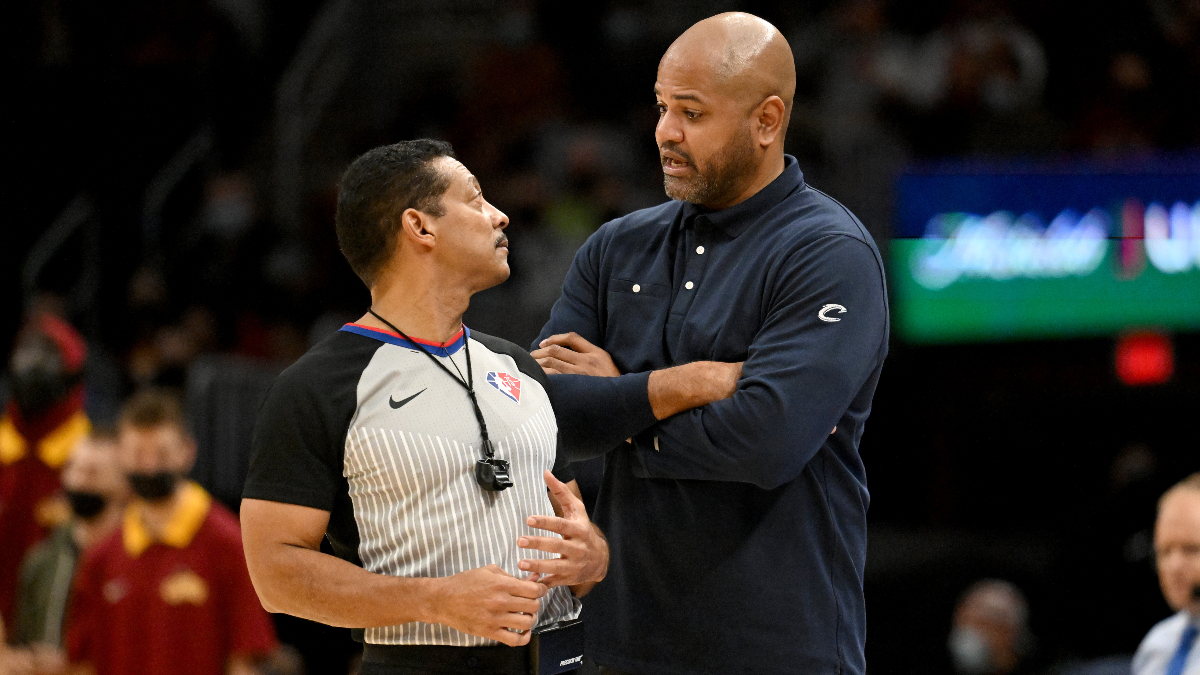 If the Cavs can find something close to a top 10 offense, they have a shot at enough wins to get Bickerstaff the trophy he should've won last year.
I can't bet Finch as the favorite at such a short number, at least not yet. This Wolves defense will take some time, so keep an eye out and buy low later. I already bought low on Bickerstaff. He was my favorite bet here at +4000 this summer, but the Mitchell trade zapped his number and raised expectations (and the over/under) all at once.
If either of these teams looks like a threat for 1-seed contention early, don't hesitate. There's not a great MVP candidate on either team, so Coach of the Year may be the best way to reward a great young breakout team.
---
The 2 Best Bets Heading into the New Season

2. Doc Rivers, 76ers +2800 (BetMGM)
I've waxed poetic about Philadelphia's defense elsewhere. This could be the best defense in the league with the additions of P.J. Tucker, DeAnthony Melton, and Danuel House to All-Defense players Joel Embiid and Matisse Thyublle. Doc Rivers has coached some outstanding defenses before, and defense sets a high floor and wins a ton of regular season games.
Add in two MVP candidates in Embiid and James Harden and the 76ers could be a real threat for 60 wins and the East 1-seed.
Would Doc get credit? The media loves Rivers, and he already won Coach of the Year in 2000. Coaches don't repeat with the same franchise, but they do win again on a new team. Rivers would be the 10th such winner, and he was already just voted as a top 15 all-time coach for the NBA 75 awards.
Maybe a great Philly season means an Embiid or Harden MVP run. But what if those two miss time like usual and the Sixers just keep on winning anyway with depth, defense, and — clearsthroat — great coaching?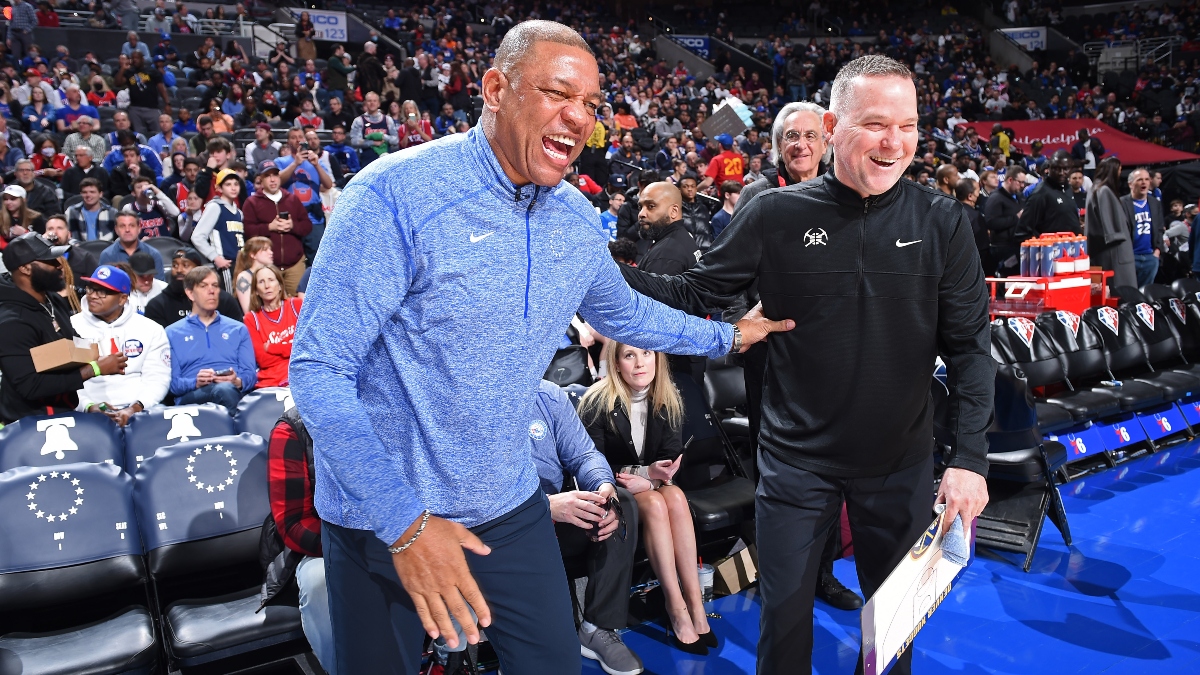 I love the Nuggets more than any other team heading into the new season.
Denver made the perfect offseason additions in Kentavious Caldwell-Pope and Bruce Brown, and the even better additions come in the return of healthy seasons from Michael Porter Jr. and Jamal Murray.
Add in the reigning back-to-back MVP Nikola Jokic, a breakout sophomore campaign from Bones Hyland, and a return to better roles for guys like Aaron Gordon and Jeff Green, and the Nuggets could be as good as any team.
Denver might have the best offense in the league — like ever, in league history. They were top seven each of the last two years even without much Murray or MPJ, and Jokic makes everything go. They don't fit our pattern defensively but have been in the top half of the league already and should be even better with this year's additions.
Despite all that, the Nuggets have a baffling over/under of 49.5 and are not one of the top eight title favorites. That matters because it tells us expectations are middling, and it sets this team up for a monster regular season and one in which the voters would look to reward the team.
We know voters won't want to give Jokic a third straight MVP since it was  like pulling teeth getting the last two already, so Michael Malone is an easy pivot. If the Nuggets have a great season and push 60 wins, he'll get a lot of attention.
Michael Malone and Doc Rivers are my favorite Coach of the Year value bets heading into the new season. I got them at +2000 and +3000, respectively but their current prices haven't fallen too far since.
How would you rate this article?
This site contains commercial content. We may be compensated for the links provided on this page. The content on this page is for informational purposes only. Action Network makes no representation or warranty as to the accuracy of the information given or the outcome of any game or event.