NBA Defensive Player of the Year Odds & Picks: Joel Embiid, Rudy Gobert, More Value Bets Entering the Season
Defense wins championships.
The old adage may or may not be true in 2022, but let's try a new maxim on for size: defense wins money. Betting on defense may not be sexy, but winning bets is sexy, so let's get defensive.
The Defensive Player of the Year (DPOY) award goes to the NBA's best regular season defender, as voted on by a panel of 124 voters. But defense is notoriously difficult to quantify, so what sort of player do the voters select?
We can learn a lot about future awards by looking at the past. Let's build a historical Defensive Player of the Year profile by looking at past winners, then follow our patterns to figure out who to bet on in 2022-23.
Don't forget to check out my other futures breakdowns and best bets:
Who Wins Defensive Player of the Year?
Here are the 10 most recent DPOY winners:
2022 Marcus Smart, Celtics
2021 Rudy Gobert, Jazz
2020 Giannis Antetokounmpo, Bucks
2019 Rudy Gobert, Jazz
2018 Rudy Gobert, Jazz
2017 Draymond Green, Warriors
2016 Kawhi Leonard, Spurs
2015 Kawhi Leonard, Spurs
2014 Joakim Noah, Bulls
2013 Marc Gasol, Grizzlies
The rules aren't as obvious for predicting DPOY, as other awards but if we dig a little bit further, we can find six hidden patterns.
1. Voters love repeat DPOY winners.
This one's not so hidden. Gobert won three of the last five DPOYs, and he and Leonard won it back-to-back in the last decade. Turns out that's pretty normal.
Ten players have won 26 of the 40 DPOYs given out, nearly two of every three, and that includes nine back-to-back winners.
Dikembe Mutombo is the only DPOY to win again after previously winning for another team. Notable defenders that switched teams after DPOY and never won again include Leonard, Dwight Howard, Ben Wallace, and Dennis Rodman.
2. DPOY almost always goes to a big man.
Only 10 perimeter players have won DPOY, just 25% of the winners. That means 75% of all DPOYs are big men.
The first ever DPOY in 1983 was Sidney Moncrief, a perimeter player. He and Kawhi Leonard are the only ever perimeter players to repeat as DPOY, and five of the first six awards went to guys that played on the perimeter.
That means 29 of the past 34 DPOYs were big men, a whopping 85% of them. Marcus Smart was an extreme outlier.
3. Reputation matters, Part I: Young guys don't win DPOY.
Without many reliable defensive stats, it takes players awhile to develop the reputation they need to win DPOY. It takes time for great defenders to be recognized as great.
Kawhi Leonard is the only player to win DPOY in his first four NBA seasons over the past 25 years. And even Leonard feels like cheating since he won DPOY in 2015 after winning Finals MVP in 2014.
Year 5 has been a magic number for recent first-time DPOY winners, including Gobert, Draymond Green, Howard, Gasol, and Metta World Peace.
4. Reputation matters, Part II: Past DPOY voting is predictive.
Past winners are more likely to win DPOY in the future, but it's not just winning that matters. DPOY voting history matters too.
Before Smart's surprise win, six consecutive DPOYs had finished first or second in the voting before their DPOY win. That's six of the last seven winners (86%) and would effectively narrow the field to 10: past winners Smart, Gobert, Antetokounmpo, Green, and Leonard and past runners up Mikal Bridges, Ben Simmons, Anthony Davis, Joel Embiid, and LeBron James.
Every single DPOY this century had previously received at least one DPOY vote.
Additionally, 17 of the last 20 DPOYs (85%) had received at least one previous first-place DPOY vote. Notable players who fit here: Jaren Jackson Jr., Robert Williams, Bam Adebayo, Paul George, and Jrue Holiday.
5. Reputation matters, Part III: All-Defense voting is predictive too.
Marc Gasol is the only DPOY this century that had never made All-Defense before winning the biggest defensive award. Only six players ever (15%) have accomplished the feat.
Even more importantly, 11 of our last 15 DPOYs (73%) made First-Team All-Defense before winning. In fact, nine of the last 15 (60%) did so the year immediately before winning DPOY. In all, 13 of the last 15 DPOYs (87%) made All-Defense the season before winning DPOY.
Last year's First-Team included Gobert, Antetokounmpo, Jackson, Smart, and Bridges. The Second-Team featured Green, Adebayo, Williams, Holiday, and Matisse Thybulle.
6. DPOY is actually a team award.
This might be the most important pattern. DPOY is an individual award, but it goes to an individual at the center of an elite team defense.
Since 2008, every single DPOY winner has finished top five in Defensive Rating per Basketball Reference. All but three DPOYs played on a top three DRTG team. That's an 80% chance that the DPOY comes from one of just three teams at the end of the year.
To wit: the Utah Jazz finished ninth, second, second, 13th, and fourth in Defensive Rating the last five seasons. Guess which three Gobert won DPOY?
DPOY is a team award.
Our Winning Defensive Player of the Year Profile:

We're looking for a big man on a top three-to-five DRTG defense with previous DPOY and All-Defense voting history, preferably top-two and First-Team. Reputation is king, so past winners are welcome to repeat and young guys are not allowed.

Now that we have a profile, let's peruse the field. We'll start by ruling out a handful of options based on our criteria, then look at a few long shots and our top six candidates heading into the new season.
Odds are the best available as of Oct. 11.
I Know You're Excited, But They're Just Too Young
Evan Mobley, Cavaliers +2000 (FanDuel)
Herb Jones, Pelicans +6000 (BetRivers)
Matisse Thybulle, 76ers +6500 (FanDuel)
Scottie Barnes, Raptors +11000 (FanDuel)
It's fun getting excited about the league's tantalizing young players, but every indicator above tells us these players are highly unlikely to win DPOY in 2023.
They're all in their first four seasons, and all but Thybulle have never received a DPOY vote or made All-Defense. Three of the four are perimeter players too.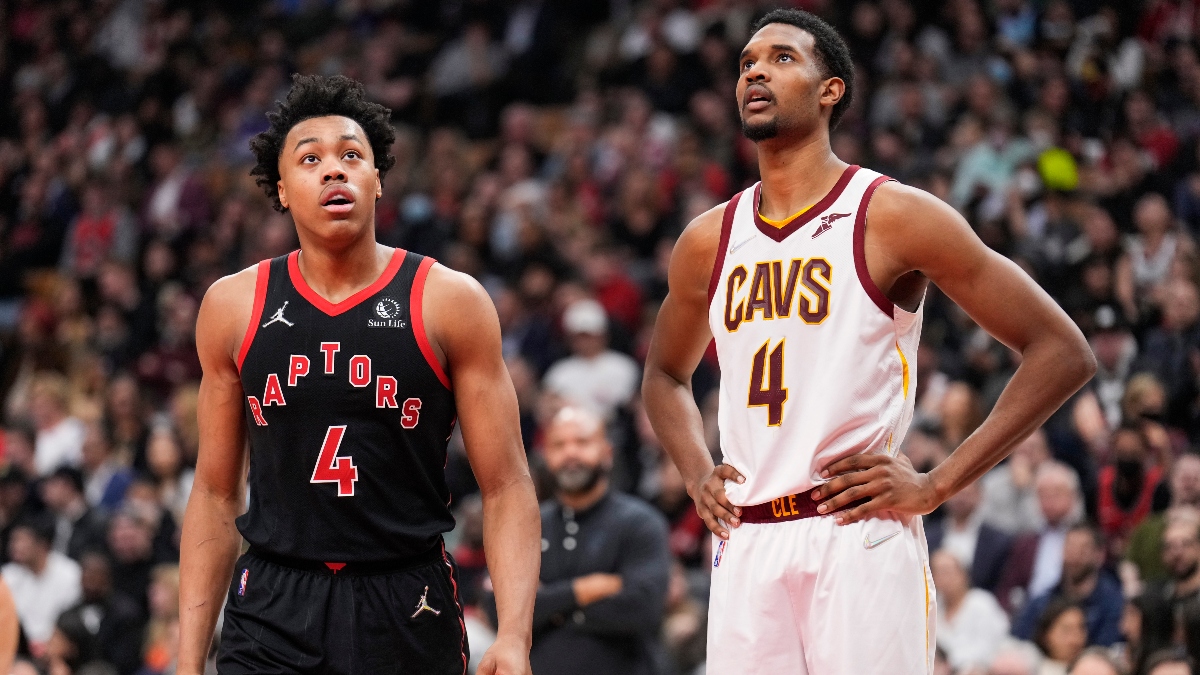 Evan Mobley absolutely looks like a future DPOY, but history tells us the future is probably a few years away while he develops a reputation. He didn't make a single DPOY ballot last year. He's a no bet, especially at such a short number.
---
Bet on a Big Man
Mikal Bridges, Suns +1600 (FanDuel)
Marcus Smart, Celtics +2000 (FanDuel)
Smart and Bridges both made First-Team All-Defense and finished first and second in DPOY last season. Maybe that indicates that voter patterns are changing and this is a perimeter award now.
Voter history strongly suggests otherwise, so if that's the case I'll just tip my cap and lose a little money this year.
---
Some Intrigue, But Not Yet
Robert Williams, Celtics +1100 (DraftKings)
Jaren Jackson Jr., Grizzlies +2900 (FanDuel)
Williams and Jackson are two of the league's best young defenders, and they're both entering that magic Year 5. They both made All-Defense last year, Jackson on First-Team, and both got a first-place DPOY vote.
Williams and Jackson fit squarely into all of our criteria.
There's just one problem: they're both injured and will start the season on the sidelines. That makes them bad bets right now, since their odds should only lengthen as the season starts and they fall off the radar. It's always dangerous betting on big men health, and both players have a long injury history too.
These are names to monitor, but do not bet them right now.
---
Long Shots to Consider Sprinkling
Ben Simmons, Nets +2700 (FanDuel)
Jrue Holiday, Bucks +4000 (BetRivers)
Kawhi Leonard, Clippers +6600 (BetRivers)
LeBron James, Lakers +60000 (DraftKings)
These four names are off the DPOY radar but fit the patterns above as sleeper contenders. Three of the four have been previous runners up.
I can't say I'd bet on Ben Simmons. We have no idea what position he'll play or how healthy he is, and there's almost no chance the Nets have a top five defense.
Does Leonard have a throwback DPOY season in him? Doubtful, but you never know. Holiday is three-time All Defense with first place DPOY votes in multiple years, so he could be the pick if voters want to reward another perimeter player.
But is it crazy to think LeBron James is worth a sprinkle at 600-1? The Lakers are going big again after going small failed, and they had the league's best defense and won the title as a big team.
James is six-time All-Defense and runner-up DPOY in 2013, and he has repeatedly and openly lamented not winning this award. It's about the only thing missing from his mantle at this point, and the Lakers need a great defensive effort to stay in contention.
Could voters reward James with a career achievement DPOY for a throwback season and a little media narrative? At 600-1 odds, I'll sprinkle a few bucks and find out.
---
The 6 Most Likely DPOY Winner Candidates
Okay, we're down to six serious candidates. Let's consider each at length.
Rudy Gobert, Timberwolves +500 (BetRivers)
It's hard to fault a bettor for backing Gobert.
Just look at his DPOY finishes by season the last eight years: third, first, third, first, first, second, seventh, fourth. That includes first place votes all but one of those years and a top three finish each of the past five seasons.
Gobert is a great, Hall of Fame level regular season defender. One more DPOY would tie him with Mutombo and Big Ben for most in NBA history. Will voters really want to put Gobert in that class?
I can't bet Gobert, because this is a team award and I can't see Minnesota having a top three defense. Gobert won DPOY in years when he was buoyed by great defensive help from Royce O'Neale and Derrick Favors along with positive defenders like Ricky Rubio and Joe Ingles.
Minnesota traded several of its better defenders in the Gobert deal and just doesn't have much perimeter help, and though Gobert might be a one-man regular season defense, that's never been the formula for winning this award.
Remember, only Mutombo has switched teams after winning DPOY and won another one. There will be growing pains as a young Wolves team figures its defense out, so even if Gobert is great, you'll find a shorter number later. If you do bet, make sure you play at BetRivers where he's the third favorite.
Bam Adebayo, Heat +750 (BetMGM)
Adebayo might have won DPOY last year if not for his late injury. He's finished top five in voting three years in a row, though it's a bit worrisome that he's yet to crack top three or make First-Team All Defense.
There's no question Adebayo is one of the best defenders in the league, and he has the reputation to contend.
Will Miami's defense hold up around him? Losing P.J. Tucker is a real blow, and it could be a double whammy if Tyler Herro moves into the starting lineup and hurts the defense further. The aging Heat likely take a step back from the 1-seed after a long postseason run, so it might be tough for voters to find a reason to reward this squad.
Adebayo is a contender, but no top two DPOY finishes or First-Team All-Defense means I can't invest in the second favorite on the board.
Giannis Antetokounmpo, Bucks +1000 (DraftKings)
Antetokounmpo is so good he bores voters. That seems to be the case with MVP voting, and it's looking that way with DPOY too. Giannis finished sixth and fifth the last two years after winning DPOY in 2020 and finishing runner up the year before.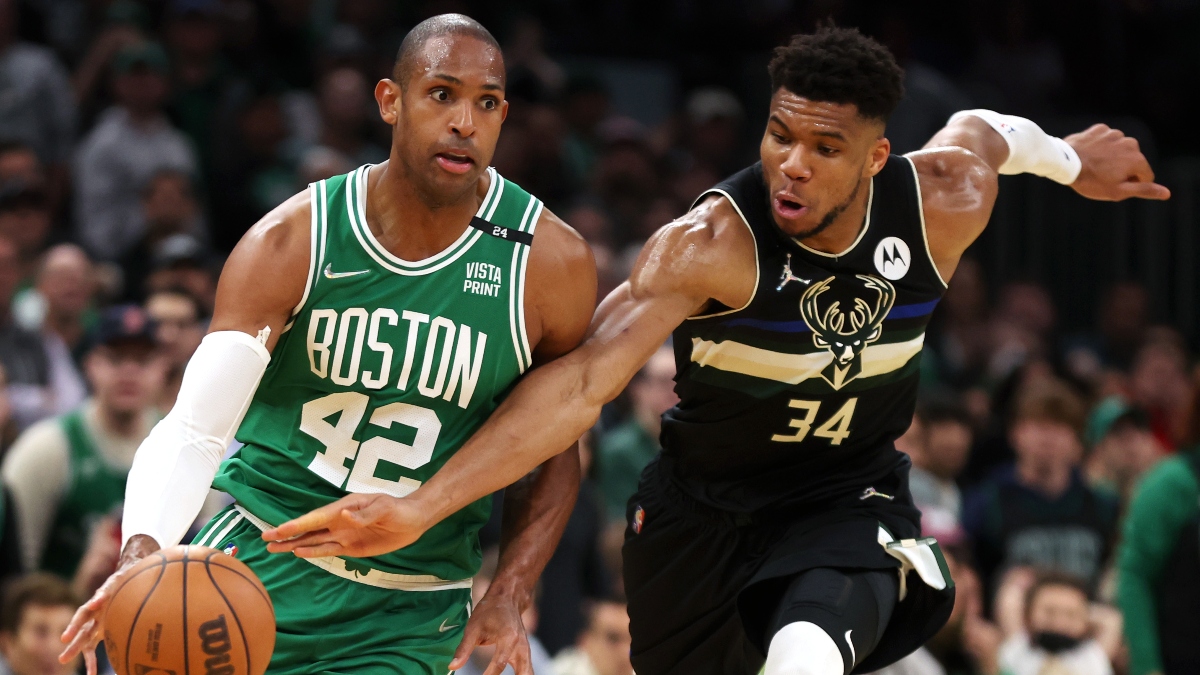 That said, Antetokounmpo is the inverse of Adebayo. The Bucks defense should be much better this season with a healthy Brook Lopez and more Jrue Holiday. Better teammates make Giannis look better, and he's made First-Team All-D four straight times so he'll be in the mix.
Antetokounmpo isn't a sexy choice, though. He'd probably need to win by default, with no other more appealing candidates, like last year.
If you're only betting one candidate, I wouldn't make it Giannis, but if you're building a DPOY portfolio, Antetokounmpo is a good value at the number.
Draymond Green, Warriors +1400 (FanDuel)
What do we do with Draymond Green at this point? The Warriors are a mess, and we don't know yet if Green will be suspended or traded, nor when or where he'll suit up next.
We also have no idea what Green's motivations will look like. If the greatest defender in modern history — yeah, I said it — is pissed he still has only one DPOY trophy and decides to gun for the award all year, I sure wouldn't want to bet against it. But I don't buy that motivation on a team with title aspirations, and after finishing top two in DPOY four straight years, Green has just one top five finish the last five seasons.
I don't like the Warriors defenders around Green either. Gone are positive defenders Gary Payton II, Otto Porter, Juan Toscano-Anderson, and Nemanja Bjelica. That's 58 minutes a game replaced by Jordan Poole's awful defense or young guys like Jonathan Kuminga and James Wiseman who haven't learned to play team defense yet. Mike Brown's absence also matters.
This is a team award. I don't trust the team D, and I don't trust Draymond right now either. I hope he wins another at some point, but I'll stay away.
Anthony Davis, Lakers +2000 (FanDuel)
Davis is an exercise in trust. We know he can be a great defender. Davis is four-time All-Defense with first place DPOY votes in four seasons and finished runner up in 2020.
But do you trust Davis to stay healthy? Do you trust the Lakers around him? Do you trust Russell Westbrook to defend? Do you trust LeBron to try? Do you trust Davis to not fall over at the very mention of his name?
The Lakers are going big this year, and they've been outstanding defensively with a center behind Davis. That's when they won the title and when he nearly won DPOY. Games played don't matter as much for this award, so that buys some margin. If you believe in a top five Lakers D, this isn't crazy.
But if you want to bet an oft-injured big man on a great defense, why not just bet on the better defender on the better defense with better odds?
Joel Embiid, 76ers +2500 (BetRivers)
Embiid is the best DPOY bet on the board.
This is a team award, and the 76ers had a home run offseason focused entirely on building the right defense around Embiid and James Harden. They signed P.J. Tucker, one of the most versatile and underrated defenders in the league, and added DeAnthony Melton and Danuel House specifically for their defense.
Thybulle is two-time All-Defense too, and Doc Rivers has coached some great defenses. Heck, even the addition of Montrezl Harrell as a backup center will make Embiid's defense look better by proxy with on-off metrics.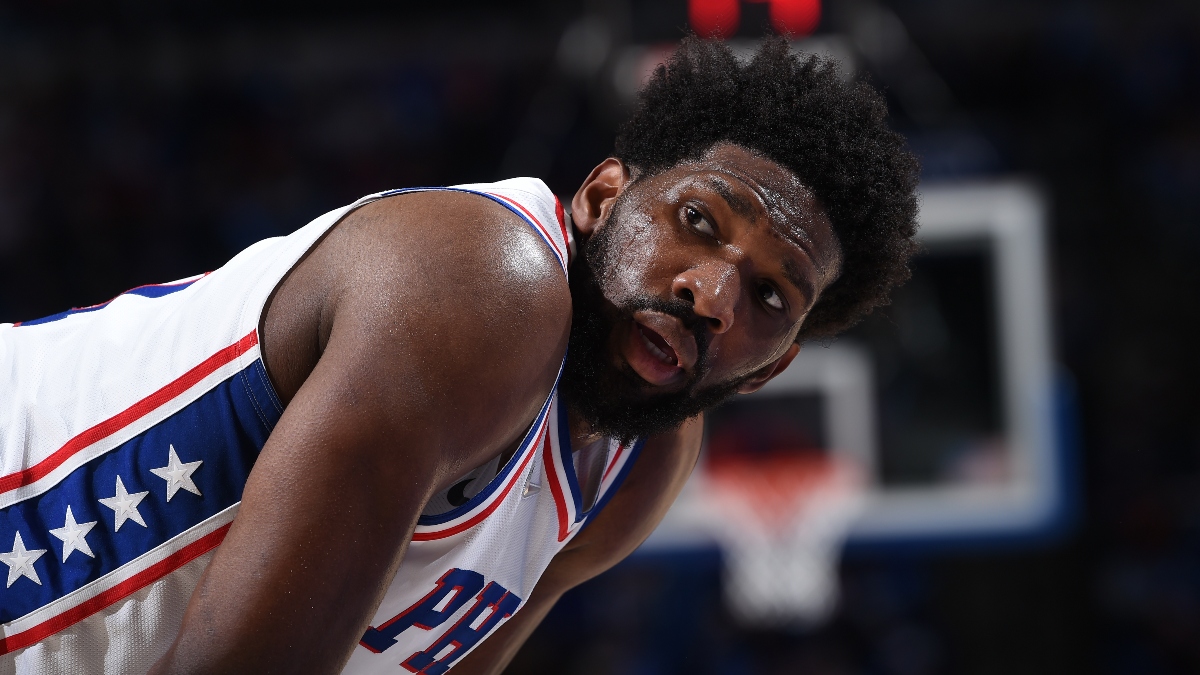 The Sixers have potential to lead the league in defense. Embiid's defense dropped off some in recent years as he took on a huge offensive load, but with Harden and Tyrese Maxey around to soak up usage and more defensive help from his teammates, Embiid should have more energy for defense.
Embiid has never made First-Team All-D and didn't make All-Defense last season, so that's a mark against him. But he's three-time All-Defense and received DPOY votes in three of the last five seasons, including a runner-up finish in 2018. The reputation is there, the voter history is there, and the team defense is there.
And don't overlook the narrative.
Embiid is a perennial MVP contender but can't quite get over the hump, in part because his health prevents him from playing enough. Could voters give Embiid DPOY as something of a consolation prize if the Sixers ball out with an elite defense and a top seed in the East? Games played don't matter as much, and he really ought to have a major award by now.
Embiid is the best big man and most important defender for what might be the best defense in the league. He has the reputation, voter history, and narrative. Embiid checks nearly every box.
Joel Embiid is the best DPOY bet on the board. At +2500, he's my favorite NBA award bet available heading into the new season.
How would you rate this article?
This site contains commercial content. We may be compensated for the links provided on this page. The content on this page is for informational purposes only. Action Network makes no representation or warranty as to the accuracy of the information given or the outcome of any game or event.