2023 Conference USA Odds, Picks, Preview: How to Bet Western Kentucky, Jacksonville State in New-Look League
Credit:
Daniel Dunn/Icon Sportswire via Getty Images and Michael Hickey/Getty Images. Pictured: UTEP's Gavin Hardison (left) and Western Kentucky's Austin Reed (right).
As mentioned on the Big Bets On Campus Podcast, Conference USA is more or less the Old Country Buffet of conferences at this point.
It's been picked over so badly in the past 20 years that you could put together a Power 5 conference with the programs that have defected.
Power 5 schools like Cincinnati, Houston, Louisville, TCU and UCF all spent time in CUSA, as did solid Group of Five programs like East Carolina, Marshall, Memphis, Tulane and last year's CUSA champion UTSA.
What's left this fall is a two-horse race for the conference crown between Western Kentucky and Liberty and a wide-open middle class that could see five or six teams finish anywhere between 4-8 and 8-4.
To a gambler, that smells like opportunity. So, let's have a look at what these teams bring back and who is positioned to surprise in 2023.
---
Western Kentucky (9-5 6-2)
Win Total 8 · -2 Net TARP (Defense -4) · 60% Returning Line Starts
Regular-season losses to UTSA and North Texas kept a 9-5 Western Kentucky team out of the Conference USA Championship game last season. Now, both of those teams are off to the AAC, along with Charlotte, FAU, Rice and UAB.
With the Roadrunners out of the way, the Hilltoppers have assumed the role of conference title favorites at +135.
The recipe for Western Kentucky is simple: outscore everybody. This offense averaged 36.4 points per game last season and finished seventh in the country in total offense.
The Toppers ranked second in passing yards and brought back the nation's leading passer, Austin Reed, with a fresh new NIL deal. He threw for 4,744 yards with 40 touchdowns in 2022.
Most of those scores went to All-Conference USA wide receiver Malachi Corley, who also returns for another year. Western Kentucky added wide receiver transfers from Tennessee, Auburn and Cincinnati, so the offense shouldn't miss a beat.
As it has been for a few years, defense is still a concern. This team was super leaky against the pass but benefited from one of the country's turnover margins to bail it out at times.
JaQues Evans is a stud at linebacker, but he's one of just three returning starters on defense. He is going to need help if this team wants to win the conference.
Western Kentucky has two likely losses in the nonconference schedule against Ohio State and Troy. Other than that, it should be favored in its other 10 games.
A matchup with Liberty in the conference championship game seems inevitable. If the offense continues to shine, the Tops should eclipse their win total by outscoring every team they face during conference play.
-Mike Ianniello
---
Liberty (8-5)
Win Total 8.5 · -0.5 Net TARP (Defense -1.5) · 58.5% Returning Line Starts
Jamey Chadwell continues to fly under the radar. He's an incredibly gifted coach who has succeeded at multiple schools.
He guided Charleston Southern out of the FCS wilderness and into the program's first two playoff appearances. Then he turned around Coastal Carolina's fortunes in a major way. Once known only for their teal field, he transformed the Chants into a regional powerhouse, posting a 31-6 record in his final years in Conway.
As an underdog, in his final three years at Coastal, he posted a 6-2 record against the spread, winning six of those eight games straight up.
If you're a football Xs and Os junkie, his offense is amazing to watch. He has a deep playbook that features a lot of formations with two running backs and a prominent role for his tight ends. He peppers in lots of option elements, as well as RPOs, to put defenses in a bind.
All-in-all, he's an offensive savant.
This upcoming season, he still needs to settle on a quarterback. But once someone emerges from the four-man race, that QB1 will have some fun offensive pieces around him in Reese Smith from West Virginia, Quinton Cooley from Wake Forest and freshman standout Vaughn Blue.
The Flames defense has a lot of experience coming back from a secondary that finished 25th against the pass.
But the calling card for LU was the negative plays it generated in 2022. This was far and away the best defense when it came to tackles for loss, with 9.3 per game. It had some turnover in its defensive coaching staff, but I'm not panicking because I have faith that Chadwell will right the ship.
The schedule, in a word, is a plus. After opening with Bowling Green and New Mexico State at home, the Flames travel to Buffalo and FIU to round out their September. Back-to-back games against FBS newbies Jacksonville State and Sam Houston kick off their October before a season-defining two-week stretch against MTSU at home and a roadie to Western Kentucky.
This is my pick to win CUSA, but my best bet is over on their win total over of 8.5. They'll likely be favored in 10 games this season.
-Michael Calabrese
---
Middle Tennessee (8-5, 4-4)
Win Total 6.5 · -7 Net TARP (Offense -7) · 75.4% Returning Line Starts
Middle Tennessee pulled off a surprising 8-5 season on the back of some major upsets last year. Of its eight wins, five of them came as underdogs.
The offense was very boom-or-bust, capable of picking up chunk plays but struggling to consistently move the ball on teams.
Quarterback Nick Vattiato will take over as the starter after serving as the backup for the past two years. He started one game last year and five as a true freshman in 2021. In total, he has managed just seven touchdowns and seven interceptions but has gone 4-2 as a starter.
It won't be easy for Vattiato, as the Blue Raiders lose their top four receivers from last year. Running back Frank Peasant is back, and while he's a decent player, they could not run the ball at all last year. Middle Tennessee finished 117th in Success Rate on the ground.
The defense was terrific against the run and excelled at getting into the backfield and creating Havoc. It had issues against the pass, but its aggressive play paid off, as Middle Tennessee ranked fourth in the nation in turnover margin.
If the Raiders' turnover luck regresses, the defense could take a step back, especially without Jordan Ferguson and Decorian Patterson.
Middle Tennessee has a brutal start to the season, opening on the road against Alabama and Missouri. It plays the two best teams in the conference on the road with trips to Western Kentucky and Liberty.
For the Blue Raiders to go over their win total, they would need to win every game on their schedule they're favored in. They're not good enough to do that, so I'll back them to go under 6.5 wins.
It's unfortunate the Blue Raiders don't get to play cupcakes like Miami this year.
-Mike Ianniello
---
Louisiana Tech (3-9, 2-6)
Win Total 6 · -3 Net TARP (Offense -5) · 74.5% Returning Line Starts
I've never been a big fan of Hank Bachmeier, and he's a player I consistently faded during his time at Boise State. However, it's hard to deny he's an upgrade over Parker McNeil, Landry Lyddy, Matthew Downing, Jack Turner and all the other quarterbacks Louisiana Tech trotted out last year.
Bachmeier will have an experienced offensive line, something he will need given his history of injuries.
The Bulldogs also have experience and talent at the skill positions, bringing back leading rusher Marquis Crosby and adding the electric Craig "Sqwirl" Williams from Baylor. Leading receiver Tre Harris is gone, but Smoke Harris and Cyrus Allen are both back.
The offense should be very good, but the defense was horrific last year.
The Bulldogs had one of the worst units in the country and were especially torched by the run, ranking 129th nationally in that area. They've added 12 transfers from the portal to try and bolster this defense, so we'll have to see if they can take a step forward.
I think this team will improve, especially on offense.
This will likely be a good "over" team early in the season. However, I'll pass on anything from the futures market.
The Bulldogs might end up being the third-best team in this conference but will need to beat all of the teams below them. Given Bachmeier's injury history and inconsistency, plus the questions on defense, they will likely lose a game or two they shouldn't.
-Mike Ianniello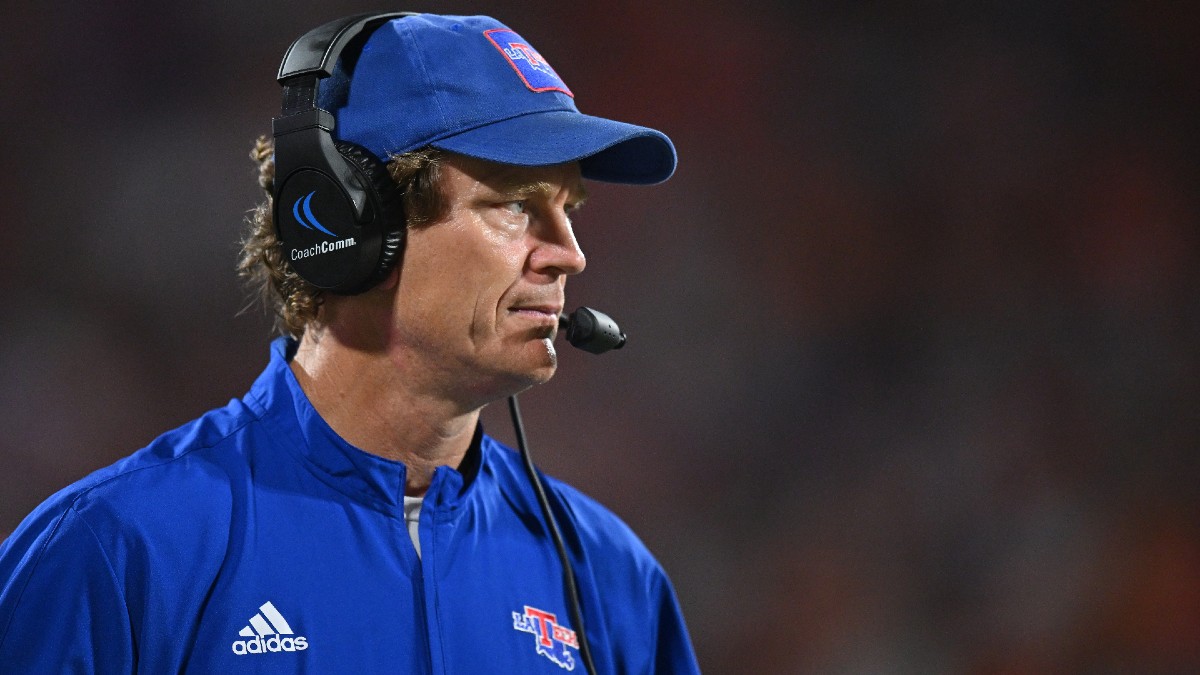 ---
UTEP (5-7, 3-5)
Win Total 5.5 · -4 Net TARP (Defense -3.5) · 61.7% Returning Line Starts
UTEP is such a strange program.
Despite playing in the talent-rich state of Texas, the Miners haven't won a bowl game since 1967, the longest drought among any FBS team. They have managed to reach a bowl game only five times in the last 20 years and once in the last eight years.
The UTEP offense took a step backward last year but has the recipe to be solid on paper.
The Miners have a great running back in Deion Hankins, a three-year starter at quarterback in Gavin Hardison and potentially the best offensive line in the conference even without Jeremiah Byers, who transferred to Florida State.
They also got a massive rejuvenation when star receiver Tyrin Smith transferred back to El Paso after briefly transferring to Texas A&M for the spring.
Stopping the run was definitely the strength of this team, and it should be once again. It returns its entire front six, led by defensive end Praise Amaewhule, who has the potential to be a star.
Starting safety Kobe Hylton is the only returner in the secondary, so some portal additions will need to step up to improve this pass defense.
On paper, this offense should be solid with Hardison, Hankins and Smith, but the play-calling never seems to maximize their ceiling. Offensive coordinator Dave Warner retired, but Dana Dimel is still calling plays and just promoted wide receivers coach Scotty Ohara to OC, so who knows if things will be any better?
UTEP plays only four bowl teams from last year and has the potential to be much better on offense if its play-calling can improve.
I like this the Miners overall but would rather pick spots to bet them on a game-by-game basis rather than making a season-long investment.
-Mike Ianniello
---
New Mexico State (7-6)
Win Total 6 · +2 Net TARP (Offense +3.5) · 65.1% Returning Line Starts
At 1-5, as an FBS independent, New Mexico State was in a familiar spot last season. It was irrelevant. But then Jerry Kill's team proceeded to finish the season on a 6-1 heater behind inspired quarterback play from Diego Pavia.
The sawed-off Pavia is barely 5-foot-11, but he's incredibly dynamic and has the ability to throw off-platform. He led New Mexico Military Institute to a JUCO national title, and once he took over last fall for NMSU, he was an instant difference-maker.
Pavia destroyed Liberty with a six-touchdown game late in the year and then led the Aggies to a Quick Lane Bowl victory over Bowling Green in Detroit.
With experienced skill position players — like running backs Star Thomas and Jamoni Jones — surrounding Pavia, this could be a top-three offense in the conference in 2023.
The defense was sneaky good last year, but NMSU is down eight starters on that side of the ball. Jamari Buddin comes in via the portal from Michigan and will need to anchor a restructured linebacking unit.
Kill has some talented pieces, but if he can keep them in the top 50 in most defensive metrics, that'll be one of the best coaching jobs of his long career.
I'm intrigued by this over because there are three potential wins in September in UMass, Western Illinois and at New Mexico.
The Aggies arguably need to win all three because the back end of the schedule is pure brutality: at Louisiana Tech, home against Middle Tennessee, at Western Kentucky, at Auburn and home against Jacksonville State.
-Michael Calabrese
---

Florida International (4-8, 2-6)
Win Total 3.5 · +6 Net TARP (+3 Both Sides) · 83.3% Returning Line Starts
Florida International plays a very aggressive style. It goes for it on fourth down a ton, finishing 12th in the country in fourth-down attempts while going for it in opponents' territory the third-most times. That leads to very boom-or-bust results.
The Panthers won four games last year and got their doors blown off in almost every loss. Their eight losses came by an average of 33 points.
They've managed to pick up three losses already before the season even begins, as starting tackles Shamar Hobdy-Lee and Lyndell Hudson both hit the transfer portal during the spring. Plus, starting running back Lexington Joseph tore his ACL during spring practice.
The good news is that the defense returns nearly everybody. Leading tackler Gaethan Bernadel transferred to Stanford, but the next nine top tacklers are all back. The defense should be better for FIU.
The offense might return Grayson James, but he struggled last year and loses his safety valve in Tyrese Chambers, along with Joseph.
Due to the aggressive nature of the Panthers' style, they're capable of pulling off some upsets when their chances pay off. Maine is the only game in which our Action Network Power Ratings make FIU a favorite.
So, are the Panthers capable of pulling off three upsets?
-Mike Ianniello
---
Jacksonville State (9-2)
Win Total 5.5 · +1.5 Net TARP (Defense +1.5) · 69.1% Returning Line Starts
This may be the Gamecocks' first year in the FBS, but their offense won't look like a Year 1 attack by any stretch.
Rich Rodriguez had JSU's offense cooking last fall, racking up 251 yards per game on the ground (5th) while scoring 36.2 PPG (10th). And now he gets Zion Webb back for his seventh season in college.
Webb has over 1,500 career rushing yards and 25 touchdowns. He's joined by Anwar Lewis in the backfield, and the Cocks added ULM transfer back Malik Jackson in the portal.
When you factor in their experience on the offensive line, this running game is going to pop.
Chris Hardie and J-Rock Swain are a great pass-rushing duo, and JSU has a lot of experience in the secondary after plucking Austin Ambush from FCS Maine.
The Gamecocks should be an average unit that could crack the top half of CUSA if they force enough turnovers.
My only real concern as it relates to their win total is the way their home/away schedule shook out. September features three winnable games (UTEP, ETSU, EMU) at home. But their next three winnable games all come on the road (at Sam Houston, at FIU, at New Mexico State). And that's chalking up Liberty, Western Kentucky and a road trip to South Carolina as sure-fire losses.
That leaves Louisiana Tech at home on Nov. 18 as a must-win game. I'm leaning toward the over but will be more interested in playing them early in the year before the public and books adjust.
-Michael Calabrese
---

Sam Houston (5-4)
Win Total 4 · +4 Net TARP (Defense +3) · 64.4% Returning Line Starts
K.C. Keeler is ushering the Bearkats into the FBS after a storied career at the lower levels of college football. The coaching legend enters with 259 wins and has won big at Rowan, Delaware and Sam Houston.
For perspective, he's 25-7… in the FCS playoffs alone.
He guided Delaware to two national titles and lost the last one by one. And he turned Sam Houston into a regional power, coaching it to three national semifinals before winning it all in 2021. Entering Year 10 with the Bearkats, he's already hit double-digit wins six times.
From a roster perspective, you can throw out last season's 5-4 record. There were special circumstances surrounding the Bearkats last season, in that they redshirted a bunch of their key players to save them for this bump up to CUSA.
As a result, they bring back three quality pass-catchers and two starting linebackers who would have been gone otherwise.
Bearkats offensive coordinator Brad Cornelsen, a former Memphis and Virginia Tech OC, is a speed demon who averaged 73 plays per game at those stops. His first big job will be sorting out the quarterback situation.
This QB battle is interesting because of how different the options are.
Keegan Shoemaker was a game manager last year, which is why Grant Gunnell transferred into the program. He's a big-time talent — a former four-star prospect — who has never taken hold of a starting gig at Arizona, Memphis or North Texas. In a nutshell, he's a huge guy with a huge arm with something to prove. Color me intrigued.
This schedule sets up in such a way that the Bearkats going to get slapped around early. They travel away from home for three true road games (at BYU, at Houston, at Liberty) and a neutral-site matchup with Air Force at NRG Stadium in the first five weeks of the season.
If they lose all four, they could be attractively priced against the spread for a stretch against FIU, UTEP and Kennesaw State in October. All three games are at home, and as a trio, they scream "bounce back."
-Michael Calabrese
How would you rate this article?
This site contains commercial content. We may be compensated for the links provided on this page. The content on this page is for informational purposes only. Action Network makes no representation or warranty as to the accuracy of the information given or the outcome of any game or event.