Clemson vs. LSU Odds, Picks, Betting Predictions: Will Burrow's Tigers Cover Spread in National Title Game?
Credit:
Kevin Abele/Icon Sportswire via Getty Images. Pictured: Trevor Lawrence
Updated Clemson vs. LSU odds list Joe Burrow's Tigers as 4-point betting favorites over Trevor Lawrence's Tigers ahead of Monday's national championship game, which kicks off in just a few minutes.
Public bettors have been all over LSU for the last two weeks, but Clemson money showed up in a big way on Monday.
Get our experts' Clemson vs. LSU picks and predictions below, plus full breakdowns of every mismatch, live betting strategy and more.
Clemson vs. LSU Betting Odds, Picks
Odds: LSU -4.5 vs. Clemson
Total: 66.5
Moneyline: LSU -215, Clemson +170
Time: 8 p.m. ET
TV: ESPN
Location: New Orleans, La.
Two unbeaten teams. A Heisman winner leading an unstoppable offense against the defending national champions.
Does it get much better than this?
Clemson is looking to win a second straight national title and third in four years, but will have to limit LSU's top-ranked offense and Heisman winner Joe Burrow on Monday night in New Orleans.
Who has the edge in the title game? Let's dive in.
---
Clemson vs. LSU odds as of Sunday night and via FanDuel, where new users can get 150-1 odds on either moneyline in the national title game.
---
How Odds Have Moved for Clemson-LSU
Clemson was a 1.5-point favorite over LSU at FanDuel in lookahead lines before the semifinals, but that line disappeared quickly while LSU was blowing out Oklahoma.
Circa Sports in Las Vegas opened LSU -3.5 against either Clemson or Ohio State during halftime of LSU's semifinal vs. Oklahoma, and it quickly went to -5.5. DraftKings got as high as LSU -6.5 that night, but came back to -5.5 by the next afternoon.
Since, this line has floated in a dead zone at -5.5 and did get down to -4.5 on Monday night thanks to some late sharp action.
LSU is getting 67% of the bets and 73% of the money, which would be high marks for any national title or semifinal game in the College Football Playoff era.
The total has dropped since the consensus opening of 69.5, with sharp action hitting the under this weekend. — Steve Petrella
When LSU Has the Ball
There's not much more you can say about LSU's offense. It's the most dynamic passing attack in the country. It's efficient and explosive. No one has been able to slow down the Tigers.
So Clemson defensive coordinator Brent Venables will need to effectively deploy versatile linebacker Isaiah Simmons to have a chance. The importance of Simmons cannot be understated, as the junior has 7 sacks, 14 tackles for loss, 3 interceptions and 60 solo tackles.
Venables can use Simmons to pressure Burrow, cover wide receiver Justin Jefferson or spy on running back Clyde Edwards-Helaire. Simmons has missed just four tackles all season and none in his last five games, and he lines up literally all over the field.
There are so many weapons for the LSU offense that it's unlikely Clemson will know where to start through the first few drives of the game, and I think that will give LSU an early lead.
Eventually, Venables will figure out how to best use Simmons, which should result in Clemson's defense improving as the game goes on (and that's why I'm targeting a live bet on Clemson in the Middle 8 portion of the game).
The Middle 8 is the last four minutes of the first half, and first four minutes of the second half. It's a pivotal clock management portion of a game, where you can get an extra possession if done correctly.
Clemson has mastered it.
Clemson is not the kind of team that sends the house in blitz attempts. Depending on the formation, Venables' defense rarely sends two or more players after the quarterback who are not down lineman.
If Clemson can get pressure with down linemen, the back seven will be able to double team LSU targets or allow Simmons to float in Burrow's most comfortable passing zones. Clemson does rank No. 2 nationally in sack rate, which should be an advantage.
That's how Auburn — the only team to hold LSU under 36 points — slowed down Burrow. But it will be a tall task for Clemson, especially in the early going. — Collin Wilson
When Clemson Has the Ball
I think both defenses will be focused on shutting down each opposing passing attack. Whether Clemson mimics something that Auburn did with seven defensive backs or a new creative scheme, I think that will be the focus on both ends.
Like Ohio State, I think LSU's corners can match up on the outside with Justyn Ross and Tee Higgins. Where I think Clemson can have success on offense is using their run game with Etienne and even Lawrence's legs and by utilizing the slot.
Look for both Clemson WRs Diondre Overton and Amari Rodgers to take advantage over the middle of the field or with a deep shot when lined up in single coverage. — Stuckey
There aren't a ton of advantages when looking at the advanced metrics because these teams are very evenly matched. The few advantages that I can find, however, point towards a bet on Clemson.
It's important to look at these numbers with Clemson's weak schedule and conference opponents in mind, but I believe the advantages are large enough to warrant your attention.
LSU's defense has given up some big plays. That's been well-documented and has reared it's head in multiple games, as LSU ranks 122nd in the nation in defending explosive passes.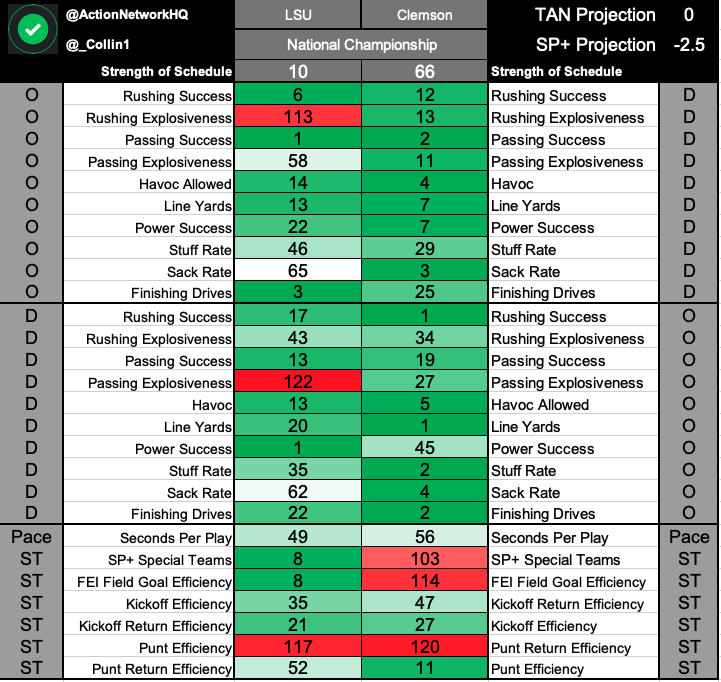 Trevor Lawrence and his talented group of wide receivers rank 27th in that category, so I believe there will be some big plays available to Clemson through the air.
In conjunction with that state, LSU also really struggles to get pressure on opposing quarterbacks. Clemson ranks No. 4 in the nation in sack rate allowed so Lawrence will have time to find his targets against an LSU defense that ranks 62nd in that same category. — Kyle Miller
Special Teams Edge, LSU
Clemson is outside the top 100 in SP+ special teams, highlighted by a rank of 114th in field goal efficiency, but has the better punting unit in this game.
LSU is top 10 in SP+ special teams overall with its best unit coming in the field goal department.
Cade York has had ice water in his veins kicking for LSU most of the season. He has not missed a field goal from less than 40 yards, and is 4 of 5 from beyond 50 yards.
Clemson flexed its elite red zone defense against Ohio State, and York should be there to clean things up if LSU does get stopped in Clemson territory.
Clemson's B.T. Potter is just 7 of 11 from inside 40 yards on the season. — Collin Wilson
Game Picks
I have to take Clemson at this inflated price. I do believe LSU will ultimately win the game, but this gig isn't about believing. It's still ultimately a numbers game.
As far as the total, I think it's pretty spot on. It will likely come down to pace. Does either or both teams want to go with a turbo pace in order to mess with the other's rotation and subs? If so, it could lend itself to an over, especially since I think this game will be competitive.
If it's not a turbo pace, it may come down to red zone execution. If there are a bunch of field goals, it probably goes under and vice versa if not. — Stuckey
Stuckey's Pick: Clemson +5.5
Clemson +5.5: This point spread would have been about a pick'em two weeks ago. With an LSU beatdown of Oklahoma and Clemson's comeback victory over Ohio State, the public and sharps have inflated the number beyond any power rating.
Venables' ability to dial up pressure with just four rushers will complicate matters for Joe Burrow, especially after the second quarter adjustments.
LSU -0.5 1Q: Not only has LSU had some of their highest success rate marks in the first quarter, Clemson is a team that will take the ball in the second half.
I covered it more in-depth in my full writeup of this game, but expect LSU to get a quick score and lead after one. — Collin Wilson
Collin's Picks: Clemson +5.5, LSU 1Q -0.5
I love LSU football, I love their fans, I love Joe Burrow, I love Joe Brady, I love the receivers, and I love Coach O.
With that being said, I'm putting my money behind the Tigers from Clemson in the national title game. I've been consistently higher than the market on LSU the entire season until… I wasn't. In the semifinal game I made LSU an 8-point favorite against Oklahoma and that line closed around two touchdowns.
I was stunned to suddenly be so low on LSU compared to the market, but they dominated and deserved another hefty bump in my power ratings.
Even with that bump, I still make this game a pick 'em so I have to take Clemson and nearly a touchdown worth of points in the CFP title game. One thing's for sure, the Tigers will emerge victorious on Monday night. — Kyle Miller
Kyle's Pick: Clemson +5.5
How would you rate this article?